Learn how AWA digital helped Superfi increase conversions by a data-driven header test
Hifi retailer Superfi came to conversion rate optimisation (CRO) agency AWA digital wanting to increase the conversion rate from their ecommerce website. Using their tried-and-tested research framework (see figure below) AWA gathered quantitative and qualitative data, cross-referencing findings to form test ideas.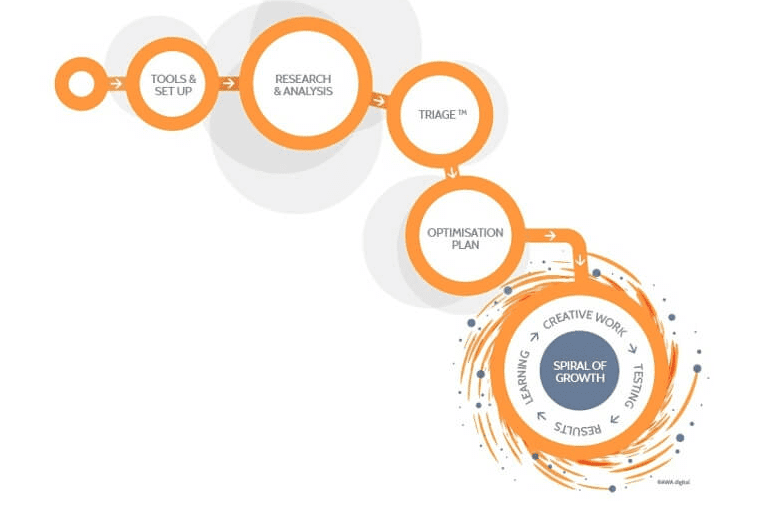 It became apparent early on that the website suffered from distracting links, leading people to non-sales funnel pages at key stages of the buying process and in the sitewide header.
How research feeds ongoing testing
Among the various research strands used for the project, heat mapping, Google Analytics and survey data stood out as offering some great insights for this test. As well as being able to gather data on how much attention distracting links became, we were also able to discover what was important to Superfi customers when choosing to buy from them.
Price came up as a very important motivator, with 52% of surveyed users stating this was a key part to their decision to purchase from Superfi. The hypothesis: the clearance link in the main navigation may need surfacing and distractions reducing.

Key research themes that fed this test:
52% of users stated 'price' as being the major influencing factor to buying form Superfi

The clearance link was one of the most clicked on links, yet demoted to the far right (see heat mapping above)

Popular links in the header opened in the current tab, leading people away from the sales funnel

Search was the most used part of the header (see heat mapping above), but copy was unintuitive and the CTA button did not stand out

Heat mapping also showed us 'Shops' link got attention, indicating an interest in Superfi as a high street retailer; this test aimed to gauge the impact of making this a part of the value proposition

Trust Pilot: Users told us the average 9.3 rating could be seeding doubt.

The header is a sitewide element and therefore highly exposed to traffic
Test hypothesis:
Because analytics data and heat mapping show us that important elements in the header are having to compete with distractions and copy that could be harming trust, we believed that outweighing distractions with links and copy that support sales will increase conversion rate.
Control vs Variation
Given the websites' traffic levels, we decided to combine various changes to test one focused hypothesis.
Control: The control header's search bar and clearance page link had to compete with various distractions, taking users away from important pages. According to users, the Trust Pilot rating was causing potential doubt, with it's 'not quite 10' rating.

Variation: The test variant tipped the balance in order to give more prominence to elements more important to conversion. Popular links opened in adjacent tabs rather than new ones, allowing the user to keep their current place in the sales funnel. Trust Pilot now mentioned 'over 4000 glowing reviews' instead of a rating less than 10/10 with the aim of eliminating doubt. The all important clearance link was moved to the far left of the navigation and the search bar was given a more striking call to action button and strong, intuitive placeholder text.

Google Optimize
The testing platform we used was Google Optimize, integrating seamlessly with Superfi's analytics account allowing AWA digital to segment data in various ways to back up their hypothesis and establish that this test was indeed a clear win.
Google Optimise enabled us to use Superfi's standard GA ecommerce reporting in order to report on conversion rate, revenue per session and average order value, all of which were lifted significantly as a result of this test.
Outcome
For a relatively small amount of simple changes, this test showed very satisfying results:
Control:

0.49%

CR

Variation:

0.59%

CR

Conversion rate uplift:

20.4%

Revenue uplift during test period:

41%

Confidence level:

100%
Lasting impact
Once a win was established, Superfi set the traffic balance to 100% seeing the winning variation until the changes could be implemented by their development team. This, combined with other test wins, is now showing a clear and lasting impact to ecommerce conversion rate, overall revenue and revenue per visitor, all visible in the Google Analytics account.
Conclusion
Whilst complex architectural overhauls are not to be overlooked, this simple bundle test has shown a significant change in user behaviour, conversion rate and revenue for Superfi. By moving a link in the navigation and adjusting some short pieces of copy, they have not only increased conversion rate but demonstrated the impact that some small yet highly visible changes can have.
If you would like to improve your online revenues by using CRO, please contact AWA digital.
Thanks to Jonny Green for sharing their advice and opinion in this post. Jonny is an optimiser, at AWA digital, with 12 years experience in using data to increase online revenue. He has a particular interest in re-framing value propositions and has delivered many significant wins from simple but powerful changes.
Join To Our Newsletter
You are welcome