Your email list is priceless, which is why you need to build it up and increase your audience
Email is the champion of the marketing world. Almost 60% of marketers say email is their biggest source of ROI and they're not wrong. With an average return on investment of more than $40 for every $1 spent, it's hard to ignore the power of email marketing for both B2B and B2C companies.
While the stats speak for themselves, another reason why building your own email list is so effective is simply because you own it. Sure, you can acquire lots of attention and followers on Facebook, Twitter, or LinkedIn. You can even create strong online communities there. But at any moment, these walled gardens could take it all away.
Then how will you reach your customers?
The truth is, customers actually prefer you contact them through email for direct marketing purposes. So here's how to build your email list from scratch.
Get to know your target audience
The point of building an email list is to communicate with your subscribers and drive them to take action. Before you do that, make sure you're attracting the right type of people to join your email list.
Create user personas of your ideal customers. This will provide a snapshot of the characteristics, goals, and behaviors that your ideal audience will embody. User personas typically include:
Name
Demographics: age, income level, occupation, location
Image
Hobbies
Personality traits
Challenges
Fears
Values
Mapping this out will enable you to personify your audience. Putting yourself in their shoes will help you discover where they hang out online or look for trusted advice. It will also enable you to cater the content you create to those specific user personas.
Optimize your website
After you discover who you want to target, you need a place for them to sign up. The ideal place for that? Your website.
If you don't have a full site, set up a landing page. Or if you do have a site already built, incorporate banners, sliders, or popups to appear naturally as visitors interact with your content. That means your email list builder can appear anywhere you feel is suitable on your website:
The homepage
About Us page
Any landing page
Your blog homepage
At the end of each blog
The list goes on. No matter where it appears, your email list builder should include a short form for visitors to fill out and complete.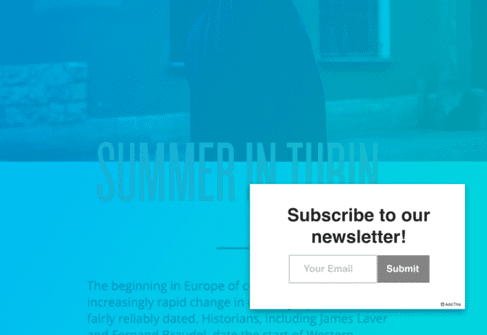 That way your audience is able to opt in to receiving emails from you. It's important to receive permission before adding someone to your email list – after all, it's the law. 
Set up your email platform
After you optimize your website for capturing email addresses, you need to connect your email list builder to your email platform. There are numerous options that not only make it easy for you to integrate your tools, but also help you organize your lists. Here are just a few:
MailChimp
Aweber
Campaign Monitor
Constant Contact
HubSpot
SparkPost
Once your contacts are synced, you can segment them into different groups. This makes it easier to personalize your email outreach at scale through automation. Almost half of marketers use marketing automation of some sort to create personalized customer experiences.
Why do this? The data says it works. Automated email campaigns account for more than a fifth of email marketing revenue, according to DMA. With that information in hand, make sure to select an email platform that not only fits your budget, but can support your long-term email marketing vision.
Hook people in with an enticing offer
Once you have your list builder tool and email platform set up, you now need something to incentivize your audience to subscribe.
As mentioned in an earlier section, find out what your audience cares about. Search for and join Facebook or LinkedIn groups where they congregate. Find out what questions they're asking and what challenges they face.
Use this information to create a lead magnet and hook them in. Perhaps it's something as straightforward as a marketing plan template, like below. Or maybe it's a free audit.
Whatever it may be, what you offer has to be valuable enough to your visitors to compel them to exchange their contact information.
You can even incorporate content upgrades within your blogs, case studies, etc. to encourage people to download a piece of content. It should be related to what they're reading and offer additional value and insight.
All you have to do is gate it so your visitors will need to provide their contact information to unlock it.
Start building with what you have
Once you have your foundation in place, you can start building with your current email contacts. No, you can't just add them (remember, you need permission). But you can send a short, simple email asking your them if they'd like to join your list.
From there, you can set up a referral program. Ask them to share with three friends they think would enjoy your content. You can incentivize your subscribers to spread the word by offering swag or discounts, depending on how many referrals your users can acquire for you.
TheSkimm does an excellent job of incentivizing their subscribers for referring their newsletter. It's how they grew their email following to over a million!
Leverage your social media channels
One of the easiest ways to grow your website traffic (and grow your email list) is through social media.
You already know where your audience hangs out online. Use those same groups you referenced for user persona research to engage your audience directly.
Participate in conversations and offer advice. Provide more insight to help your target audience address their challenges – and link to a landing page that details one of your related content offers. Doing this will help you expand outside your inner circle and reach a larger audience on a public platform.
Check out this Facebook group run by The Daily Carnage. Thousands of marketers congregate here asking for advice. In this example, someone solicited help, and it was the perfect opportunity for someone else to offer valuable insight in the form of a guide: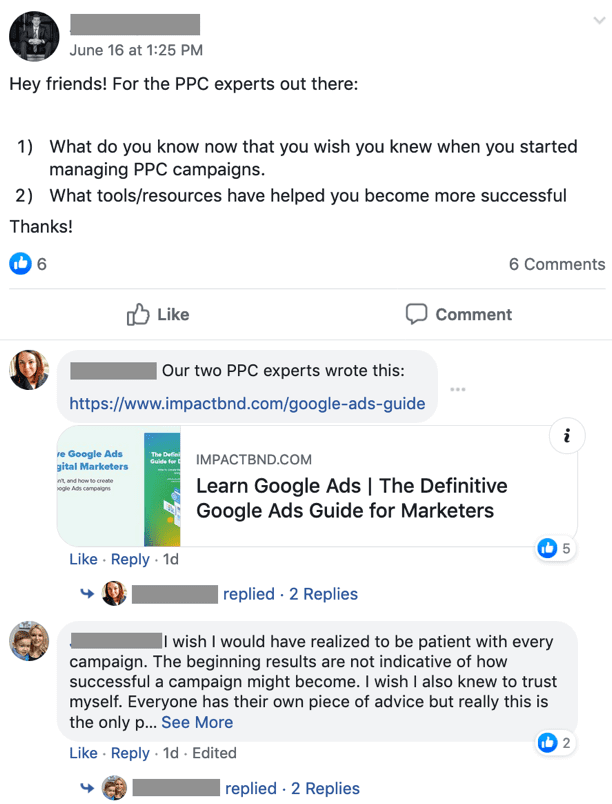 Buy paid ads
While growing your list organically is always the preferred – and free – method, you can always pay for ads to drive traffic to your landing page and build your list.
Some of the most popular channels to purchase ads include:
Facebook ads
LinkedIn promoted posts
Google AdWords
Paying for digital ads will enable you to target specific segments of people based on the parameters you set. This peace of mind lets you know that those who do sign up for your emails are exactly who you're looking for.
The money you spend is an investment in the list you're building for returns later. Here's an example of a LinkedIn promoted post that Bizzabo shared: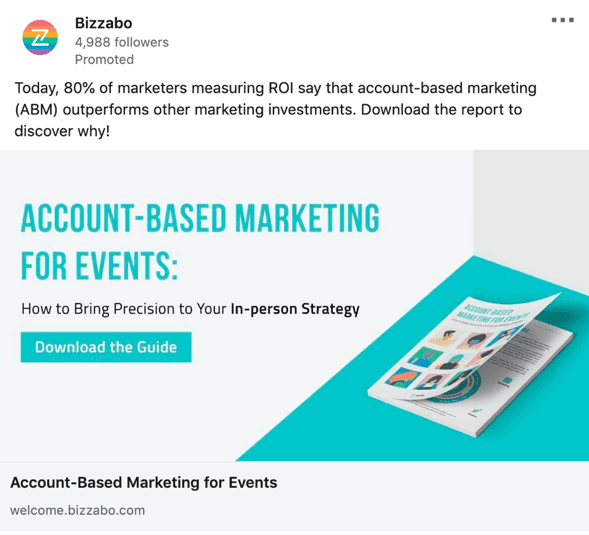 Content marketing
The most powerful way to grow your email list is through content marketing. It takes time, patience, and a lot of effort to develop quality content. But it's worth it  – content marketing converts six times higher than other methods.
The goal here is to draw people in organically through search engines using SEO best practices. Deliver content so valuable, they'll feel compelled to join your email list to stay updated.
Here's an example. I searched "content marketing tips" in Google and the first result was a post from the Digital Marketing Institute: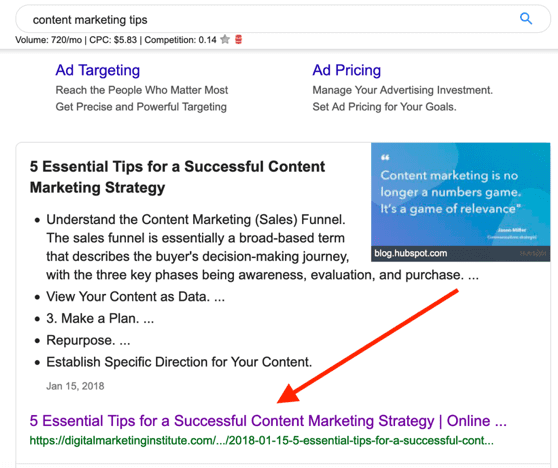 When I clicked the link to read the article, I was immediately given the opportunity to subscribe to their newsletter. If I enjoyed what I read, I could opt to stay informed on a regular basis.
Conclusion
You're now armed with new knowledge on how to build your email list from scratch! The next step is using email to establish meaningful relationships with your audience.
If you do so successfully, you'll reap the rewards. After all, email subscribers are three times more likely to share content on their social channels than those who came through another channel. And this ripple effect can help your business thrive.