Wondering if Facebook video ads are worth your time?
Worth your attention?
Worth your $$$?
Then this post is worth it for you to answer those questions.
Starting with this one…
What are Facebook video ads?
They're ads to reach your audience further, and engage them more with video. No matter your business, experience, budget, or goal.
Slideshow: Turn images and text into a simple, lightweight video ad—in minutes
Stories: Make your business part of the story, for Facebook, Instagram and Messenger
Messenger: A video ad that clicks to Messenger to talk directly with customers
Carousel: Showcase multiple videos and photos into a single ad
Collection: Pair your video with product photos as a way to explore your shop
There's more. Just wanted to wet your video appetite, because I know the next question in your mind…
Why use Facebook video ads?
Video (and audio) appeals to more senses than text does.
Which do you think makes more of an impression?
Saying "hi" to someone?
Or… saying "hi", shaking their hand, and doing that French cheek-to-cheek-kiss-on-both-sides thing?
It depends on the person, but generally… more senses = more engagement = more people remembering your brand.
More reasons to use video include:
Video builds trust. When people can see and hear you, they believe you
Google loves it. They rank you higher when people spend more time on your site
Boost conversions. Create a video to repurpose an existing post to get more clicks
Mobile users love it. Up to 90% of consumers watch videos on mobile
Explain a lot with a little. Sixty seconds of video says more than 60 seconds of text
But why Facebook video ads, specifically?
How does 2.4 billion monthly active users trip your social trigger? Watching 3 billion hours every day. With an average user clicking on eight ads per month.
Yeah, I thought you'd like that.
Wow, right? Maybe it's (past) time to consider Facebook video part of your strategy to push leads down your marketing funnel.
How to set up Facebook video ads
There's a load of options for creating a Facebook video ad. I'm going to walk you through the general path. From there you can decide on the many specific options for your needs.
Step 1: Select option to create your ad
You will be guided by a wizard approach for creating your ad. I've outlined the general steps.
Select the Create menu item in the top navigation
Specify the Ad option in the dropdown
Select Continue in the subsequent popup window

Step 2: Specify campaign information
In the following window, specify your options (see partial window below).
Fill in the campaign name
Select Video views for the Campaign Objective
Change any other default options or select the Learn More link
When done select the Next button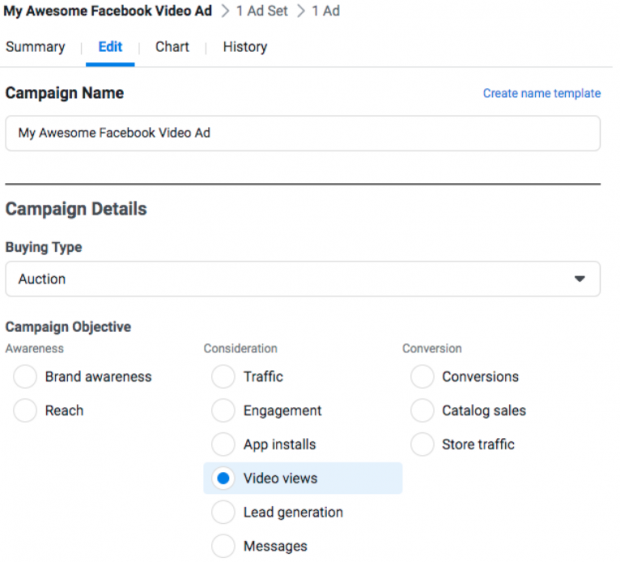 Step 3: Specify your ad options
This next window has a load of options. Most of them have an info icon to learn more about each option. Learn as you go. The window is long (again, see partial window).
Change or use the defaults options for each section in this window
Select the Next button when done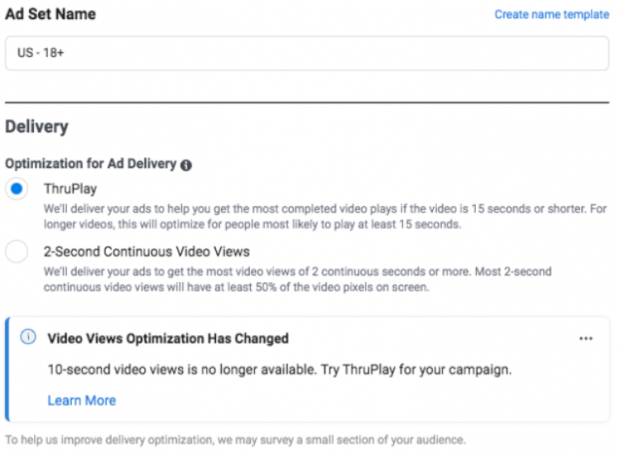 Step 4: Create your ad
Time now to create your ad.
You've got options. You can upload a video, browse through your library, or create a slideshow with images. In many cases you might want to grab a premade video from your desktop. Or promote a video you previously posted.
This Window one is long, too (showing partial screen below).
Specify a name for the ad
Associate the ad with a Facebook page
Preview it in the Ad Preview window
Refine it as needed
When done, select the Review and Publish button
Pay for your ad (you didn't think all that fun would be for free, did you?)
Watch your video views soar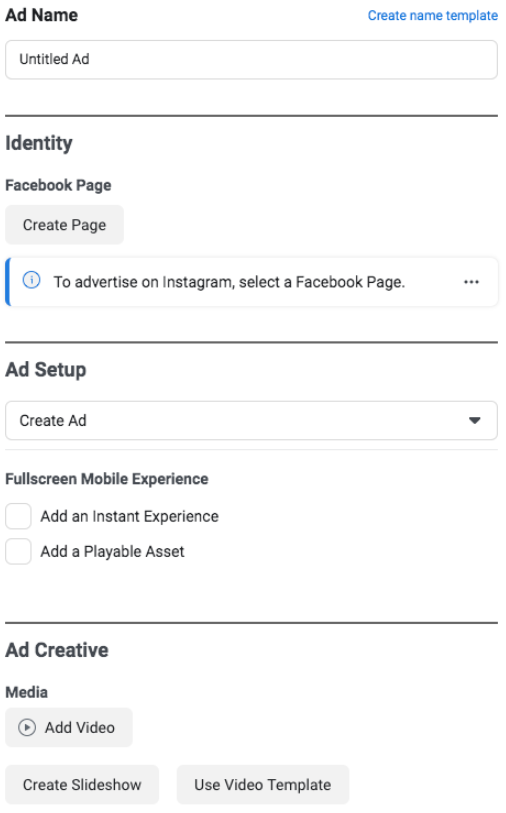 7 tips for creating successful Facebook video ads
I showed you a simplified version for the nuts-and-bolts of creating a video ad. Let's look at some tips to make it the best Facebook video ad possible.
1. Identify your objectives
What do you want to achieve with your Facebook video ads?
Want more people to recognize your brand?
To watch your videos?
To install your apps?
To go to your site?
To give you their email addresses?
Want me to stop asking so many questions?
Fine, But you shouldn't. Here are a bunch of KPIs worth considering. Get clear with your objectives, so you can create the right ad for the right reasons.
2. Identify your market
You're investing time, money, and brain calories to create your ad. Don't waste it on eyes and ears that won't see or hear your message.
When creating your Facebook ad, you can define your target audience. Such as: location, age, sex, language, interests, behaviors, shared connections and mucho more.
Now you're ready to create an ad that will relate to your fans and followers.
3. Make your content relevant
Now that you've recognized and established your crowd, time to connect with them. With content they care about.
How?
Tell a story worth telling.
I mentioned in my quick editing tips post about the "Story Brand Framework." Love it. You will too. Character, villain, problem, feelings, a Yoda-like guide, empathy, wisdom, a plan, ending with a call to action.
If nothing else, remember this… make your story—your content—about them more than you.
People love themselves more than they love you, just the way it should be.
Keep that in mind when your fingers start writing, when your eyes start filming, when your voice starts speaking.
4. Choose a right ad type
Want to build an engaging story using only video and text? Something compelling, yet quickly? Want to walk people through a complex process? Pick a slideshow ads.
Want to turn your existing videos into readymade story ads? Want to make your readers feel part of a larger community? Want them to see more of your videos on mobile, since they have their phone in their hands anyway? Story ads are your ticket.
Want to turn an existing post into a video? To boost a piece that's already working into something people want more of? So they'll show up more in others' news feeds? Boost a post is the way.
Facebook video advertising makes it easy. Up to you to choose wisely.
5. Open a story loop
Related to my 'more about them vs you' rant… Framing a message around a problem is a proven way to grab attention.
It shows you have empathy
It shows you understand them
It shows you know what you're talking about
It's also a great way to open a story (in your headline), and loop them into the ad:
"Losing sleep at nights worrying how people think of you?"
"Is bad breath ruining your nigh-nigh time with your partner?"
"Do people 'get it' right away when they read your homepage?"
Our brains are wired to solve problems. Show them both—problem, then solution.
6. Inspire viewers to take an action
All that work—determining the topic, developing the message, writing the script, creating the video… and then no (strong) call to action?
Tisk, tisk, tisk.
You're not doing this for charity sake. Just ask your boss man-or-gal.
You're (usually) doing this to get the reader to take an action. Like, "Buy now", "Download the guide", "Get your free sample".
Don't be shy about asking the reader to take action, with a compelling CTA.
7. Don't require sound
People are dizzy-busy in this age of distraction with smartphones in hand.
Recently, my two twin nine year-old boys and I drove through downtown Seattle. We counted 45 people on the streets with their phones in front of their face. In five minutes! On a Sunday!
People are moving fast through their feeds when commuting, walking, and eating. Sound is often not appropriate or viable—yet they still want to see what's going on.
Does your video make sense without sound? Add captions!
Facebook added this feature. Because they know captioned ads increase video time by an average of 12%.
Just a few of the tips for creating awesome Facebook video ads. I'll point out a few more tips in the Facebook video ad examples below to inspire your next campaign.
5 examples of high quality Facebook video ads
1. Calm
This comes under the topic of simple. As in very.
Breath in. Breath out.
That's exactly what the video helps you do when you watch it. Watch it. Tell me you feel otherwise.
Eyes, ears, and heart all working together for this video ad. This promotes their brand and vision—Live mindfully. Sleep better. Breathe deeper.
I feel so relaxed right now. I'll be back shortly after a calm break.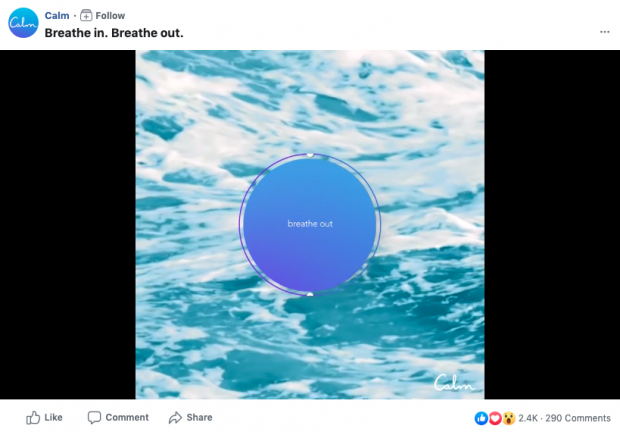 2. Oatly
This shows a great way to open a story loop.
Watching it, you can't help but want to scroll down to read the copy to learn more of the 'why' for this video. Again, this is an ad to promote brand and culture.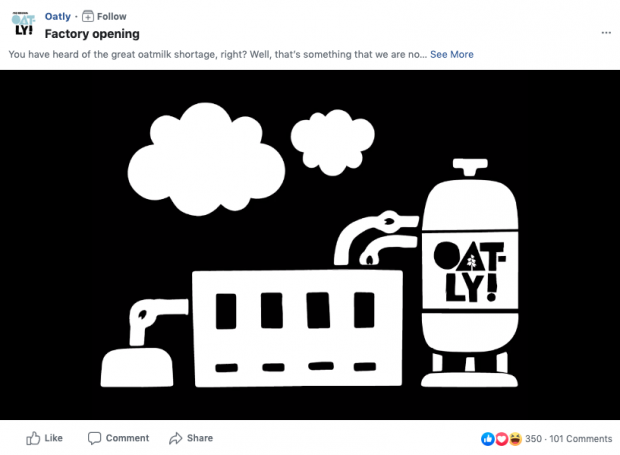 3. Design Pickle
The first line, the first five seconds—you know what problem this design agency is aiming to solve for viewers.
Then they lead you to and through the solution, backed up with testimonials.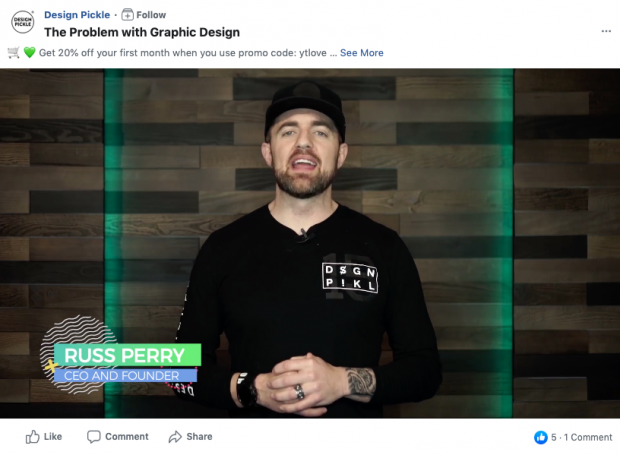 4. Mailchimp
Mailchimp is one of my favorites for their voice and vibe (see tips for promoting your 'boring brand').
I talked about a video worthy of no sound—here's one.
This Facebook video ad walks you through the process to capture new contacts with one click. It's simple to understand, whether you're at a rock concert, in a New York subway, or next to your screaming kids.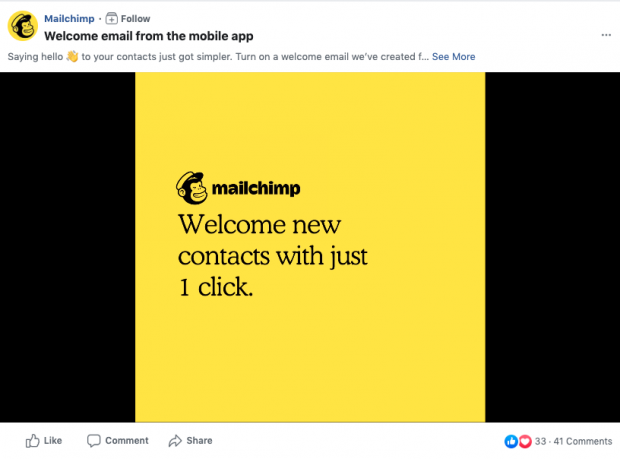 5. Ben and Jerry's
Got a craving for sweets? Say, for an ice cream sandwich?
Here's the easiest (and clever) way I've seen to create one, right now in your kitchen—in seconds.
Talk about an easy how-to!
Can't wait to make these for my kids tonight.
Is there a simple way for you to delight your followers? It's there, just waiting for you to find, show and tell.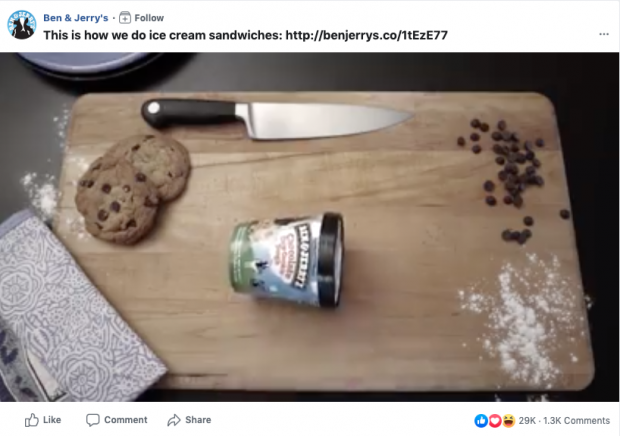 Manage your entire Facebook strategy alongside your other social channels using Hootsuite. From a single dashboard you can create and schedule content, run ads, engage the audience, monitor relevant conversations, measure results, and much more. Try it free today!
Get Started
Join To Our Newsletter
You are welcome