Did you see your website's ranking dwindle following the August Google Medic update? Find out how you can recover
As you might expect given its name, "Medic" – Google's August 2018 algorithm update – affected many websites in the health sphere. This included domains publishing content related to health, wellness and fitness.
However, these weren't the only websites to suffer ranking losses. Some sites featuring broader content, such as news, as well as finance and legal websites, also saw dramatic declines in visibility and traffic. Such websites are referred to as "Your Money or Your Life" (YMYL) — a term Google defines as sites that are of low quality, or drastically misinformed — could have a negative impact on a person's life, income or happiness.
With reason to believe that the Medic update and the more recent June 2019 core update are linked due to Google's ongoing interest in search intent, we'll focus on directing impacted sites to a place of safety. That being said — and in the interest of being entirely up front — if you've been hit by the Medic update and have continued to lose traffic in the face of Google's strict E-A-T (Expertise, Authoritativeness and Trustworthiness) guidelines, there is no quick fix.
To comply with E-A-T, we've developed three actions to "fix" your website over time. These solutions will help you slowly rebuild your website's domain authority and patch up your long-term relationship with Google.
What is the Google Medic update?
If you noticed a drop in your website's traffic in August 2018, you were most likely impacted by Google's Medic update.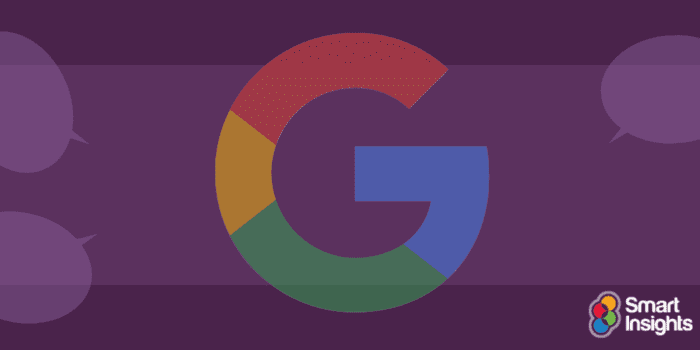 First coined "Medic" by online search writer Barry Schwartz in his commentary on the topic, the update appeared to impact medical websites in line with Google's E-A-T guidelines. E-A-T is a simple acronym used in SEO (search engine optimization) to determine the quality of on-page content, which, in turn, affects ranking:
Expertise: The expertise of the content creator
Authoritativeness: The authoritativeness of the content creator and website
Trust: The trustworthiness of the content creator and website
The above definitions are referenced from Google's Search Quality Evaluator Guidelines, where they can be found in section 3.2. This text also notes medical advice as a primary concern when it comes to E-A-T. Google states, "medical advice should be written or produced by people or organizations with appropriate medical expertise and accreditation."
Medical advice is listed as the first type of content that Google judges using the E-A-T criteria. This clearly ties into the far-reaching gains — and drops — seen across YMYL websites: receiving incorrect or inaccurate medical advice online can have severe consequences.
As stated, the health and medical niche wasn't the only industry to be hit by Medic — Google employees also manually check other content against the criteria listed in its Search Quality Evaluator Guidelines to determine on-page and site-wide content quality.
While Google has never officially announced the types of websites affected by Medic — or what it categorizes as YMYL — by referencing Google's literature on the topic, we can clearly gauge Google's initial "hit list", if you will.
Google's focus is now on intent
Although Google and its representatives often only provide limited information on its planned updates — the search engine giant is famous for making major changes to its algorithm without so much as a warning to frustrated SEOs and website owners — it's clear that its overarching goal is to match a user's search intent.
What does this mean? In short, Google will reward websites that are more specific in their answering of search questions and the content they publish. It's important to note that this isn't a new development — Google's priority has always been to serve the most relevant and well-written content to users based on what they're looking for when they enter a search query.
In practice, general news websites and blogs will now most likely be penalized and viewed as less-authoritative sources. Blogs that appear to be focused on technical niches like finance and health but have limited sources, references and qualifications to back up its claims will also see a decline in visibility in the Search Engine Results Pages (SERPs).
Instead, Google will favour expertise and a laser-focused content strategy, boosting publications focused specifically on law, for example, rather than a generalized business site that claims to be an authority on law, marketing and five other loosely connected industries, which only serves to dilute its purpose.
This arguably explains why medical e-commerce websites were among those that took a hit from the Medic update. Google considers medical information, expertise and advice to relate to specific search intent. Those looking for medical advice are looking for authoritative information from a trustworthy source — not a page lacking any trust signals and with the sole purpose of making a sale. Well-regarded SEO consultant Marie Haynes noted this in her swift analysis of two medical product websites, published shortly after the release of the Medic update.
What you can do right now to make a difference
For site owners, SEO specialists and content marketers, the concern when producing content should be on what is going to provide value to the reader. Investing in expert writers, authoritative sources of technical information and primary research is a no-brainer if you want your website to fare well in the future.
While adhering to E-A-T guidelines should be an ongoing priority, there are actions you can take to begin your recovery from Google Medic.
Revise published posts and flesh out the author bios on your website. This shows users — and Google — that your content has been written by an authoritative source. Does the writer have a certification that you've neglected to include? Take this a step further by having a dedicated about page featuring your contributors and their qualifications, along with external links to social media profiles, or having your content reviewed either internally or externally by a qualified individual who can legitimize any advice given in the content.
Conduct a site audit to identify on-site issues that may be impacting the trustworthiness of your domain. Is your site secure? If you don't have an SSL certificate, you don't have a secure connection, which will affect your rankability (no matter how high quality your content) and reduce your perceived trust from users, who will be warned that your site isn't secure. To determine if you have an SSL certificate, look for HTTPS in your URL, along with a padlock icon.
Figure out if you're in a good neighbourhood. This has nothing to do with your physical location, this is all about your site's backlink profile. Google will assess your website based on the publications you're linking out to and, crucially, the publications that are linking to you. You'll want to focus on securing backlinks from contextually relevant and high-quality websites. Google will perceive your website as more trustworthy if you have a link from Forbes, The Guardian or a well-respected website that exclusively publishes content relating to your industry than if you have a link from the dog-walking business down the road.
You might also want to review your backlink profile for any spam or low-quality links that you've earned and disavow them in Google Search Console — this will ensure Google doesn't crawl them and use these links when assessing your domain.
Google Medic's diagnosis (according to expert data)
Google is constantly changing its algorithm and making small tweaks to improve the results it serves users. Several times throughout the year, however, Google will release what it calls a "broad core" update — a general update applied across the entirety of the SERPs. Medic, according to Google's official Search Liaison account, was one such update. However, many SEO experts — Barry Schwartz included — questioned this.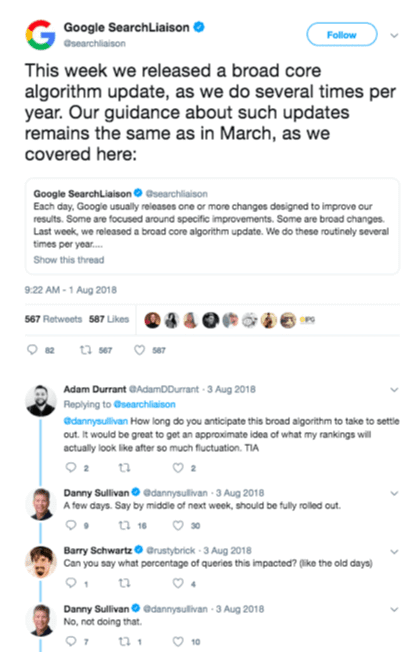 Unsurprisingly, Google had very little to say about its activity, but independent data and in-depth monitoring of multiple websites pre and post-Medic tell their own story.
Despite the apparent broadness of the update, several specific industries and website types were more affected than others.
Your money your life (YMYL) pages
As previously stated, these are pages that provide advice that could impact, either positively or negatively, a user's health, finances and happiness. These pages represent the cornerstone content of the internet. If you offer advice or a resolution to a searcher's problem, in most cases and to some degree, you are running a YMYL website.
Google pays particular attention to these websites as they are seen as highly influential to internet users. The biggest issue is that most people don't realize what a YMYL website is.
For example, many might think of Women's Health as a YMYL website because of the nature of its content, exposure and high reputation — and they'd be right. However, what most people don't realize is that a fitness blogger providing the "10 Healthiest Ways to Lose Weight in Two Weeks" or a lifestyle blogger offering "Tips for a Smooth Divorce" are also creating YMYL content.
Health and wellness websites
While these websites fall under the branch of YMYL, they deserve a unique mention. The rise of independent content on topics such as natural medication, dieting and yoga has made the internet rife with false information. Stories of so-called miracles diets are incredibly popular because by their very nature, they are sensational. However, pages such as these and those advertising the production of medical devices sold online are increasingly under scrutiny in an effort to control health-related content and how it's viewed online.
Google has made it clear in its Evaluator Guidelines that health, news and scientific content should be written and validated by experts, especially when it's specifically used to market a product or service.
Gambling, finance and other sensitive content
While the majority (42%, according to Barry Schwartz) of websites affected by Medic were strictly health-related, a number of non-health industries were also impacted to varying degrees. These include business, gambling, finance and e-commerce websites, along with a small portion of adult websites.
What can we gather from this? It's clear that Medic initially impacted a specific subset of websites, many of which are also thought to have been affected by the June core update. It would be speculation to consider that this "broad core" update may, over the future, turn out to be broader than we might have originally anticipated, but given Google's goal of accurately meeting user intent and providing high-quality content, we may soon see websites in a wider range of niches — YMYL notwithstanding — penalized for not demonstrating high levels of Expertise, Authoritativeness and Trustworthiness.
How to make a full Medic recovery
While you might be able to work with what you've got to make a slight difference to how your site is perceived in search, you'll require a long-term strategy to make a full recovery.
Whether Google extends its focus across all types of content and industries remains to be seen, but in terms of the current websites affected, this is likely only the beginning of Google's crackdown on substandard content.
As marketers continue to increase their content marketing budgets year on year, there will inevitably be an influx of sponsored content appearing on the internet — in fact, on average, 30% of these inflated marketing budgets are allocated to sponsored blogs and articles.
To keep your blog above board, there are three things that you can prioritize over the next twelve months:
1. Take note of this case study
Every site is different — there are innumerable factors that impact even the slightest movement in the SERPs — and any analysis of ranking losses is paired with a disclaimer that what's suggested might not work in every individual case. Despite this, you should rush to read Search Engine Land's insightful case study on how a physician review site recovered from the Medic update.
Or you can read our five-minute summary, instead:
This particular site saw a 72% drop in traffic to its blog and a 47% drop in traffic to its commercial pages.
This was fixed by creating two entities, a main site and a dedicated blog site, to support search intent. Unknowingly, this domain had conflicting intents — to know (to find out more about a specific medical condition) and to do (to find a physician).
They reduced the number of promotional calls to action (CTAs) and removed product or service-based solutions in articles targeting informational search terms. Reducing the promotional CTAs on the site meant that the expert advice would better fulfil the searcher's query and intent.
They reviewed third-party review websites to ensure a clean and positive online reputation. Like reviewing your existing backlink profile, this activity ensured the site was "in a good neighbourhood".
2. Pay attention to Google's E-A-T guidelines
In this article, we've already given you a brief overview of what E-A-T means in relation to your ranking potential. We'd suggest that you do some independent research on this topic, especially if you are operating in an affected niche, such as health, finance or gambling.
These three factors — showcase your expertise, demonstrate your authoritativeness and be trustworthy — are crucial to address if you want to perform well in search.
The E-A-T acronym should become your new marketing mantra. Use it to evaluate your individual content and your wider marketing strategy. Ask yourself:
Do you have enough expertise to provide commentary on this topic or rank for this search phrase? If not, it might be time to look for third-party assistance. You can hire technical writers, have your content edited and reviewed by qualified professionals or diversify your content strategy to include guest posts on your blog and interviews with field experts.
What's your level of authority? (And, in relation to this, how authoritative are your competitors?) This might require strategic changes to your blog's focus, as well as to your structure and mission statement to make sure you're laser-focused on a specific topic.
Can your blog be trusted? Remove spam from your website, including inappropriate affiliate links, excessive promotional calls to action and pop-ups that interfere with the user experience. Install a heat map on your website for further insight into how your visitors interact with your site and what elements might be acting as blockers.
3. Hire writers who can produce expert content
Perhaps the most important measure to take is to hire expert content writers; that is, if you lack the appropriate accreditations to write the content yourself.
This should be a priority when writing content on any topic affected by Medic, but given the significant implications the algorithm update has had specifically on the health industry, hiring experts is crucial in order to write authoritatively on medical topics.
When you hire authority figures, make sure you showcase their expertise. Providing their accreditations (such as a PhD status) and linking to their social pages or website signals to Google that the author — and, by extension, the content — can be trusted.
What does this look like in practice? If you wanted to rank for an informational dieting keyword, you'd do well to hire a qualified nutritionist to write — or, at the very least, review — your content. If the search term is particularly competitive, this will likely be the deciding factor when battling for that golden search snippet.
Join To Our Newsletter
You are welcome