Sales prospecting has always been a time-consuming and often frustrating task for salespeople – from finding the right prospects for your business to finding their contact information and reaching out to them
However, with the right tools to help, these tasks can be easier and go so much faster.
In this article, I'll be sharing some of my top sales prospecting tips and tools to help you get better results in less time!
We'll be covering 2 different aspects of sales prospecting in this post:
First, tips and tools that will help you identify quality sales prospects
And afterwards, the tools that can help you easily discover their best contact information
Tips and tools to help you find sales prospects
1. LinkedIn and LinkedIn Sales Navigator
The day LinkedIn started gaining notoriety is the day b2b sales people from all over the world rejoiced. After all, it's almost like a sales prospect search engine for any and all types of niches and industries, making LinkedIn great for B2B marketing.
LinkedIn are very aware of this though so by using the free plan, you can't really search to your hearts' content. To get more out of LinkedIn and find sales prospects consistently, you'll need to either get a Pro plan or, even better, get the LinkedIn Sales Navigator.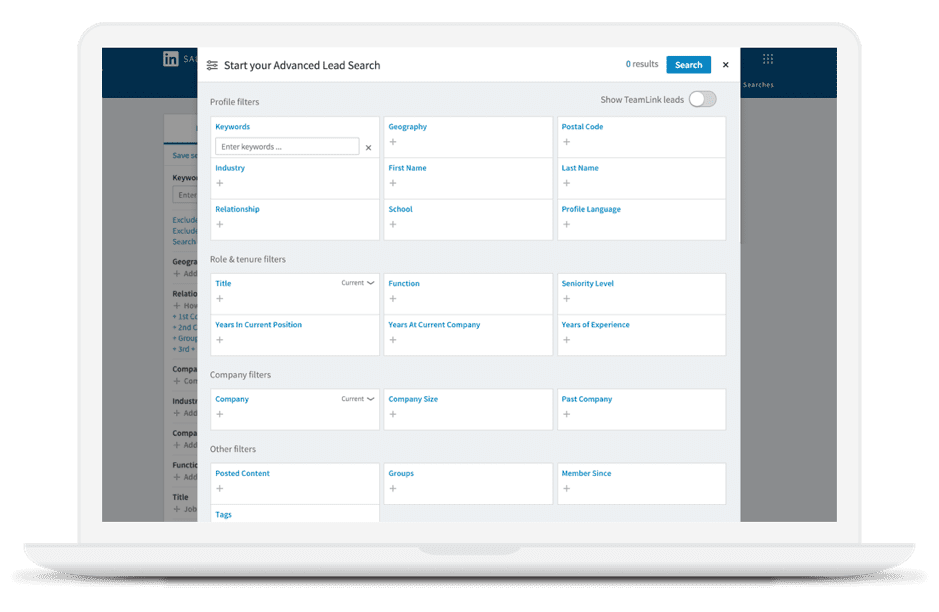 As its name suggests, this tool helps you find sales prospects more easily:
The 'advanced search' allows you to find the right prospects more easily as they offer a huge variety of useful search filters related to their personal profile, their work experience and current position, as well as other useful filters. With this type of search, you can easily find the profiles you're looking for based on your specifications; for example, search for people that live in a certain city, have worked for at least 5 years at the company you're targeting and have a high-security clearance.
Integrate with your CRM tool to keep track of these leads and begin your outreach and nurturing programme. Plus, you can also organize them in-app with tags, and leave notes for any of your prospects
As you establish what you're looking for, you'll start receiving targeted lead recommendations to simplify the process even more
Plus, you'll also be able to see who has visited your profile in the last 3 months to discover any other potential prospects, and you can even send InMails to any prospect, even if you're not yet connected.
2. Use a social media monitoring tool
Whether you're in B2B or B2C, a lot of your prospects are spending their time on social media.
The best way to find them is to use a monitoring tool to help, such as Brand24 or Brandwatch. Or, you can also use your preferred social media management tool, like Agorapulse: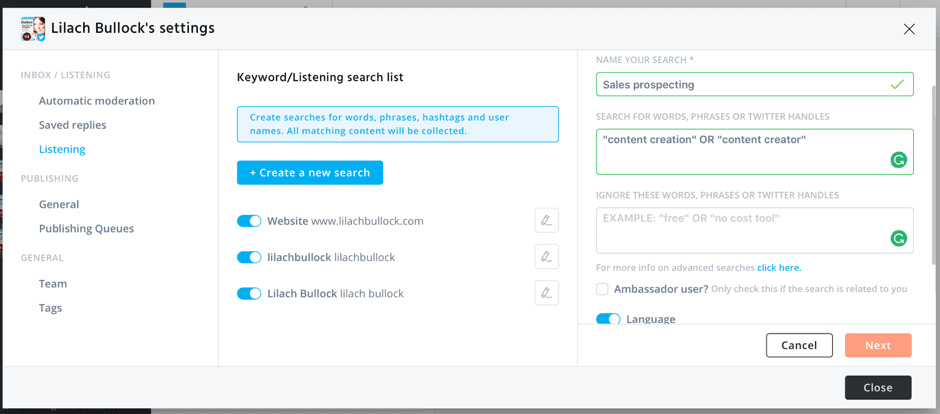 These types of tools allow you to create all kinds of searches: for your brand name, for your competitors, for social influencers, and so on.
But they can also be used to help you identify opportunities and sales prospects; here's how to use social media monitoring to generate leads and prospects:
Monitor your competitors' names to discover potential leads who are discussing products or services similar to yours, or asking around about them
Monitor relevant keywords from your niche/industry to discover any prospects looking for products/services, asking about them, or making comments
Monitor your own brand name so you don't miss any mentions or opportunities (not all users will tag you when mentioning you so without monitoring, you can lose some great opportunities!)
3. Use Socedo to automate Twitter lead generation
Socedo is, primarily, a Twitter growth tool. But it can actually be a great resource for automating Twitter lead generation.
The tool helps you search for the right people by looking at their bio as well as what they tweet about: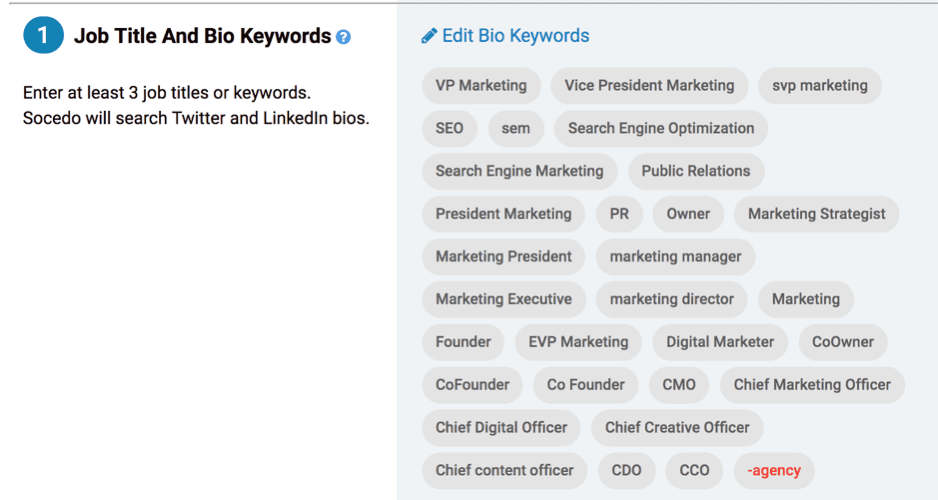 As you can see, you can search for users based on their job title; once your search is done, go in every day to go through your latest results or approve or decline them and then integrate with your preferred marketing automation tool to start nurturing them and work at turning into your customers.
Tools to help your prospects' contact information
While you can always choose to reach out to prospects via social media, it's much more effective to use a direct email or even phone number. Here are some of the best tools to help you find a prospects' contact information:
1. Use Lusha to find direct contact information
There are a lot of tools out there that help you find prospects' contact information – however, my favourite out of the bunch is Lusha.
You can get it as a Chrome extension for free (and get 5 credits as well per month free) and use it on both Twitter and LinkedIn.
Whenever you browse through LinkedIn or Twitter and land on someone's profile, you'll be able to see to Lusha helper on the upper right-hand side of your screen – if there's a number next to it, it means it also has that person's contact details and you can click on the icon to see them:
At this stage, you only see a preview of their direct contact details (the last half of their email address and the beginning of their phone number) and you only use up a credit when you click on 'show' – which is actually a big reason why I prefer this tool as it doesn't eat up all your available credits just for opening it, which happens a lot with other similar tools.
Another big reason why I like it is that the contact information is up to date – not some email address from a company they haven't worked at in years.
Plus, it also finds direct phone numbers and direct emails, not just their company-issued ones.
2. Find email addresses for any company with Hunter
Hunter is another good option that allows you to find all available emails for a company:

However, it only finds company email addresses and no other direct contacts. There are 2 ways to use it:
Search for any company using their website URL and generate all the available email addresses
Use the Chrome extension so that whenever you visit a website you can see a list of emails without leaving the page (no social media sites though)
While it's very effective and has a huge database, you need to make sure that the email you find is still up to date or that the person still works there as there are a lot of old or unused emails as well.
To check this, see if the company has a page with all their existing employees or if not, search for the company on LinkedIn: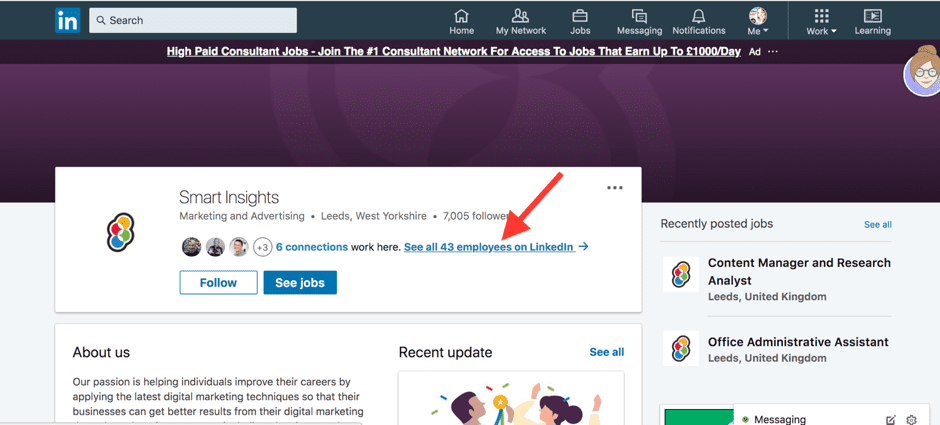 Then, simply compare the results you find on Hunter to discover the right contact email to use in your outreach.
Conclusion
With the right tools to help, prospecting can be so much easier and so much less time-consuming; plus, they can also help you generate better-quality prospects as you can refine your search down to the last detail.
And all of that extra time can then be used to generate even more leads and prospects for your business, as well as to properly nurture them into becoming actual paying customers.
What tools do you use to aid your sales prospecting? Which are your main methods for sales prospecting?
Join To Our Newsletter
You are welcome