Billed as one of BrightLocal's '11 Women in Local SEO Doing Great Things Right Now', Crystal Horton is a fount of knowledge and always happy to share her wisdom. That's why we decided to enlist her help to guide you through the process of getting Facebook recommendations. Read on to learn how you too can grow your Facebook recommendations in a few simple steps.
With over 80 million businesses listed on Facebook, 1 in 3 consumers use the platform to specifically look for recommendations. But, what we have discovered is that many business owners are uncertain about how to get started and what steps to take to gather recommendations quickly and easily. Business owners come to us (at Accelerate Marketing), often asking what types of reviews will produce results for their business and how to access their recommendation link. 
Why do Facebook recommendations matter?
Facebook Recommendations provide a simple way for potential customers to find and interact with a local business. In a recent Brightlocal review survey it was discovered that:
Over the last two years, Facebook has made Recommendations more important on Pages. People ask their friends for recommendations on where to go, what to eat, and how to shop. Recommendations are like a living, breathing word of mouth beast! 
Did you know that a Facebook Page has the potential of bringing in 50% of new customers? Local communities are built by passionate people who have a common interest to sustain and grow their community. It is in a local business's best interest to use a Facebook Page as a way to share how they are taking part in building strong, local communities. Recommendations increase awareness of a supportive local business.
How to Ask for Facebook Recommendations
Whichever way you choose to ask for a recommendation, please keep in mind that 7 out of 10 people will say "yes" if you simply ask. The best way to receive an authentic recommendation is to have the employee who worked most closely with the customer personally reach out and ask for a recommendation when they have experienced a 'reviewable moment'. A reviewable moment is when your company has gone over and above and the customer has expressed how happy they are with your service. 
The majority of people ask what to write in a review. So go the extra mile, take the lead, and give some guidance on how to leave a review that will answer a potential customer's questions when they are reading your recommendations. Use what we call the "2W Review Strategy." 
What

benefits have you received?  

Why

would you recommend us?
When a 2W Review is left, results are being identified and this is what we refer to as an "actionable review." When someone reads an actionable review that describes what they are looking for they will take action and call your company. Using this strategy will dramatically increase the quality of your recommendations and therefore drastically increase the inquiries about your services.
How to Ask for Facebook Recommendations in Person
When a customer is in front of you and has experienced excellent service, that's when to ask for a Facebook recommendation. The number one problem that we have identified with leaving a review for a business is that a customer doesn't know where to go in order to post a recommendation. So have the customer use their phone so you can quickly walk them through the steps of exactly what to do from start to finish.
Take a look at this sample script:
, it's been a pleasure to work with you and solve . Will you leave us a Facebook Recommendation so we can continue to share our great service with others? 
And here are some step-by-step instructions on how to recommend a business on Facebook.
For mobile:
Go to the Facebook Page of the business you want to recommend. 

Click 'Recommendations' or 'Reviews' on the left side of the Page. 

Click 'Yes' to recommend the Page or 'No' to not recommend it. 

Write a Recommendation

describing what benefit you've received and why you'd recommend us.

Click 'Post'.
For desktop:
Search for the Facebook Page of the business that you want to recommend.

Click on the business Page that populates in the search results.

Click on the 'Reviews' tab on the left-hand side of the Page.

Or, if you have the new Facebook design (as of July 2020), the tab for reviews will be at the top of the page.


On the left-hand side of the page, click 'Yes' or 'No' to recommend.

Write a recommendation describing what benefit you've received and why you'd recommend us.

Click 'Post'.
'Reviews' on Classic Facebook.
'Reviews' on New Facebook.
Oftentimes when in person, you will be asked what to say in a review. Work with your coworkers to have a few suggestions on hand of what to write as a recommendation. Search for key phrases, services, and/or product details your potential customers are typing in search to find you and work those keywords into a suggested recommendation. 
How to Ask for a Recommendation with SMS
How many emails do you have, sitting there unopened? I'm guessing it's a fair few.
How many text messages do you have unread? I'm guessing it's zero.
This is the reason why, at Accelerate Marketing, we get better than a 50% conversion rate of a person leaving us a recommendation when we ask with a personal text message. For contrast, with email it's about a 2-3% conversion rate. Yikes!
Here are the step-by-step instructions on how to send a text message to recommend your business on Facebook:
From your Home screen, tap the 'Messages' icon.

Tap the 'Compose Message' icon.

Enter the phone number in the 'To' field. To send a message to an existing contact, type the name, then select the contact.

Enter the message:

Hi this is with . Would you mind leaving a Facebook Recommendation telling us what benefits you received and why you'd recommend us? 

Include the Facebook Recommendation link

Go to your profile, click 'Reviews' on the left menu, and copy that URL, or just update this URL with your business page URL: https://www.facebook.com/ENTERYOURBUSINESSPAGEHERE/reviews/

Click 'Send'
Three days later, if a response or review has not been made, submit a follow-up message: Hi, I noticed you haven't left a review. It'd mean the world to me if you take a minute and leave a review. Is there anything we can help you with?
BrightLocal offers an incredible SMS Mode tool that allows you to send a pre-saved text message from their dashboard that sends the customer straight to the Facebook Recommendations tab so that it minimizes any confusion. Clicks are our enemies: the more clicks you have to get to the Recommendations tab, the fewer reviews you will receive. You can even respond to a Recommendation from the same dashboard — Bonus!
It takes the average person 90 seconds to respond to a text message, while email response is 90 minutes or more. If a response has not been made from the text message that was sent out we strongly suggest following up three days later. Following up is a great way to show that you are there to encourage them to take action and to also discover additional feedback if they don't want to recommend your business.
How to ask for a Recommendation with Email
As mentioned above, when requesting a review through an email message the response rate, on average, is 2-5%. You can increase this percentage to a 13% open rate with a personalized 30-second video. Every recommendation matters and if you can receive a couple of recommendations by sending out a personalized email, that deserves a "Woo hoo!"
The key is to make it personable. Create a personalized email with a screencast video that is sharing your screen with your Facebook recommendations in the background and holding up a chalkboard, whiteboard, napkin, piece of paper, etc. Write a personal message with their name on it so the video will be clicked on and viewed.
In the message, keep it simple by using a review request template for email. Attach your personalized video to the email message and voila, you have a solid recommendation request.
A couple of free tools I recommend to use in order to create a personalized video that allows you to share your screen are Drift Video or Loom.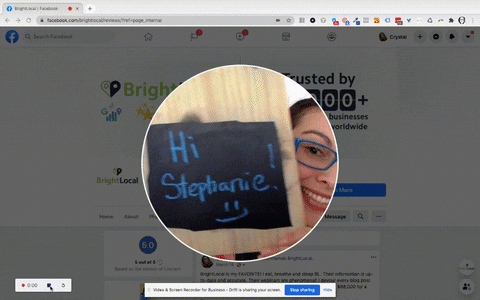 Here are the step-by-step instructions on how to send an email to recommend your business on Facebook:
Sign in to your Business Email Account. 

Compose a New Email using

 

a free review request email template

. 

Create a 30-second video using the 2W Review strategy as your script, like so:
Hi, this is   with . Would you mind leaving a Facebook Recommendation telling us what benefits you received and why you'd recommend us? It would mean the world to me. I have included the step-by-step instructions with a link to our Facebook page on how to leave a recommendation.

Write the Recipient Email Address. 

Enter the Subject of the Email:

Totally Need Your Help

🤪 (Or whatever suits your brand voice!)

Read again before sending and keep an eye out for grammatical errors

Click 'Send'
What benefits have you received and why would you recommend BrightLocal?
Finally, to model good behavior I would like to ask you to please leave BrightLocal a Facebook recommendation. Click here and let them know what benefits you've received and why you'd recommend BrightLocal's services. It would mean the world to them to have your recommendation and help them share their great service with others around the world.
Thank you in advance —  BrightLocal can't wait to share your review!