Want to know how to get more leads on Instagram? Most social marketers don't think of Instagram as a lead generating platform. But if you do it right, it can be very effective.
Social media leads are potential customers who express interest in your company and provide information that marketers can use to follow up with.
Roughly 80% of accounts follow a business on Instagram, which is already a pretty good sign of intent that marketers can tap. Even better: 80% of Facebook survey respondents say they use Instagram to decide whether or not to buy something.
If you're not collecting leads on Instagram, you're missing out. Read on to learn how you can use Instagram lead ads and other organic tactics to collect more leads on the platform.
How to get more leads on Instagram
Use these tips to make the most of Instagram lead generation.
1. Use Instagram lead ads
The first—and most obvious—way to get more leads on Instagram is to use lead ads. Instagram lead ads are designed to help businesses collect customer information such as email addresses, phone numbers, birthdates, and job titles.
These ads can help businesses learn more about customers, improve direct marketing campaigns, and more.
For example, the real estate agents app Homesnap used lead ads to learn about prospective home buyers. Greenpeace Brasil ran an Instagram Stories lead ad campaign to collect signatures for a petition.
To create Instagram lead ads, you'll need an Instagram business account. That means also need a Facebook Page. Learn how to set up an Instagram business account.
All Instagram ads are created in Facebook's Ads Manager. To create an Instagram lead ad, select Lead Generation as your marketing objective. Facebook recommends you select Automatic Placements to ensure cost-per-lead is optimized and kept to a minimum.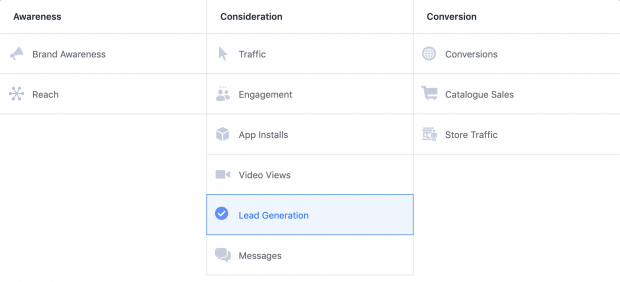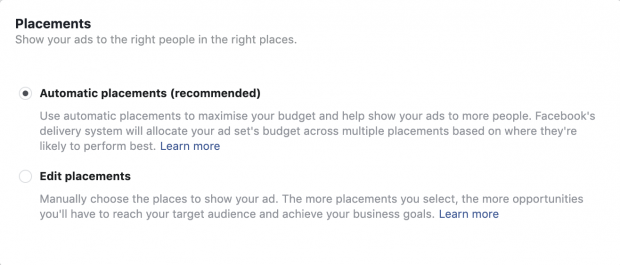 To make sure your ad runs on Instagram, your creative must adhere to the Instagram ad specifications. Consider adding pre-filled sections to your forms, as they often improve completion rates. Instagram can pre-fill email address, full name, phone number, and gender using information from customer accounts.
Customer information collected from Instagram leads can be used to fine-tune your Instagram ad targeting strategy or set up Lookalike Audiences. These audiences help you target people on the platform with similar profiles, allowing you to boost exposure and reach new prospects.
If boosting app downloads, website visits, or sales-related leads is your goal, conversion ads may be a better fit. Learn more about the different kinds of advertising on Instagram.
2. Add Action Buttons to your profile
If you have a business account on Instagram, you can add action buttons to your profiles. If you like, your profile can include a link to your email, phone number, and business address so people can get in touch with your company.
In addition to those buttons, Instagram provides better options for lead generation, including Book, Reserve, and Get Tickets action buttons. These buttons bring people to forms by Instagram providers, including Appointy, Eventbrite, OpenTable, Resy, and others. You will need to choose one that your business uses.
To add an Action Button:
From your account page, tap Edit Profile.
Tap Contact Options.
Select Add an action button.
Choose the button and the provider you would like to add.
Add the URL your business uses with the provider selected.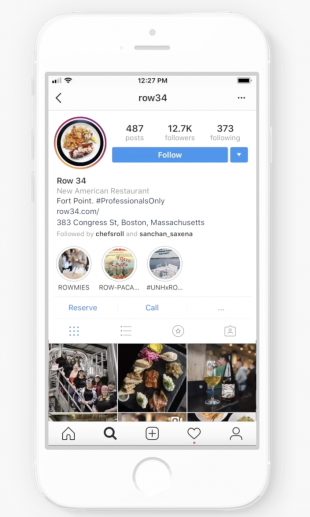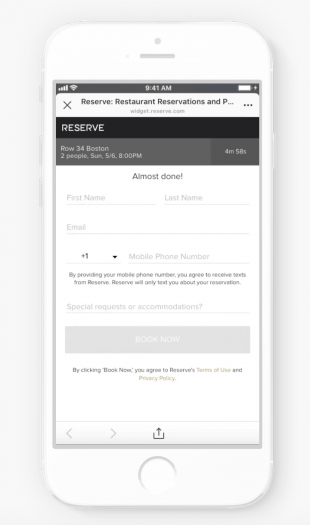 3. Optimize the link in your bio
With limited link real estate on Instagram, it's crucial to use the link space in your bio to its fullest potential.
Your link should point customers to whatever objective you wish to accomplish. That could be newsletter subscription, product sales, or a survey. Remember, you can change your link as often as you like.
Here are a few pointers for optimizing Instagram bio links:
Keep the link short, and try to use your brand name in it.
Promote the link in your Instagram posts with "Link in bio."
Include UTM parameters in the URL to make your link trackable.
Add a call-to-action above the bio link.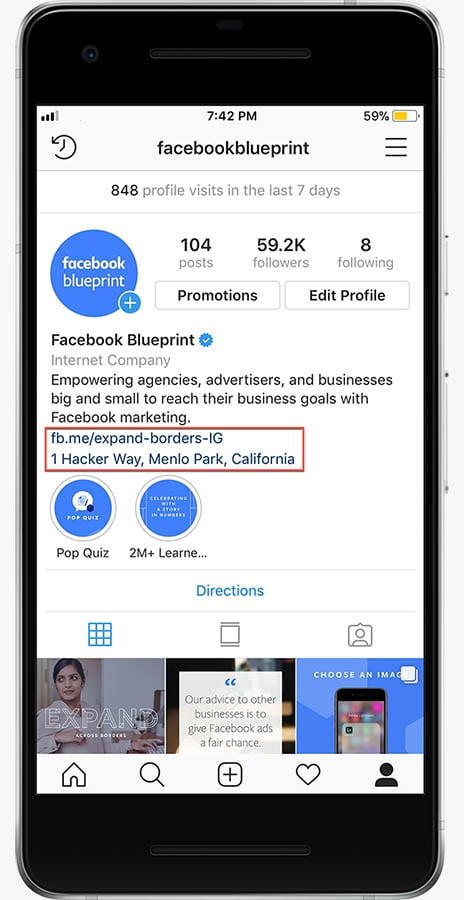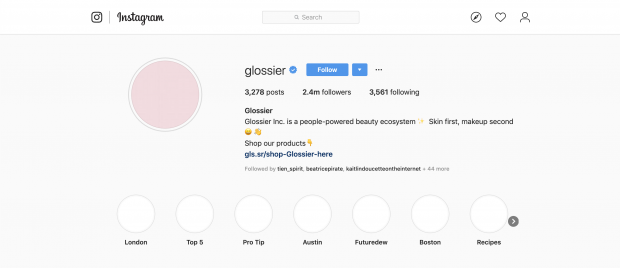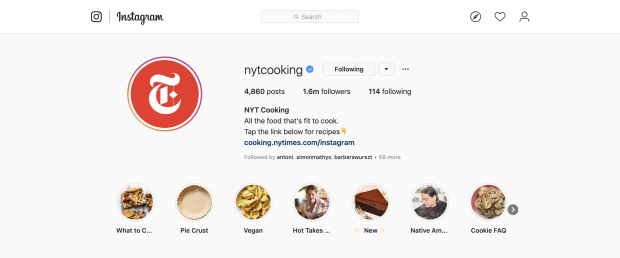 Need some help sprucing up your Instagram bio? Find inspiration from these excellent examples.
4. Design a landing page that delivers
Congratulations! Someone has clicked on your link. Now you need a landing page that won't make them regret the decision.
Hootsuite put together a guide for Instagram ad landing pages, and many of the tips apply here. The page should be scannable, create a seamless visual experience, and have a content that matches what people are expecting to find. Whatever promise your call-to-action sets up, your landing page should deliver.
For some brands, that means using tools that turn feeds into clickable landing pages. Shoe company Toms does this with a link to its website in the upper right corner.
Madewell takes a similar approach, but makes its feed more shoppable, with posts that itemize and link directly to its products.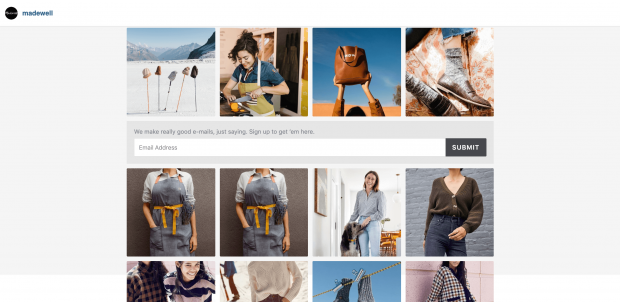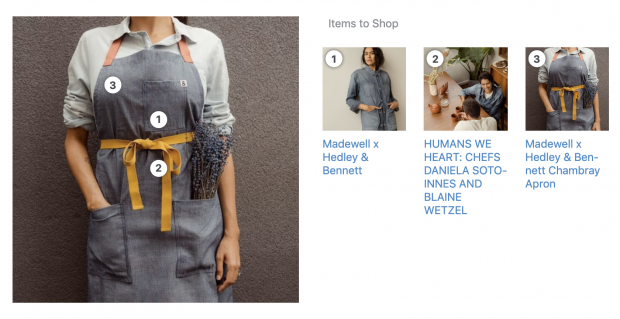 Other brands elect to link to specific pages on their website. Take design house ban.do, which swaps out links depending on what it's promoting. Around the holidays, a gift guide is a great idea.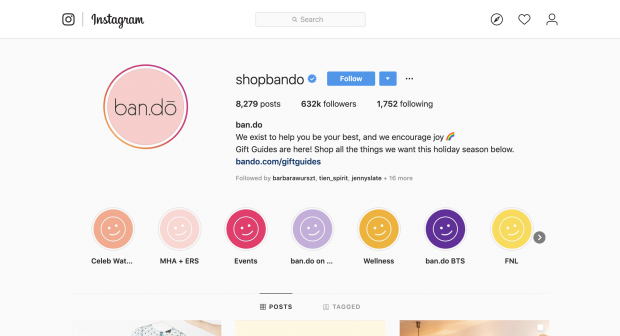 Here are some handy link-in-bio tools.
5. Use the "Swipe Up" feature on Instagram Stories
Another place where Instagram lets people embed links is Instagram Stories. If your account has more than 10,000 followers, this is a feature you should use to your advantage. (Need more followers? We've got several tips that actually work.)
Not convinced? One-third of the most viewed Instagram Stories are from businesses. Plus brand-led Instagram stories have a completion rate of 85%.
Stories can be tend to be more effective than a bio link, since all it takes is a swipe to act on an impulse. Remember, don't make someone regret the impulse. A good landing page is needed here, too.
How to add a link to Instagram Stories:
From the feed, swipe right, or tap the plus icon by your profile picture in the top left corner.
Capture or upload your content.
Click the chain icon and add your link.
If the link will stay online long enough, consider adding the story to your highlights. This increases its visibility and gives second-guessers a chance to revisit.
Learn more about how you can use Instagram Stories for your business.
6. Tailor creative around your goal
The best push for Instagram lead generation is a strong call-to-action. The two-to-six word phrases like swipe up, shop now, click the link in our bio, can pack a lot of punch—especially when paired with the right content.
Your visuals and your call-to-action should always work together to fulfill the same goal. If you'd like someone to click the link in your Instagram bio, your post and caption should entice them to do so. Your call-to-action should be the final push or nudge in that direction. Want someone to swipe up on your Instagram Story? Give them a reason to do it.
On posts, draw attention to your call-to-action with an emoji. In Instagram Stories, use stickers or text to give your audience direction. Make sure that your creative leaves room for these call-to-actions, and doesn't overcrowd the "See More" icon.
7. Create shoppable content
Tagging products in Instagram is not just a good way to increase sales. Even if a tap does not result in a buy, you can consider it a lead collected on an interested customer. And Instagram Shopping has received plenty of interest. More than 130 million accounts tap on product tags every month.
This type of intel is invaluable when put into the hands of savvy marketers. You can use it to see what products your audience is interested in, or target ads to customers who have engaged.
To create shoppable Instagram posts, start by making sure your account is eligible. You'll need to have a Facebook catalogue, which you can create using Catalogue Manager, or with a Facebook Partner. After your catalogue is connected, you need to sign up for Instagram Shopping. From there, you can start adding product tags to your posts and stories.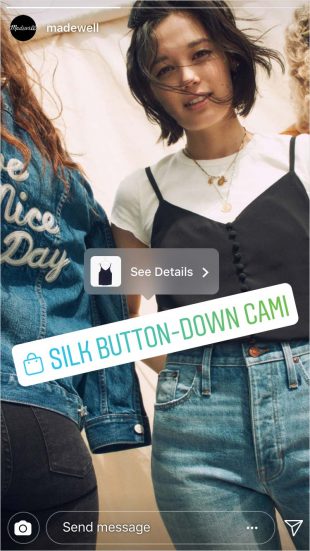 With Instagram Insights, you can track product views (the total number of times people click on a tag), and product button clicks (the total number of times people clicked purchase on the product page).
Shoppable posts also stand a chance of showing up in the Explore feed, which more than 200 million accounts visit daily. Instagram is also testing shopping posts as ads, which will provide marketers with ways to target and collect new leads from window-shopping customers.
Learn more about Instagram Shopping features.
8. Partner with an Instagram Influencer
Partnering with influencers can be an effective strategy for new Instagram lead generation.
Choose an influencer with strong brand affinity but only partial follower overlap. This will ensure that your partnership will reach new prospective followers and leads. Credibility is important, too. If an influencer has the trust of their fans, they may have more power to sway them than you do—especially if you have a young company.
With tests underway, soon Instagram users will be able to shop looks from influencers, too.
9. Run an Instagram contest
A creative way to collect leads on Instagram is through a contest, sale, or promotion.
Ask followers to complete a survey or comment on a post for a chance to win a prize. Add a tag-a-friend element, or partner with an influencer to broaden the scope of the contest and generate more leads. Here's some Instagram contest inspiration.
Or consider running an exclusive sale or promotion on Instagram. As Instagram explains on its blog, "With a limited time, Instagram-only promotion, you can create a sense of urgency and prompt people to shop." The more people you prompt, the more leads you get.
10. Feature popular products often
This tip comes straight from Instagram. As the company explains on its business blog, shoppers are not always ready to make a purchase the first time they see your product.
Instagram recommends you check the Insights tab to find the product posts that perform best. Then post popular content regularly, so you can keep your product fresh in their mind, build consumer confidence, and create more opportunities for them to buy.
For its launch of Futuredew, the cosmetics brand Glossier posted about the product in its feed more than 10 times in less than five weeks, and even created a story highlight for it. Importantly, the same post was never used twice. The company mixes product shots with influencer endorsements and interactive storytelling.
Maximize your reach by posting regularly, posting at the right time, and posting in different formats. Some Instagrammers may only look at your stories, while others look exclusively at posts. Share in both formats to improve your odds. But if you do, remember to tailor content accordingly.
Coming soon: Set a product launch reminder
In September 2019, Instagram started testing a way for businesses to give customers the option of setting reminders for product launches.
Select brands have been testing a product launch sticker in Instagram Stories that lets people sign up if they are interested in receiving news about new releases.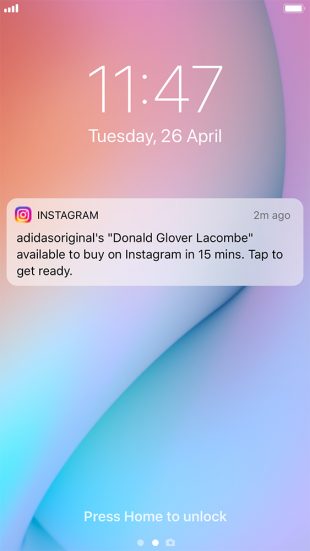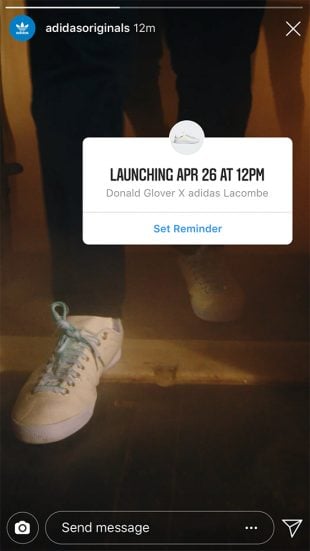 So far it's only available to 21 companies—including Benefit, Levi's and SoulCycle—but keep your eyes open for it in the future. You can use the product launch reminder to gage customer interest while collecting a list of people who want to stay informed about your brand.
Save time managing your Instagram presence using Hootsuite. From a single dashboard you can schedule and publish posts directly to Instagram, engage the audience, measure performance, and run all your other social media profiles. Try it free today.
Get Started
Join To Our Newsletter
You are welcome