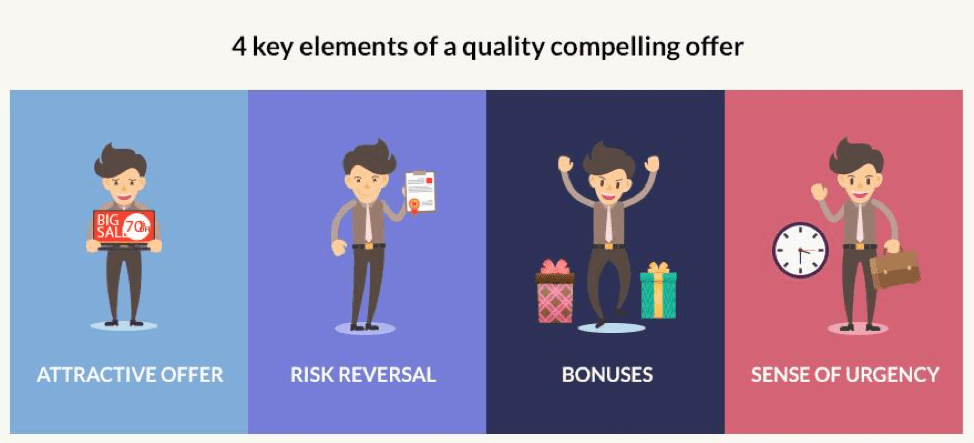 How to make a compelling offer your customers just can't turn down
Creating a compelling offer requires extensive knowledge of your target audience and their specific needs and challenges
There's one thing no business can thrive or operate profitably without – a compelling offer. It's the heart of any business success and the lifeblood that keeps all the business processes moving seamlessly forward.
That being said, whatever it is that you're offering (a product, service, education, consultancy, and so on), you'll have a much better chance of success if you make that offer as compelling as possible.
But what does a compelling offer mean exactly? To paraphrase Marlon Brando in The Godfather, a compelling offer is that irresistible offer your target customer simply cannot refuse. Usually, it comes immediately after the lead magnet.
Creating a compelling offer requires extensive knowledge of your target audience and their specific needs and challenges, but you must also be very familiar with the industry and your niche, have excellent copywriting skills and the ability to deliver on what your offer promises.
To make things easier for you, we've identified four key elements you should include in your offer to make it as compelling as possible.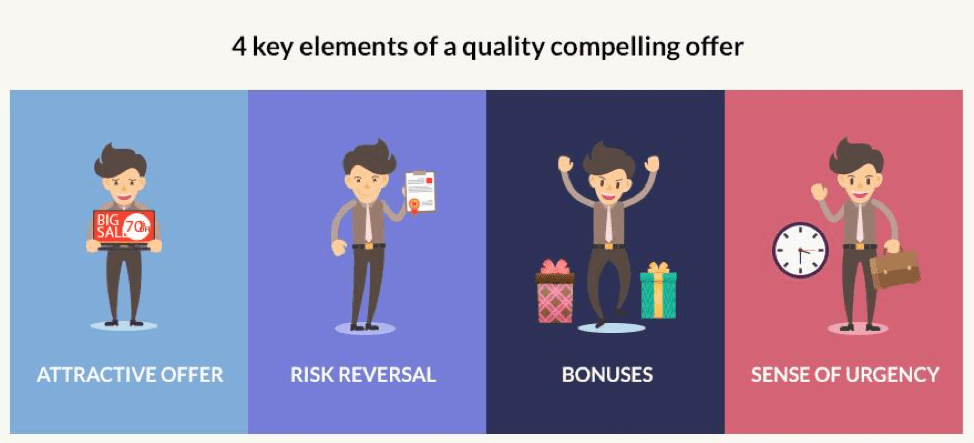 1. Attractive offer
Obviously, a compelling offer needs to contain the offer itself. It needs to be something attractive that will make your potential customers even more likely to buy. There are at least two things every compelling offer has in common – it's clear (non-deceitful) and it offers great value.
First, there has to be no doubt about what exactly you're offering. It has to be completely clear what it is that you're selling (this should go without saying, but so many brands and businesses out there make this mistake), as confused people aren't very likely to purchase from you.
How to make sure your offer is clear and direct enough? Here you need to employ your copywriting skills to ensure the offer is accurately depicted and not shrouded in a veil of mystery. Plus, whenever suitable, you should use numbers, percentages, dates, and quantities to specify the details of your offer.
Second, as already mentioned, you need to offer something of real value to your customers. Make sure not to overpromise or underdeliver. In many cases, offers that don't deliver real value end up being disputed and often lead to a refund and/or a bad review.
2. Risk reversal
Of course, it's quite easy if you're Nike or Apple and already have an established base of loyal customers who are familiar with the quality of your products. But what if you still have a quality product or service to offer but are new in the business and just trying to get your share of the market?
People who are not familiar with your company, brand, or products are going to be wary and skeptical. They're not going to buy from you just because you say that you have a good product. Instead, you need to ease their worries and convince them that you can deliver on what your offer promises – and this is where risk reversal kicks in.
In fact, it's been proven that risk reversal can double your conversion rate. That being said, your compelling offer needs to include some kind of a risk reversal incentive. Some of the most commonly used risk reversal techniques are a free trial or a money-back guarantee.
When there's risk reversal involved, people know that their money is not just going to disappear leaving them with a bad product or service and, as a consequence, are more likely to buy.
3. Bonuses
It's an indisputable fact that customers simply adore bonuses. Just think about all the times a bonus offer, bundled up with the main product, has smooth-talked you into buying something. Bonuses can come in many shapes and forms – it can be an additional product, a discount, a voucher, a gift card, and much more. They are essential to your compelling offer.
Keep in mind that "a bonus" doesn't necessarily mean you have to lower your prices or give something away for free – it just means that you're adding more value to your initial and main offer, making it more compelling.
4. A sense of urgency
A sense of urgency is a powerful mechanism that can make your offer appear even more appealing (than it really is) to a potential customer. In most cases, a sense of urgency is created by tying an expiration date to your offer.
It's inherent in human nature that we don't want to miss out on something potentially great (there's even a phenomenon called FOMO – fear of missing out). That being said, a countdown timer (in combination with risk reversal or a bonus) is often more than enough to kick us into action and get us to buy before the time runs out.
Let's take Marcus Taylor as an example. He is an entrepreneur who launched a kind of a Groupon deal for musicians back at the time. While A/B testing his offers, he managed to increase his sales by 332% after adding urgency to one of his offers.
In case you don't want to put an expiry date to your compelling offer, you can create a sense of scarcity by limiting the number of items or slots available.
To put theory into practice, I'm going to provide you with three examples of compelling offers in three different online business areas – consultancy business, e-commerce, and SaaS business.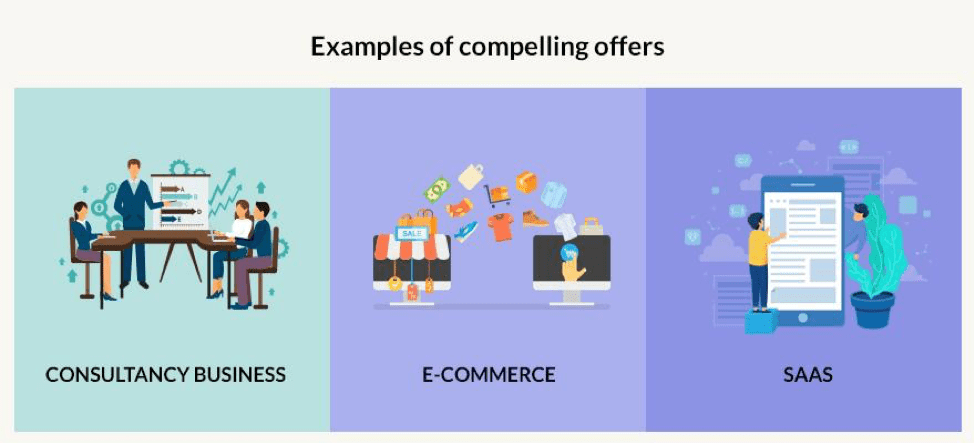 Compelling offers in the consultancy business
Tony Robbins, one of the best-known life coaches in the world, plays the card of risk reversal by offering his clients a free 30-minute session to have the initial talk and see if the potential client is interested in booking a consultation.

This method is particularly popular amongst consultants, coaches, marketing experts, and so on, as it provides both client and consultant with an opportunity to check whether they'll be a good fit for each other.
Compelling offers in e-commerce
E-commerce is filled to the brim with compelling offers. From technology to beauty products, almost everyone in e-commerce uses compelling offers as a legitimate and highly effective means of increasing their conversion rates and revenue.
Annmarie Gianni, a skin care brand, has effectively utilized the power of compelling offers to generate $200,000 in revenue and acquire 20,258 leads in just two months. What did its compelling offer look like?
After taking a skin care quiz and seeing the results, its website visitors were offered a sample selection of skin care products for just $10, a $10-coupon for future purchases, a money-back guarantee (risk reversal), and a free ebook (a bonus).
Compelling offers in SaaS
There is no doubt that SaaS (Software as a Service) is the future of doing business online. That being said, SaaS businesses are not immune to utilizing compelling offers either.
Let's take Shopify as an example. Shopify is a platform that enables you to easily set up your online shop. It also does an excellent job with compelling offers. In addition to offering a 14-day free trial (risk reversal), it also offers you a possibility to sign up without credit card details (a bonus), which is not something many of its competitors offer.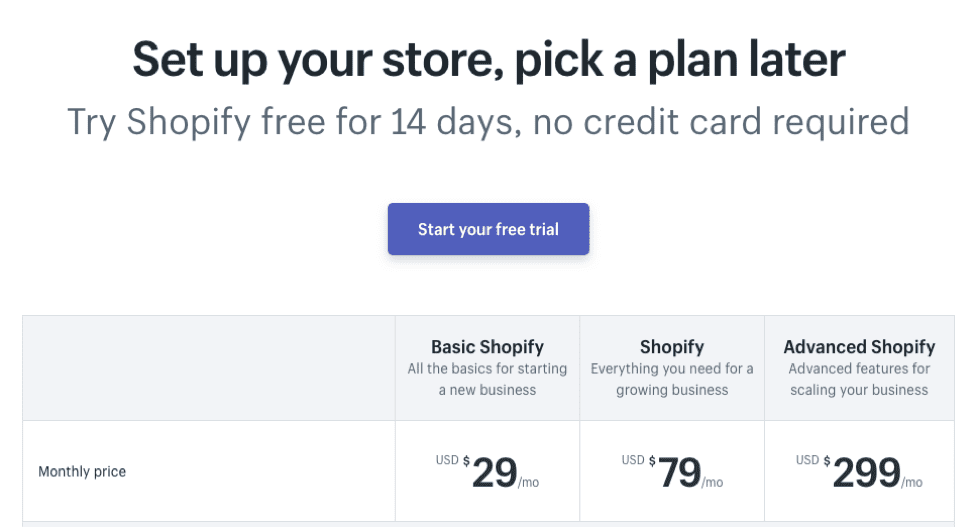 Conclusion
As you can see, compelling offers come in many different shapes and forms and can be used to significantly improve your overall sales and revenue.
Whether you decide to offer a free trial, a bonus product or feature, a discount, or a money-back guarantee, hopefully, some of the tips I shared above will help you make your customers a compelling offer they just can't turn down.