Learn about identifying seasonality peaks and maximising your organic traffic in my latest post…
In this post you'll learn how to maximise organic traffic during peak season, spot low season opportunities and handle seasonal landing pages.
But first, a question…
Do you think it takes around three months to see results off the back of an organic strategy?
This was a question I put to members of ClickThrough in our Friday ChatThrough. Around 80% of people put their hands up – but why?
People generally think it can take Google up to three months to crawl and index a page. However, this is only half true. I'm going to share with you why this is the case and why it's important to be creating an SEO plan for your peak sale period well in advance.
For most websites Google will crawl and index any site changes, technical or content, within one day of those changes going live. To prove this, I have some insights.
Client 1
This website has 2,768 html pages and receives on average 1,500 sessions per day. According to their search console account, Google crawls 1,500 pages per day.
They launched a new website on the 27th of February and received sessions to new pages on the very same day. And by new page, I mean those that had no redirects pointing from legacy URLs or canonicals in place.
Client 2
This client uploaded a new page of content on Wednesday. Checking the index for this content on Friday, we can see that it is indexed and already ranking for its primary term.
So, going back to the idea that it takes three months to see results…
When Google processes new information from a website it will see this as 'fresh content' which is seen as better than the previous content. Because of this, we often see performance peak. This is called 'freshness bias'.
Google continues to crawl the web, making a comparison between those content changes and other websites. It's only then that we get an indication of realistic performance. So, it's only after 3 months that we can assume that the results we have are stable.
So, bearing this information in mind, when should we start planning for seasonality peaks and troughs in our organic strategies?
Scenario
 The example strategy below is for a retail homewares website, where Black Friday through to the 21st of December is peak. January is a period of sale. This homeware company also retails garden furniture and décor.
Below I've provided an example organic strategy for the 7 categories on their website (in order of priority):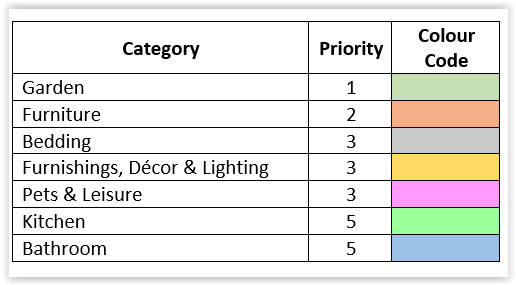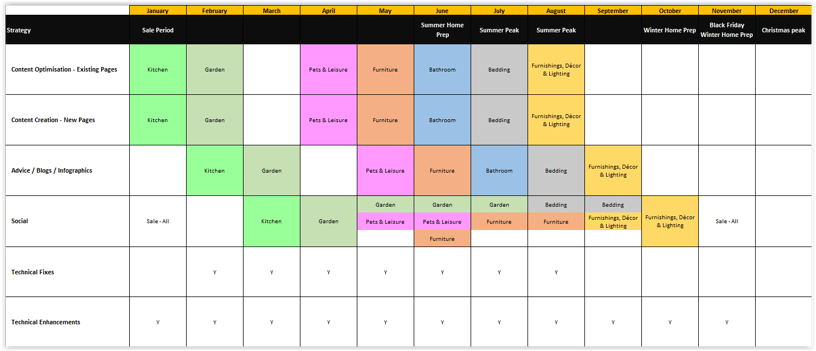 You'll notice that we would begin work on their garden category in February, completing on-page SEO content for any new pages and optimisation of existing content. In March we'll complete our creative strategy for this category, including advice blog posts and infographics. This will then all be ready to promote on social channels in April through to the end of July.
Although 'bedding' is a priority for this business, we don't necessarily promote this in the SEO strategy. We prioritise other categories ahead of this. Take 'kitchen' for example – first in the year to be completed, but at optimal time when people are thinking of refreshing their home for the spring or summer.
Bedding, furnishings, décor and lighting is last to be completed in the year. Although a relatively strong performer throughout the year, this is a prime time of sale for these categories when organic traffic soars, as the nights will soon be drawing in and the temperature dropping.
Technical SEO Strategy
If there's a technical error, it should be fixed as soon as possible. However, for those larger code changes, we recommend doing these out of peak sale.
Technical enhancements can include anything from structured data mark up to mobile speed, and these should be developed continuously.
It's no secret that technical changes can go wrong, which in turn negatively effects organic performance. So, we recommend that all amendments are planned in the SEO strategy and are made in a staging environment which is reviewed by a technical SEO specialist.
How to handle seasonal landing pages
Planning a redirect and URL management policy for out of stock or end of line categories and products is important to minimise the impact that any changes have on organic performance. This includes overall site visibility and organic rankings, which, in turn, effects organic traffic and revenue.
Here are a few best practice tips to incorporate in your technical SEO strategy

Product Discontinued – 301 redirect* to a corresponding product or category. Remove or change internal links pointing to the old product URL to point to the new page.
Product Temporarily Out of Stock – Keep the page and internal links pointing to it. Display an 'Out of Stock' notice on the page.
Product Out of Season – keep page but remove internal links pointing to it.
*301 redirects – Not all products will require a redirect. Understand the value of individual products/URL's by metrics from Google Analytics and external activity such as backlinks and social shares. Products with very little equity could show a 410 response instead of a 301 redirect. This allows the redirect file to remain manageable.
If you would like support on putting together an SEO strategy, get in touch.
Join To Our Newsletter
You are welcome