Unlike the name Customer Data Platform suggests, it is not "just" about customer data
Marketing data is the lifeblood of modern marketing and marketers are hungry to work in a more data-driven way. This explains how a relatively new type of MarTech, the CDP, is becoming so popular. But unlike the name Customer Data Platform suggests, it is not "just" about customer data.
The recent Data Culture Report from Lexer finds that only a fraction of brands feel they are capitalizing on the full potential of their data. Some 80% of companies are investing in specific customer data projects to fill that gap. High performers show it is important to do more in-house and have better access to data and insights.

A Customer Data Platform lets you bring together and centralize data so you can use it for, for instance, analytics and real-time one-to-one targeting and personalization. I have written about the benefits of a Customer Data Platform (CDP) before. The difference between CDPs and other data systems is that you don't bring a part of interaction or customer data together. You can potentially bring it all together.
But a Customer Data Platform isn't "just" about customer data.
At the centre of the marketing profession is the RELATIONSHIP between the customer (individually and in groups) and your business. So when we talk about data, it isn't customer-centric, it is relationship-centric thinking.
As the strongest indicators of that ongoing relation…. you might think of a customer profile. Or maybe data on promotions and content, because those make up the messages that marketing works on. But if we are talking relationship, we can't forget one of the more unlikely, original 4Ps: Product.
Unlock your product data to gain more powerful data tactics
Each product is actually made up of a series of attributes about the product itself, but also about the perceived benefits of the product and eventually the match with the customer. The richer the product data, the more data-driven tactics are unlocked. So, to gain a deeper understanding we must deconstruct each product into attributes.
Colour, brand name, type, style, variations, but also relations between products, for example to make suggestions like "is alternative to" or "often bought together".
Within MarTech we can only use the product attributes data if:
it is stored and
it is accessible for use in marketing tools
Adding tags to the products that show their attributes can give this extra layer of data insight and access. If someone interacts with the product and, for instance, favourites one, we now have an additional insight into what could drive their preferences. It is not by coincidence that tagging is the first essential feature in email targeting.
Customer Data interaction-preference-product model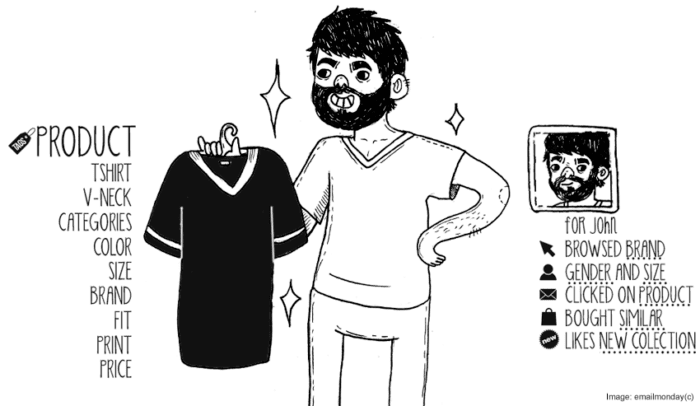 Image by emailmonday (c)
If you look at the illustration above, notice that the data of the customer and his behaviour alone doesn't equate to the best recommendations. You also need the product data (tags) to match and select the right products to proactively recommend if you want to go beyond "recently viewed".
The recommendation for John is not only based on his profile and behaviour, it matches it with the product data.
Slicing the data
As a marketer you need to be able to see product revenue and report on them. How you slice that data, makes a lot of difference. By looking at sales per category it might show a fashion retailer that T-shirts are the most popular product category, but misses a lot of insights.
Deeper understanding with Product Attributes
Once sorted by colour, it shows that all black apparel (not T-shirts) is actually the most popular. That opens a lot of questions about customer preference:
What did a customer actually like? Was it the brand? A type of garment? What was the way he searched and filtered your catalogue? Which page did he enter via search? Which link did he click on in your newsletter?
Now we are starting to see some of the deeper insights that come with the data and that try to explain the future behaviour and preferences of your customers.
In turn, we can use the data to drive direct product recommendations and to personalize campaigns. Or on one level higher, create segments (or groups/tribes) of people.
For instance, groups can be:
Coupon lover
Brand loyal patron
VIP (high-frequency and high-margin products buyer)
Browse online, buy in-store
Engage through email
Gift giver
Loves latest products
Favourite product colour is Purple
Single category shopper
By identifying the groups that are most interesting, either in size or profitability, we can now start creating new content and add the best products for them based on the data. Or we can stimulate groups that are lagging. You have heard of the RFM model, now imagine the RFM model but with an additional layer of insights into customer intent.
So what is the place in the Customer Data Platform (CDP)?
The Customer Data Platform (CDP) is a customer database that is accessible to the marketer and open to other systems. It can store both data from identified customers, anonymous data and any other type of data either structured or unstructured. Some of these uses depend on the product information.
Turning data into insight
One of the goals of the CDP is to drive insight. You can create increasingly targeted campaigns with product information. But it is also about the insight from the data and using that can inform strategic decisions.
Real-time personalization
The CDP can assist in real-time personalization. If a VIP comes to your website, you want to alter the customer experience accordingly – this needs real-time (and open) access to the data and the related products, something a CDP can facilitate.
Defining segments and tribes
Having data centralized can greatly increase the ease of segmentation and selection. One of the problems with making use of data was that there was IT involved or a lot of manual work to create segments. Now a CDP can facilitate the marketer to directly work on creating those segments and selections in a DIY fashion.
A CDP is about more than Customer Data
As we know, a CDP can pull and bring together data from all first party and even 3rd party sources. Data from website behaviour, social, CRM, e-commerce systems. I recommend to start your CDP journey with a limited set of data sources, but the open nature lets it easily integrate with many. And one of the sources that will be most valuable is purchase and product data. As it is impossible to do Next Best Action or Next Best Content prediction, without the data about the products and the relation to content and person.
Join To Our Newsletter
You are welcome