How to make the most out of SEO tools to increase your internet presence
When it comes to SEO, you can't have enough hacks or tricks up your sleeve (at least, I can't). After all, ranking on Page 1 of the Google can take your business from zero to hero pretty quickly. So all of us digital marketers try our very best to achieve the coveted page 1 rank for a high-volume keyword.
There are a ton of tools out there that can help you try and do this. For instance, SEMrush and Ahrefs to determine the best keywords. But since we're all a fan of freebies and creative hacks (aren't we all?) – I'll share how a simple tool like a good alerts system can help raise your awareness too, and bump up SEO efforts.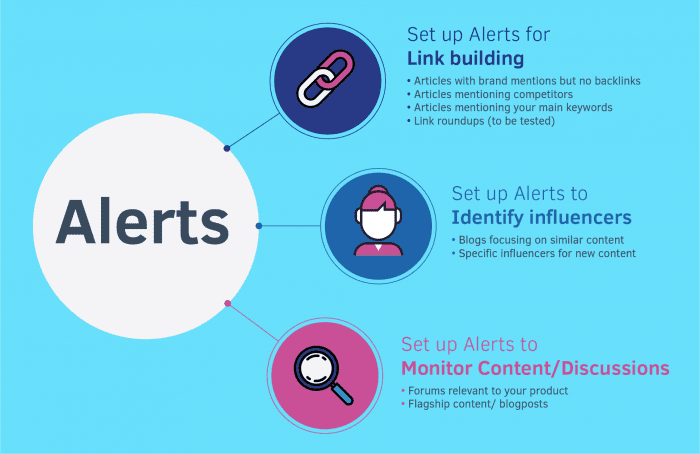 Alerts for Link Building
One of the most powerful factors determining your rank on Google is the number of backlinks you have. The term link equity refers ranking factor based on the idea that certain links pass value and authority from one page to another, improve page, or even domain authority. Even though they're probably not your favorite things to do – regular outreach and tracking each social mention are the best ways to achieve this. But the immediate question that comes to mind is who would be interested in my post/product? And what tool do you use to answer this? Talkwaker Alerts lets you do this:
Alerts help you find versatile opportunities for link building quite easily – for instance if you set up alerts for your brand name or keyword, you're going to get a list of posts which mention your brand and/or keywords. You'd be surprised at how often people mention you but don't link to you! After you're done identifying a list of these posts, reach out to the authors and request that they link back to you.

More often than not (unless it's against the website policy), they'll be willing to link to you – probably because it makes for a better user experience for their readers. Talkwalker Alerts makes this even easier because you can choose to receive results only from blogs – so you don't need to sort them on your own and can just reach out to bloggers. The other thing you can do is set up alerts for your competition – more often than not, an article is enriched if they have multiple options to recommend.
---
Pro tip: Set up an alert for Link Roundups. They're always the low hanging fruit of the outreach world. For instance, you can have an alert set up for weekly roundups on social media. You'll know exactly which ones are more likely to link to you if I ask (nicely).
---
Alerts to Identify Influencers
Influencers = blogs with high domain authority. High domain authority = better quality backlinks and in turn, higher rankings on Google. Sounds straightforward enough, but here again, we have a problem. Which influencers are writing about topics you're focusing on? Who is likely to give you a backlink? Who writes often and has a bunch of opportunities for backlinks? The answers to all of these questions can be found using an alerts system.
Initially, you can set up a query for topics you're interested in and use Talkwalker Alerts to filter down for

Blog only

results. This helps you identify blogs that are relevant to the industry you work in. You can replicate this with Google Alerts – the only difference is that you would need to manually select the blogs that are interesting to you.

Then, you set up alerts for the blogs identified in the previous step to receive updates on the kind of content published by them. The best part is, this enables you to interact with bloggers on Twitter or other social networks and forums. Which means that you can make a tiny space (wave?) for yourself on their radar. And if you've tried building relationships with influencers before, you know that the first step for this, in most cases is to engage with them – what better way to do that than discussing their work?
---
Pro tip: Wherever possible, try to add comments (with links) in the comment section of the blogs you're tracking. After all, every link counts and gets you noticed. This comes with a heavy disclaimer though – your comments need to be relevant, nothing is a bigger turnoff than spammy comments.
---
Alerts to Monitor Content/Discussions
As digital marketers, we all know how important it is to inject ourselves into conversations at the right moment, with a strategically placed link (or two!). Alerts help you track and monitor relevant discussions about your brand or keywords – so you can start interacting with the most qualified audiences at just the right point in the conversation. If nothing else, this is sure to drive a bunch of traffic to your page.
The other thing that's useful to do, if you have a piece of content that's working very well for you (flagship piece), is to set up alerts for your content so you know whenever your content is mentioned. This is really useful for keeping track of your backlinks and the buzz around your post.
Pro tip: Set up alerts simultaneously for the SEO keyword your content is optimized for and find related backlink opportunities – two birds, one stone!
It's safe to conclude that although SEO is most definitely a long-term game, there are some hacks and quick fixes that can considerably speed it up. Moreover, though you'll find a bunch of tools (they're mostly freemium tools) that help you identify promising keywords and their corresponding metrics – search volumes, competition, etc. – using free tools for the more labor-intensive parts of outreach to help your SEO efforts is pretty satisfying.
Join To Our Newsletter
You are welcome