Facebook video ads really could be the silver bullet that creates a huge bottom-line impact
For as long as I can remember, marketing professionals have been proclaiming that Facebook is dead. A little extreme, right? Well, continually declining reach, boosted posts and ads that deliver untargeted fans and traffic, and the need to throw big money to generate any meaningful ROI have all contributed to this frustration.
To be fair, as social networks go, Facebook is harder to crack than some of the others. There are some Facebook marketing hacks you can test that will certainly help, including:
Tagging contributors, fans, and experts in posts to extend reach
Commenting and liking as your page, not your personal account
The use of visual imagery
Joining and contributing to facebook groups etc.
But, let's be honest, these alone won't generate the sort of traffic, leads and business growth that any business wants and needs. This is where video comes in!
Over 100 million hours of video is watched every day and a portion of that viewing could be utilized by your business to both engage with your audience and grow. Facebook video advertisements and all Facebook video content is leading the market in conversions and gaining attention from users.
The accelerating reach statistics for Facebook video has led many marketers to throw themselves into this form of advertising blind. But it is important to treat this form of advertising like any other: be measured, and structure your approach to using Facebook video advertisement. And this is what I cover in this article!
Why use Facebook video ads?
Statistics from Socialbakers show that video gets more reach than any other type of post.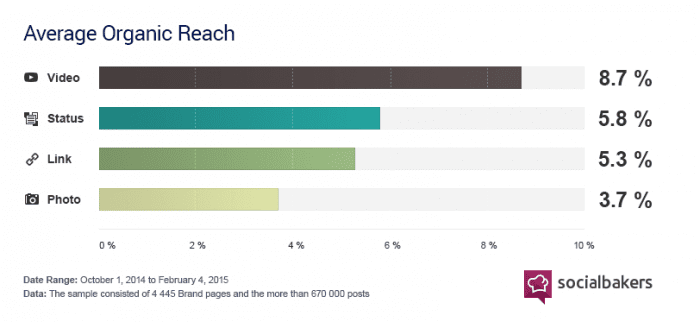 There are 8 billion video views on average every single day on Facebook according to Bannersnack.
As the largest social media platform, Facebook is ideal for reaching a large number of your target audience. Furthermore, the sophisticated level of targeting available through their campaign tools makes it easy to be hyper-focused on your exact targets and audience segments.
Video's popularity cannot be questioned, and neither can that of Facebook, so the combination has the potential to work wonders for your business.  So, let's take a look at how to do this.
Creating the optimal video ad for Facebook
You will hear many different arguments about how long your Facebook video content will be. Long-form content has become popular in written advertising, but this isn't necessarily the case when it comes to video.
Vidyard found that 56% of all videos published in the last year were less than 2 minutes long: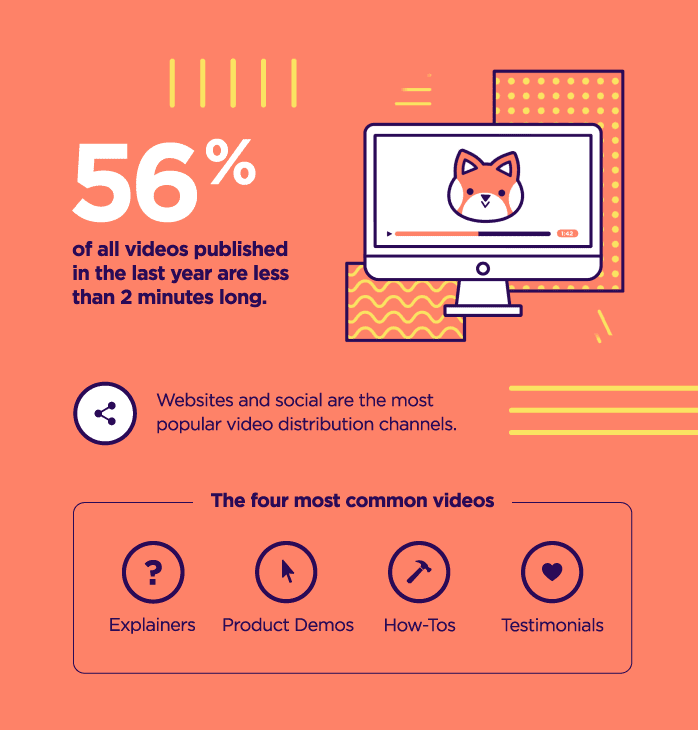 Moreover, research conducted by Hubspot found that the optimal length for Facebook videos are around 1 minute. This is due to the speed at which Facebook moves and because time-poor users simply want to be able to dip in and out of content, before moving onto the next thing that's captured their attention.
Facebook themselves suggest some helpful hints for creating effective videos in the right format and you should keep in mind the following parameters:
Video ratio is 9:16 to 16:9
Video file size cannot be more than 4GB
Videos can be as long as 240 minutes
Captions are recommended but entirely optional
Sound is also recommended but entirely optional
125 characters of text is allowed
Getting the most from your Facebook advertisements also requires combining content in the most effective way. In their own IQ report, Facebook's insights show some effective ways of bringing your content together. Their 'creative combinations' research found the benefits of incorporating static and video content to great effect: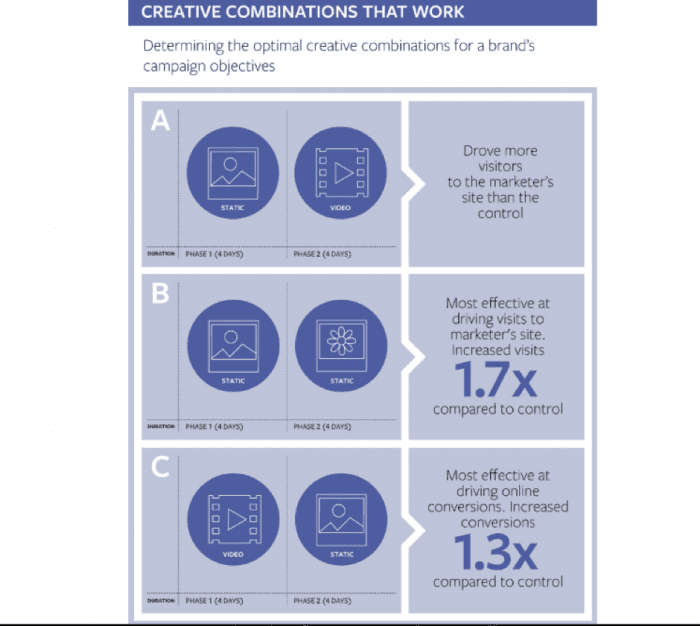 As the options show, video as a leading form of advertizement helps to increase conversions, while using static content helps to increase visits to site.
Tailoring and tweaking your video ad campaign
It isn't enough to simply put a campaign together, push the button and see what happens, especially as Facebook has so many sophisticated targeting tools. Creating ads on Facebook shouldn't be a long and drawn out process but it should be something you take your time over and ensure you focus on your precise audience and the aims of your campaign. Facebook's step-by-step ad creation process allows for very focused tailoring to ensure a targeted result: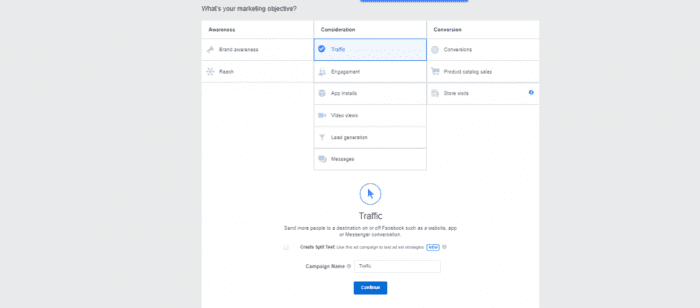 There are a wide range of metrics you can tweak and change to ensure your campaign is completely tailored to your chosen audience, as the below shows: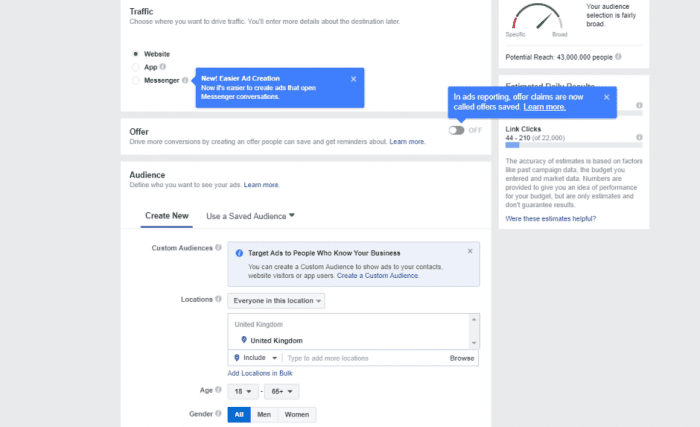 You can localize to a region, age, gender and of course add in keywords so your advertisement reaches those with a genuine, vested interest in your business area. The many different changeable elements also help in the testing stage, allowing you to see the exact creative combination that works for your brand and your goals, as well as trialing different video formats, lengths and anything else you want to test to find the perfect style of content for your business. Remember: test > measure > analyse > refine > repeat.
Never neglect the testing stage
Key to success in Facebook video advertising is the willingness to test, experiment and try new things. Creativity is key to finding ideas and angles which really work but you have to remain analytical throughout. Testing each element of your adverts will help hone them in the best possible way for your audience.
Embracing Facebook 360
Another extremely valuable tool that Facebook offers is the chance to create insightful, interactive and engaging 360-degree advertisements through Facebook 360. This highly immersive tool gives you the chance to bring your audience inside your business, services or product and it is an accessible technology which doesn't even require a specific camera or specialist technology.
Embracing the new technologies offered by platforms such as Facebook is a further way of standing out and enhancing your brand's position.
Facebook video advertising is only going to increase in popularity as reach statistics continue to demonstrate just how useful it can be. As long as you take into account all of the insight and advice offered by Facebook themselves, and are prepared to both experiment and – most importantly – test different formats, styles and content combinations, your Facebook advertising efforts should be a success.