So, what are the different types of featured snippets and what's their value?
Ever since they first appeared, there are plenty of reputable articles online that explain how to gain featured snippets. However, most of these don't analyze the value of the traffic using real-life examples and give you a true sense of a business case for acquiring these. We'll take a look at different types of featured snippets and offer some key findings.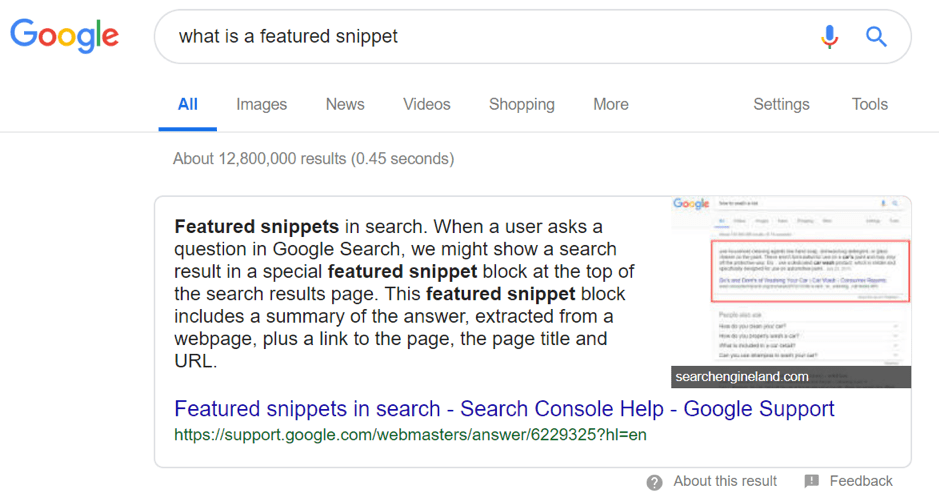 One simple reason for the rise in importance of featured snippets for digital marketers is the sheer amount of Search Engine Result Page (SERP) "retail" space these take within search results. They dominate the results page and offer greater visibility for a specific query that a potential customer is actively searching for and thereby interested in. Furthermore, in a previous Smart Insights article, Charlotte Tomlinson explains how SERPs are continuously evolving and how you need to be fully aware of how to target these SERP features, now more than ever.
Rand Fishkin's Spark Toro reported in a recent study undertaken with Jumpshot that there has been a significant rise in no-click and paid traffic searches. Google is indeed "siphoning" a large proportion of search traffic away from websites in favour of serving information or answers within its own properties. This is especially the case for mobile search, which shows a much lower percentage of click-throughs compared to desktop.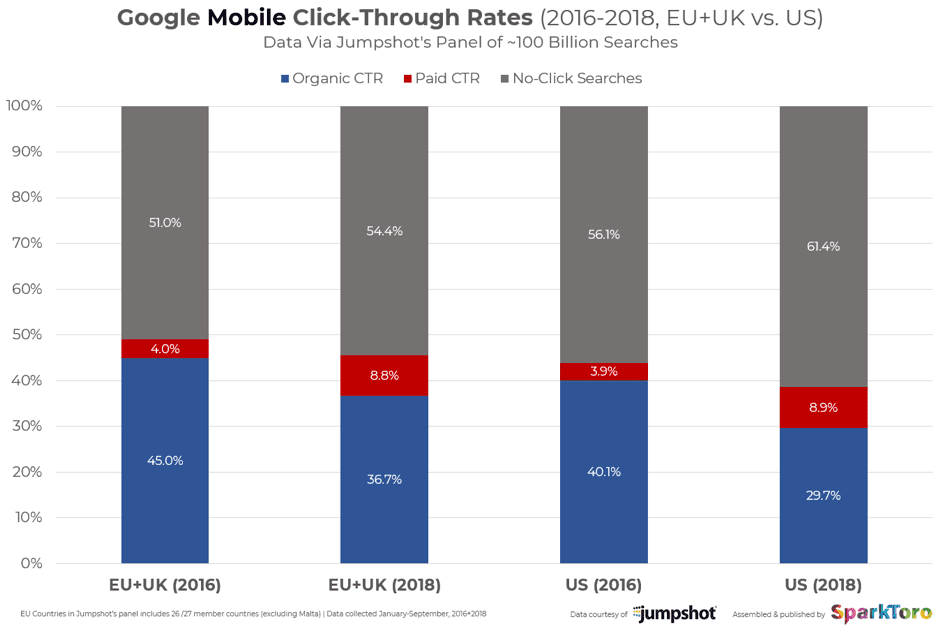 This graph shows click-through rates for mobile traffic decrease from 45% to 36.7% for the EU+UK. Non-click searches and paid traffic has seen an increase. Paid traffic has more than doubled for mobile CTR.
Another key reason for featured snippets' rise in importance, is that these SERP features are pretty commonplace for commercial queries. According to a study by STAT, 9.28% of featured snippets were commercial, so this bodes well for businesses and marketing professionals looking to maximize growth opportunities.
So, what are the different types of featured snippets and what's their value?
Types of featured snippets
Featured snippets are also known as position zero or answer boxes. They often come in the below varieties:
Paragraph featured snippets (the most common type)
List featured snippets (bulleted and numbered)
You could also mention video and table featured snippets but we'll only cover the above for the purpose of this article.
You can discover if your website holds any of these snippets using the Ahrefs Site Explorer. You would need to follow the path below:
Enter domain -> Organic keywords -> SERP Features -> Featured Snippets -> Only linking to target.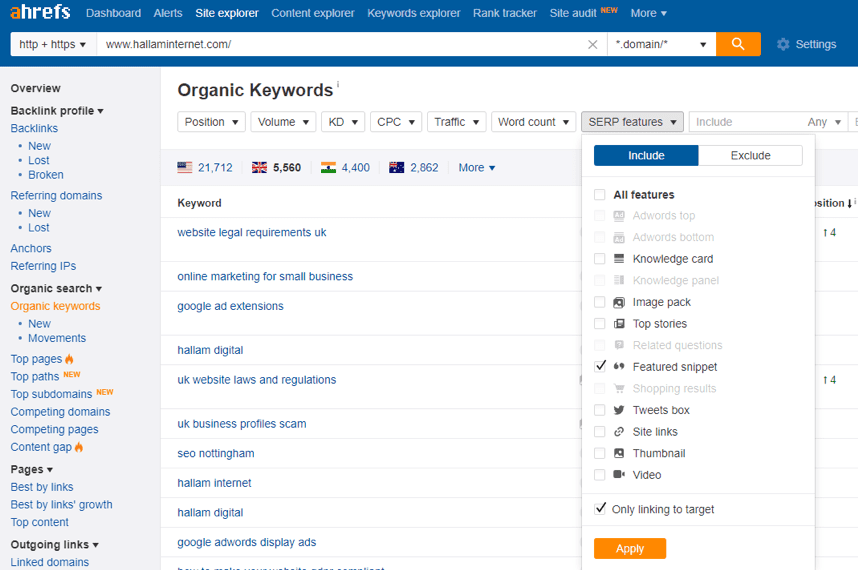 Value of featured snippets
In terms of value, generally, these SERP features improve brand awareness, traffic to your website and can also boost revenue, especially when part of an overall digital strategy.
According to Ahrefs, if you rank first for a search term and also have position zero (featured snippet) you gain 31% more traffic compared to just having the first position without the featured snippet.
Additionally, voice assistants are increasing in popularity and, generally, if you ask your Google Assistant a question, the answer is taken from an answer box or featured snippet. As voice technology continues to develop, it would be wise to ensure future visibility within a possibly, very valuable new marketing channel.
In the below examples, we'll go through the different types of featured snippets and provide cases where we can attribute value towards them.
Paragraph featured snippets
E-commerce example
The below shows an example for a specific product query that displays a paragraph featured snippet within the knowledge graph panel pointing to an e-commerce site within the health sector.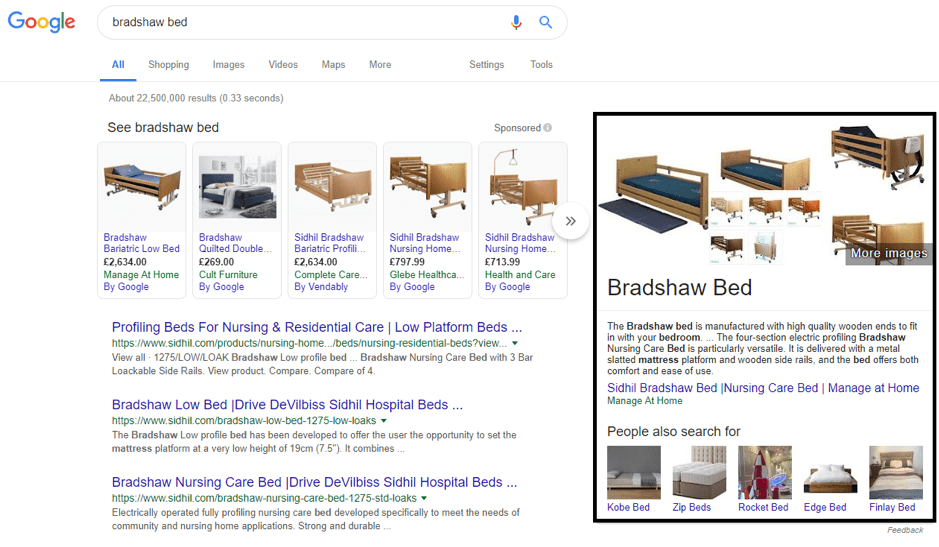 In terms of value, this retailer site is able to dominate the SERP for "bradshaw bed" and have more presence alongside the supplier's site listings. They are also running Google Shopping Ads for the search term where they rank in position four organically. The combination of both paid and organic placements is a great advantage for both channels. Additionally, this is a good buying signal for a potential customer, as they immediately see this website as a trusted retailer for Bradshaw Beds.
Also, it's worth noting that this particular featured snippet points directly to a product page where users are able to make a purchase. These beds can retail for around £1,000 each, so immediately the value of this placement is apparent.
Lead Generation example
In the below example, a lead generation website gained an increase in traffic and leads shortly after gaining a paragraph featured snippet placement for "loss assessor".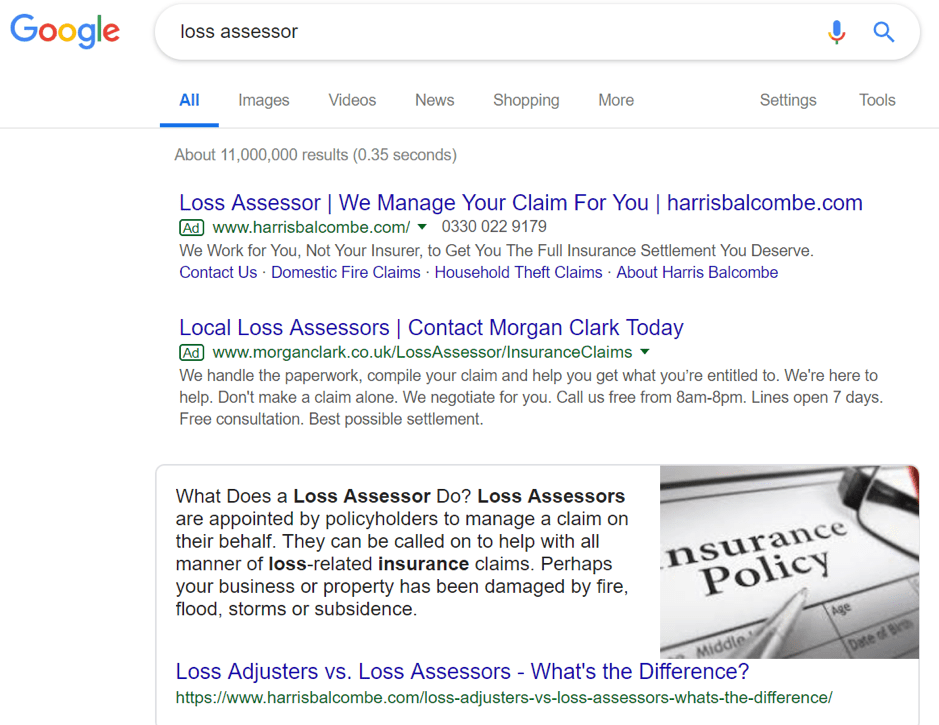 In 2018, this article gained 25% of all organic traffic and gained 96 goal conversions, second only to the homepage. In terms of traffic, there were over 3,000 sessions, with the majority being new users. As you can see, from this example there is tremendous value attributable to gaining this paragraph featured snippet.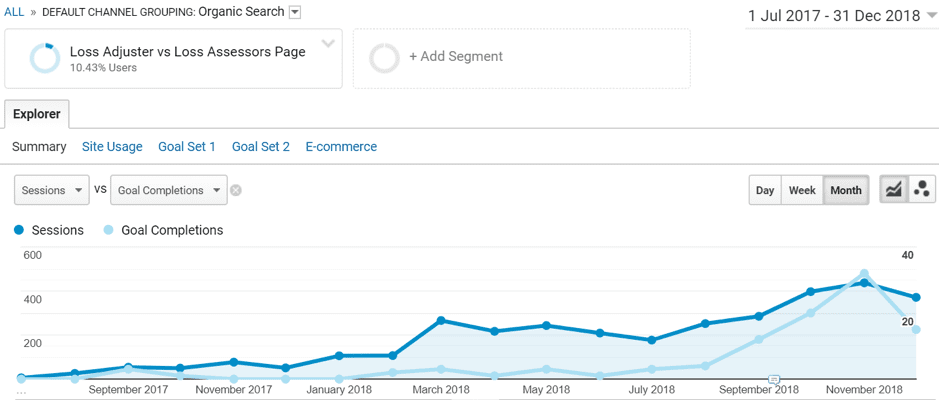 List featured snippets
Informational example
Using Ahrefs, I discovered a blog post I wrote for Hallam Internet, which gained a bulleted list featured snippet for the search query "online marketing for small business" as per below.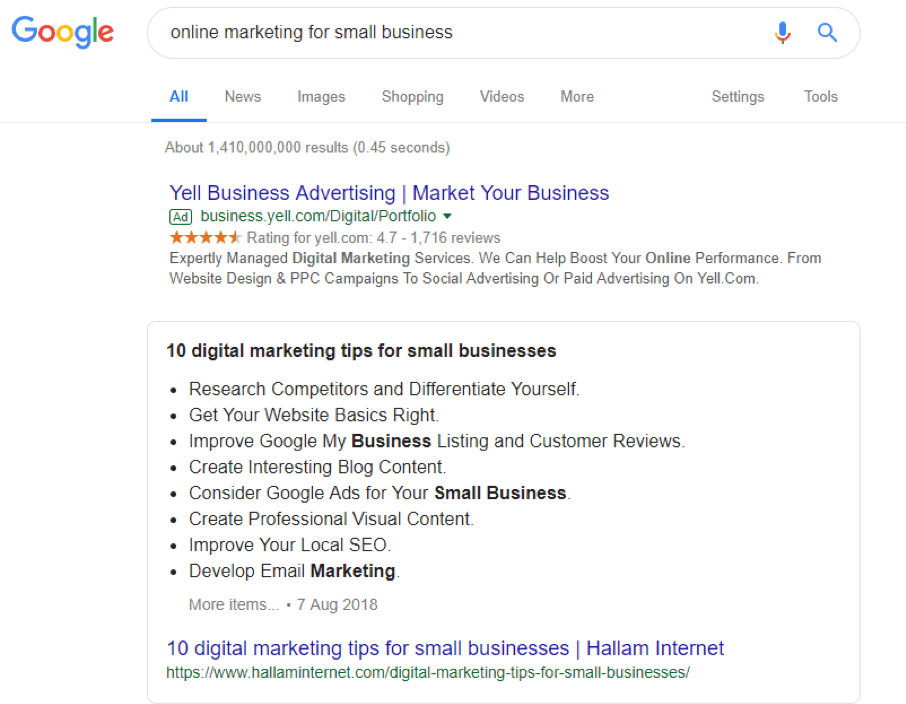 In terms of the value created, this would be great brand exposure to potential businesses who are actively searching for information and tips related to digital marketing. For a digital marketing agency, this is great for thought leadership and appearing as an expert within the industry.
The content itself was also well-received, demonstrated by the number of comments from readers showing that it was engaging content and answered their query. Google continues to test different website content for these answer box queries. So, ensuring you have high-quality content when users land on your site is also important. It's quite common for you to have a featured snippet one month and then lose it to a competitor the next.
Transactional example
In comparison, looking at an example for a transactional list featured snippet, this school sports equipment supplier appears for "sports equipment for schools" as per below.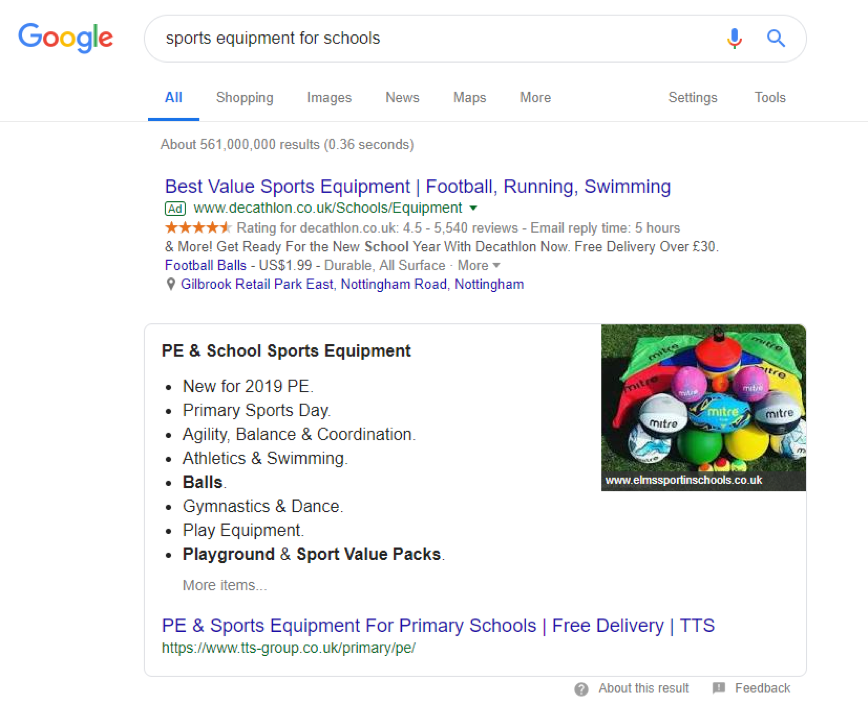 In this particular example, a list of all the different categories of school sports equipment is on offer. If any of these are relevant to a user they are more likely to click through to the website. More relevant traffic to specific product category pages where users can easily navigate to appropriate products has a clear value for any e-commerce site.
BreadcrumbList schema
The above example has structured data, in the form of schema.org markup for BreadcrumbList data types. You can find out what structured data your website holds if you're a webmaster and have access to Google Search Console for the property.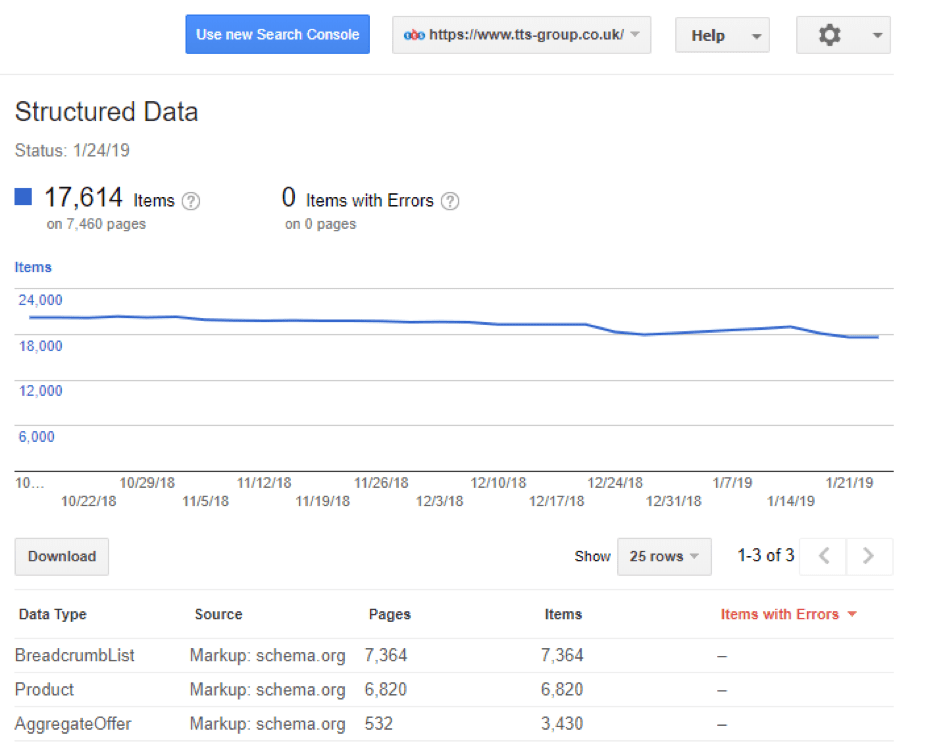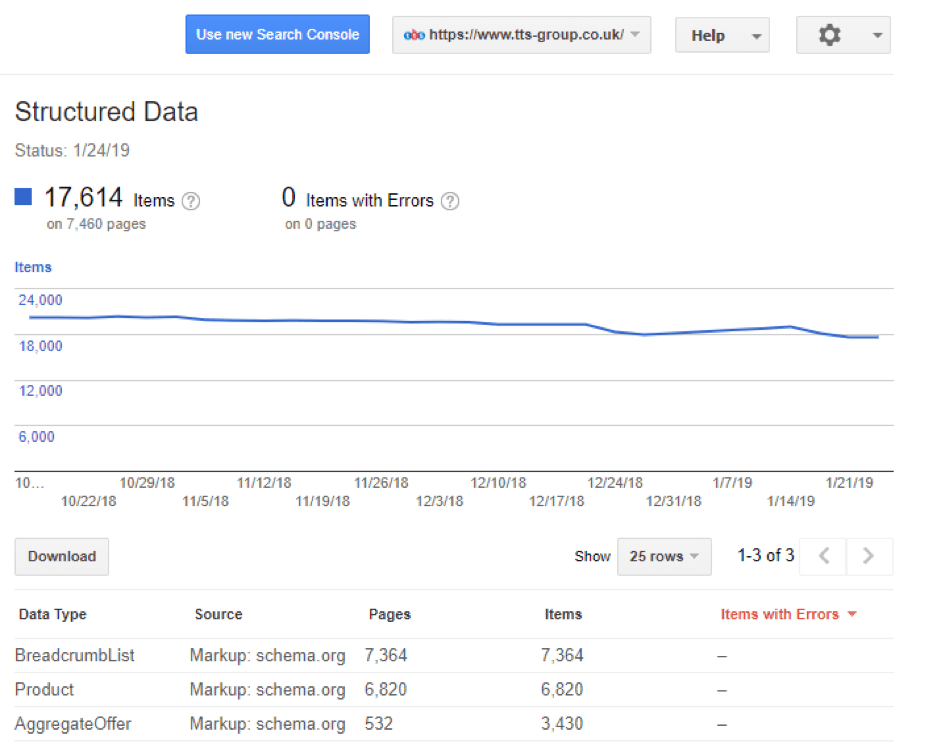 This particular e-commerce website has structured data in the following data types
BreadcrumbList
Product
AggregateOffer
For e-commerce sites, having schema.org markup implemented across your website is vital if you want to dominate the SERPs.
In a recent post from Search Engine Journal, Google's John Mueller confirmed in a Webmaster hangout that clear structure on the page helps to achieve featured snippets. It's important to note that he didn't confirm directly if structured data is a ranking factor for featured snippets but he more or less did in an indirect way.
Recommended next steps
I hope you have found this article useful. Here are some recommended next steps:
Ensure you fully understand the different types of featured snippets available and how to acquire these. If you want to learn how you can win featured snippets, read this article on 5 different tools you can use to win SERP features.
Find out if your website holds any of these SERP features already using tools such as Ahrefs' Site Explorer.
Ensure your content is well structured using data markup such as org and use Google's Structured Data Testing Tool to ensure it's implemented correctly.
Focus on answering the particular search query in question to ensure user satisfaction. Google may opt for a competitor site if your site has a bad user experience and performs poorly on behavioural metrics.
Review Google Analytics data and identify your highest value pages and find out how you can improve the content to target a particular search query e.g. breadcrumb list, answer a particular question, insert a table of useful information such as a price list, etc.
Monitor behaviour metrics such as bounce rate and time on page as well as revenue and conversion rates for landing pages that gain a lot of traffic from featured snippets and continuously look to improve the quality of content for the user.
Stay up-to-date with further developments in Search as this area continues to evolve as Google tends to test new SERP features on an on-going basis