Businesses that offer better customer experiences earn between 4% and 8% more from purchases than their competitors
Modern customers don't just want to buy a great product or subscribe for dependable service – they also want the overall purchase experience to be enjoyable and are ready to pay more for this. No wonder, businesses that offer better experiences to their customers earn between 4% and 8% above their competitors.
According to McKinsey, 70% of buying experiences are based on how consumers feel they are being treated. Something as simple as saying 'thank you' to your customers after a purchase can improve their impression of your brand immensely.
Of course, when customers feel special or cared for, whether it is due to intuitive customer support or highly personalized marketing, they engage with your brand more often – turning into loyal customers who not only add to your bottom line but also act as effective brand advocates.
Did you know that loyal customer are worth up to ten times as much as their first purchase?
Temkin further sheds light on the close relationship between customer experience and sales. Customers who have an excellent experience are 3.5 times more likely to repurchase and recommend a company to their peers. However, 22% of customers cut their spending, and 19% stop their relationship with a company after a single bad experience.
The role of technology in enhancing customer experience
Technology has revolutionized almost every aspect of our lives. Today, customers use multiple devices to research, finalize sales, and get in touch with businesses. They also expect consistency, speed, and efficiency in customer service across channels – making it inevitable for businesses to use advanced customer support technologies.
Some of the common uses of technology for enhanced CX include:
Websites and landing pages – Your website is your virtual showroom and integrating it with CRM, live chat, and other customer-centric software can improve your CX considerably. Thanks to data analytics, it is also possible to segment your audience and direct them to personalized landing pages that boost conversions. Read this informative blog for more information on using your website as a formidable sales tool.
Email – Customers are often hard-pressed for time and would rather send an email than waiting to get connected with a phone agent. By integrating your CRM with your customer support software, you can directly convert emails into tickets, keep track of user information, and quickly respond to queries to keep your customers from getting frustrated.
Social Media – Social media has evolved beyond networking and emerged as a major customer service tool. With 92% of people more likely to trust the opinions of their peers over advertisements, businesses need to be responsive and offer spontaneous social media interactions to manage customer complaints while also preventing any negative marketing due to unresolved issues.
The rise of the omnichannel customer
New technologies, such as those outlined above, have made it easier for businesses to provide customer service. However, the increasing number of communication platforms have enhanced the complexity of these interactions. According to research, 87% of customers think that brands must provide a more consistent experience, making it vital for businesses to engage with their customers on multiple platforms seamlessly.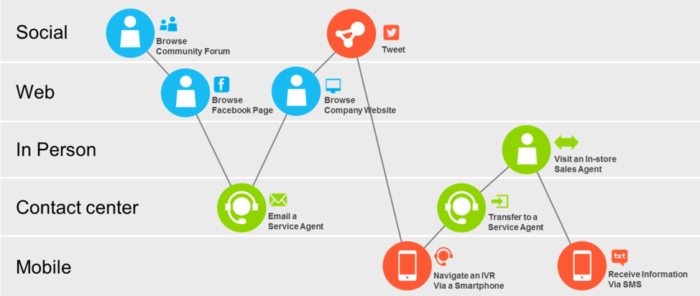 However, while businesses are increasingly investing in a multi-channel experience, it is not necessary that the support offered to their customers is consistent across these channels. For example, you may offer support to your customers on social media, email, and phone, but are you also offering the same level of service on all three channels?
An omnichannel experience considers every touch-point used by a consumer to interact with your company to deliver an integrated experience across every channel and device. Thankfully, there's technology to the rescue again. With advanced software such as live chat that can be integrated with your existing systems, you can offer your customers consistent and real-time support, across multiple channels, on the go.
Intelligent customer support technology for improved omnichannel CX
Today, customers not only want quality, but they also want to feel valued. In a survey, 70% of customers said that the quality of support reflects how much an organization values them. Consequently, companies who wish to outpace the competition are investing in the latest customer support technology to improve their service quality. The efficacy of this strategy is confirmed by the fact that 26% of leading companies use CX technologies as compared to 7% of laggards. The reason is simple. Smart technology saves time and money while enabling real-time connections between brands and customers.
For example, Acquire's multi-communication platform integrates sophisticated customer support tools that encourage customer engagement across the board. One of the most popular features, live chat, provides an effective way to interact with customers across web and mobile in real-time. When integrated with other support technologies, such as co-browsing, live chat can improve your first call resolution by 18% and decrease call handling time by 14%.
Customers also prefer to live chat, with 63% of consumers more likely to return to a website that offers live chat. Having a live chat feature also enables brands to build personal connections with their customers. It gives customers a chance to talk to someone who can provide them with intelligent answers and recommendations, humanizing the shopping experience. Many customers prefer live chat because of the immediacy it offers – with response times as low as two minutes only.
AI-enabled chatbots are also making their presence felt in customer support. Not only do chatbots offer 24-hour assistance but also enable two-way communication on digital channels. You can read more about the influence of chatbots on CX in this article.
Self-service means better customer service
Customers have become very demanding. They want you to attend to their requirements now – and the longer you make them wait, the more likely they are to leave.
However, there's also a positive side to the above scenario. Customers want quick answers and are ready to find them proactively without involving any customer support.
Yes, self-service is the new norm in the customer service industry. According to data, 40% of customers prefer self-service over speaking to a human, while 70% expect a business website to include a self-service option.
But why is self-service becoming so popular?
Simply because it reduces the service time significantly and there's also a certain pride associated with solving something on your own. You can enable self-service on your site by creating community forums and providing your customers with a regularly updated knowledge base or FAQs.
AI-enabled feedback analysis to improve CX
Feedback is a gift and technology makes it easier to gather feedback from all the available channels and process it for actionable insights. Take the example of your social media handles where you may be bombarded with hundreds of queries and comments. Reading each of these comments manually and processing the feedback is next to impossible unless you have a dedicated team for this purpose. However, AI-enabled tools can solve this problem by performing text and sentiment analysis to transform qualitative feedback into quantitative insights.
AI can sift through thousands of comments and categorize them according to pre-set parameters. It can also tag the feedback based on specific issues, such as delivery or quality. As the data is collected in real-time, you receive fresh insights regularly to understand your level of service better.
You can also use an AI-enabled chatbot to collect feedback at the end of a chat and tag it according to specific keywords automatically. Following this practice, you can group feedback and recognize your areas of improvement easily. Besides, you can use the positive feedback to build social proof for your business by using it in your marketing campaigns with due permission of the individuals who shared the feedback.
Customer success: The future of CX
"Customer success is the process of anticipating customer challenges or questions and proactively providing solutions and answers to those issues prior to them arising. Customer success helps you boost customer happiness and retention, increasing your revenue and customer loyalty."
As you already know, customers appreciate proactiveness and a high-degree of personalization in their communication with brands. Thus, it is quite likely that customer success would soon be a key differentiator for businesses – just like customer support in the present times. This also means that the companies who will succeed in the future would be the ones who can anticipate the needs of their customers and offer them a high degree of personalization.
Investment in data analytics and other customer-centric technologies can help you build detailed customer profiles that will augment your customer success strategies.
Conclusion
As AI and self-service resources become central to customer service, you will soon find your customer service team bogged down by a lesser number of queries. Instead of focusing on quantity, they would be solving more complicated product or service-related problems. Such a scenario would not only save you money but also improve your CX remarkably as it would allow your agents to provide highly personalized interactions to clients.
What do you think is the role of technology in improving the customer experience for businesses? Share your comments below.