The RACE Digital Marketing Planning Framework
We created RACE to help digital marketers plan and manage their activities in a more structured way since we found that many don't have a marketing strategy. In this post, first published in July 2010 and since updated with a new summary of digital marketing KPIs you should track, we show how you can simplify your measurement and reporting through RACE Planning.
You can find more details about applying RACE for Internet Marketing Planning in our FREE RACE digital marketing planning template download – it is used by all our members to create digital plans using our Digital Strategy Toolkit.
To explain and fully define 'What Is Digital Marketing?' we created this popular Digital Strategy infographic in 2012 and updated in 2015 as shown below. It shows the Key measures to set targets for and evaluate at each stage of the funnel.

What does RACE Planning stand for?
The RACE mnemonic summarises the key online marketing activities that need to be managed as part of digital marketing. RACE covers the full customer lifecycle or marketing funnel from:
(Plan) > Reach > Act > Convert > Engage
There is also an initial phase of PLAN, which involves creating the overall digital strategy, objective setting and plan, so sometimes members call it PRACE, but we prefer RACE Planning for simplicity. There's more detail at the end of the post in the infographic and the planning process is explained in detail in our RACE Digital Marketing Planning Elearning – click the link for free access to the first module.
We have defined four steps of engagement across the customer lifecycle, since in online marketing there is a major challenge in gaining interaction, participation with prospects and creating those all-important Leads after the initial customer touchpoint.

These interactions, covered in the Act step can take place over several channels and touchpoints such as web, mobile, social media and email contacts, so these leads need separate management from final conversion to online or offline sale through techniques like retargeting and assisted selling.
RACE consists of these four steps or online marketing activities designed to help brands engage their customers throughout the customer lifecycle.
1. REACH. Reach involves building awareness of a brand, its products, and services on other websites and in offline media in order to build traffic by driving visits to different web presences like your main site, microsites or social media pages. It involves maximising reach over time to create multiple interactions using different paid, owned and earned media touchpoints.
2 ACT. Act is short for Interact. It's a separate stage since encouraging interactions on websites and in social media to generate leads is a big challenge for online marketers.  It's about persuading site visitors or prospects take the next step, the next Action on their journey when they initially reach your site or social network presence. For many types of businesses, especially, Business-to-Business, this means generating leads, but it may mean finding out more about a company or its products, searching to find a product or reading a blog post. You should define these actions as top-level goals of the funnel in analytics.Google Analytics Goals can include "Viewed product", "Added to Basket", "Registered as a member" or "Signed up for an enewsletter. Act is also about encouraging participation. This can be sharing of content via social media or customer reviews (strictly, part of Engage).The specific goals and dashboard need to be defined for each business as explained in our Delivering results from digital marketing guide.  It's about engaging the audience through relevant, compelling content and clear navigation pathways so that they don't hit the back button. The bounce rates on many sites is greater than 50%, so getting the audience to act or participate is a major challenge which is why we have identified it separately.
3. CONVERT. This is conversion to sale. It involves getting your audience to take that vital next step which turns them into paying customers whether the payment is taken through online Ecommerce transactions or offline channels.
4. ENGAGE. This is long-term engagement that is, developing a long-term relationship with first-time buyers to build customer loyalty as repeat purchases using communications on your site, social presence, email and direct interactions to boost customer lifetime value. It can be measured by repeat actions such as repeat sale and sharing content through social media. We also need to measure the percentage of active customers (or email subscribers) and customer satisfaction and recommendation using other systems.
Why RACE Planning?
We created the RACE Planning system to help give a simple framework to help small and large businesses alike take the best advantage of the opportunities available from digital marketing.
In our research, we have found that, shockingly, many businesses don't have a digital marketing strategy. When creating a digital marketing strategy, knowing how to structure it and where to start is sometimes the biggest challenge!
There are so many tools and tactics available that it's difficult to know where to start. We hope RACE gives a structure to help you review and prioritize when there are so many options, but some options work better than others.
RACE is a practical framework to help manage and improve results from your digital marketing. Ultimately it's about using best practice web analytics techniques to get more commercial value from investments in digital marketing. We hope it will help simplify your approach to reviewing the performance of your online marketing and taking actions to improve its effectiveness.
Using KPIs to manage RACE
In our 2011 Marketing manifesto we explained that we believe growing business through digital marketing should be based on a sound evaluation and optimization process using digital analytics showing which marketing activities are effective and which aren't. This diagram shows relevant key performance indicators (KPIs) that should be used at each stage.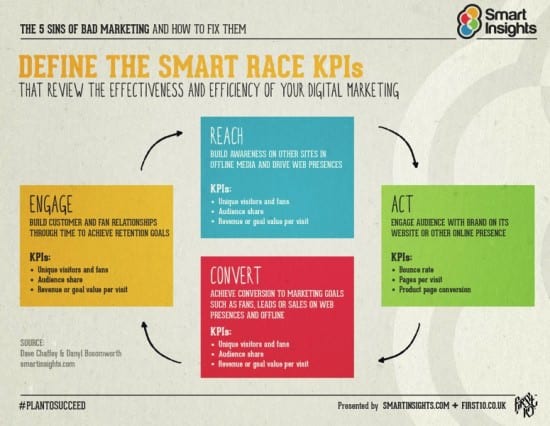 Here's an example of our recommended measures in a simpler summary of RACE KPIs which could form a dashboard – the best dashboards show not only volume and how they change through time, but also the quality of visits and the value generated.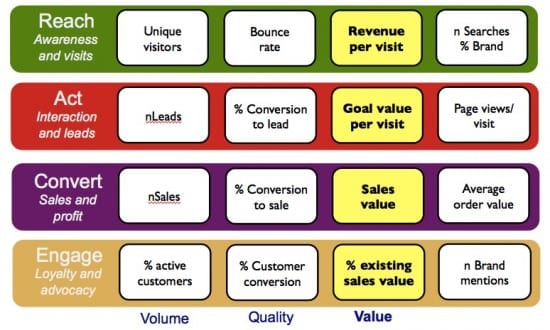 Many of these KPIs be created from Google Analytics although it needs to be customized for each business to record goal value or revenue per visit. For some other measures such as social mentions, you need to pull in from other tools.
Marketing activities to manage within RACE
All of our guidance on Smart Insights from our blog posts to detailed guides and templates are structured according to RACE. This is a summary of some of the main activities which our guides, templates and free blog guidance cover – we have created an interactive version of this planning framework where you can click through to relevant sections on this diagram.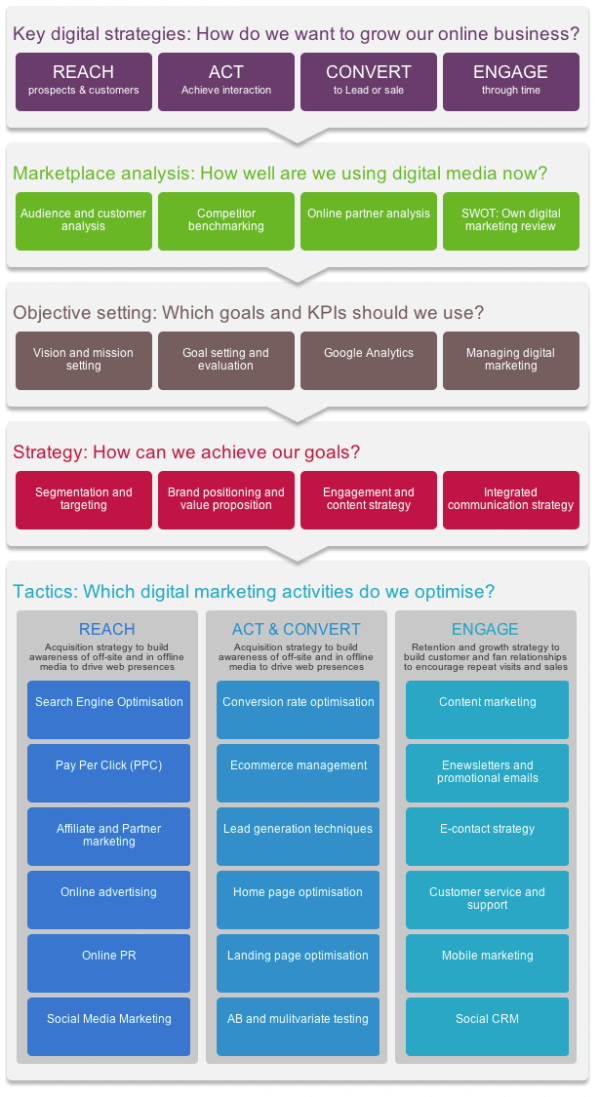 Of course, there are many more online marketing activities which are covered in our full sitemap of hub pages.
RACE KPIs
Google Analytics has over 60 reports displaying many more metrics and that's before you start segmenting your audience… Other web analytics tools have more… This makes it difficult to know what to report; you have to identify your "critical few" Key Performance Indicators which you report on regularly to review performance and identify problems. Here we have suggested just 3 KPIs for each area which applies to a retail site. We'll have more on these and related performance drive measures in later posts.
RACE is Social! Digital marketing is not just about your website
Digital marketing today is not just about your website, and in fact it never has been, partnering with other sites and "swimming with the fishes" has always been important.
But today, the popularity of participation in social media with web users means that how to reach, interact, convert and maintain ongoing engagement of customers through social networks is vital to the success of a brand. At each step in RACE you need to think how social media can help achieve your goals and how you can measure the effectiveness of social media.
RACE is integrated
Digital channels always work best when they're integrated with other channels, so remember that where appropriate, digital channels should be combined with the traditional offline media and channels.  The most important aspects of integration are first using traditional media to raise awareness of the value of the online presences and drive visitors to the website(s) at the Reach and Engage stages. Second, at the Convert and Engage steps stage customers may prefer to interact with customer representatives as part of the buying or customer service process.
So that's an introduction to the Smart Insight RACE framework. We hope you find it useful when you're planning and managing digital marketing!
Credits
RACE is an evolution of the REAN (Reach > Engage > Activate > Nurture) framework for web analysts originally developed by Xavier Blanc and popularised by Steve Jackson in his book Cult of Analytics of which I'm a big fan.
We devised RACE since we wanted to develop our own approach for improving digital marketing and we feel Step 2 is more about initial interactions with a brand and in step 4, customer engagement is a longer-term process.
Through 15 years of advising marketers through my books and training I've found that, after time has passed, all that often remains from the course as a takeaway is a framework on which to hang future actions. C'est la vie! But busy people seem to like frameworks and mnemonics to structure their actions. To help digital marketers structure their thoughts, over the years I've created or been involved with these frameworks too – I hope you find they're useful – that's what we aim for – to make marketing life simpler and more profitable.
And FWIW, it's why we're called SMART Insights – we believe the best marketers compete and win by a data-driven or insight-driven approach to marketing.
Join To Our Newsletter
You are welcome