Brave is the latest browser to enter the ever-expanding market. One of its creators is Brendan Eich, who is credited with creating the JavaScript programming language. Brendan was also one of the founders of Mozilla, producers of one of Brave's main competitors in the browser market, the open-source Firefox. Launched in January 2016, Brave focusses on enhancing performance and features and security without sacrificing privacy and security.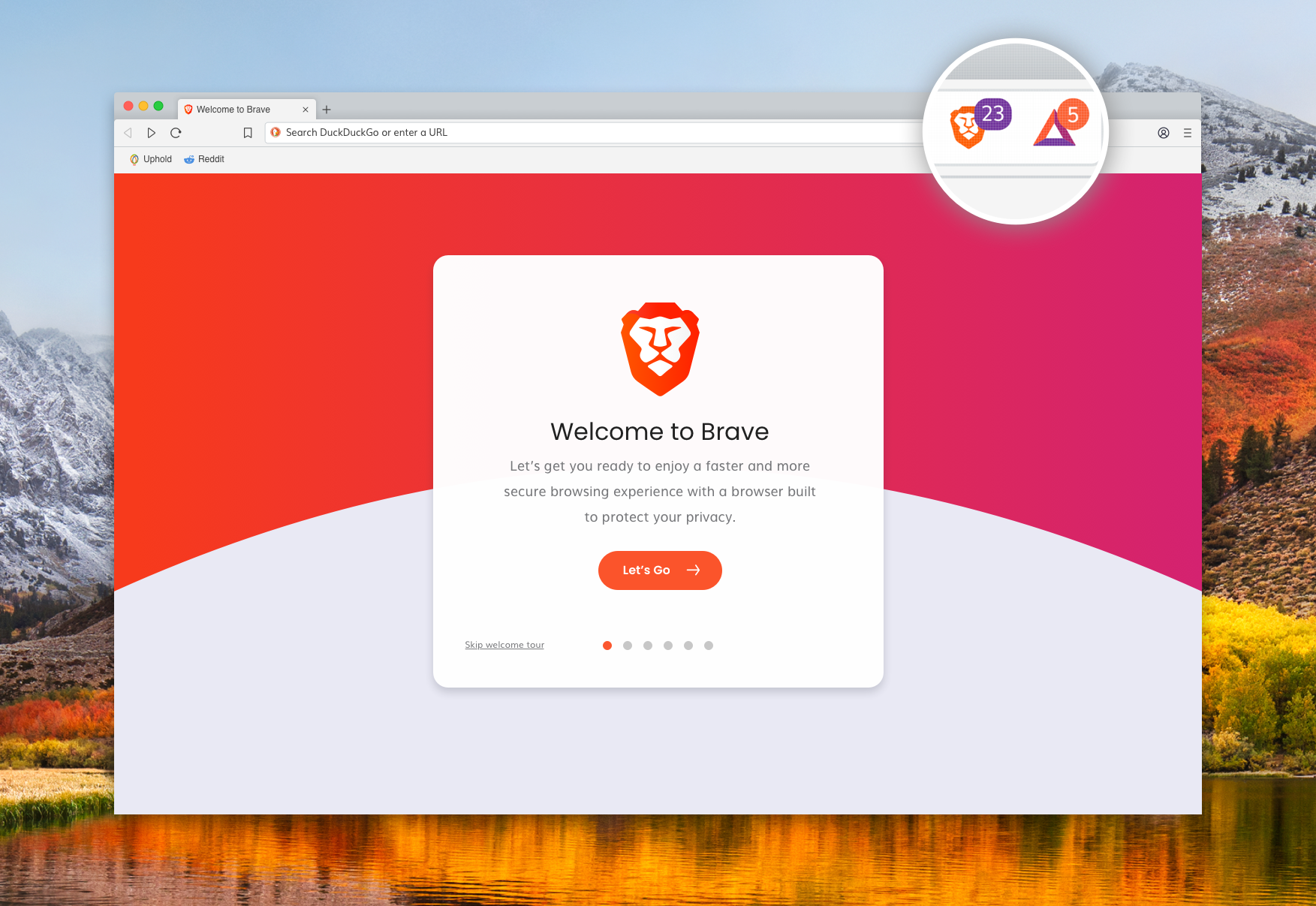 Features
By default, Brave automatically blocks all ads. This, of course, means that speed is increased and RAM use decreased by cutting out the use of the resources needed to load ads. Trackers, cookies and fingerprinting are also blocked by Brave's "shields". These attributes are highly praised in practically every Brave browser review. Security and privacy, as well as enhanced speed, make this open-source browser a major competitor in the market.
On desktops, Brave is available for Windows 7 and later and macOS 10.10 and later, and also for the Ubuntu, Debian, OpenSUSE and Fedora distributions of Linux. On mobiles, Brave requires at least Android 4.1 or iOS 12.0.
Brave is easy to use, clean and clear interface. On startup, it displays the numbers of ads and trackers blocked, the number of HTTPS upgrades performed and the estimated time saved.  Individual tabs on Brave support icons and show the information on the page simply by hovering over the tab, without having to click on it. More time saved!
Brave also features built-in extensions like WebTorrent, which lets the user download torrents without using a standalone client. This only works for users who do this only occasionally because it only has a start-stop capability. Other extensions that come built-in are Hangouts, allowing notifications across the platform, and IPFS, a handy extension when downloading large files across the InterPlanetary File System.
Because it is based on Chromium, Brave also works with most Chrome extensions by default.
Perhaps because of a Mozilla co-founder having such a big role in Brave's creation, Mozilla Firefox is considered Brave's biggest competitor in the market. Both are open-source browsers, free to download and use, and, although Firefox currently holds a slight lead in market share, Brave is breathing down the fox's back.
So, which is better, and just how safe is Brave?
Comparison: a Point-by-Point Analysis
Below you'll find some useful Brave vs Mozilla information that is important for every person that uses the internet.
Security
In addition to blocking all ads and trackers by default, Brave prevents fingerprinting and insecure scripts by letting the user select which information is to be deleted at the end of every session. By default, Brave uses HTTPS, forcing websites to be secure. If a user wants to visit an unsecured site, an icon and text warning are displayed and the choice to continue is left to the user.
Firefox blocks pop-ups and phishing attempts. With automatic updates, the browser is always current and also allows users to select custom security settings.
Firefox also allows users to clear personal information like form entries, cookies, history and  passwords.
Privacy
Brave blocks ads and trackers by default. This one feature makes it unique in the field. Brave guarantees that they do not allow third parties to track your browsing activity and that they do not sell your private data to others. It stays private on the device, encrypted of course!
Brave also has a unique, if rather unusual built-in extension which allows the user to block social media content embedded on other websites. This makes it handy for those who would rather stay focused on the content they're interested in without distractions. A reading mode called "Distill Page" can strip away all content other than text and presents it in a neat readable format.
Firefox has features that guarantee privacy during browsing, which include data encryption. However, it is possible for giants like Facebook and Google to use third-party cookies to track a user's activity unless optional features are switched on.
A shared feature is that both browsers support Tor, a PVN that bounces traffic of several remote servers and prevents the users from IP from being accessed.
Speed
Brave, as with all Chromium-based browsers, enjoys speedy performance. By blocking ads and trackers by default, this performance is boosted significantly.
Firefox is unique in that it taps into the power of a computer's multi-core processors to improve its speed.
Memory Usage
Brave's Chromium base comes as a drawback here, as browsers in this category eat up a lot of memory.
Based on the operating system, Firefox can sometimes be slow and even crash. To enjoy the optimum performance, the user will often have to use special tools to review and monitor the browser settings.
Cryptocurrency Support
Brave has adopted a unique business model. Users get a built-in "Basic Attention Token wallet. The BAT is a cryptocurrency that users who choose can earn by viewing selected content, mostly advertising. Users also get to support the content they like. The user only sees what they choose and earn a percentage of the revenue. This is Brave's major source of income – the percentage of advertising that they keep, plus what users may choose to share from their own earnings.
Mozilla is very strict when it comes to cryptocurrencies. Due to the unfortunate growth of activities such as money laundering and stealth illegal mining scripts, the new version of Firefox blocks such scripts by default.
Cryptocurrency fanatics have a clear choice here!
BRAVE
Strengths
Extremely fast compared to any other competitor.

User-friendly interface.

Includes  lots of handy features.

Great security and privacy.

Compatible with the majority of Chrome extensions.
Weaknesses
FIREFOX
Strengths
Open-source and free.

Frequent automatic updates.

User-friendly, minimalistic interface.

Relatively secure.
Weaknesses
Join To Our Newsletter
You are welcome