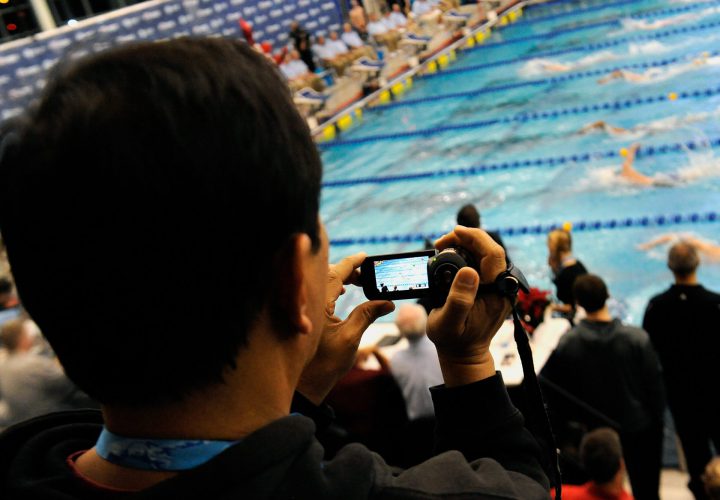 Photo Courtesy: Mike Comer/ProSwimVisuals.com
The first night of the 2018 USA Winter National Championships only featured the men's and women's 800 free, but plenty was at stake with the new Olympic Trial cuts on display, and free for qualifying. 2016 Olympians Katie Ledecky and Jordan Wilimovsky easily won their races tonight in Greensboro, North Carolina, and safely solidified their name on the psych sheet for the 2020 Olympic Trials.
Ledecky won the 800 free with a solid 8:14.40, while Wilimovsky cruised into a 7:56.88.
Only one other swimmer has beaten Ledecky's time in history, adding to the dominance she has shown in this event since winning the 2012 Olympic Gold in London.
Women's 800 Free
AR: 8:04.79, Katie Ledecky, 2016
Trials Cut: 8:48.09
Katie Ledecky took care of business in the 800 free on the first night of Winter Nationals in Greensboro, North Carolina, with an 8:14.40. Ledecky's time was the 22nd fastest all-time in the event, as she still holds 24 of the 25 fastest times all-time in the event.
The only other swimmer on the top 25 performance list is 2018 ISHOF honoree Rebecca Adlington (8:14.10) of Great Britain from the 2008 Olympics. Adlington sits 22nd all-time in the performance ranks with her swim. Ledecky has the fastest 21 times all-time.
Ledecky won easily tonight at the US Winter Nationals over 29-year-old Open Water swimmer Ashley Twichell (8:28.16) and 18-year-old USC freshman-to-be Erica Sullivan (8:29.02).
Kaersten Meitz (8:37.11), Chase Travis (8:38.84), Emma Weyant (8:41.30) and Julia Hassler (8:45.04) also swam in the fastest seeded heat. Paige McKenna also got under the Olympic Trial cut with her 8:46.76 from heat two.
The top six swimmers all punched their tickets to the 2020 Olympic Trials. Hassler is a native of Liechtenstein and is ineligible to qualify.
Men's 800 Free
AR: 7:43.60, Michael McBroom, 2013
Trials Cut: 8:12.99
Jordan Wilimovsky also took care of business in the men's 800 free fastest heat as he did not let off the gas throughout the 800 meters. He won in Ledecky-esque fashion with a 7:56.88, thirteen full seconds ahead of Brennan Gravley (8:09.95). Gravley is headed to swim at the University of Florida next season, joining a strong young distance squad currently led by freshman Robert Finke.
The men's 800 free is going to make its debut to the Olympic program in Tokyo, so this is the first time that men will be able to qualify for Olympic Trials in the 800 free. Wilimovsky won the silver medal at Pan Pacs in that event this summer, and was fourth in the "Virtual World Championships." Him and Zane Grothe are the best chances at a medal in the 800 at the Olympics and World Championships the next two years.
Gravley finished second ahead of Ross Dant (8:10.99) and Lleyton Plattel (8:12.02) as all four of those swimmers qualified for the Olympic Trials with their swims.
Dare Rose (8:12.36), Calvin David (8:12.56) and Gordon Mason (8:12.87) also picked up their Olympic Trial cuts in heat two, while Ryan Vipavetz (8:14.41) moved in to eighth place with his swim from heat two.
setTimeout( function () {
!function(f,b,e,v,n,t,s){if(f.fbq)return;n=f.fbq=function(){n.callMethod? n.callMethod.apply(n,arguments):n.queue.push(arguments)};if(!f._fbq)f._fbq=n; n.push=n;n.loaded=!0;n.version='2.0';n.queue=[];t=b.createElement(e);t.async=!0; t.src=v;s=b.getElementsByTagName(e)[0];s.parentNode.insertBefore(t,s)}(window, document,'script','https://connect.facebook.net/en_US/fbevents.js');
// init window.fbq('init', '1467300236903193');
// track window.fbq('track', 'ViewContent', { category: 'partner', subcategory: 'swimworld', domain_name: location.host, });
window.fbq('track', 'PageView');
}, 2000);