Part 1 of 2: How ecommerce can win with Amazon
Amazon is by far one of the biggest and well-known brands in the world and one of the top five largest companies in the world by market capitalization. The business has grown exponentially over the last 10 years and the pace is continuing at a rate of knots: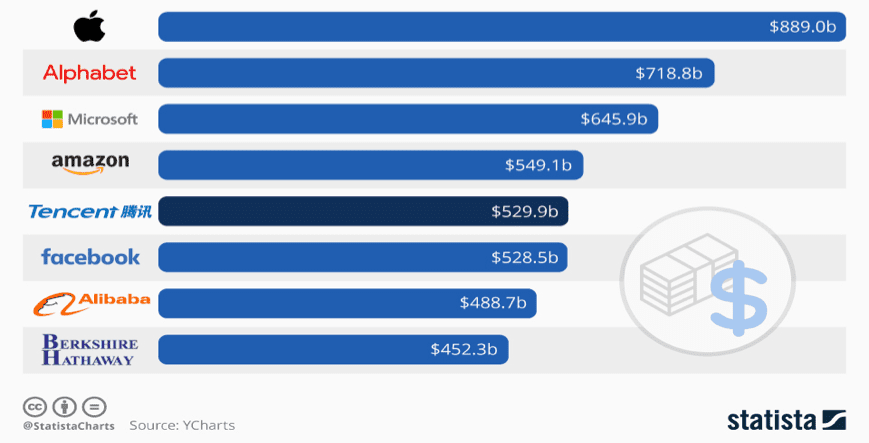 Source: US Stock Market 
Amazon has been a growing and dominant force of nature in the world of retailing since its origins in 1994, threatening existing players such as Walmart and Toys R Us, whilst disrupting entire market dynamics and customers expectations of what is expected in terms of quality, service and delivery.
*For a detailed run-through of Amazon's history, business model and strategy check out Dave Chaffey's in-depth case study analysis.
Amazon's ambition to become 'the everything store', moving into new sectors such as fashion and food in recent years, has seen the company expand their portfolio of interests beyond just retailing, creating a range of services spanning technology, web services, media and original content production: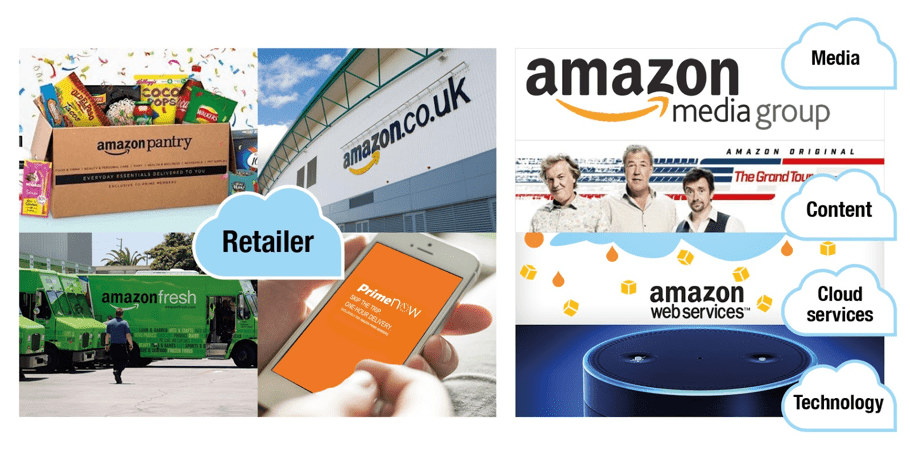 Amazon is now developing a physical presence, as seen from the $13.7bn acquisition of Whole Foods and the launch of the first Amazon Go concept store in Seattle in January this year: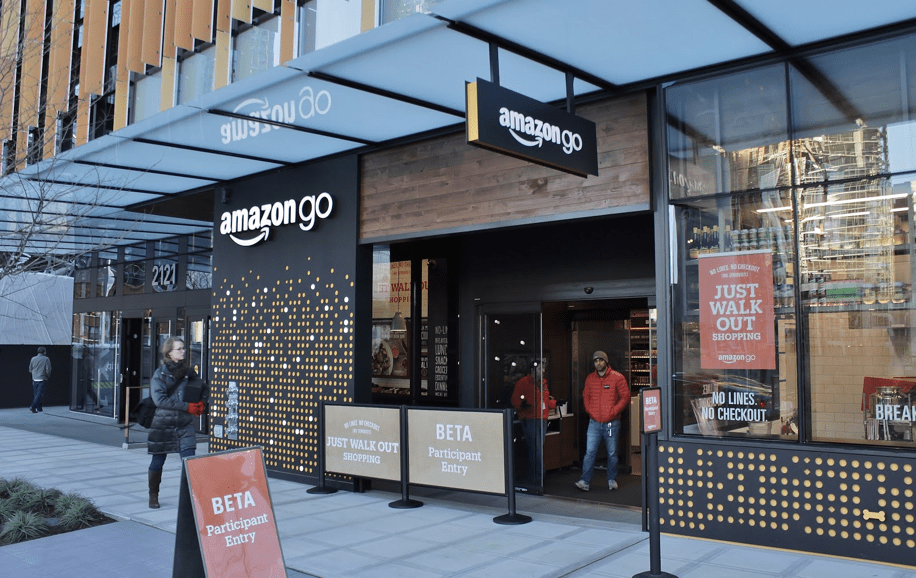 Whilst Amazon is an extremely forward-thinking, innovative technology company, they are also a retailer at heart and everything they do is geared towards building their core retailing business, re-investing the huge amounts of revenue they generate each year back into the business to optimize quality and performance.
The opportunities for marketers
With the expansion of services beyond just amazon.co.uk there are now a growing number of opportunities for marketers to engage and sell to consumers with Amazon. I believe these can be broadly divided into two areas:
Ecommerce
Digital advertising
Ecommerce is an area most people associate with Amazon and I'll explore this in more detail within this post. However, the emergence of Amazon's digital advertising business has been growing quickly over the last few years and this will be the focus on the next post in this series.
Ecommerce opportunities
As a retailer Amazon has a unique platform with some interesting distinctions that can pose both challenges/ threats and opportunities for marketers depending on their strategy: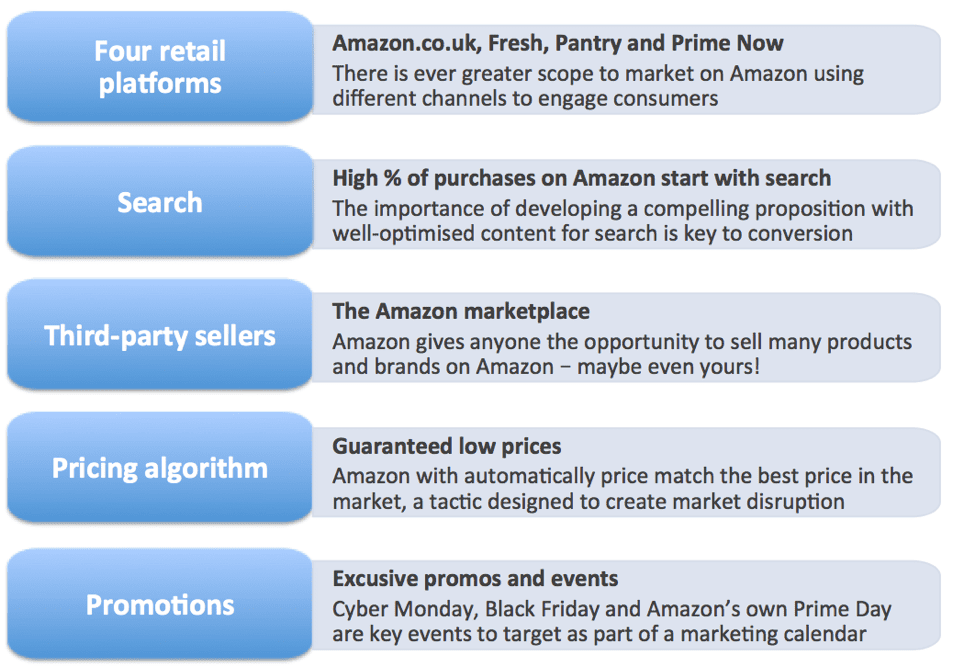 The variety of platforms that Amazon has developed within both pure ecommerce (e.g. amazon.co.uk) and its marketplace give marketers a options to engage and sell to consumers. Whilst Amazon's pricing algorithm and third-party marketplace can be tricky, especially if you're in a position where other people and/ or companies can sell your products and brands second hand or discounted prices, overall Amazon is a key channel if you want to sell online to a wide audience.
So how can you get the most from your ecommerce relationship with Amazon?
Ecommerce checklist for success
1. Start with great basics
When working with Amazon there may be the temptation to jump straight to the bright, shiny new innovations, such as voice search or Amazon Dash. But whilst there is definitely value to be gained here, see it as a journey and start with the basics first, build a strong presence and then move on to the more advanced areas.
Amazon is a powerful sales and marketing platform so make sure you create great product pages:
Content – strong pages will have at least four product images and five bullet points of information: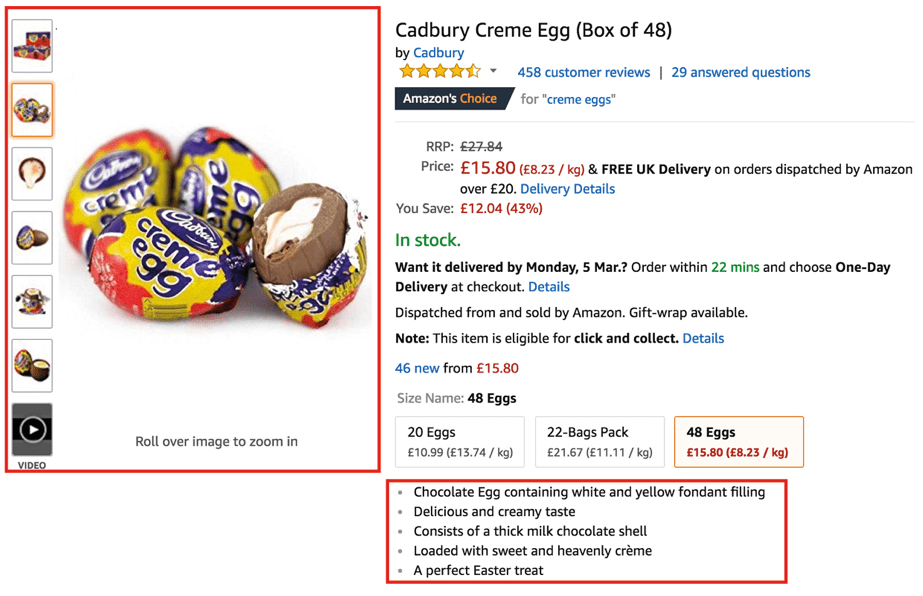 Visibility – approximately 81% of consumers read product reviews and Amazon recommends that brands have at least 20 reviews per listing. Reviews are a powerful way of building credibility and social proof but can be difficult to generate, which is why Amazon has created its Vine programme, a network of influential reviewers that brands can use to generate reviews by providing exclusive access (although positive reviews are not guaranteed):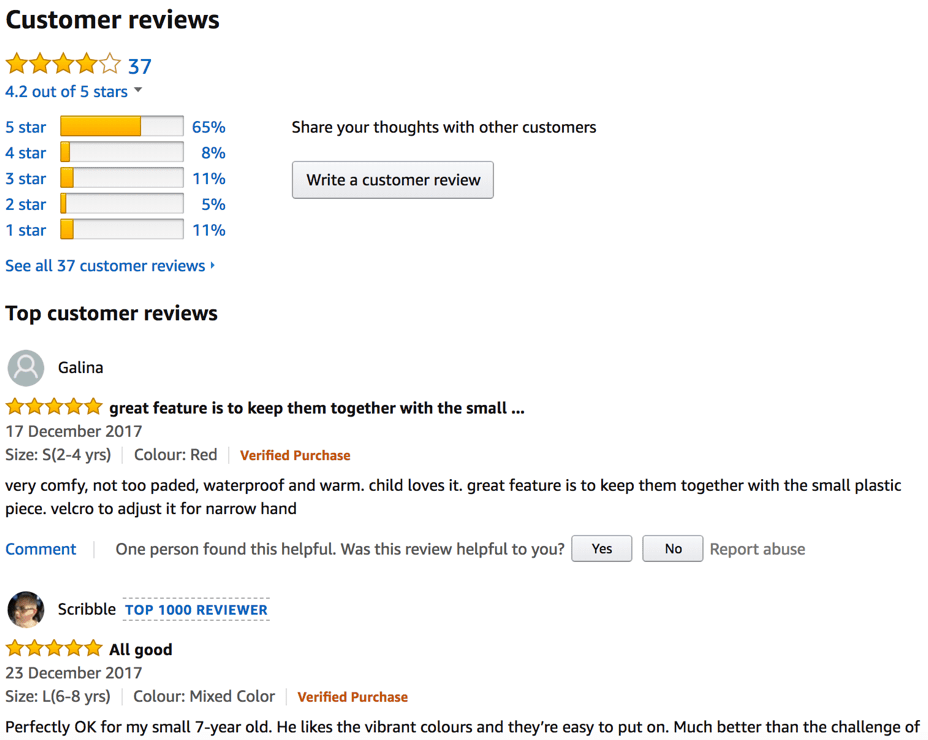 It's also important to have good stock available to avoid the dreaded 'temporarily out of stock' message – Amazon does not want to disappoint its customers!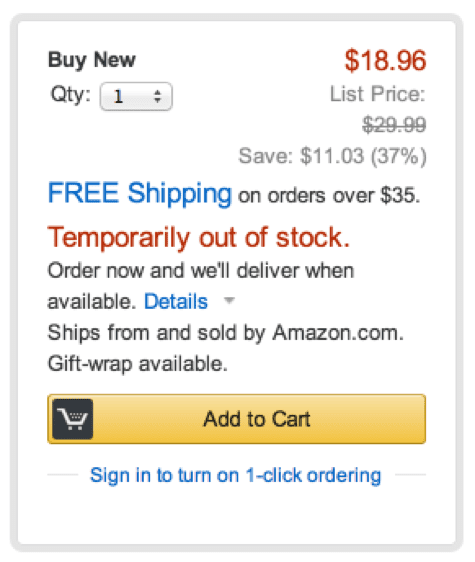 Range – Amazon wants to see a good range of products and brands on the site. Whilst it won't always be possible for you to sell everything you have on Amazon, if you have a popular product that customers are interested in then Amazon will be keen to make this available on their platform:
2. Optimise for search
A very high percentage of purchases on Amazon start with search, suggesting that customers who visit the site already have a pretty clear idea of what they want (i.e. vs. just browsing more generally).
Data from 2016 also indicates that an increasing number of consumers are also going to Amazon to start their product search vs. other channels such as Google: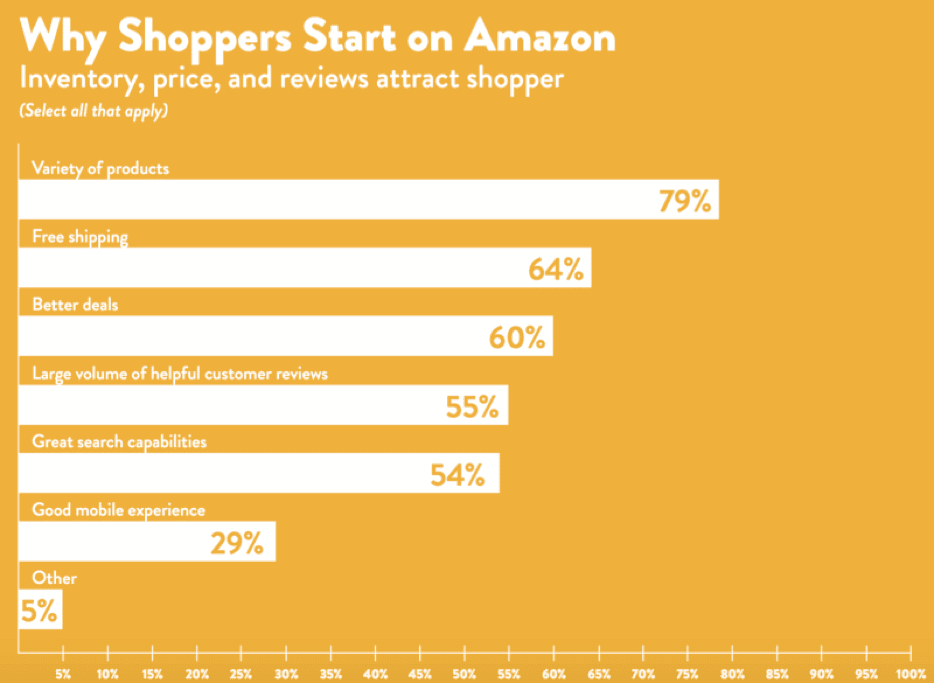 Amazon provides some of their own guidance to merchandisers on how to optimize for search on the platform but here is a summary of some of the key best practices:
Search terms – it seems obvious but you need to choose the best terms that describe your product. This will take research and testing but the effort will be worthwhile, so think like your customers and use terms that are popular on your own site or product line
Product listing title – probably one of the most important factors to consider, keep your title short, concise but with relevant keywords throughout. Key points to consider include:

Product Brand
Description
Line of the product
Colour
Material
Size or Dimensions
Quantity

Description – as with the title, the description should clearly articulate your product in a way that stands out and resonates with the user. Consider using bullets rather than a long, sprawling paragraph and use keywords thoughtfully throughout the description
Price – more sales, sessions and conversions = better rankings, so it's important to prince competitively. Conduct your own product research to find out the best comparable prices in your category but consider what you can afford as well to avoid a costly race to the bottom
Images and video – as highlighted in the 'start with great basics' point above, ensure you use a selection of high-quality images and, where possible video, to bring your product to life.
3. Identify product gaps in your portfolio
Providing a strong, varied product portfolio and staying in stock is one of the best way of increasing affinity and sales. Amazon wants to offer the best range and options to its customers and its therefore in all parties' interests to showcase your product range in full to a wide, engaged audience.
The data you can obtain from Amazon, e.g. what is/ isn't selling, what's connecting with consumers, feedback on products etc. can be used not only to improve current visibility on Amazon but to also identify what might be missing from your overall product portfolio.
4. Leverage key dates, events and promotions
In addition to big, established online events such as Black Friday (Amazon is the most visited site in the UK on this day and pioneered this in the UK), Amazon have also started to launch their own events such as Prime Day: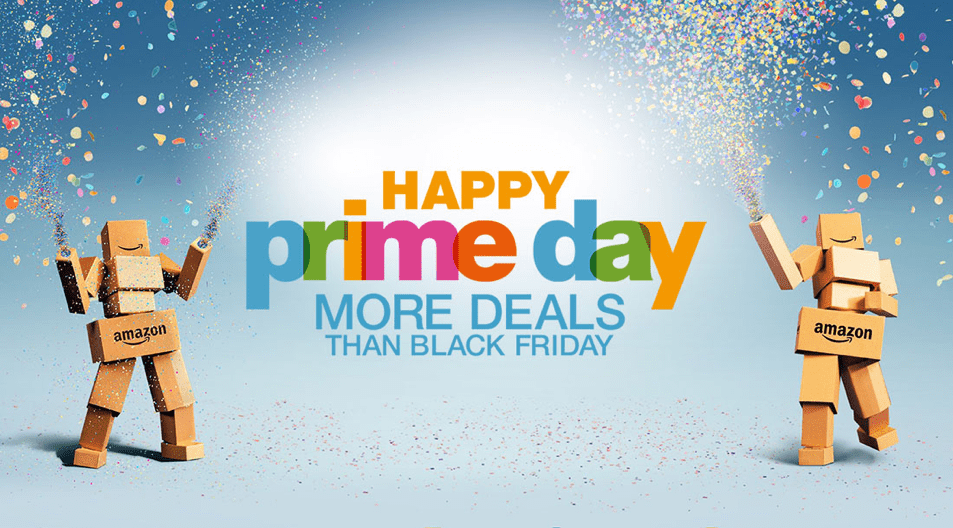 The key opportunity for marketers is to combine your events calendar for the year with what Amazon is planning to take advantage of not only the buzz and momentum being generated but also new 'demand moments', occasions when different products can be brought together, for example, beer and snacks for a big sporting event or chocolate and flowers for Valentine's Day.
The graphic below shows some major events for the year ahead on the left (big Amazon events are highlighted in red) and a brand's campaign calendar on the right.

Focus on fewer, bigger, better; pick out two to three major initiatives per year and invest in these rather than trying to go for everything and spread yourself too thinly.
5. Connect the dots with digital advertising
Although I will look at digital advertising in more detail in the second part of this series, it's worth highlighting at this point that there are huge advantages to be gained from combining the ecommerce and advertising elements that Amazon provides to create a connected experience for consumers.
By partnering with digital advertising you can begin to create synergies with what you're currently selling and any new products or releases later in the year, building demand and ensuring great visibility throughout the platform, including the Amazon.co.uk, Amazon Fresh, Prime Go and Pantry.
---
This is the first part of an Amazon Series which is being written by our expert contributor, Gavin Llewellyn – the next installment will be centered on digital advertising.
Join To Our Newsletter
You are welcome