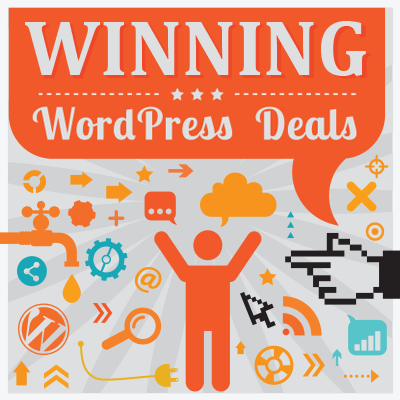 Kinsta vs Flywheel vs WP Engine is an ongoing rivalry in the world of managed WordPress hosting. Each company has its pros and cons, each has a slightly different vibe, and each aims to attract a somewhat different type of client.
Let's set things straight today and look into what these three players bring to the table, and how to make your decision between them. Which should you choose for your site: Kinsta, Flywheel, or WP Engine? Let's take a look:
The background to Kinsta vs Flywheel vs WP Engine
Before we get into the nitty-gritty and take a look under the hood with each of these hosts, let's summarize quickly what managed WordPress hosting stands for and what makes our contenders a good choice – especially if you're looking for a reliable host for your next WordPress website.
To be honest, the term "managed WordPress hosting" gets thrown around a lot these days and, in some cases, it doesn't mean much in practice.
Many a hosting company have realized that just using the "WordPress" label in their marketing materials brings additional eyeballs to their otherwise standard shared hosting offerings. The managed WordPress hosting space has been getting a bit watered-down as a result of this, and users aren't sure who to trust whenever they see a hosting platform advertising itself as "optimized for WordPress."
Well, there's no such problem with the companies we're looking into today!
WP Engine is the pioneer of the WordPress hosting market – it's a company that's been offering WordPress-optimized plans from the very beginning. Currently, they've evolved their product and aim to serve as a whole "WordPress digital experience platform" (their own words) and not just a hosting provider.
Kinsta is the newcomer to the WordPress hosting market. Their approach reminds me of WP Engine when they first got started.
Flywheel is the budget WordPress host that tries to attract site owners who would have otherwise chosen a standard shared plan – inviting them to the world of managed WordPress hosting at a very affordable price.
Here's how these companies stack up against one another based on a handful of key criteria:
Kinsta vs Flywheel vs WP Engine in detail
Jump to section: 💰 Pricing | 🔧 Features | 🎯 WordPress perks | 🐣 Ease of use | 📈 Performance | 🏆 Final verdict
💰 1. Pricing
Price is the no.1 factor for most people when buying literally anything. This is perfectly understandable. No matter how much better Solution A might be than Solution B, it doesn't matter if I can't afford it anyway.
So let's look into the topic of pricing before anything else.
And right out the gate, there's a problem. Each of the companies has multiple different plans, and showcasing them all inside a single table or list would be unreadable. So, instead, let's break things down into tiers.
For each company, we'll compare the prices at:
"entry-level" (for 1 site),
"mid-tier" (for 3-5 sites),
"advanced" (for 10 sites or more).
With that in mind, here are the pricing differences between the three companies:
Table (a): Kinsta vs Flywheel vs WP Engine for ENTRY-LEVEL hosting
| | Kinsta | Flywheel | WP Engine |
| --- | --- | --- | --- |
| Price | $30 | $15 | $35 |
| Sites | 1 | 1 | 1 |
| Monthly visits | 20,000 | 5,000 | 25,000 |
| Disk space | 3GB | 5GB | 10GB |
| Bandwidth | unlimited | 250GB | 50GB |
| Free site migration | N | Y | Y |
| SSL | Y | Y | Y |
| CDN | 50GB included | plus $10 / mo | Y |
Table (b): Kinsta vs Flywheel vs WP Engine for MID-TIER of hosting
| | Kinsta | Flywheel | WP Engine |
| --- | --- | --- | --- |
| Price | $100 | $100 | $115 |
| Sites | 3 | 10 | 5 |
| Monthly visits | 100,000 | 150,000 | 100,000 |
| Disk space | 10GB | 40GB | 20GB |
| Bandwidth | unlimited | 4TB | 200GB |
| Free site migrations | just for 1 site | Y | Y |
| SSL | Y | Y | Y |
| CDN | 200GB included | plus $10 / mo per site | Y |
Table (c): Kinsta vs Flywheel vs WP Engine for ADVANCED plans
| | Kinsta | Flywheel | WP Engine |
| --- | --- | --- | --- |
| Price | $200 | $100 | $290 |
| Sites | 10 | 10 | 15 |
| Monthly visits | 250,000 | 150,000 | 400,000 |
| Disk space | 20GB | 40GB | 30GB |
| Bandwidth | unlimited | 4TB | 400GB |
| Free site migrations | just 2 | Y | Y |
| SSL | Y | Y | Y |
| CDN | 300GB included | plus $10 / mo per site | Y |
* The prices presented above apply when you're paying monthly. Every company has some discounts if you pay for the whole year up front.
Something that becomes apparent immediately is that there's a lot of variance in those tables, and no clear winner when we take all the parameters into account.
Even if you only want to host a single website, your decision can still be tough depending on the scale of traffic you're expecting or the disk space you know you're going to consume.
Nevertheless, as you can see, the cheapest platform to get started with of them all is Flywheel. Their entry-level tier is half the price of what the other two companies have. Obviously, there are some limitations with that – mainly their 5,000 visitors-a-month cap.
While I'm at it, Flywheel says they don't have overage charges, but I have no experience with how this works specifically. I don't imagine they will just swallow the additional visits above your plan limit. You'll likely get nudged into upgrading to a higher plan, which makes sense.
If those 5,000 monthly visitors aren't enough, Flywheel has additional single-site plans with more room:
$30 / mo. – 25,000 visits | 10GB disk | 500GB bandwidth
$75 / mo. – 100,000 visits | 20GB disk | 1TB bandwidth
Speaking of overage charges, here's how they play out with the other two companies:
Kinsta: $1 / 1000 visits above your plan cap
WP Engine: $2 / 1000 visits
Yes, you're reading this right, WP Engine charges twice as much as Kinsta.
What you can also see in the tables above is that Kinsta offers "unlimited" bandwidth. This is because Kinsta doesn't track bandwidth per se. Their pricing is based on the total number of unique visits every month, and not on the amount of data those visits move through the cable.
Moving onto the mid-tier of hosting (table B); things are roughly in the same range there.
If you want to launch three WordPress sites, you can do that with each host at the same price.
Five sites? This is going to be much cheaper with WP Engine and Flywheel. To run five sites with Kinsta, you need their "BUSINESS 2" plan, which is $200 / mo.
If you're interested in hosting 10 or more sites (table C), you're going to be tempted by Flywheel's offering. Being able to host 10 sites for $100 / mo. on a managed hosting setup is very intriguing. Flywheel aims this plan at freelancers creating sites for clients, which is a very interesting offer.
Hosting multiple sites with WP Engine is the most expensive – not just for the 10 site mark, but going forward from there as well.
20 sites: Flywheel – $250 | Kinsta – $300 | WP Engine – $390
30 sites: Flywheel – $250 | Kinsta – $400 | WP Engine – $590
40 sites: Flywheel – custom | Kinsta – $400 | WP Engine – $790
Granted, you do get some cool features with WP Engine for the price – which we'll discuss soon – but that number on its own is rather massive.
Also, interestingly, Kinsta now runs a promotion where you get free site migrations if you're coming from either Flywheel or WP Engine. Those seem to not count against your number of allowed site migrations as seen in tables A, B and C.
🔧 2. Basic features
The main idea behind managed WordPress hosting is to provide the user with a server environment that's configured specifically for WordPress websites and doesn't allow any other software.
It's also about removing you away from what's going on with the actual server machine and giving you an easier-to-use interface instead. In short, forget about cPanel.
With that in mind, I'd expect the offerings of Kinsta vs Flywheel vs WP Engine to reflect those ideas:
2.1. Basic hosting parameters
Here's how things play out, starting with some general features:
| | Kinsta | Flywheel | WP Engine |
| --- | --- | --- | --- |
| Daily backups | Y | Y | Y |
| Multisite | Y | Y | Y |
| Staging | Y | Y | Y |
| SFTP | Y | Y | Y |
| Free migrations | Y but depending on the plan | Y | Y automated |
| HTTP/2 | Y | Y | Y |
| Free SSL | Y | Y | Y |
| SSH | Y | N | N |
| Support | 24/7 | M-F 9am-5pm CDT | 24/7 |
| Git Integration | Y | N | Y |
| CDN | Y limited bandwidth | Y extra paid | Y |
To say it plainly: all is there. And that's actually how you'd expect things to be. After all, this is premium WordPress hosting, and not your run-of-the-mill shared server.
Setting all these "yeses" aside, the only differences that stand out are:
Kinsta seems to be the single platform here offering SSH access.
Flywheel support is not available 24/7, which may be problematic for those of us not living in the US.
Flywheel is also the only one with no built-in Git integration.
Site migrations with WP Engine are done automatically, and not by a technician. Meaning, sometimes things might not work if your site is a tad bit non-standard.
Free site migrations with Kinsta are limited to less than the total number of allowed sites on your plan.
Kinsta also limits the free CDN traffic you can transfer, from 50GB for the entry-level plan. The overage charges on CDN traffic are $0.10 / GB.
CDN is paid extra with Flywheel – $10 / mo. / site.
With the basic stuff out of the way, here's some more info about the server infrastructure of each of the companies:
2.2. Servers and data centers
Here's who runs the servers with Kinsta vs Flywheel vs WP Engine:
Kinsta – Google Cloud Platform
Flywheel – own and Google Cloud Platform
WP Engine – Google Cloud Platform and Amazon AWS
And now the available server locations:
Kinsta
Flywheel
WP Engine
Belgium
Frankfurt, Germany
London, UK
Netherlands
Finland
Mumbai, India
Singapore
Taiwan
Tokyo, Japan
Sydney, Australia
São Paulo, Brazil
Montréal, Canada
Iowa, USA
Oregon, USA
Virginia, USA
South Carolina, USA
Los Angeles, California, USA
Singapore
Toronto, Canada
Amsterdam, Netherlands
Frankfurt, Germany
London, UK
New York, USA
San Francisco, USA
Belgium
Ireland
London, UK
Frankfurt, Germany
Taiwan
Sydney, Australia
Tokyo, Japan
Montreal, Canada
Iowa, USA
Virginia, USA
South Carolina, USA
Oregon, USA
Ohio, USA
Notes on data center locations for Kinsta vs Flywheel vs WP Engine:
Kinsta's coverage seems to be the most impressive, with some good locations not only in the US, but also throughout Asia and Europe.
Flywheel lacks a data center in Australia and has only one location in Asia.
WP Engine offers a good map overall. Nothing is missing.
Additionally, it's worth pointing out that Flywheel is working with Google Cloud to roll out a new set of hosting packages. At the time of writing, the server infrastructure at Flywheel is of their own, but that's changing as you're reading this.
There are new hosting plans in the works, with fresh new features and some upgrades compared to the standard plans. Specifically: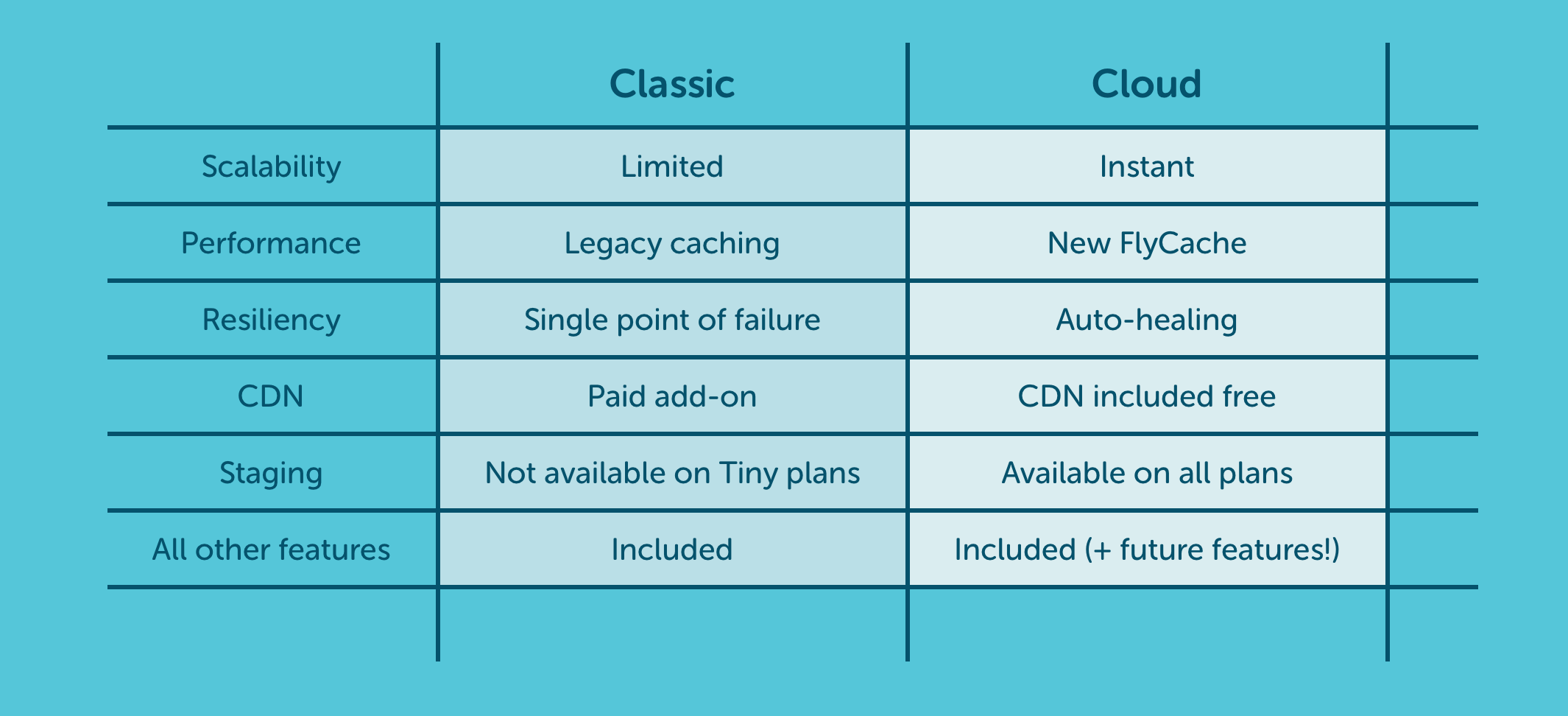 🎯 3. WordPress-specific features and perks
Now let's take a minute to discuss what you're probably the most interested in. So, are there any WordPress-specific features offered by these companies, which would truly earn them that "managed WordPress hosting" label?
The short answer is, yes, there are. But each company approaches the topic from a different angle. Apart, of course, from the fact that you can only host WordPress sites with either of them.
3.1. Kinsta
Kinsta is the youngest company in this head-to-head comparison. With that, they seem to have found their niche in being both user-friendly and powerful.
While using Kinsta, it's apparent that they aim to make your life as a website owner as easy as possible – from a technical point of view – so that you don't have to worry about server things. But at the same time, you get to take advantage of things like backups even as frequently as every six hours, CDN integration, Cloudflare Railgun, Elasticsearch, Redis, and more.
When it comes to WordPress features specifically, what's worth pointing out is their multisite capability with domain mapping and good backup mechanisms with 14-30 day backup retention. You can view all the backups in your user panel. Those are actually whole snapshots using containers, rather than standard database and filesystem archives.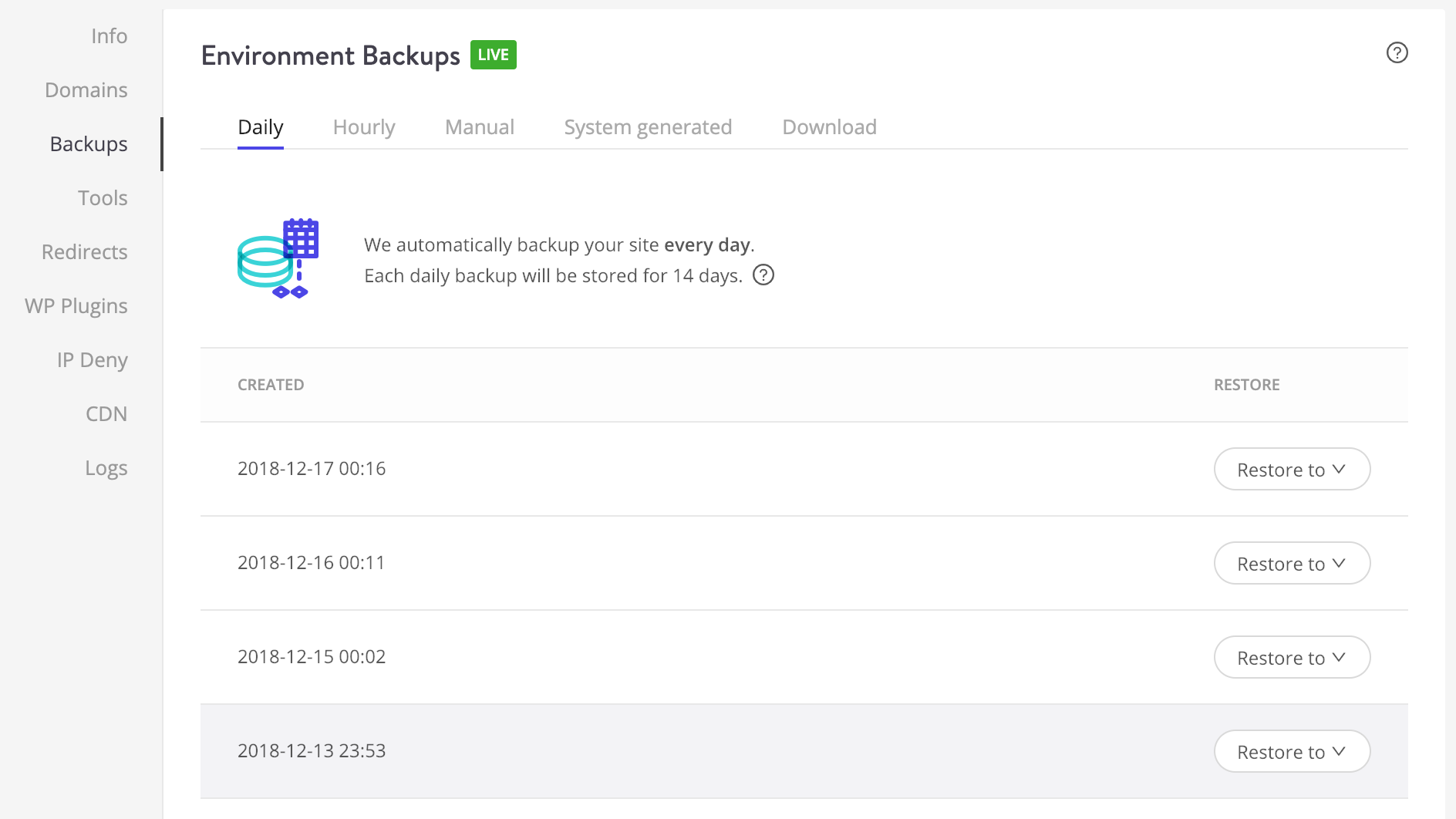 There's also easy-to-use staging – you can create a copy of your site with a couple of clicks, test new features/plugins, and then push the site out if you like the result (or scrap it).
Kinsta also keeps an eye on your installed WordPress plugins and lets you know if any of them need your attention.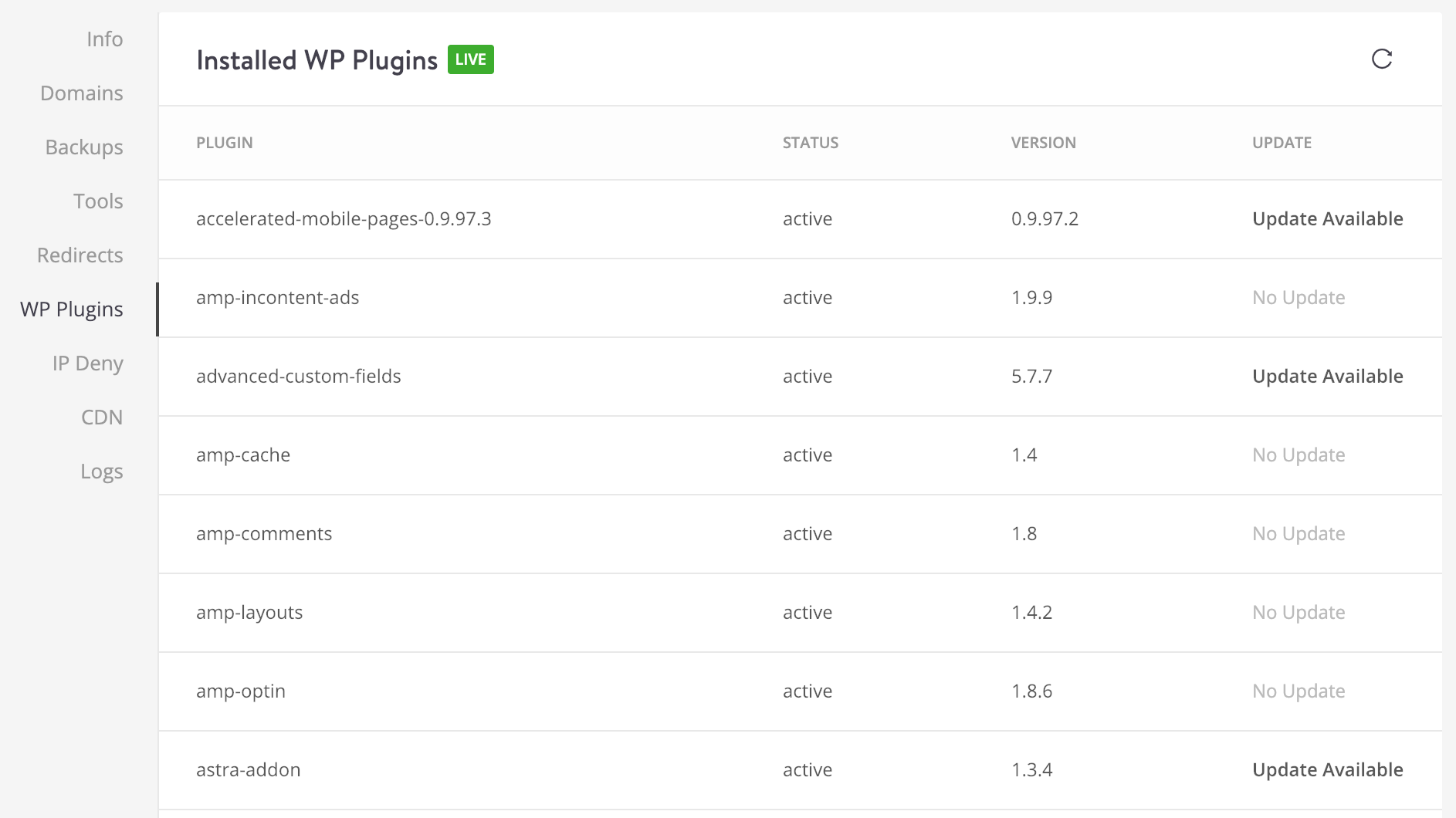 Last but not least, you get WP-CLI integrated right from the beginning, which is helpful if you prefer a more direct way of interacting with your WordPress site.
If you're coming in with an existing site, there's a handy Migrations menu in the main sidebar. You can request individual site migrations and, depending on where the migration's from (migrations from WP Engine and Flywheel are free regardless of your plan), you might have to pay for it separately.
Speaking of creating new sites, this is also very easy to do. You get an "Add Site" button in your user panel. You can set your logins, passwords, hook up a domain name, choose a server location, and you're done. After filling out a couple of forms, you'll see a fresh WordPress instance in your user panel. Kinsta lists the important connection details all in one place.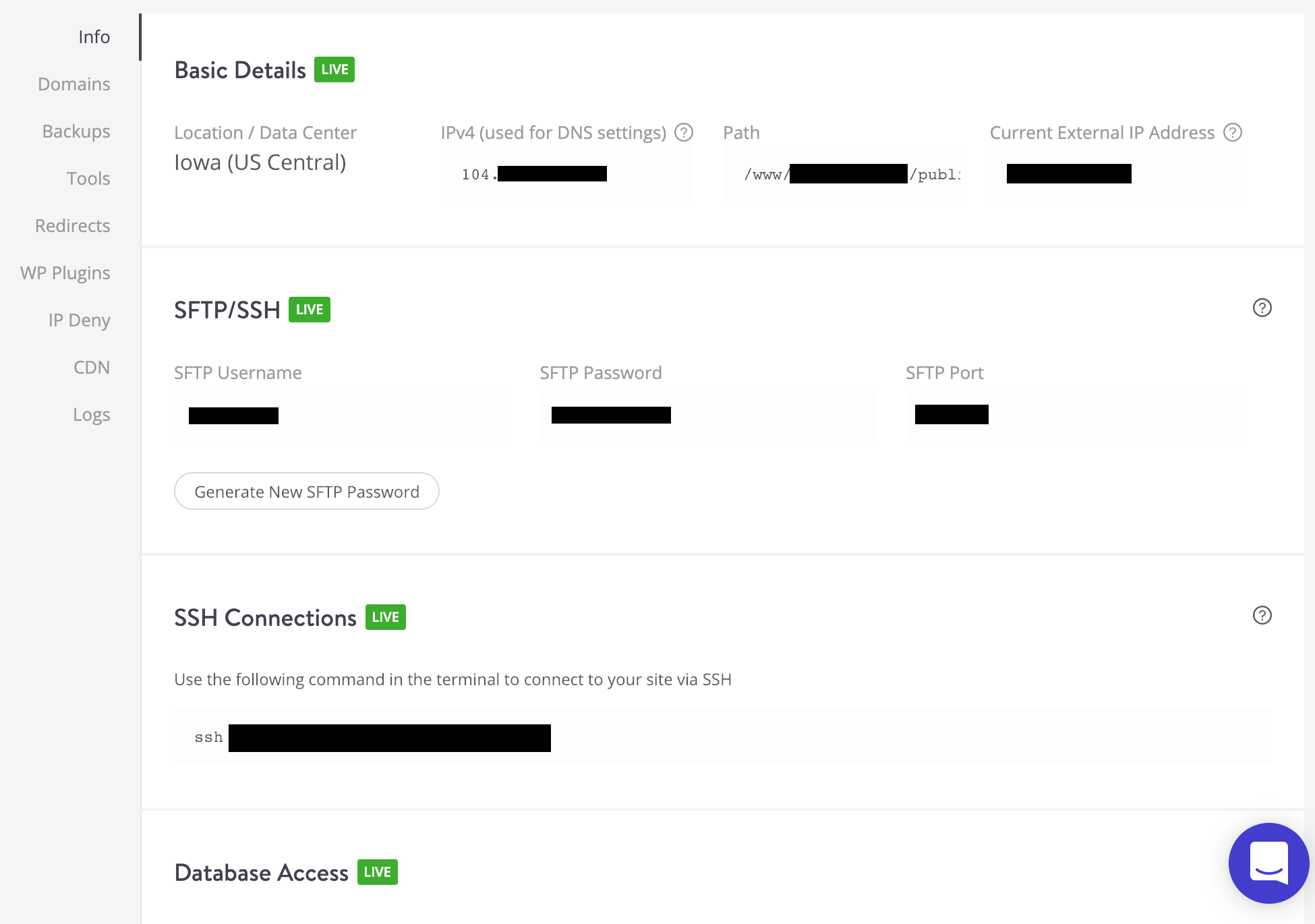 3.2. Flywheel
Flywheel's main focus is undoubtedly on ease of use. Plus, they did pinpoint the most important features for each type of user and delivered those with no fail.
For example, if you're a freelancer, Flywheel helps you out when it's time to hand over the site to your client. You can tell Flywheel to start billing them instead of you, effectively removing yourself from any further dealings after the project is done.
If you want to take it a step further, you can get one of Flywheel's bulk plans, put Flywheel's white label on everything and start reselling hosting to your clients.
One more exciting feature of Flywheel's is the ability to develop your site locally via their custom tool – Local by Flywheel – and then have it deployed to a live server when ready.
If you're coming in with an existing site, you also get free migrations. Plus, Flywheel works with WordPress Multisite should you need it.
There are also automatic backups along with one-click restore, not to mention their overall custom for-WordPress server configurations, plus optimized built-in caching.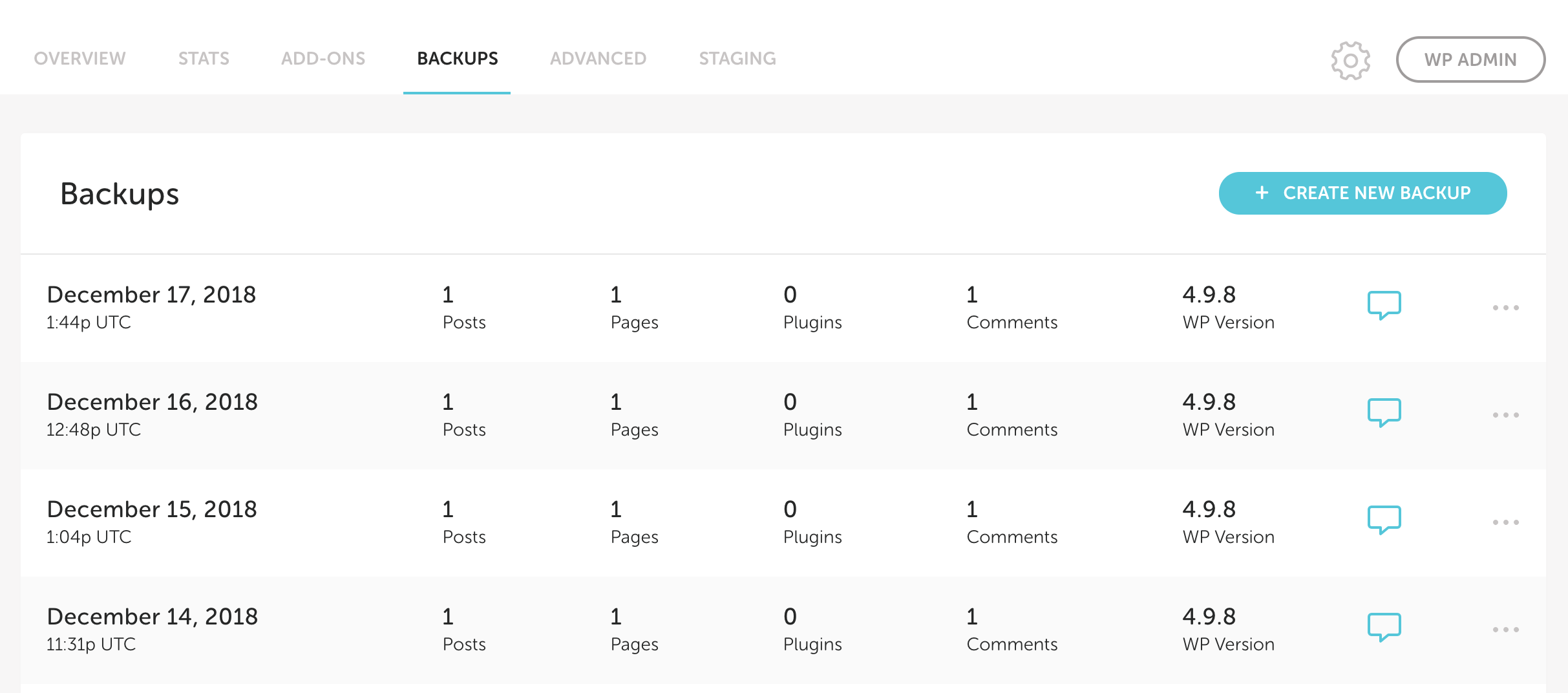 On top of that, Flywheel makes working on your WordPress site easier thanks to their handy on/off toggles for things like WP_CACHE (though only WP-Rocket is an officially supported caching plugin on the platform), WP_DEBUG, and one-click staging enable.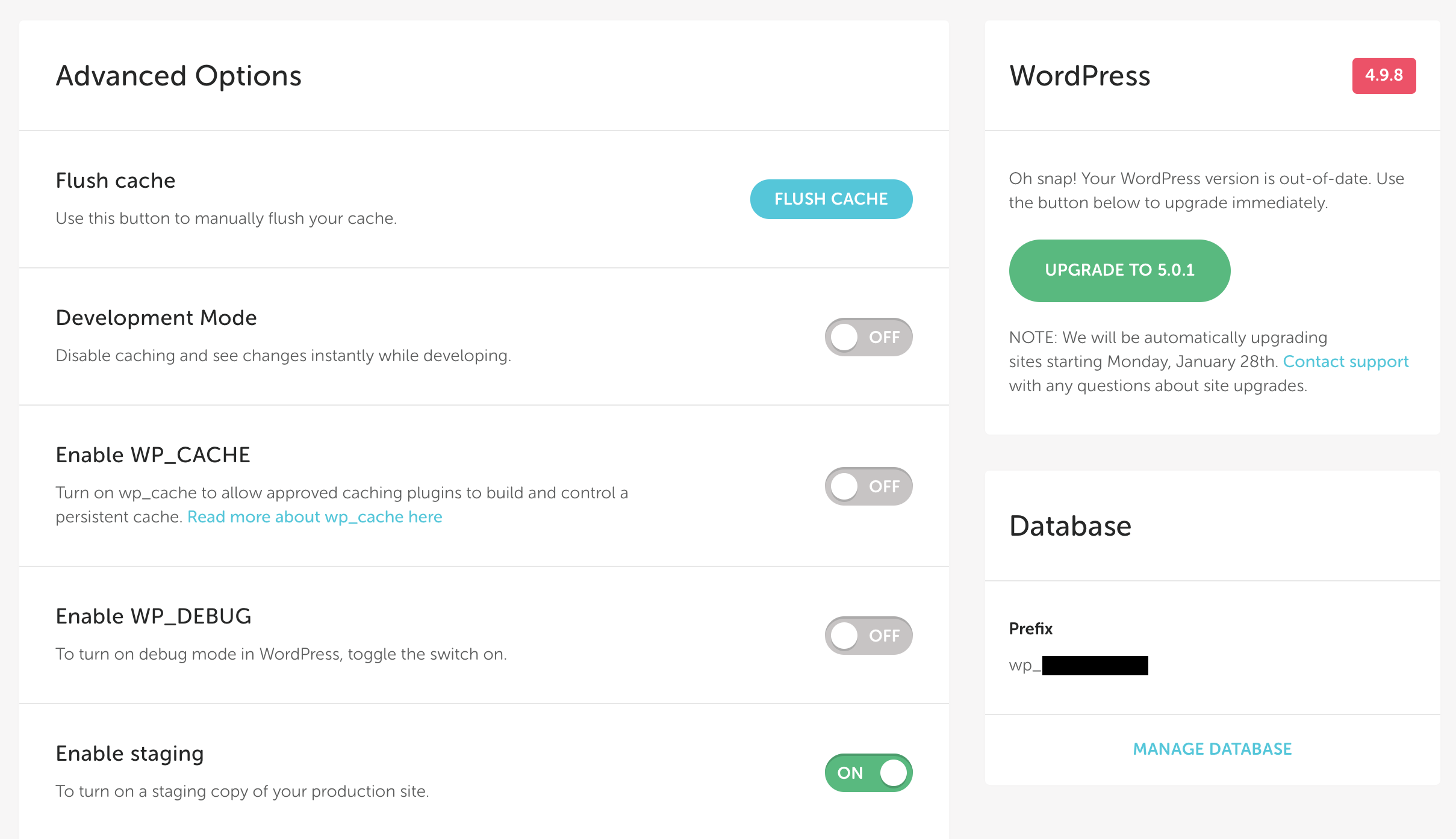 3.3. WP Engine
WP Engine is the original managed WordPress host out there. They've basically created the managed WordPress hosting market all on their own.
WP Engine's offering has evolved quite a bit over the years. The stage they're at right now seems to be aimed at attracting a broader customer base and no longer pretending to be the boutique WordPress host that they used to be back in the day.
Even their site migrations are performed automatically nowadays, which makes sense, given the scale of their operation.
In a word, they're the mainstream of WordPress hosting.
But that doesn't mean they don't have anything interesting to offer. To the contrary. They're still on top of their game when it comes to WordPress-optimized servers along with a custom website management panel.
You get a lot of perks when you sign up with WP Engine:
good staging structure with Dev, Stage, and Prod environments,
automated backups,
support for WordPress Multisite, and more.
Plus, WP Engine offers basically everything that can be considered the cutting edge of hosting technology.
That being said, their user panel is a bit less straightforward than Kinsta's or Flywheel's and not optimized for mobile, making it a bit intimidating when you first log in.
At the same time, WP Engine is doing a lot in the WordPress community. They recently acquired the theme store StudioPress, and they've been doing an excellent job integrating it with their offer ever since. Every WP Engine hosting plan now gives you access to 35+ StudioPress themes including their flagship, the Genesis framework. If I remember correctly, buying the framework separately costs $60 – and the individual sub-themes often go above the $100 mark. So there is some real value here, and a serious factor to consider when picking between Kinsta vs Flywheel vs WP Engine.
Even more recently, WP Engine acquired Array Themes along with their Atomic Blocks and Gutenberg News. WP Engine is apparently looking to enter the new Gutenberg era of WordPress. We should start seeing Array's products integrated into WP Engine's offering soon.
However, at the same time, WP Engine has been known for limiting some of the things you can do with your WordPress site. Mainly, they're going to prevent you from using some (quality) plugins.
🐣 4. Ease of use
Your experience with either Kinsta vs Flywheel vs WP Engine starts very much the same way. After going through a standard sign-up process, you get access to your newly set user account.
What's key here is that you see none of the familiar cPanel-like interface or any other UI that a shared hosting platform might offer you. Instead, you get to interact with your server via a completely custom interface that aims to separate you from the things going on under the hood.
As to how easy to use all of that is, Flywheel is no.1 for me, then Kinsta, then WP Engine. But you can be the judge; here's what the most common panels look like with each of the platforms:
The main dashboard
Kinsta: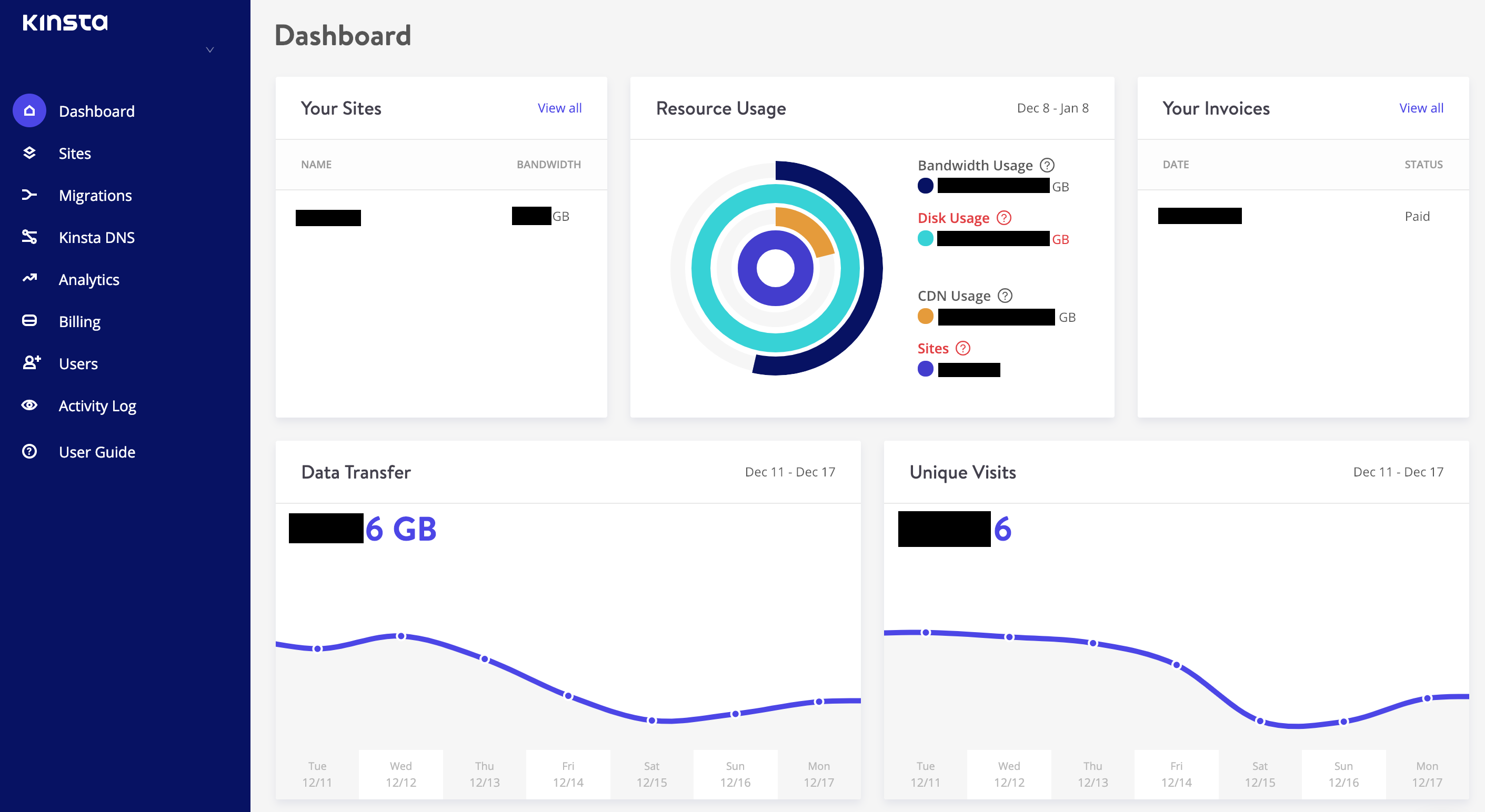 Flywheel: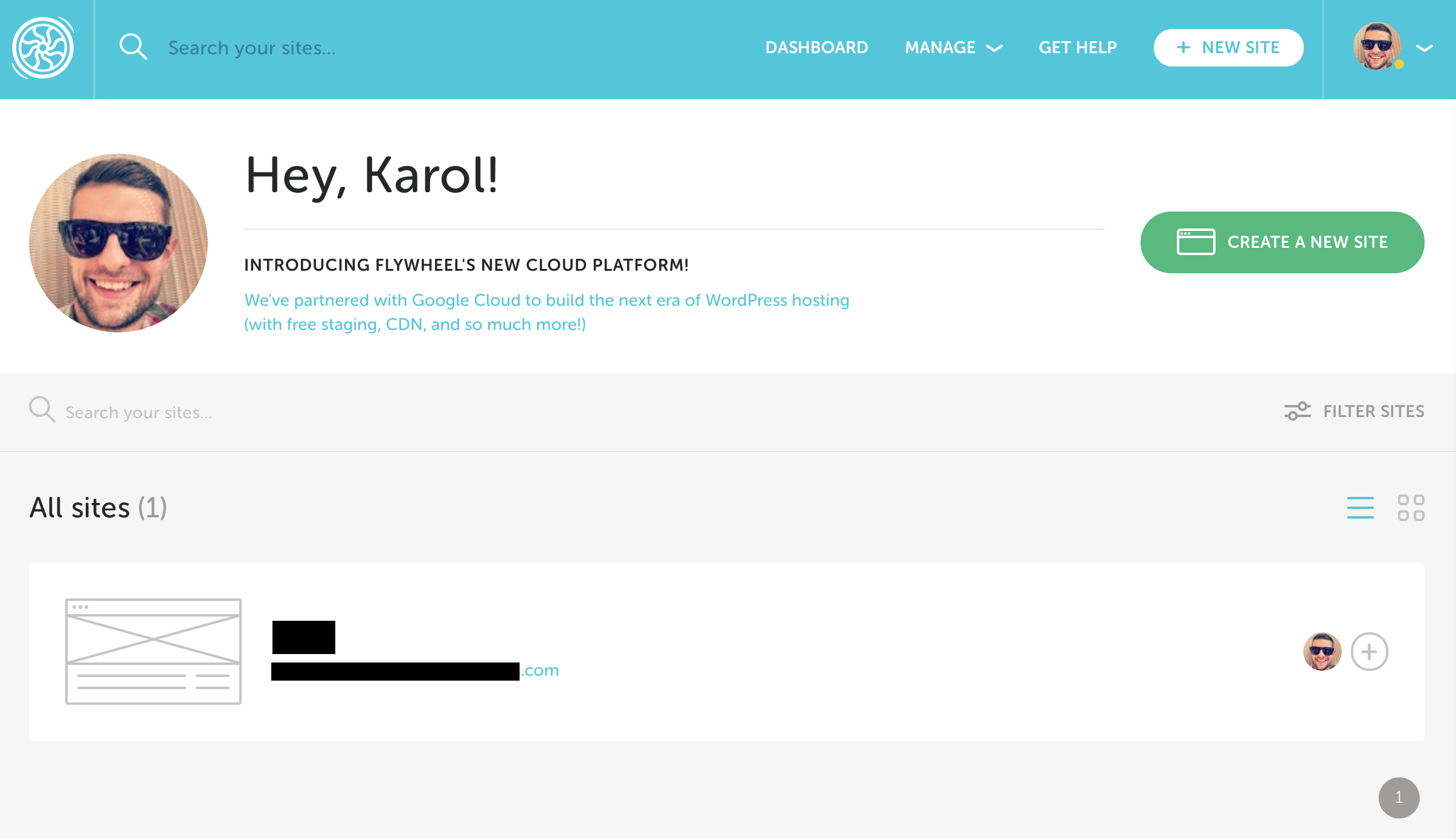 WP Engine:
Individual site view
Kinsta: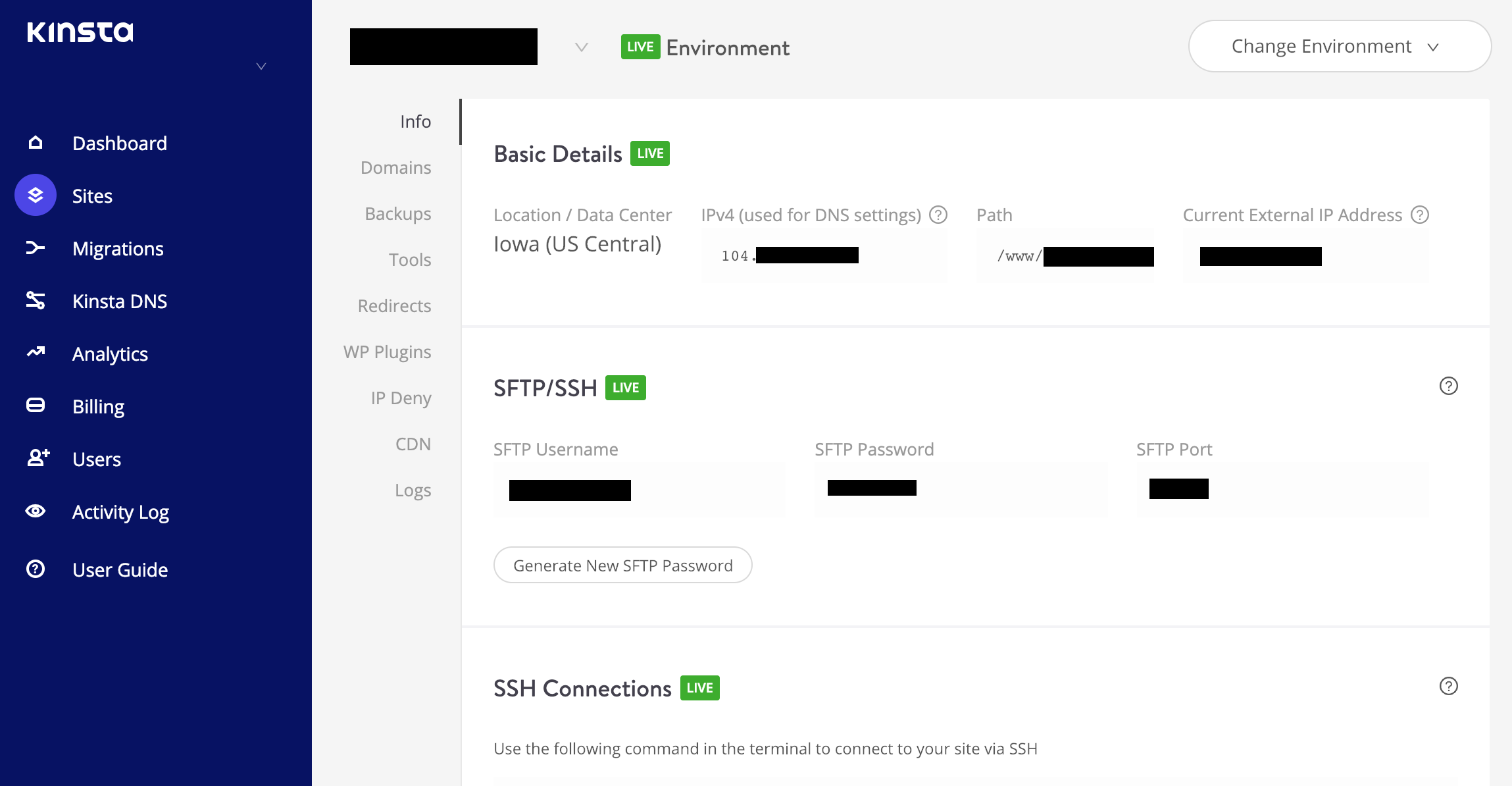 Flywheel: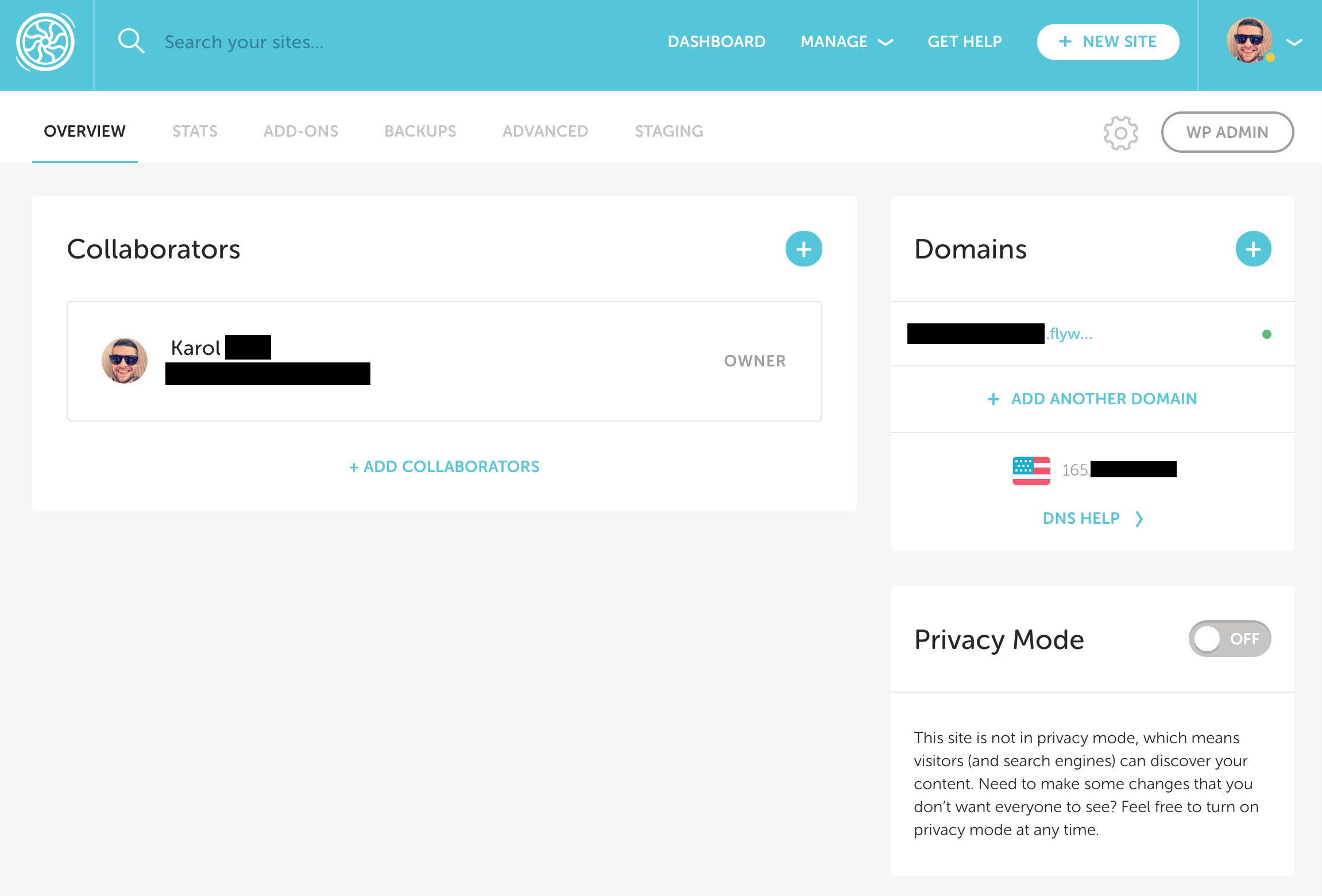 WP Engine: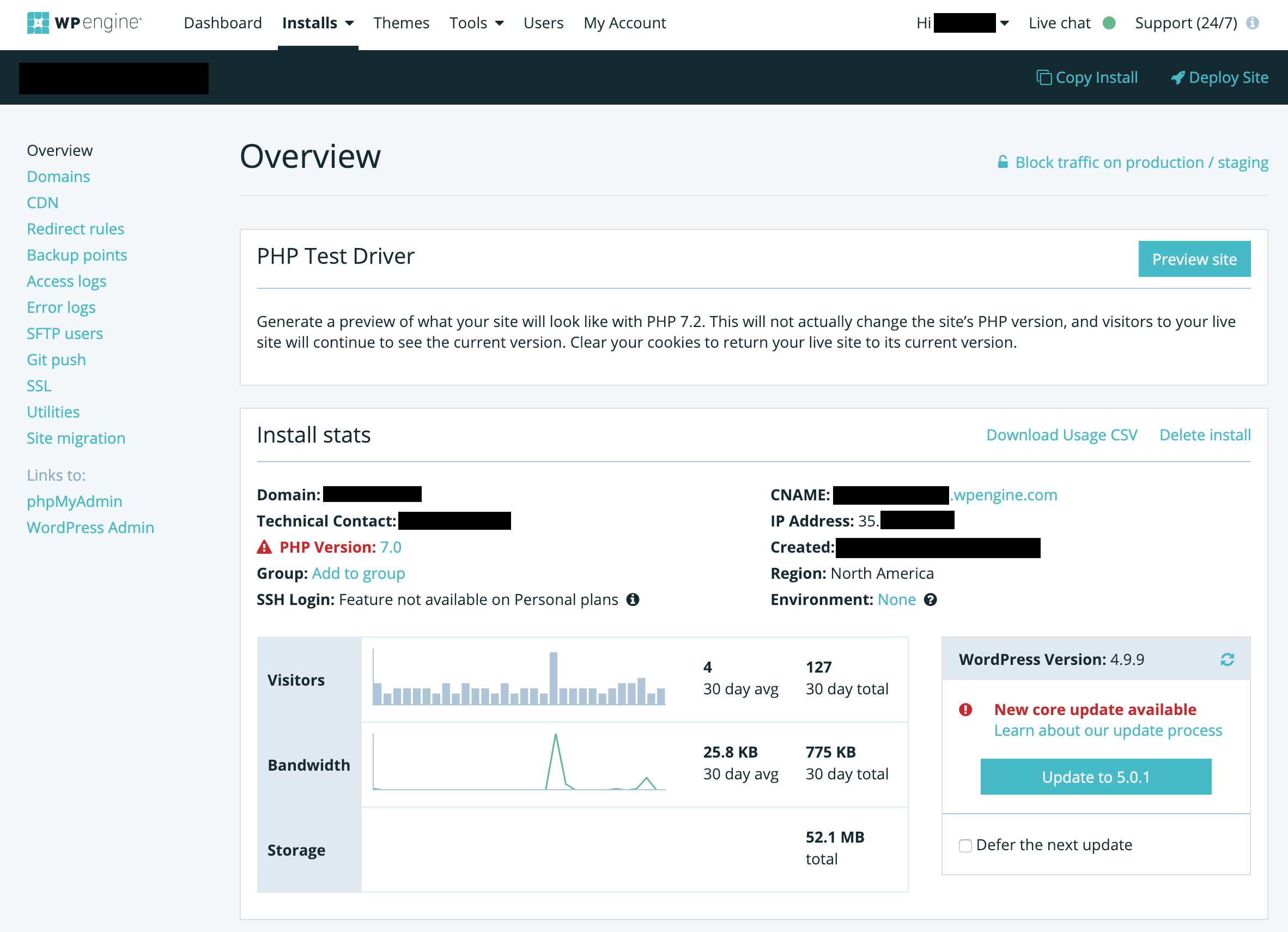 Migrating a site
Kinsta:
Flywheel: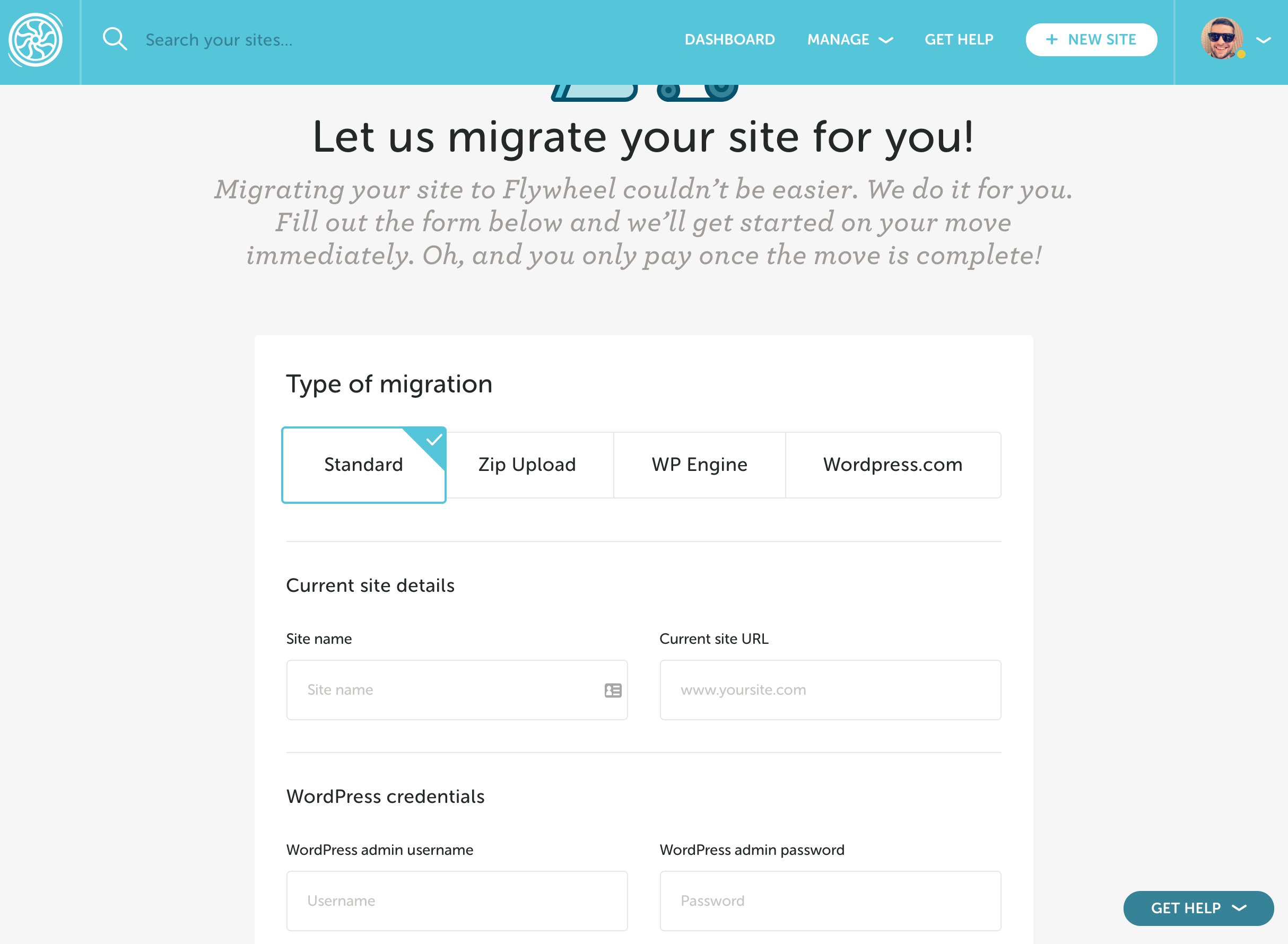 WP Engine has automated migrations, so the process is a bit different there. It involves installing a custom plugin on the site which you want to migrate and then connecting with your WP Engine setup. Read more about that here.
Analytics
Kinsta: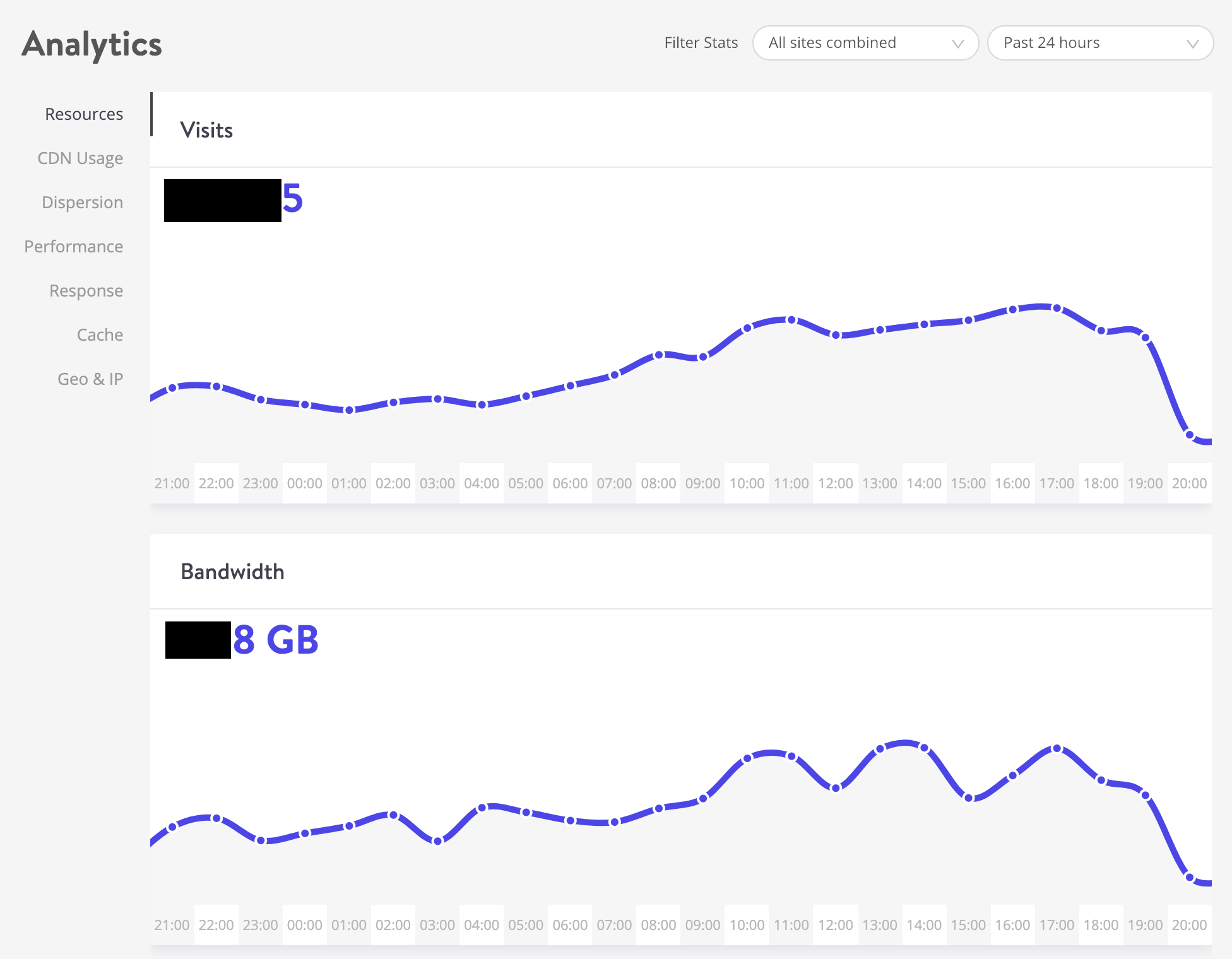 Flywheel: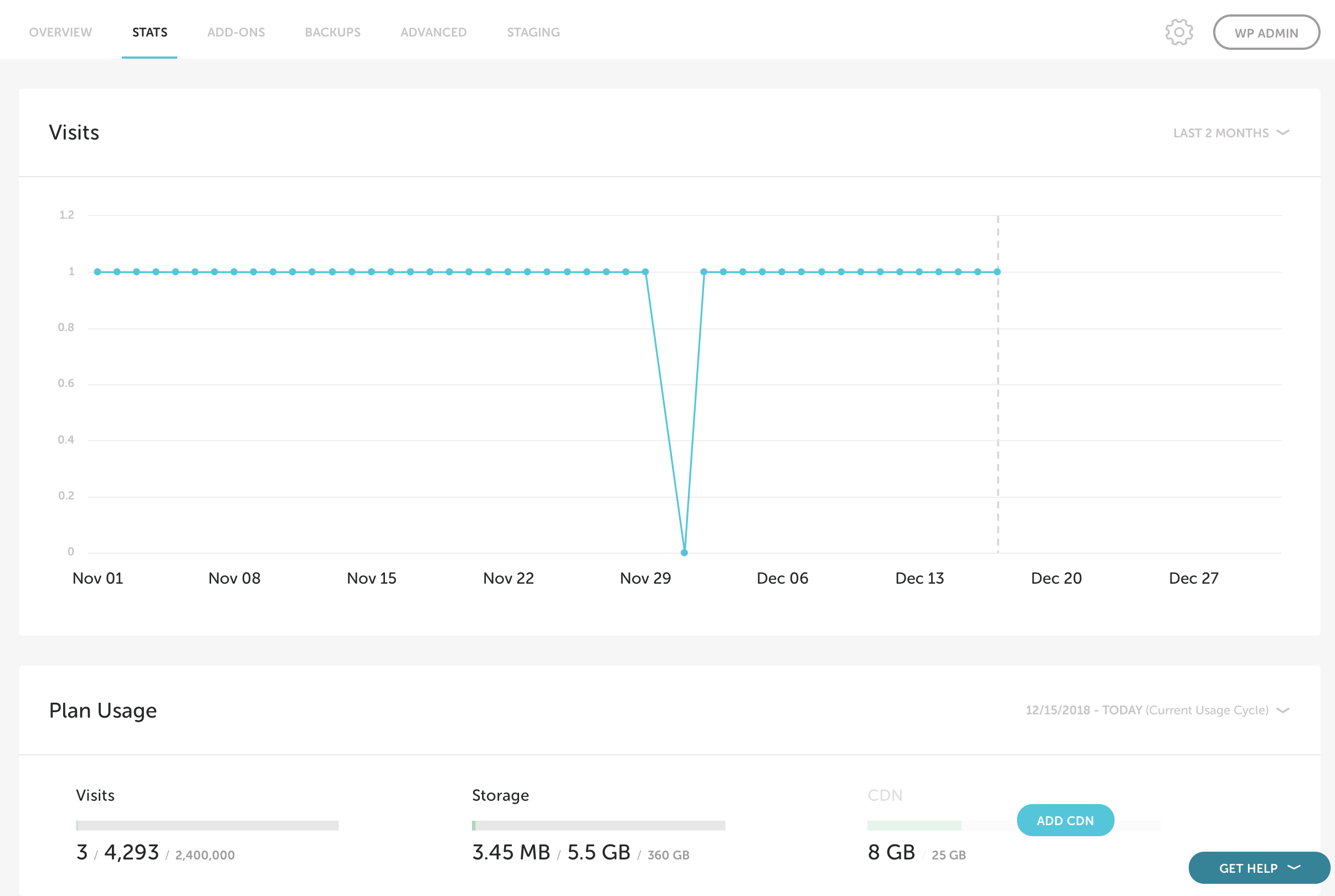 WP Engine: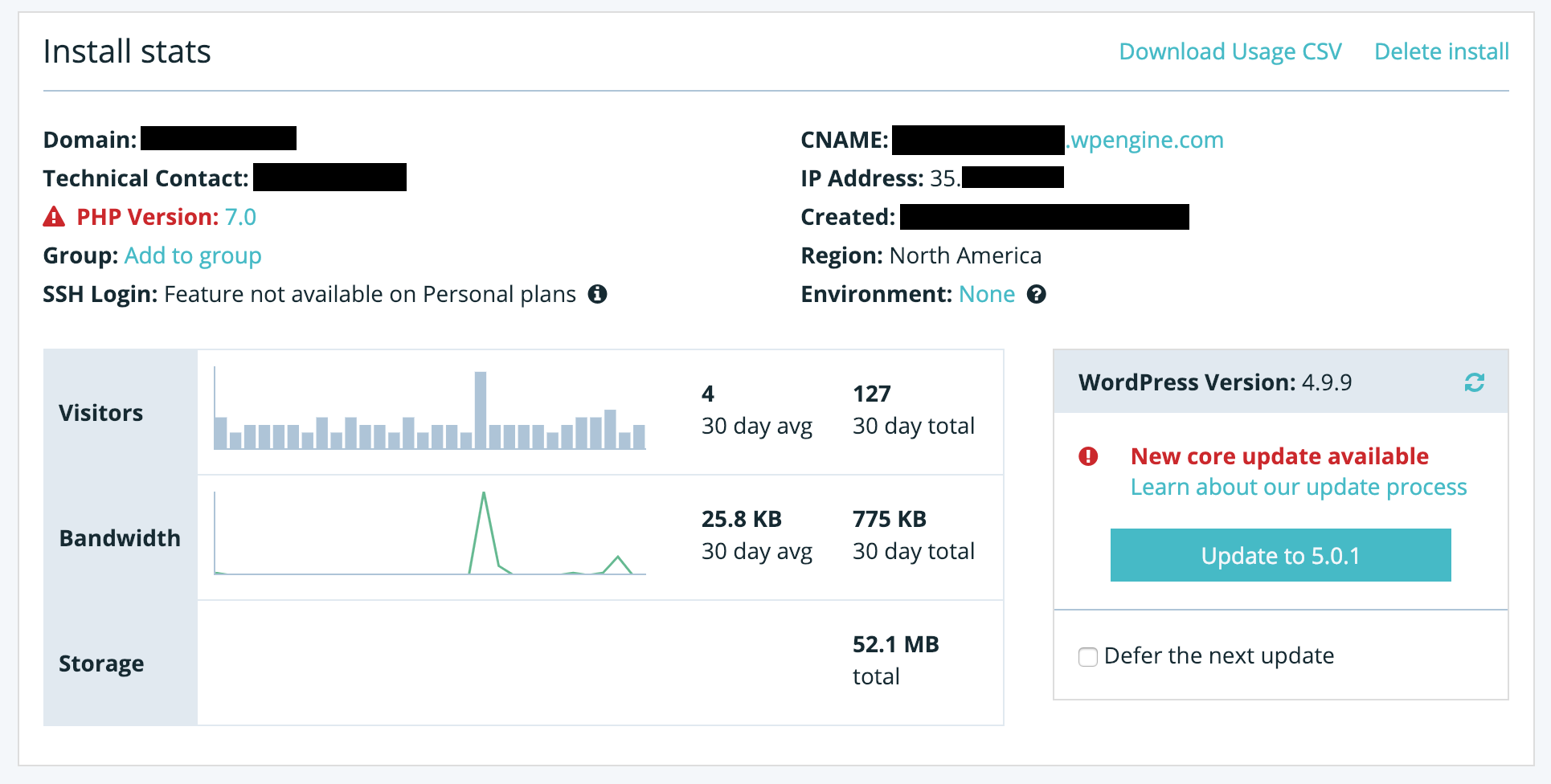 It doesn't look like WP Engine has any other stats module apart from what's visible in the dashboard.
Backups
Kinsta: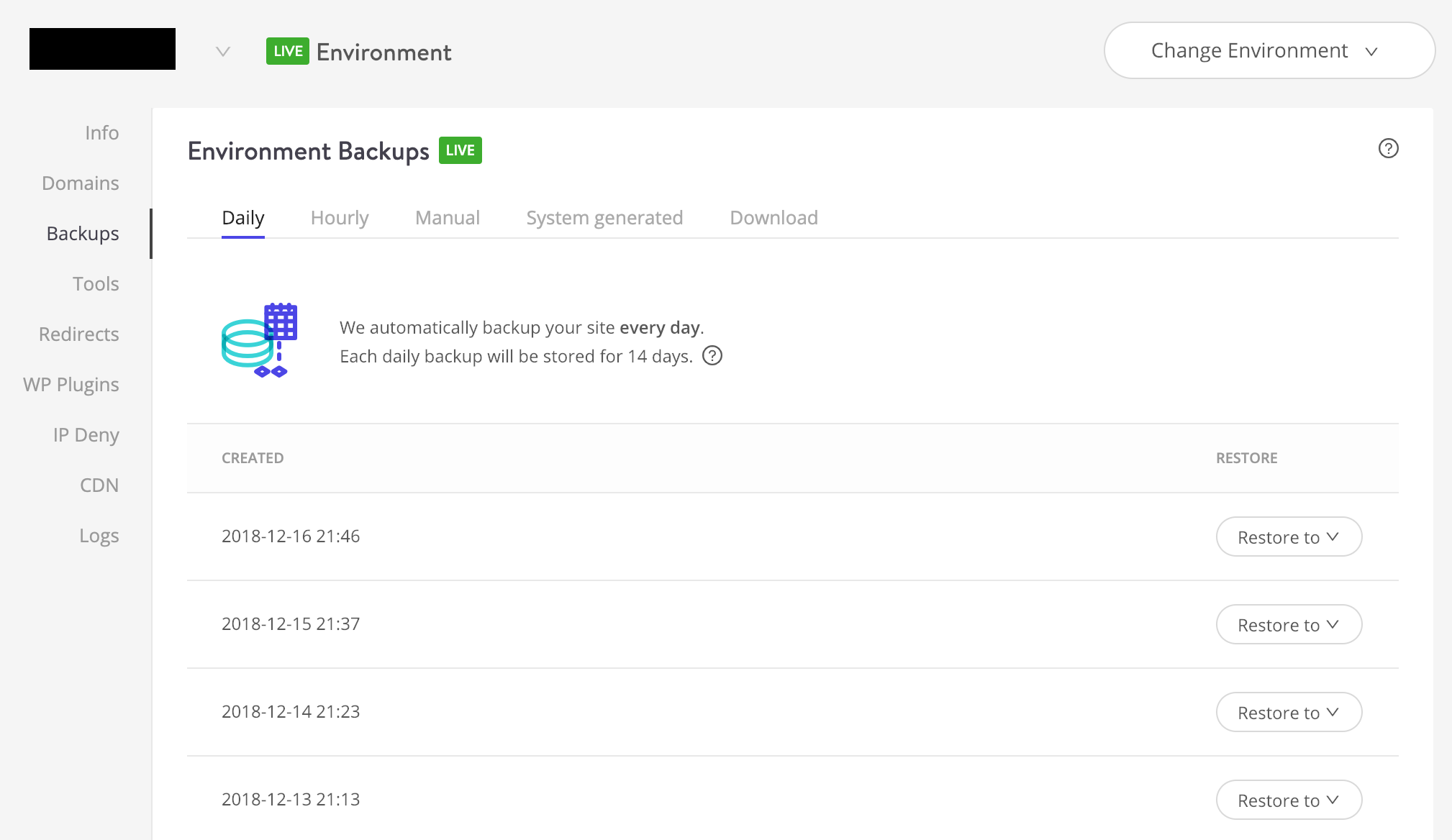 Flywheel: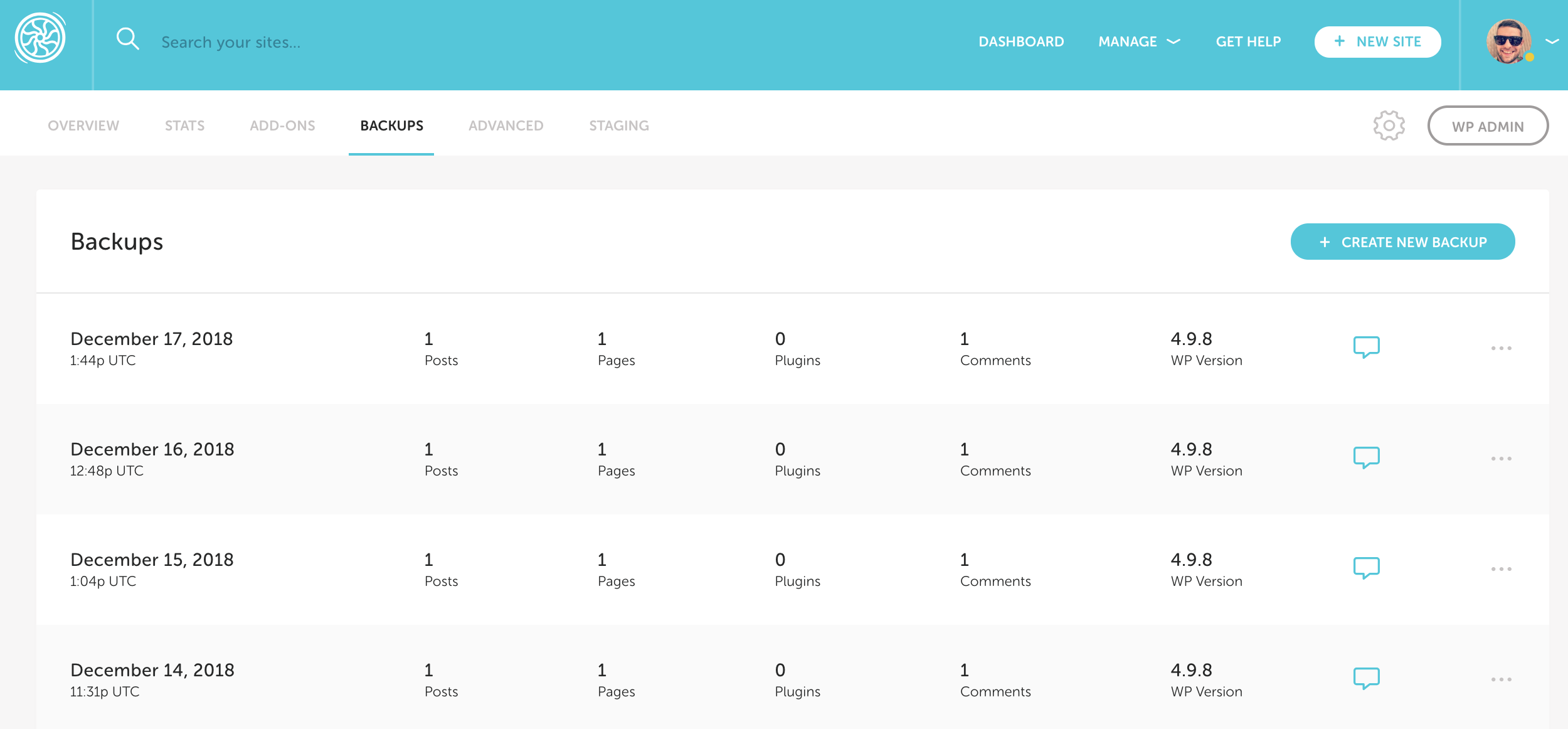 WP Engine:
Staging
Kinsta: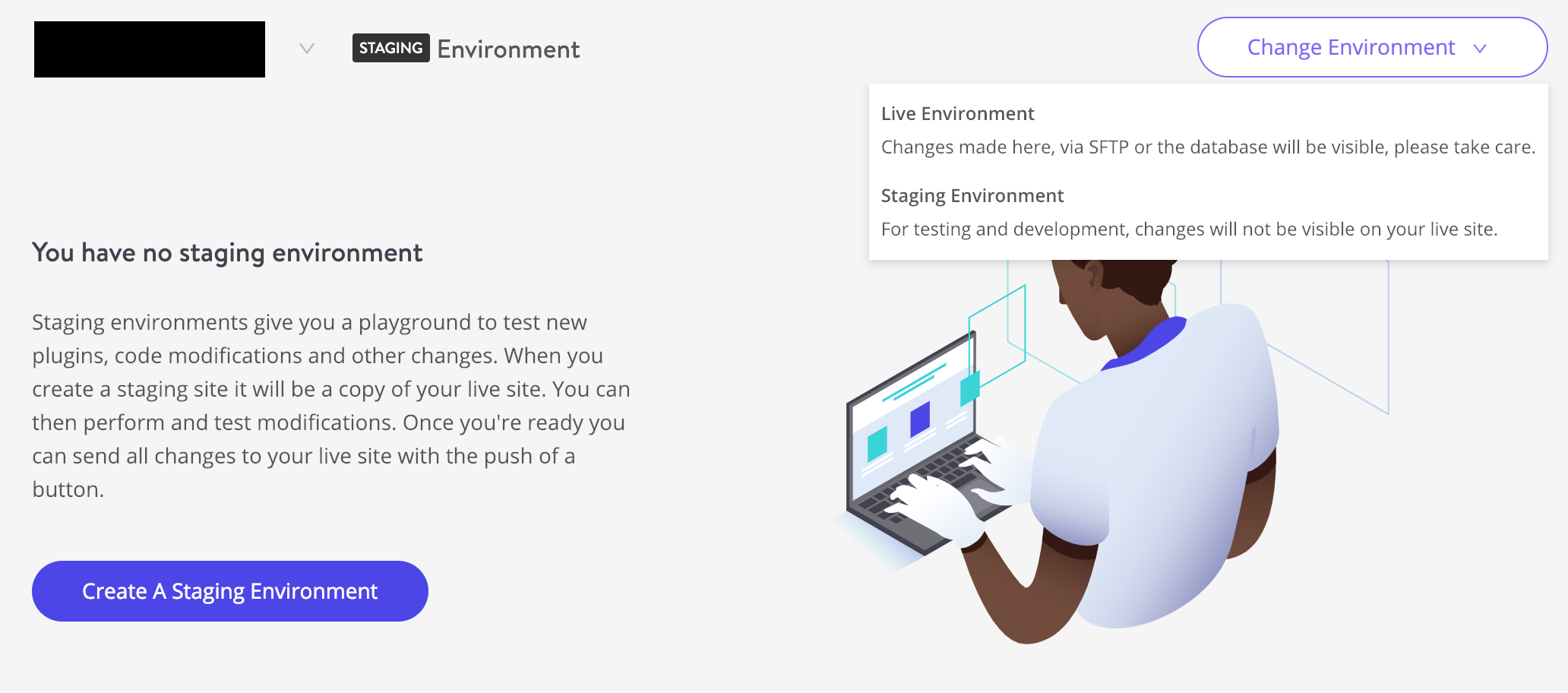 Flywheel: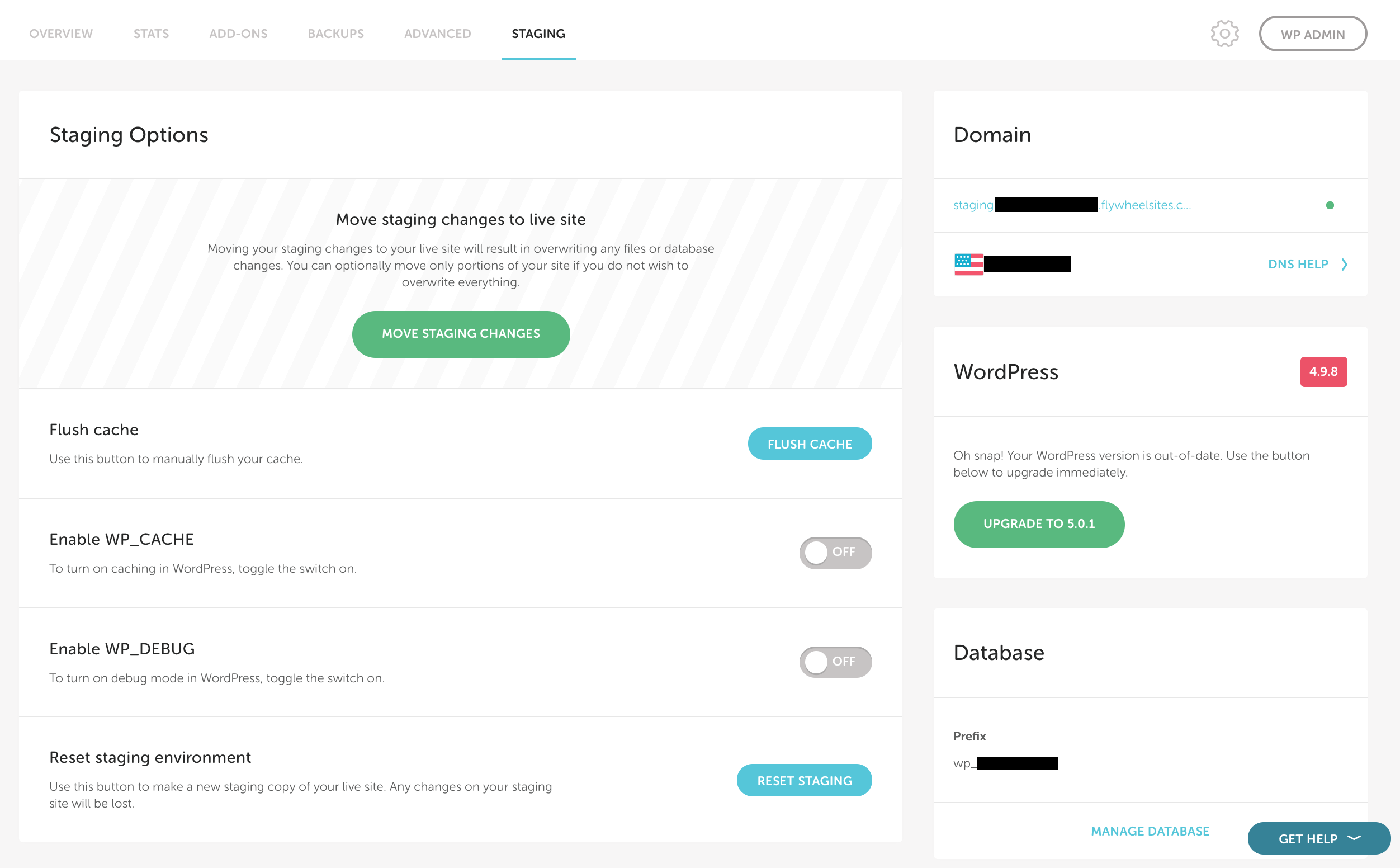 WP Engine:

WP Engine seems to have different interfaces for staging depending on the type of plan you're on. In my case, what's available is staging via the wp-admin. Here's the other option.
Again, this section is just meant to show you some of the different interface sections offered by the companies. Maybe one of them stands out as something you'd like to use.
📈 5. Performance
Analyzing the performance of Kinsta vs Flywheel vs WP Engine can be tricky when you just have one site set up on each – like I do. So instead of me telling you how fast each of my sites loads, let me refer to ReviewSignal's data, which has a bigger sample of sites to look at.
Kinsta vs Flywheel vs WP Engine performance compared

| | Kinsta | Flywheel | WP Engine |
| --- | --- | --- | --- |
| Total requests | 1,720,465 | 249,249 | 1,914,457 |
| Total errors | 0 | 77,140 | 786 |
| Average RPS | 955.81 | 138.47 | 1063.59 |
| Average response time (ms) | 417 | 2415 | 509 |
| Average throughput (MB/s) | 62.61 | 6.56 | 64.19 |
| Uptime | 100 | 100 | 99.95 |
| PHP Bench score | 8.787 | 9.731 | 10.766 |
| WP Bench score | 1208 | 555 | 418 |
For full results, view ReviewSignal's reports. Keep in mind, though, that the tests above were performed for different price points with each of the companies.
🏆 Final verdict
As with most products that are kind of complex by their very nature – which managed WordPress hosting certainly is – it's hard to point out a single winner among the three: Kinsta vs Flywheel vs WP Engine.
That being said, I do have my favorites:
For example, if what you want is to simply move your existing site over to managed WordPress hosting and see how much better the experience is vs shared hosting, plus you're getting fewer than 5,000 visitors a month, you're probably going to choose Flywheel.
If you're getting somewhere in the 20,000 visits-a-month range, you'll end up paying roughly the same with either company on this list – $30 or so. However, Kinsta offers more data center locations than the others, 24/7 support, and a nice user panel – certainly easier to use than WP Engine's.
Lastly, as a freelancer who wants to get into hosting reselling or just wants things to be easier when working with client sites, Flywheel seems like a better solution due to their built-in features for that very purpose.
Still, the best path to take when making your decision is to go through each of the sections above once again and pay special attention to the information inside the tables. See how much it costs to host X sites, what sort of traffic you can accept, what data centers you can choose from, what other features you get, etc.
📚 Further reading
Used/using — or thinking of using — any of these three hosts? Thoughts?