So far, we have published six link building guides that will help you unlock potential link building ideas for your campaigns. If you haven't seen them yet, you can check out the following links:
Today, we'll cover another industry that demands ideas for link building – the hotel industry.
This link building guide is mostly applicable for brands looking to get more visibility on search by properly acquiring links for their hotel SEO campaigns.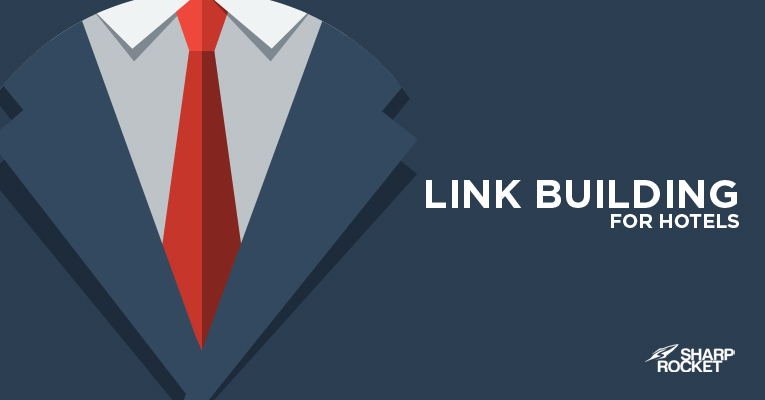 Continue reading:
NEARBY OR AREA HOTEL PAGES
If there's one hotel link building technique that doesn't require content to be published in order to get links from other sites, it is, leveraging nearby hotels or area hotels resource pages.
Here's an example of that. As you can see in the image below, it's a resource page that lists down hotels within the location – helping visitors get the exact information of nearby hotels from the page, including the address and their booking contact details.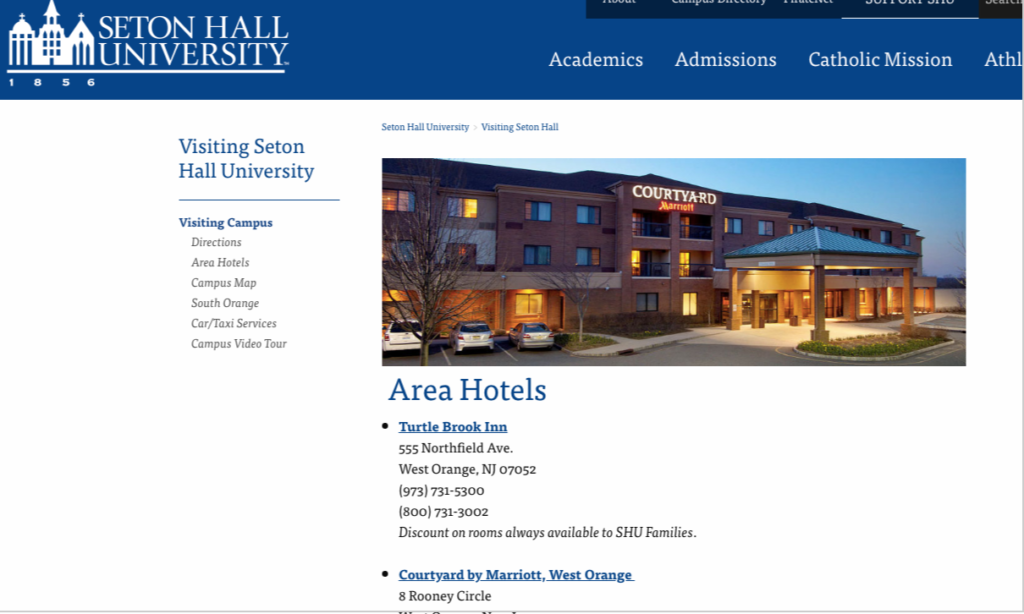 Whether you're in New Jersey, Florida or other cities in the U.S. or in other countries, there are available nearby hotels links pages.
You can do a Google search using any of the following queries to find those link type opportunities:
site:.edu "nearby hotels" [location]

"nearby hotels" [location]

"area hotels" [location]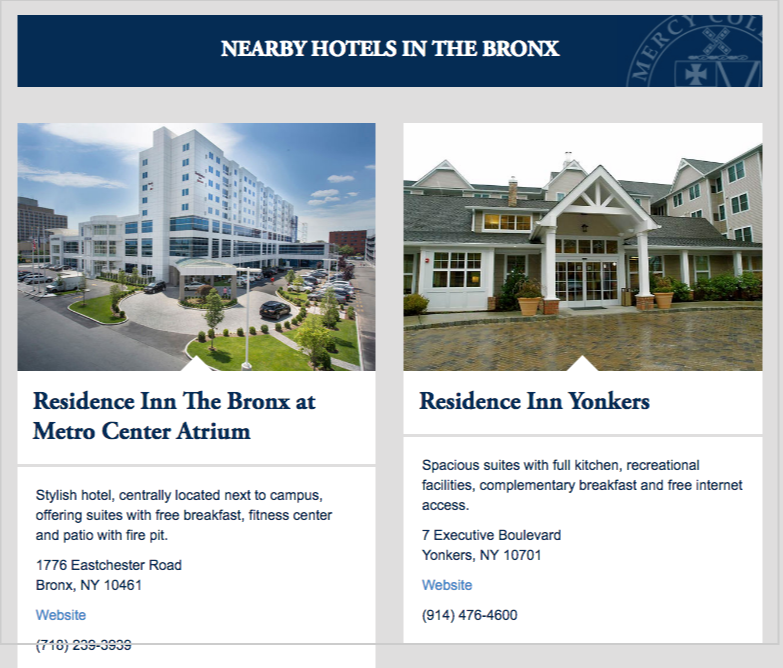 If offering discounts for customers is part of your marketing campaigns, you can couple your outreach with a customized discount code or any other offerings to get increase the likelihood of getting links from your outreach targets.
PRODUCTS YOU SELL 
In your hotels, you normally have restaurants and bar sections or lounges where you sell popular products such as beers or wines.
You may create a list of all of these products or get a product inventory from your hotel brand. Research and see if manufacturers or sellers of your products have their own websites.
You'll find that they have pages dedicated to how to purchase or finding their [product]. These pages include external links or sources of exact stores where products can be bought.
Curators or webmasters of "how to purchase [product ] pages are receptive to outreach of direct partners/retailers, given it's an added value for their visitors looking for specific products.
How to Purchase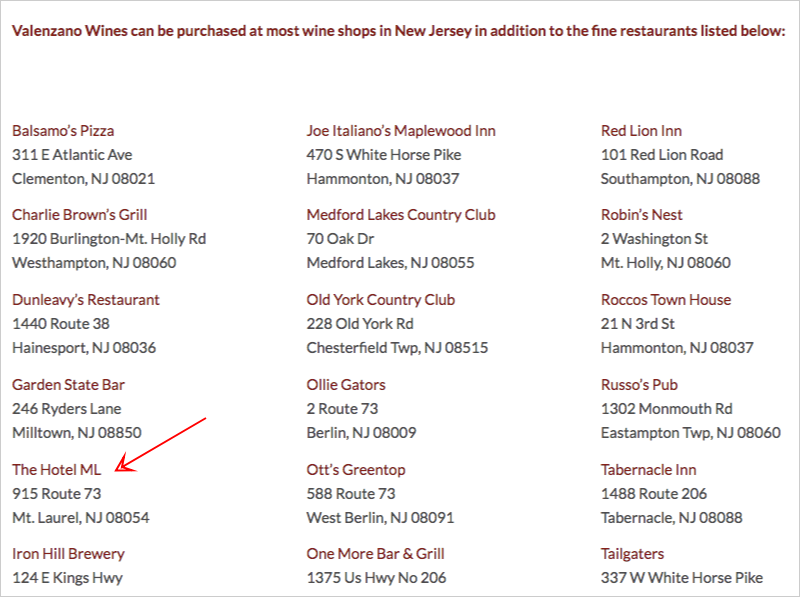 Find Our Product [Location]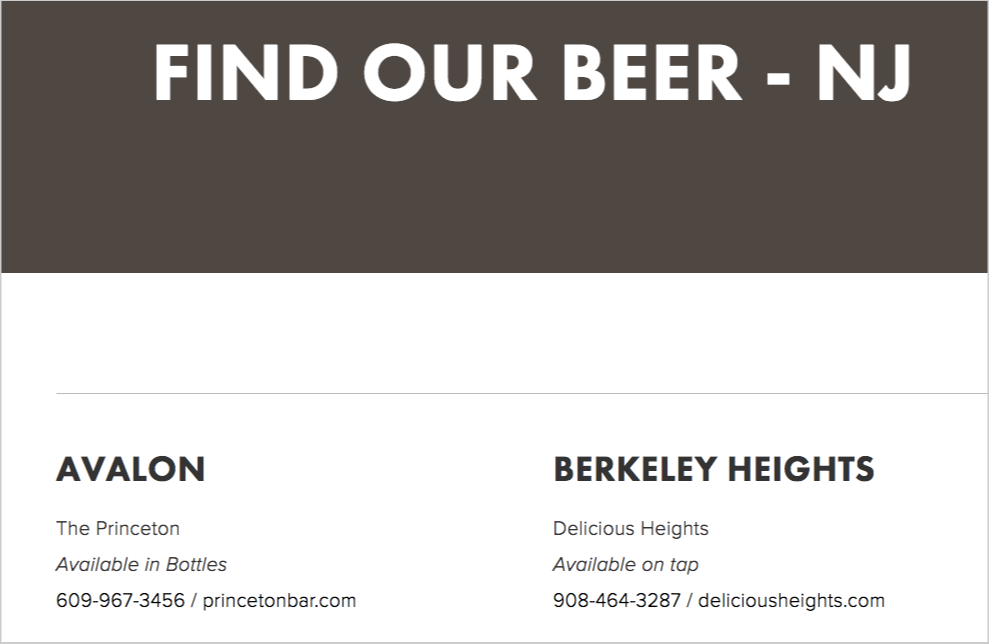 You may use any of these Google search queries to find available how to purchase or find our product pages.
"how to purchase [product]"

"find our [product]" [location]
This link building strategy is a low-hanging fruit in acquiring links directly to your bar/restaurant page or to your homepage.
HOTEL DISCOUNTS FOR ALUMNI
Earlier, we discussed giving discounts to nearby hotels page curators. Now let's look at another type of hotel discounts.
If you're doing link building for hotels, it is best to come up with a specific campaign that offers discounts for alumni of universities. There are a handful opportunities of this link type that you can leverage to get not just links, but assisted conversions from visitors clicking your links.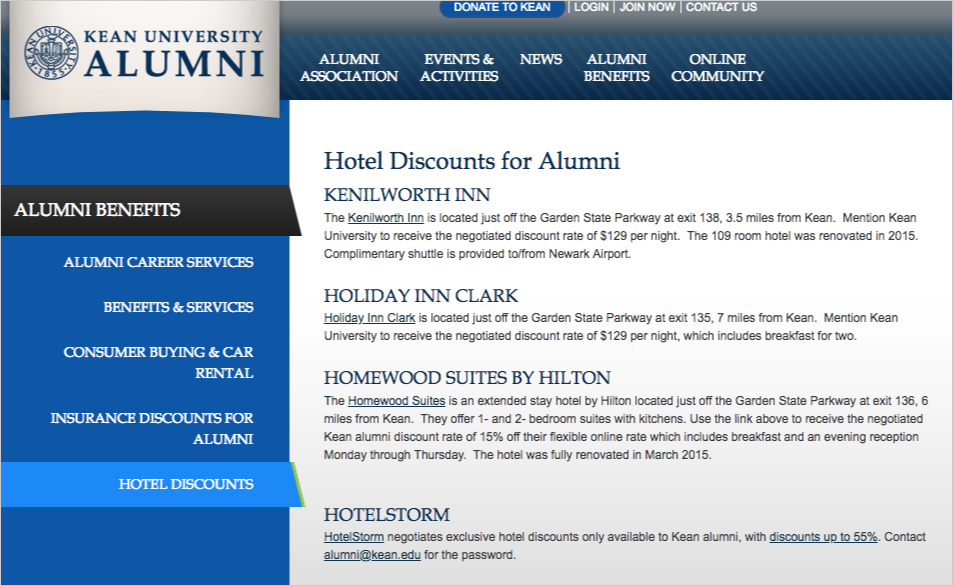 For link prospecting sake, here are useful search queries that will benefit you in finding hundreds of hotel discounts pages (lesser number if you're too specific with your location query):
site:.edu intitle:"hotel discounts"

site:.edu "hotel discounts"

site:.edu "hotel discounts" [location]
You may also localize your link search by targeting hotel alumni discount pages from universities and colleges within your region (check the third Google search query above).
HOTELS AND ACCOMMODATIONS PAGES
Aside from hotel discounts, universities, and colleges also have specific pages just for accommodations.
The page is dedicated for families, friends and guests of students looking for nearby accommodations either for regular or for occasions (e.g. graduation).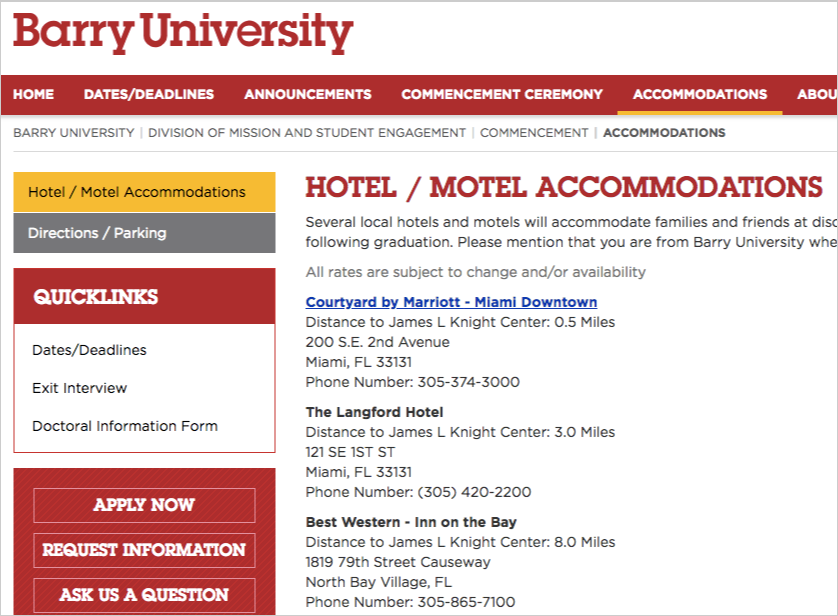 A lot of these pages are easy to find with a couple of search queries in hand. Below are some of them:
site:.edu intitle:"accommodations" "hotels"

site:.edu intitle:"accommodations" "hotels" [location]

site:.edu "accommodations" "hotels"

site:.edu "accommodations" "hotels" [location]
One note to make is to qualify pages with section or category title of "preferred hotels". Preferred hotels, as implied are ones picked by the university and may not be receptive to outreach that ask for inclusion of hotels without any prior connections with them.
PLAN YOUR VISIT PAGES 
Travel enthusiasts want easy guides or simple itineraries for their trips. Therefore, a lot of bloggers and link curators started to create pages just for that – plan your visit pages.
One addition to your hotel website's link building plan is to pursue links from these pages. Those link opportunities also have their own categories for hotels, giving you the confidence that they link out to hotel pages.
You can use any of the following search queries to collect a list of "plan your visit" pages:
intitle:"plan your visit" "hotels" [location]

inurl:"plan your visit" "hotels" [location]

"plan your visit" "hotels" [location]
Location matters for this link type so ensure that you only look out for plan your visit pages that are within region scope of your hotel brand.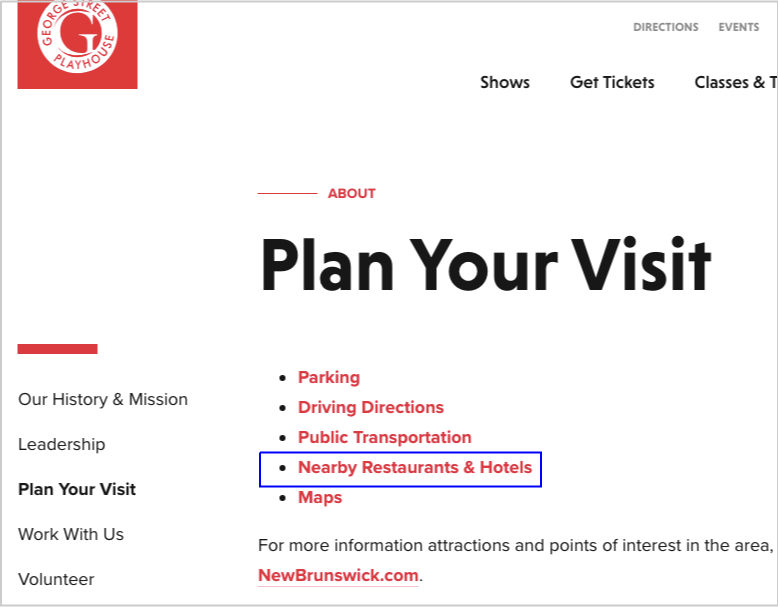 Once you've scoured the search for this type of link target, find your contact persons, and reach out for link inclusion of your hotel pages.
OTHER USEFUL ASSETS:
Let me give you some more link building ideas for your hotel link building campaign.
Attractions – acquire links by contacting local attractions in your region or city. Local attractions like museums, zoos, and theme parks have their own websites that you can get links and potential assisted conversions (visitors looking to book accommodations in your hotel site).
Pet-friendly hotels pages – Does your hotel welcome pets? Be cited on websites like TakeYourPet.com and BringFido.com plus other resource pages that link out to pet-friendly hotels.
Venues in [Location] – if you provide rental offerings for venues during weddings, birthdays, and other occasions, you can search for listing pages that link out to hotels people that have rental venues.
You can use either of these Google search queries: "event vendors" [location] or intitle:"venues in [location]". where [location] should be replaced by your city served by your hotel brand.
Need help with your outreach campaigns? Check out our link building services here.
Join To Our Newsletter
You are welcome