All you need to know about the specifics of creation, inventory management, pricing and promotions of Magento bundle products from the certified Magento partner
Users commonly mistake a Magento 2 bundle product for its 'grouped' peer. This is hardly a surprise because the names "bundle" and "grouped" don't tell much about the difference. Still, these two complex product types have their specifics in management and use cases. We have outlined the nature, configuration and proper use of different product types in our Magento product types overview. Now, it is time to focus on a bundle product. We will find out how to create a bundle product in Magento 2, manage it expertly and enhance the shopping experience of your customers.
Product managers mostly use the bundle product type, also called a build-your-own product, to sell electronics (for example, a smartphone with a charger, a USB cable and earphones). But let's explore a less trivial example. A bundle product Kitchen set is fully customizable. A customer can choose from different sizes, colors and materials of cupboards, shelves, a tabletop and a washer. Together, they form a standalone product, while the items still can be bought separately to replace an out-of-order part, for example.
Creation
The two-step process of creating a bundle product in Magento 2 includes:
Creating a bundle product itself.
Adding simple or configurable products that will become associated items in a bundle.
Here, we see one of the differences between grouped and bundle products. By default, Magento 2 supports configurable products in a bundle, but not in a group. To allow creation of a configurable grouped product, one should use a dedicated extension.
While creating bundle products, you will notice that two sections – SKU and weight – differ from simple, configurable and grouped products. They both offer to choose between fixed and dynamic options.
Tips:
You can also create fixed products that must be included in a bundle. For such products, you should set a default quantity. For example, offering bundle product Laptop, you can add a laptop, a charger, and a mouse as fixed products while a laptop bag is optional.
Take care how associated products are displayed in the front end. Setting the position section, you can place the most important items at the top.
Inventory management
There is no need to set the total bundle product quantity. The inventory is managed for each simple product composing a bundle. While creating a bundle product, don't forget to put In Stock if all the associated products are currently available.
Delivery
Magento 2 allows for some flexibility in terms of delivery. There are two shipping options available for a bundle product. You can set the items to be shipped together or separately.
Pricing
There are two pricing options for bundle products:
Fixed price will remain the same regardless of the selected items. For example, you sell simple product Smartphone for $300 but you also want to offer it in a bundle for $250. If you are not planning this discount to be a time-limited offer, you can at once include it in the price and sell the whole bundle at a fixed price.
If you choose the dynamic option, the total price of the bundle will be built from its selected associated items.
You can choose the way a customer sees the price. Having set Price Range in the price view section, you make a detailed product page to display the lowest and the highest possible prices for a bundle. If you want customers to see only the lowest price, choose the As Low As price display option.
Promotions
Similar to other product types, you can include bundle products in limited time offers by adding catalog and cart price rules. Once set, the price rules can be updated for seasonal offerings or promotional campaigns by changing their status and date range.
What are the useful extensions for a Magento 2 bundle product?
With the abundance of efficient off-the-shelf Magento 2 extensions, it may be irrational to stick to a standard package. Managing bundle products can be effort-demanding. Let's look how to facilitate the process for you and create more benefits for your customers with useful add-ons.
Magento out-of-the-box feature package misses something. By default, it doesn't support offering simple products with custom options in a bundle. Custom options mean adding some variations to a product without relying on attributes. To unlock this feature for bundled products, you will need to install an extension. The one called Simple Bundle for Magento 2 extension enables bundling simple products with custom options.
Product Bundled Discount not only enables offering special discounts for customer groups, but facilitates managing bundle discounts across multistore websites.
Grouped vs bundle products – let's dot the I's
It is no wonder that these two Magento 2 product types tend to cause some confusion. Indeed, they have some similarity:
The creation process. You always associate previously created items to a group or a bundle.
Availability of products within a group or a bundle. In both cases, products can be bought either as a group/bundle or separately.
Inventory management. The inventory is managed at the simple-product level.
Let's now look at the differences between these product types to get the full picture.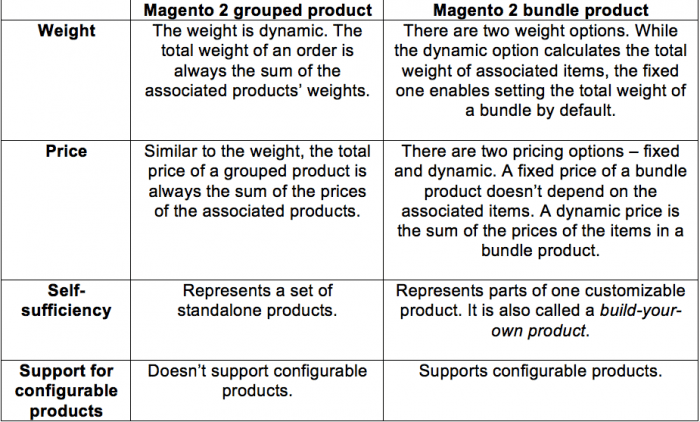 By default, Magento 2 gives you great power offering several types of product arrangement. Don't stick to simple products and diversify your assortment display to aim at better customer experience and sales growth.
Thanks to Igor Goltsov for sharing their advice and opinion in this post. Igor is a certified Magento developer. With 8+ years in Magento development and 13+ years in PHP development, Igor now applies his deep insights in ecommerce and expert skills at ScienceSoft. As a senior Magento developer, he contributes to complex projects involving implementation of non-trivial platform's features.