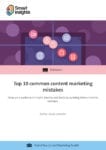 Must-have content marketing tools that you need to get
Without the right tools to help, you can't create amazing content and you won't be able to truly understand your audience and their preferences and interests.
Digital marketing – and, consequently, content marketing – and digital tools have a very close relationship. Without the right tools to help, you can't create amazing content, consistently; you won't be able to truly understand your audience and their preferences and interests; you won't be able to produce more results in less time – digital marketing tools are really that essential.
In this blog post, I'm going to talk about the must-have content marketing tools that you need to get right now.
What kinds of content marketing tools do you need?
Before I get into any specific tools, it's important to understand what types of content marketing tools you should get – and why.
Most notably, you need:
Content research: What types of content does your audience really want to see from your brand? What topics get them excited and engaged? Research tools help you better understand your industry, as well as your audience so you can improve your content strategy time and time again.
Content planning: How many blog posts, videos, social media content and so on are you planning to create and publish? What does your content schedule look like? Use tools to help you plan your content marketing calendar, whether it's for your blog, your email campaigns, your social media or for any other channels you might be using.
Content creation: Creating content is, naturally, a huge part of the content marketing process. Leverage content creation tools to help you create various types of content; including videos, social media images, infographics, webinars and many more.
Social media management: An all-encompassing social media management tool will help you manage and schedule all of your social media content much faster than if you had to do it manually.
Content analytics: How is your content performing? Content analysis will help you understand how your content is performing, which topics work, what content types perform best – all of which will ultimately help you improve your content strategy with new insights.
Now that you know what types of tools you need, here are specific examples of some of the best tool solutions around:
For content research: Buzzsumo and Answer the Public
Buzzsumo and Answer the Public might be two completely different tools, but when used together they can complement each other extremely well. The first one helps you understand what types of content work best and the second one helps you understand what people search for online.
Here's how each tool works.
Buzzsumo has quite a few different features – influencer marketing, content discovery and content insights, brand monitoring and more – but I'm going to focus on the content research features: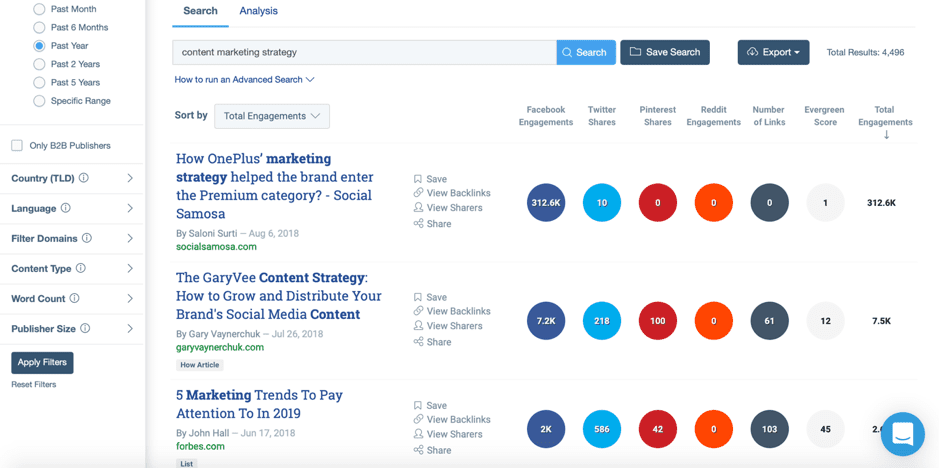 As you can see above, you can look up any keywords you want in order to see what types of content perform best with those keywords. You can see how many shares they get on each major social network, what backlinks they have, who else shared it and so on.
Another thing that you might've noticed in the screenshot is that you have numerous filtering options, including word count, content type and publisher size.
Use this to understand what types of content works best, as well as gain some insights into promotional strategies: where you can get backlinks, what influencers you should connect with to boost your shares.
As for Answer the Public, this is a super easy-to-use tool that you can use to generate content ideas, as well as see what people search for online. Simply enter your keywords to get started: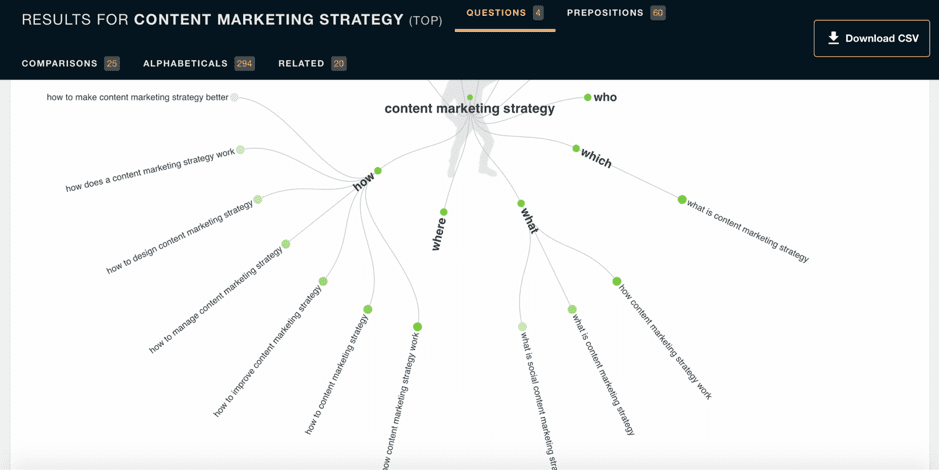 It's a very straightforward tool that does one simple task, but it does it very well; it can literally help you generate hundreds of content ideas in minutes:

And these are just the first three letters of the alphabet – there's a lot more to scroll down to.
For content planning: Trello
Once you've done your research, you can start actually planning your content strategy, whether it's for your blog/website, social media, or any other platform.
There are a lot of great tools out there for planning content – some built specifically for this reason – but I actually prefer Trello as it's so incredibly versatile. Whether you want to use it to build an editorial calendar or as a to-do list, the tool can handle it.
Trello will help with your content planning in a few different ways:
You can use turn boards into editorial/social media/etc. calendars.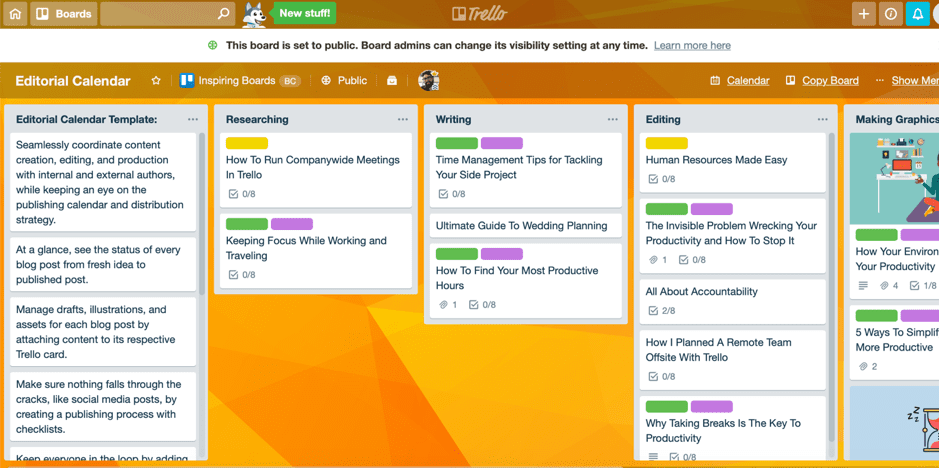 You can upload your content assets, such as blog post featured images or social media graphics.
You can collaborate with your team.
And you can organize all of your boards and lists with colours and tags.
For content creation: Canva and wave.video
Visual content is essential to a good content marketing strategy, for your blog/website, for social media, email marketing and pretty much any digital marketing strategy that requires content.
In terms of visuals, you should consistently create:
Images to break up and enhance your blog posts
Social media imagery
Infographics
Short, engaging videos to share on social media, email and your website and landing pages
Images and videos for email marketing campaigns
Product and brand imagery
Depending on your content strategy, there might be a few other types of visuals that you'll need to create.
Luckily, there are some amazing tools out there for creating visual content very easily, with no design or editing experience required.
One such tool is Canva, a design tool that you can use to create pretty much any (static) visual content you want, from social media images to infographics and presentations and to flyers and brochures.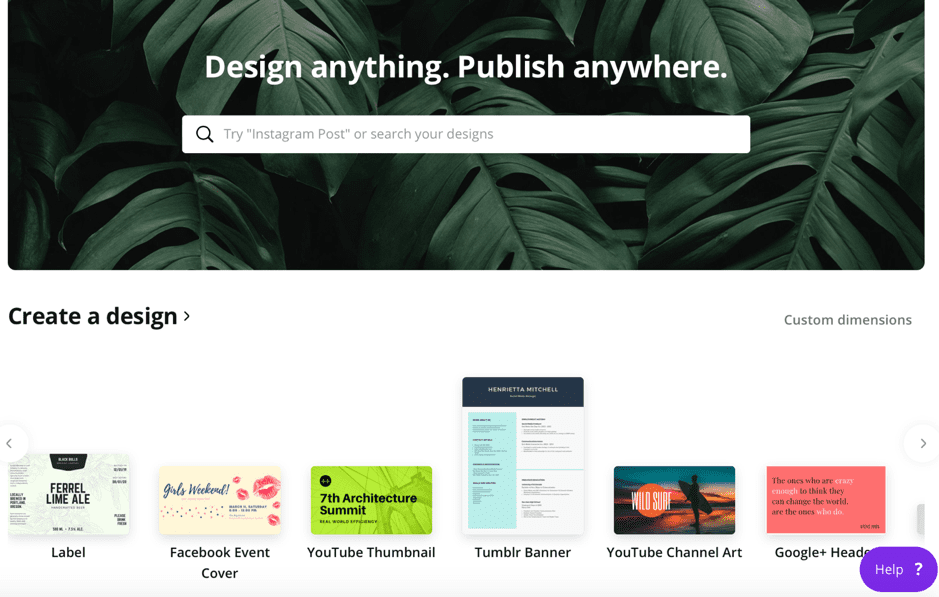 The sizes are all built-in (although you can set up custom dimensions as well) and you have access to dozens of templates for each type of design, as well as access to free and paid stock imagery.
You can also easily watermark your visuals, customize them with your branding and colours and save your own templates to re-use time and time again.
The only type of visuals that you can't use Canva for are videos; but that's where wave.video comes in.
Since video marketing is all the rage right now, it's worth investing time and resources into creating more videos for your business.
You can use wave.video to create all kinds of videos. It has over 30 different video formats you can use and switch to with a couple of clicks, either completely from scratch or by leveraging its templates, which are constantly updated to suit upcoming major events and holidays.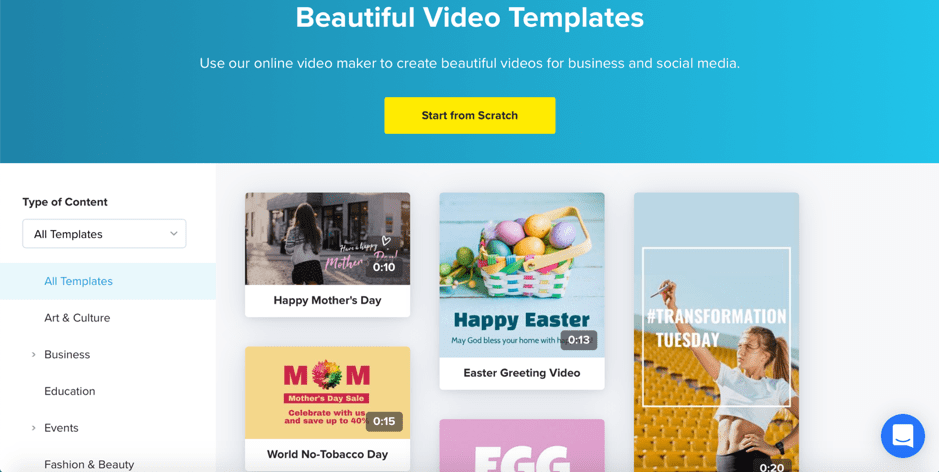 But the best part is, you don't need to film anything yourself. You can use stock video clips from the huge library, although you can always upload your own video clips as well.
Plus, you can watermark your videos with your branding and easily add subtitles to each scene, as well as any other customizations you want to make.
For social media management: Agorapulse
Without a tool to help, social media will take up hours of your time, every day. Not only do you need to create content but you also need to post it up on your channels every day, as well as engage, respond to comments and share curated content.
However, if you have a good tool to help, that all changes – social media can be a ten-minute a day affair, unless you count in creating the content as well.
There are a lot of options out there, but I would recommend Agorapulse: a full-suite social media management tool that works with all major social networks (Twitter, Facebook, Instagram, LinkedIn and even YouTube).
You can use it in various ways:
To plan and visualize your social media calendar, including scheduling your updates or creating evergreen queues to automate your content sharing (even for forever if you so choose!). Plus, it's also worth mentioning that you can directly schedule to Instagram and LinkedIn Company Pages, including videos.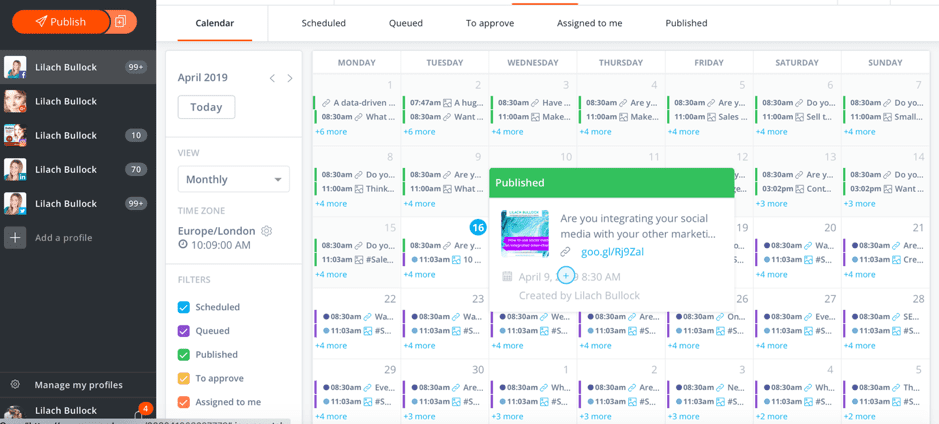 To collaborate with team members and assign tasks.
To monitor conversations, as well as your own engagement and respond to comments.
To monitor your social media insights and adjust your strategy
Conclusion
With the right tools to help, your content marketing can start flourishing faster than ever, while also allowing you to be more productive with your time.
Leverage these tools for each stage of the content marketing process to boost your results, save time and grow your business.