As 5G changes network architectures to deliver ultra-high
capacity, near-constant availability, and broad coverage, network
density will become vital for 5G deployments. To realize the
potential of 5G, network infrastructures must support growing
bandwidth and throughput demands as well as incredibly low-latency
requirements for a host of new applications and use cases for
industries and consumers alike.
To support the move toward 5G, mobile transport must undergo an
evolution to integrate macro/small-cell backhaul, fronthaul, and
midhaul into a unified, dynamic, and flexible network environment.
Fronthaul, backhaul, and hybrid network architectures can
accommodate the efficient and dense deployment necessary to deliver
the high throughput and ultra-low latency demands of 5G
networks.
Multiple new applications are driving demand for 5G, all of
which require different capacity, latency, speed, and other
performance-based network requirements, as shown by the graphic
below on 5G use cases.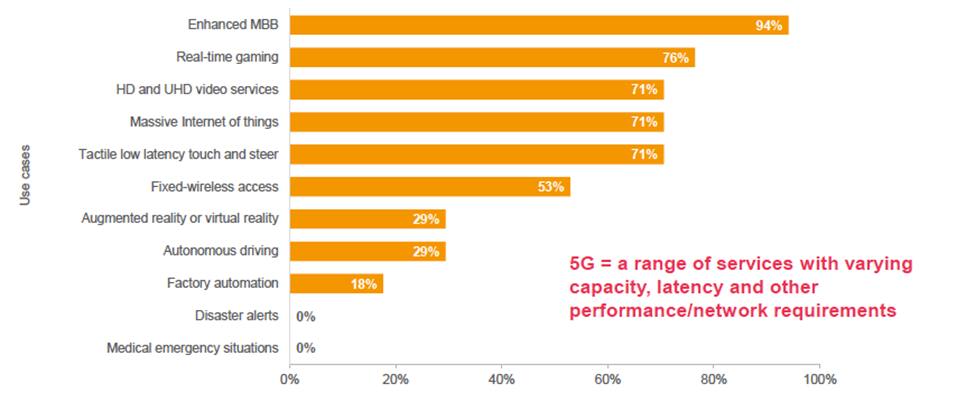 Source: IHS Markit Evolution from 4G to 5G Service Providers
Survey – 2018
As networks migrate to 5G and X-haul demands change the dynamic,
the 5G race will reshape mobile networks over the mid-to-long term.
And though neither centralized RAN (C-RAN) architecture nor
distributed RAN (D-RAN, the macrocell base station-oriented
network) are necessarily the optimal architectures for 5G, C-RAN
will likely play an increasing role. Ultimately, the foundation for
5G mobile networks is likely to fall somewhere between C-RAN and
D-RAN topologies.
To bring fronthaul, midhaul, and backhaul together into a
unified mobile transport network that supports the roadmap to 5G,
network architecture and services will require close coordination
between the RAN and transport teams. This means operators need to
have an appreciation of the different types of network slices that
will be required at each layer of the network, as well as some
common cross-layer network intelligence that can harmonize network
elements.
Further elements of various 5G architectures are discussed in
the webinar "5G
X-Haul for network density," which was jointly hosted by IHS
Markit, Fujitsu, and Anritsu. The webinar discusses multiple
factors related to X-haul, network density, and 5G infrastructures,
and the following key takeaways were discussed:
Operators must get ready now to take advantage of 5G, but to
achieve the potential of 5G, infrastructure must undergo an
evolution.
The evolution from 4G to 5G and the deployment of new radio
(NR) is driving major changes in transport networks.
CPRI framework can't be used for 5G networks.
Operators need to blend legacy and new 5G networks while
eliminating the need for overlay.
Operators must overcome challenges relating to scalable
capacity, latency, timing, and availability.
To learn more about the shifting mobile transport landscape and
to understand different network architectures, please view our webinar, which
also includes white papers authored by IHS Markit, Anritsu, and
Fujitsu.

Richard Webb is director of research and analysis for
service provider technology at IHS Markit
Posted 6 June 2019
Join To Our Newsletter
You are welcome