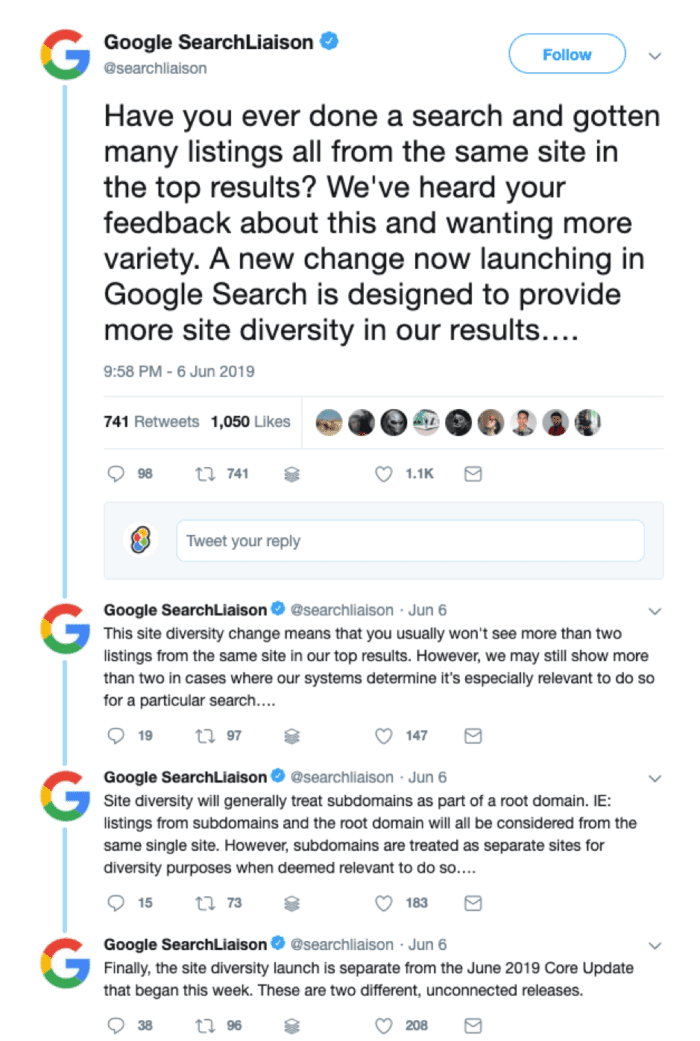 News roundup 14th June 2019
Google changes search results, Instagram has fastest growing brand value, video is most engaging in-app ad format, Facebook meeting with anti-censorship groups, YouTube cracks down on white supremacist content, TikTok testing new ad targeting tools
One of the biggest updates recently – besides Google's algorithm update – is the news that the search engine will be changing how search results are displayed, which could drastically affect traffic numbers.
Other stories have seen Instagram be announced at the fastest growing brand in terms of value, topping Amazon.
When it comes to in-app ads, video has been found to be the most engaging in a new study.
Facebook has faced more protests about its censorship of female nipples but the platform has now agreed to meet anti-censorship groups to discuss the issue.
YouTube has followed in Facebook's steps to take a harsher stance on white supremacist and Holocaust denier content.
Finally, TikTok is reportedly testing new tools that will enable advertisers to better target their promotions on the platform.
Take a look at our news roundup to find out more about each of these stories.
---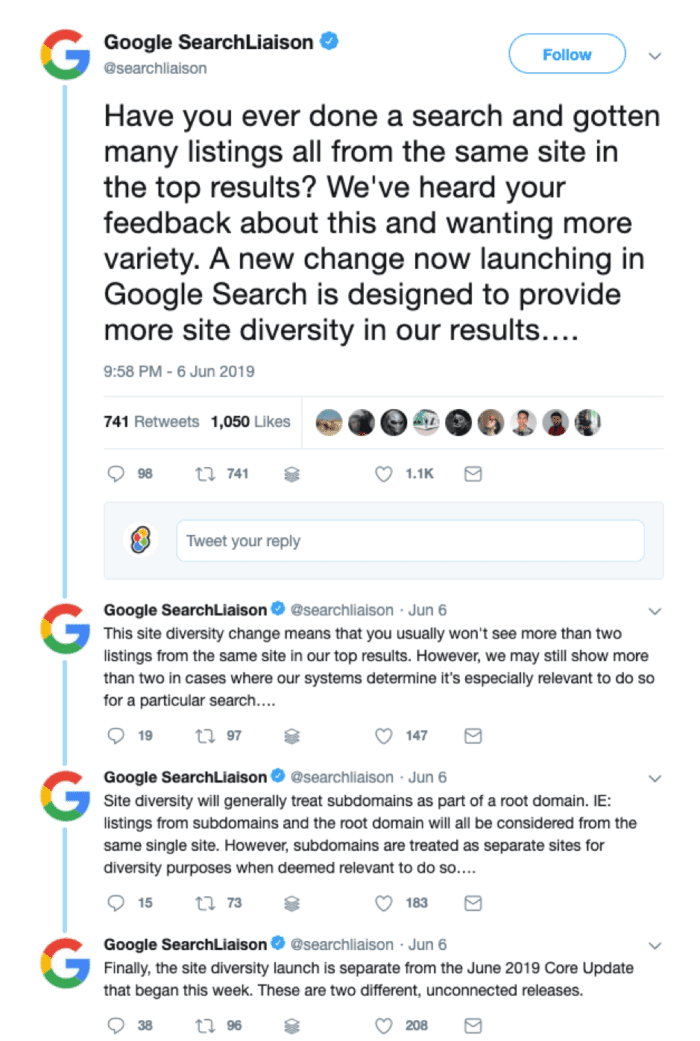 Google reducing search results from the same domain
Google has announced that it has updated its search results in a bid to show more diverse range of content. While previously, results from the same source could show in the top results for a search phrase, Google will now limit results so no more than two from the same domain will be shown.
This decision follows apparent feedback over a number of years that too many of the top results for some queries can come from the same domain, limiting choice for searchers. However, Google is reserving the right to show more than two results from the same source if it believes that it is appropriate to do so in order to provide searchers with high-quality results.
When it comes to sub-domains, Google is going to be counting these as belonging to the main domain. This means they will still be subject to the no-more-than-two-results rule. However, sub-domains could also be treated differently when Google deems it suitable to show more results.
Google's change is only set to impact core results, which means domains could have more results shown in additional search features, such as image carousels or top stories.
So, what will the results of this change be? Sites who previously benefited from numerous results showing in top results for certain queries could now see a drop in organic traffic, as well as rankings.
It could, therefore, be beneficial to take a look at your keyword strategy and see how you can target long-tail keywords for different pages that cover the same topic. Not only could this mean you rank higher for a greater variety of keywords, but this also mirrors the change in search behaviour that is only going to become more prominent.
---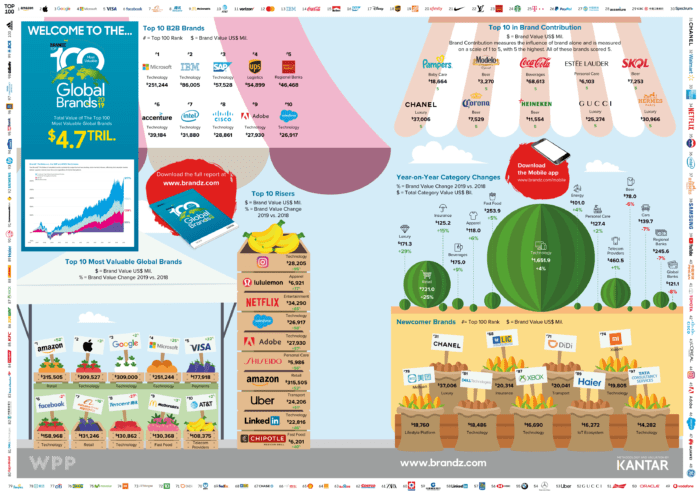 Instagram is the fastest growing brand in terms of value
Brandz ranking of the top 100 brands by Kantar has revealed that Instagram is the fastest climber of all other brands, showing the value and impact it now has. This year saw the Facebook-owned social media platform rise up the rankings by a massive 47 places, with a 95% increase in brand value meaning it has been taken to $2.82 billion.
While Amazon is the leading brand and currently sits in the top spot of the ranking, Instagram has grown at a much faster pace. In comparison to the social media platform's 95% growth, Amazon has only increased its value by 52%.
Other brands that have seen in a surge in value include Lululemon (77%), Netflix (65%), Salesforce (58%) and Adobe (57%). LinkedIn also saw a fairly strong performance with its brand value increasing by a very reasonable (46%).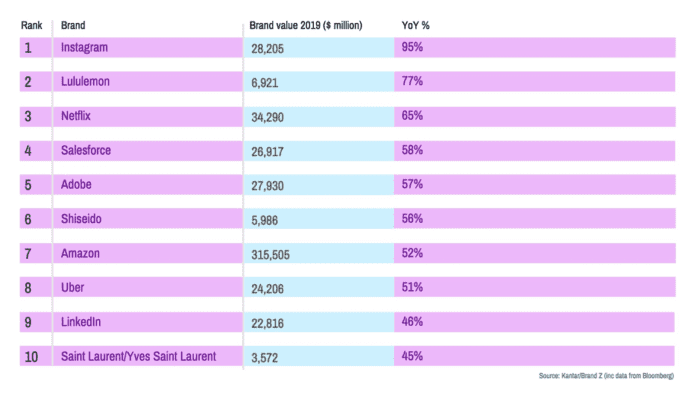 Graham Staplehurst, Brandz's global strategy director, said: "Some [brands] are still establishing themselves, growing by reaching previously unexposed audiences, such as Instagram. Some are reminding consumers of what they stand for like Chipote, or refreshing their positions and perceptions like YSL.
"Other are extending and innovating into new sectors, as we are seeing with Uber expanding into home food delivery with Uber Eats and even underwater ride hailing ScUber on the Great Barrier Reef."
---
Video is the most engaging type of in-app ad
When it comes to increasing click-through rates, it looks like video is the best content form. A new study has found that in-app videos have an average click-through rate that is 7.5 times higher than that of display ads.
The study from Smaato and Liftoff looked at the pricing and performance of in-app ads based on activity across 3tn ad requests on the Smaato platform during the first three months of this year. The research also included more than 80 billion ad impressions from 14 million first-time events and 33 million installs of the Liftoff platform.
According to the results, the fact that in-app videos tend to be full screen means they have higher viewability rates than other ad formats. This means that people are more likely to click on them and that they have a better chance of conversion.
Other findings from the research include:
Rewarded video ads cost up to 86% less than video ads, despite having similar conversion rates.
iOS devices have higher costs and conversion rates than Android devices for all advert formats.
Interstitial display ad eCPMs are around 4.6 times more than banner ads but the click-through-rate is, on average, 18 times higher than banner ads.
Arndt Groth, president at Smaato, said: "Advertisers are following consumers' attention o mobile apps, and rightly so, but there are specific strategies that can be used to optimize in-app ad campaigns. By utilizing both Smaato's and Liftoff's Q1 2019 data in combination, the report pinpoints the in-app ad formats that will give advertisers the highest return on investment."
---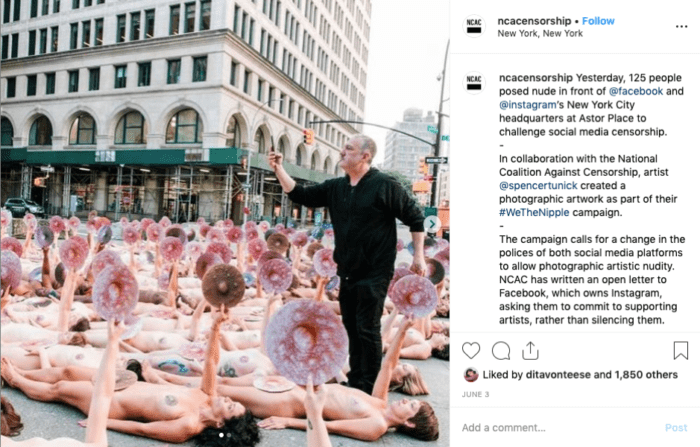 Facebook agrees to anti-censorship meeting
Facebook has agreed to a meeting with anti-censorship groups over its community standards restrictions of "some images of female breasts that include the nipple". This follows on from a protest organized by the National Coalition Against Censorships (NCAC) and Spencer Tunick, an American artist, outside Facebook's New York headquarters as part of the #WeTheNipple campaign.
The protest was organized to highlight how Facebook's community standards can be damaging to artists who share content on its platforms. Some 125 demonstrators lay naked in front of the headquarters using images of male nipples to cover themselves.
While the community standards state that Facebook allows some images of female breasts that include the nipple, "including those depicting acts of protest, women actively engaged in breastfeeding, and photos of post-mastectomy scarring", there is no exception for artists except in terms of painting and sculptures. Photographers who publish images that show female nipples often have their photos deleted or their accounts removed.
In addition to this, the community standards do not mention male nipples and so there is no similar ban on images of male nipples, a fact that has been heavily criticized.
Facebook will now be meeting with the NCAC and "other stakeholders" to learn more about the concerns various groups have about censorship. However, the social media platform said that agreeing to the meeting is not a commitment to update its community standards.
---

YouTube cracking down on white supremacist content
YouTube is adopting a harder attitude when it comes to white supremacists and Holocaust denier content shared on the platform. The video-sharing platform will be broadening its definition of inappropriate content, which could see hundreds of thousands of videos being removed.
Videos that now feature people attempting to deny events like the holocaust or the shooting at Sandy Hook Elementary School, which are irrefutable, will now be deemed as inappropriate, as will any videos that promote white supremacists.
In a blog post, YouTube explained its "ongoing work to tackle to hate". According to the platform, it is working on four pillars: "removing violative content, raising up authoritative content, reducing the spread or borderline content and regarding trusted creators."
As part of this, the platform will now ban "videos alleging that a group is superior in order to justify discrimination, segregation or exclusion based on qualities like age, gender, race, caste, religion, sexual orientation or veteran status."
The update to its guidelines means that YouTube is taking steps that are similar to Facebook, which has also banned supremacist content following the terrorist attack on a mosque in New Zealand, which was live streamed on the platform.
---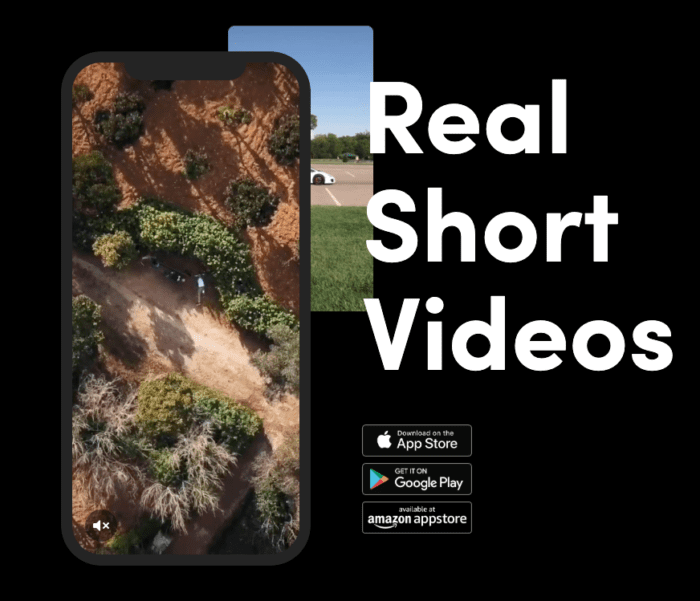 TikTok to release new ad targeting tools
The increasingly popular social media platform TikTok is reportedly testing new ad targeting options in order to attract more advertisers. Reported by Digiday, it looks like TikTok has been pitching a new interest-based ad targeting option to advertisers. This new tool would allow brands to reach specified audiences on the platform to make their promotions more effective.
Sources told Digiday that TikTok is testing the interest-based targeting, as well as pixel tracking, meaning it could soon offer ad tools that other social platforms do. This would enable advertisers to target by age, location, gender, network and operating systems. Digiday reported that "Sales leaders at the short-form video app have been telling agencies it plans to release a beta version of its self-serve ad platform more widely in July."
TikTok is apparently able to use user engagement and video image recognition to categorize its audience's interests. However, it is also working on other more specific data options to allow for better categorization and targeting.
The fast growth of TikTok means that brands are keen to make the most of the opportunities the platform suggests but it is not yet clear whether it has the staying power or opportunities presented by bigger players in the social media sphere.