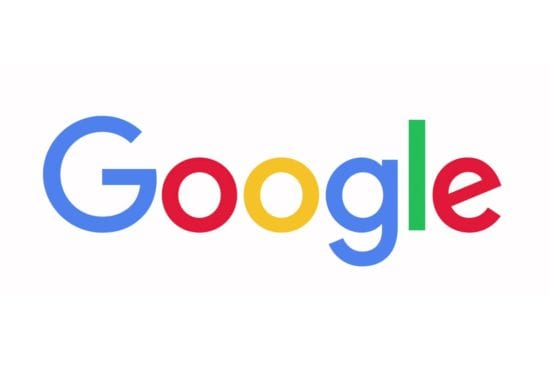 News Roundup 17th May 2019
Google's new auction model for ads, Facebook tightening up Live rules, YouTube introduces new ad format, LinkedIn adding and updating job search tools and Twitter's anti-vax warning
There are a number of platform changes that you need to know about this week, including Google's update on what its first-price auction model will look like for Google Ads Manager and its publisher exchange.
Facebook has changed its rules around Live following the issues it experienced during and after the Christchurch terrorist attacks. Aiming to be stricter and reduce the spread of harmful content, the platform has tightened up its regulations.
YouTube is making it easier for brands to advertise via its home feed by introducing ads that use images rather than videos.
LinkedIn has also made some great changes to help make it easier for those using the platform to job search or recruit.
Finally, Twitter has introduced a new result for anyone searching for anti-vax-related topics to ensure that users know where to go to find the right information on the issue.
Take a look at all of these stories with our roundup below.
---

Google updates on first-price auction model for ads
Google previously announced that by the end of 2019 it would be moving to a first-price auction model for Google Ad Manager and its publisher exchange. The internet giant has now released updates that show what it will look like.
At the moment, Ad Manager is able to run two auctions for an advert: a real-time bidding auction among its authorized buyers and a first-price auction, which compares the second-price auction winning bid with guarantee and non-guaranteed ad campaigns. This means that a buyer could place a winning bid during the first auction but lose out if they weren't part of the last auction.
This is changing to a first-price auction in a bid to improve transparency and make the process simpler. Its Ad Manager will have one auction going forward, which will compare prices from guaranteed campaigns with non-guaranteed bidders, whether they're authorized or non-authorized. This means that all bidders now compete at the same time.
Another update to the model means that Ad Manager partners will be required to share and receive bid data.
In a blog post, Jason Bigler, Google's director of product management, said: "This change will allow us to provide publishers reporting on all bids submitted for their ads (including bids from Google Ads and Display and Video 360) and give all Authorized Buyers and Exchange Bidding buyers access to the price that was needed to win for auctions they submitted a bid to."
---

Facebook tightens rules around Live following terrorist attack
Facebook faced worldwide condemnation after the Christchurch terror attacks, which saw the perpetrator use Facebook Live to film the attacks and share everything across the platform. While the social media giant ultimately removed the footage, it was heavily criticized for not catching the contents of the live broadcast faster and stopping its spread.
In an attempt to limit the ability for Facebook to be used to cause harm or spread inappropriate and hateful content, the platform has announced that it is implementing new rules to limit who can go live.
Facebook announced in a blog post that people who have broken certain rules on the platform, including its Dangerous Organizations and Individuals policy, will no longer be able to use the Live function.
Previously, when some posted content that violated the platform's rules, the content was removed. If they continued to post inappropriate content, they were blocked from using the platform for a set period of time, including Facebook Live. Some individuals were banned from using Facebook completely either for repeatedly violating rules or for one instance that was particularly bad.
However, the rules have now been tightened specifically when it comes to Live. Facebook is now introducing a 'one strike' policy across a broader range of offences. This means that if anyone violates the 'most serious' policies, they will not be able to use Live for a set period of time following their first offense.
These restrictions will also be extended to other areas of the platform over the next few weeks, including blocking offenders from creating adverts.
Facebook said: "We recognize the tension between people who would prefer unfettered access to our services and the restrictions needed to keep people safe on Facebook. Our goal is to minimize risk of abuse on Live while enabling people to use Live in a positive way every day."
In addition, Facebook is investing $7.5 million into new research partnerships to improve image and video analysis technology, Working with academics from three universities, the platform is hoping to avoid a similar situation where people edited the Christchurch video to avoid its detection in a bid to stop it getting removed from the platform.
---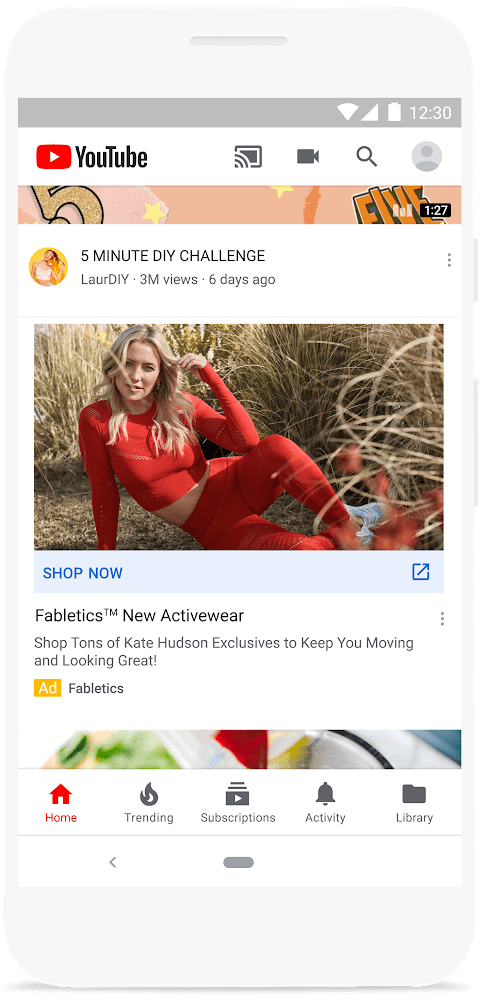 YouTube announces new still image ad format
With video being such an engaging content type, it's no surprise that YouTube has become a popular platform for advertisers. Video adverts can get a lot of visibility on YouTube, helping to raise brand awareness. However, the platform has now announced new ad services that will allow brands without video content to advertise on it.
YouTube has announced that advertisers will now have the option for still image ads on the platform, which will appear within YouTube home feeds. The new Discovery Ads will allow brands to use audience targeting to show adverts to users based on their activity.
According to the video platform, the new ad format will allow brands to upload images from a social media campaign. The media mix will then be optimized by YouTube to allow for the best possible performance across the YouTube home feed, Gmail and Discover.
This means that advertising on YouTube could be more accessible for smaller brands that do not necessarily have the budget for video production. Ultimately, this could extend reach and introduce brands to a whole new audience base.
According to YouTube, TechStyle Fashion Group, which has been testing Discovery Ads for the last few months, has seen great results from the new advertising format.
YouTube said: "TechStyle experimented with its first Discovery ad in November 2018 to increase membership for its athleisure subscription brand, Fabletics. Repurposing their existing image assets, the brad saw up to 25% lower cost-per-lead on average using Discovery ads compared to their ads on other channels, including social and search."
---

LinkedIn updates tools for job searching
LinkedIn is continuing to improve its functionality to help users get the most out of the platform. Boosting its recent positive results, which include (according to LinkedIn) over 630 million members, engagement up 24% year-on-year and growing from 300,000 to 20 million job postings in the last five years, the platform has now announced new changes to its job listings and tools.
Jobs Home redesign
To start with, LinkedIn has updated its Jobs section in a bid to better cater to what its users want and need from this section. It said: "The redesigned jobs homepage streamlines LinkedIn Jobs into a single search and scrolling model making it easier to find review and apply to the jobs that are right for you."
The platform will also now automatically save users' search, allow them to jump straight back in where they left off. The redesign also makes it much easier to scan through job listings, so users can quickly identify good opportunities.
Job listing alerts
On top of this redesign, LinkedIn has also tackled its job alerts system. The new system means that users are sent more relevant notifications for new positions that meet their criteria, helping to keep them aware of what new jobs are out there.
According to LinkedIn, those who are among the first 25 applicants are three times more likely to get the job, to the notification system has been designed to be more timely. Alerts will also be personalized, taking into account activities and skills. They can also be turned on at any time.
Salary Insights
The platform is also rolling out Salary Insights to all members, rather than just Premium members. Users will be able to see the insights for all roles advertised in the UK, US and Canada. This will enable job seekers to get a better understanding when it comes to what they should be expecting to get paid for a certain position.
Skill Assessments
LinkedIn is also looking at a totally new feature that will enable users to show their understanding of advertised job functions. 'Skills Assessments' will offer quizzes and surveys for members so they can add badges to the skills section of their profile in order to show potential employers that they have the required capabilities for positions they are interested in.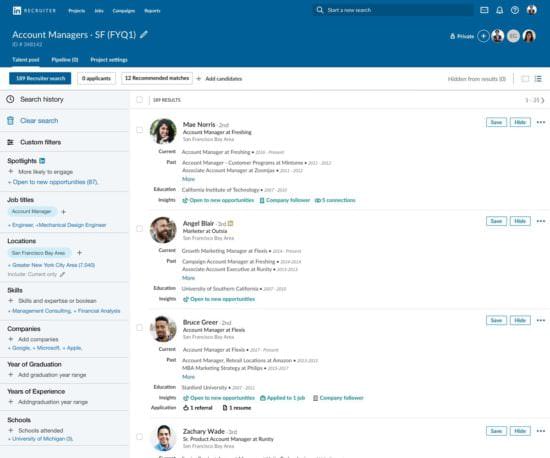 Recruiter tools
Those recruiting for positions are also set to benefit from LinkedIn's latest raft of updates. The platform is developing new tools that will help recruiters match candidates to roles, with LinkedIn's extensive data helping to power advanced systems to better match candidates.
---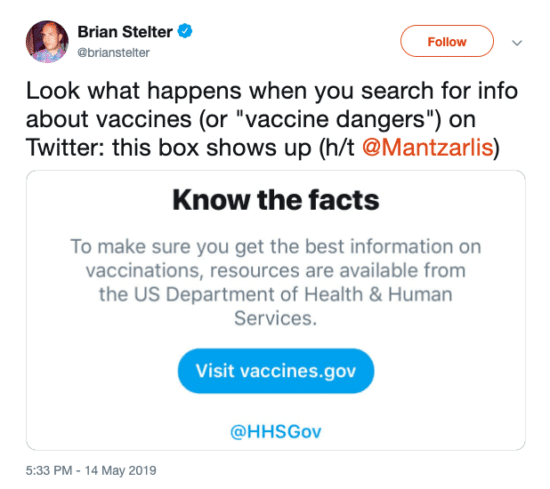 Twitter adds warning for anti-vax-related searches
Twitter has introduced new warnings on its platform when users search for anti-vax-related topics. Following on from action taken by Facebook, Twitter now displays a warning when users search for anti-vax or related topics, which directs them to the US Health Department to provide official information on the issue.
As the anti-vax movement gains ground, more and more social platforms have started to react in order to ensure that people have access to the right information. However, platforms are taking a relatively 'hands-off' approach to the issue, so they don't violate their own usage terms.
Facebook previously announced measures it was taking to stop the spread of vaccine misinformation, including dropping the ranking of pages and group that spread incorrect information, rejecting anti-vax ads, not showing misinformation on Instagram Explore or hashtag pages and looking at how the platform can share information about vaccines when people find misinformation on Facebook.
YouTube also stopped. Monetizing anti-vax videos, stopping ads from running during them. It also stopped showing anti-vax videos in its Next Up function, which shows related videos.