Google is stopping pixel tracking on YouTube, marketing budgets have declined, Facebook testing new scheduling option, Instagram offering more data control and Facebook changing how organic reach is calculated
Google has announced changes to third-party pixels on YouTube, which will be rolled out next year.
Quarter 3's Bellwether Report has shown that economic and political uncertainty has had an effect on marketing budgets.
Facebook seems to be testing a new scheduling option that could improve organic impressions, although it is also changing how it calculates these impressions.
Instagram is ensuring users have more data control by adding new features that allow more visibility over third-party permissions.
Get all the details with this week's news roundup.
---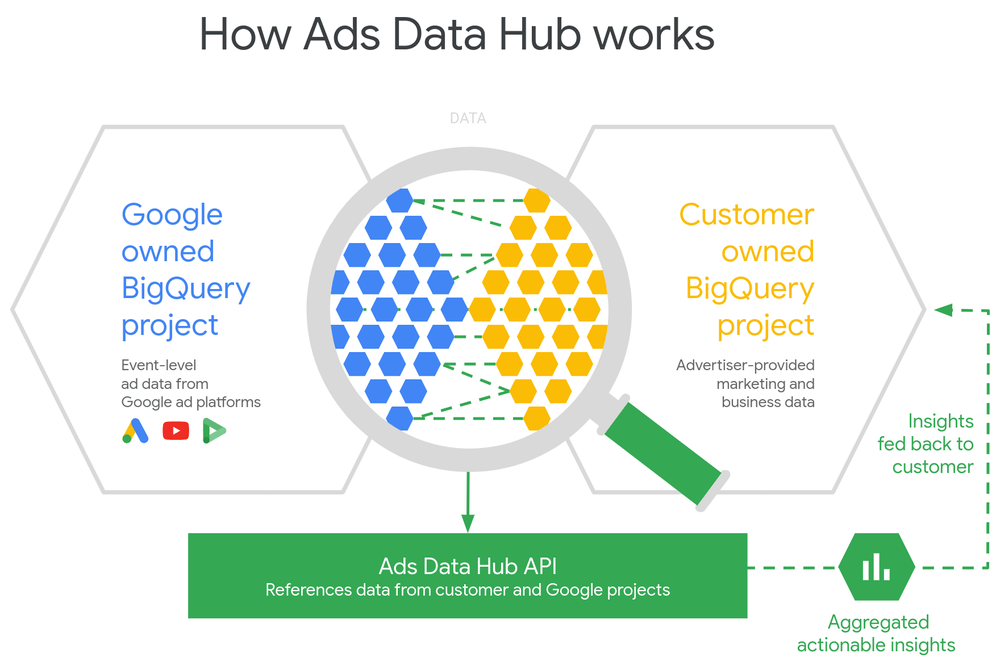 Google removing pixel tracking from YouTube
Google will no longer allow third-party pixel tracking on YouTube from next year. The internet giant made the announcement in a blog, which revealed that marketers will need to revert to Google's Ads Data Hub rather than pixels.
The hub has been created to provide a better way for marketers to track modern web activity, so the move could be beneficial for marketers.
Google said: "Advertisers use different tools to understand the effectiveness of their ad campaigns. One type, called pixels, has played an important role across the web for over a decade, but was built for a world of single screens, not for the ways many people watch YouTube today. While more than 70% of time spent watching YouTube globally occurs on mobile devices, pixels can't report on the effectiveness of ads that appear in mobile apps."
The inability for pixels to track activity across all devices means that it can be difficult to access the data required to assess how effective an ad has been. To combat this, Ads Data Hub will give insights across all screens, including mobile apps.
It uses aggregated insights from a range of Google ad platforms, including Google Ads, YouTube and Display & Video 360. Ads Data Hub does, however, limit how user data can be used. While this is great for consumers in terms of privacy protection, it could have impacts for marketers.
Marketers can expect this change to be rolled out from the start of the new year so they should start to prepare for it now.
---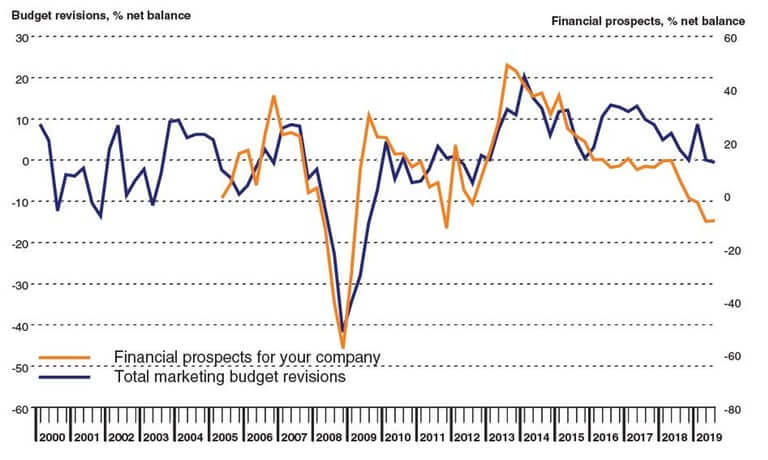 Marketing budgets see first decline in seven years
Marketing budgets across the UK during the third quarter of the year have been cut for the first time in seven years. According to the IPA's quarterly Bellwether report, continued political and economic uncertainty seems to be having an impact on marketing budgets that have remained strong until this point.
The report revealed that a net balance of 0.5% of marketers revised their marketing budget down for Q3. Positively, 64.1% of those surveyed said their budgets weren't changing, suggesting that many companies are waiting to see what effect Brexit will have on business following the October 31st deadline.
However, 18.2% of companies said they have cut advertising spend, with concerns over dwindling consumer confidence – especially for expensive purchases – being a big reason. Just 17.7% reported that their marketing budgets have seen an increase for the quarter.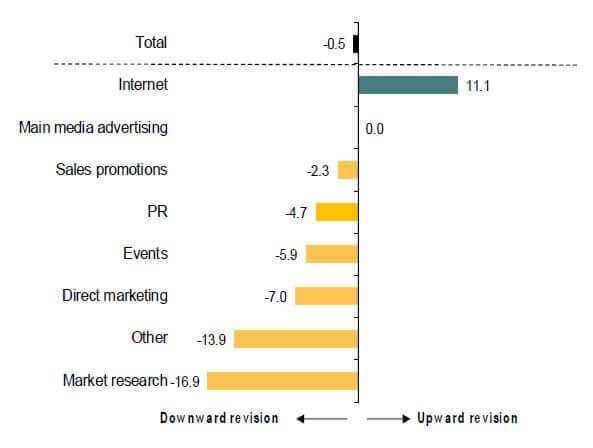 Digital marketing was the only area that reported an increase in budgets with 11.1% of companies saying they were growing budgets in this area. This was mirrored in the search marketing results, which saw budget growth of 6.1%. However, this is a slight decline overall, as last quarter 9.9% of businesses reported an increase in search marketing budgets.
Main media spending remained stagnant, with companies putting it on hold until the economic and political environments revealed more. This follows on from strong growth in Q1 (5.2%) and Q2 (5.6%) of the year.
Mobile marketing saw budgets fall by 0.06% while sales promotions (-2.3%), PR (-4.7%) and direct marketing (-7%) all saw significant drops in budget allocation. The biggest budget decrease was seen in the area of market research, which saw a huge 16.9% drop.
Joe Hayes, Economist at HIS Markit and author of the Bellwether Report, said: The latest Bellwether survey spells further disappointment for the UK marketing industry, which is suffering, just like the rest of the economy, as a result if spending delays, firms placing projects on hold and subdued business confidence. The UK economy has endured a tough year so far and firms have subsequently withdrawn discretionary spending to protect profit margins.
"Perhaps the most discouraging sign is to see firms sitting in the fence regarding main media advertising, which is a vital form of long-term brand building, following resilient budget growth in the two previous quarters. Overall, as long as political and economic uncertainties remain at large, it will be surprising to see noteworthy boosts to marketing spending."
---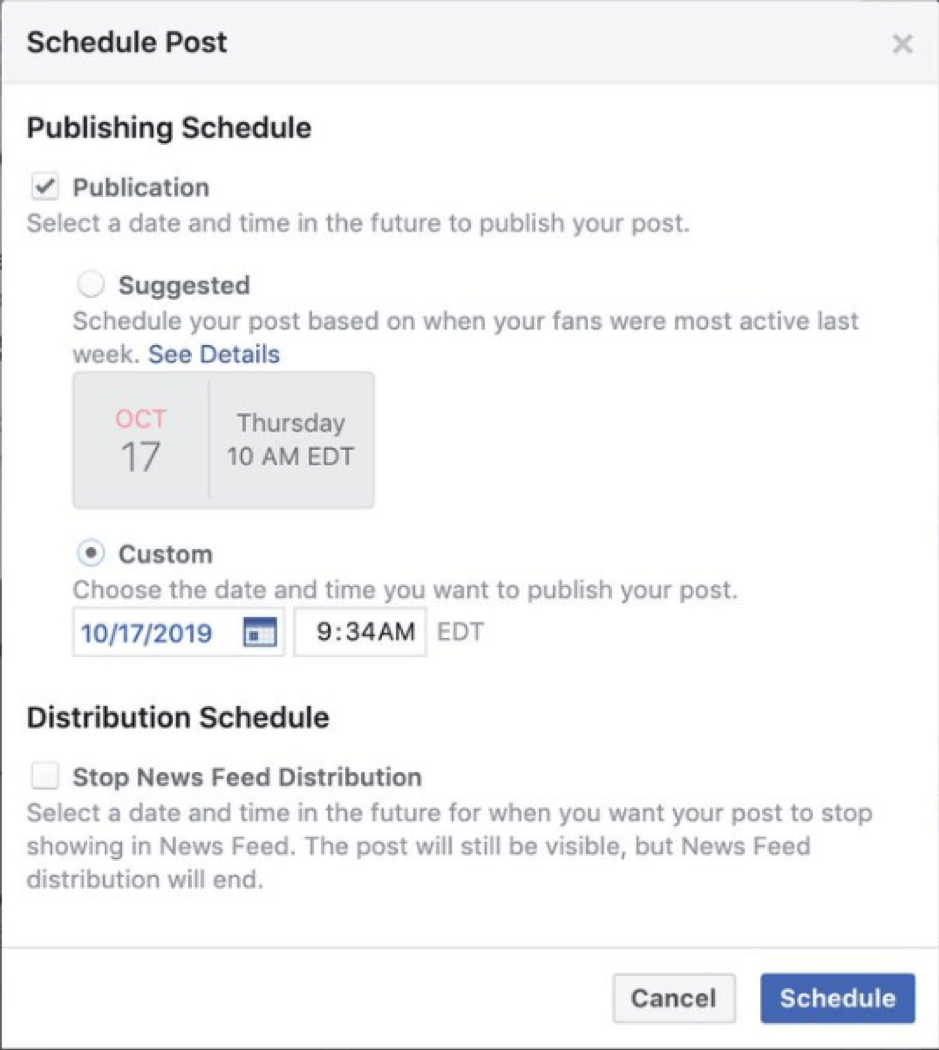 Facebook testing "suggested time" for sponsored posts
It looks as though Facebook is working on tools to help Pages improve their organic reach on the platform. The social network is reportedly testing a new feature for scheduled posts that allows users to select a suggested publication time rather than having to set a custom time.
The feature looks as though it is designed to enable Pages to reach audiences when they are most active on the platform. Based on the following week's data, the function provides a time that is likely to improve a Page's organic reach.
An image of the function was shared on Twitter, showing that an explanation of the tool reads: "Schedule your post based n when your fans were most active last week."
The function seems to use Facebook's internal data, which means it could help Pages reach their audience and peak times an encourage engagement, something that is more difficult than ever now that Facebook is becoming ever more pay-to-play.
---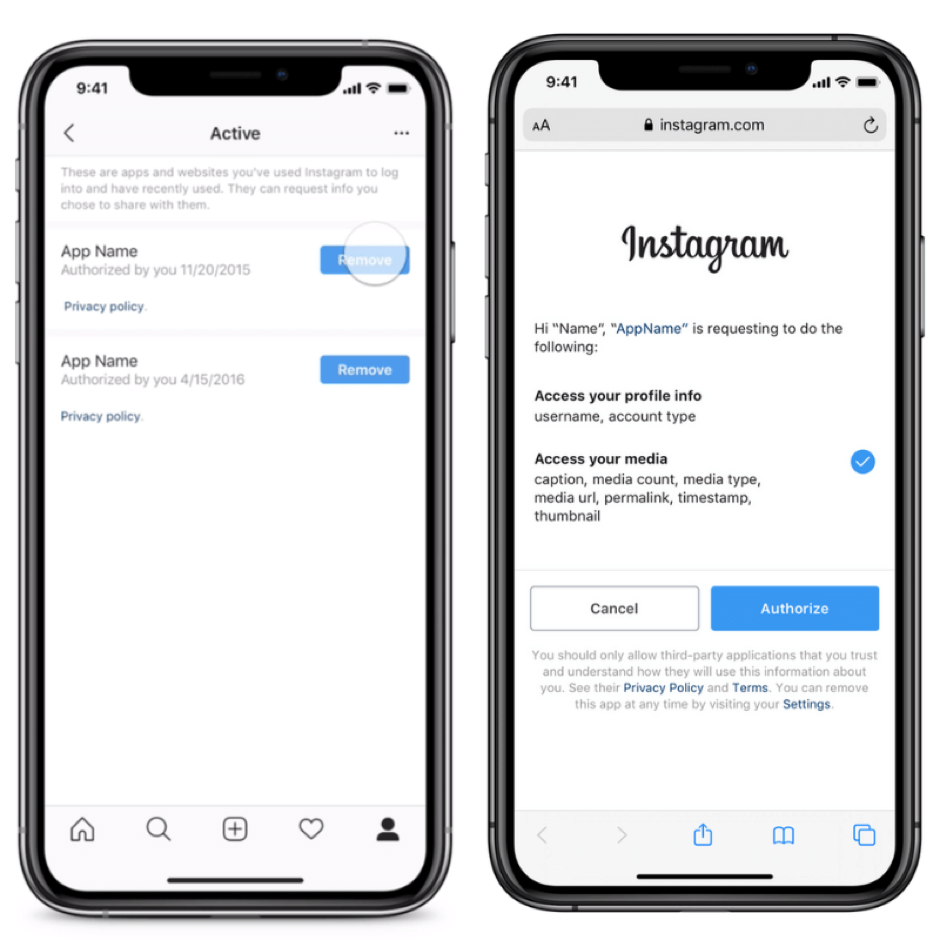 Instagram providing greater data control for users
Instagram is working toward giving its users more control over the data that is shared to third-party apps and services through new features. The social media platform has launched new in-app features offering people greater control of their data.
One of the new features will allow users to make it easier to manage what third-party services are connected to their accounts.
Many apps and websites often allow users to import their photos from Instagram or to connect with Instagram, which means these third parties often have access to some personal information. Users will now be able to see which third-parties currently have access and to revoke that access where necessary.
Users will be able to go to "Settings" in the Instagram app, select "Security" and then "Apps and Websites". Here they'll see the list of third-party services.
On top of this change, the platform is also making sure users know what specific data is being requested by third parties. Instagram has introduced an updated authorization screen that lists all the information being requested by a third party. Users can then "cancel" or "authorize" access from this screen.
While these features have now been launched by Instagram, they will be rolled out over the next six months, so not everyone will have access to them at the moment.
---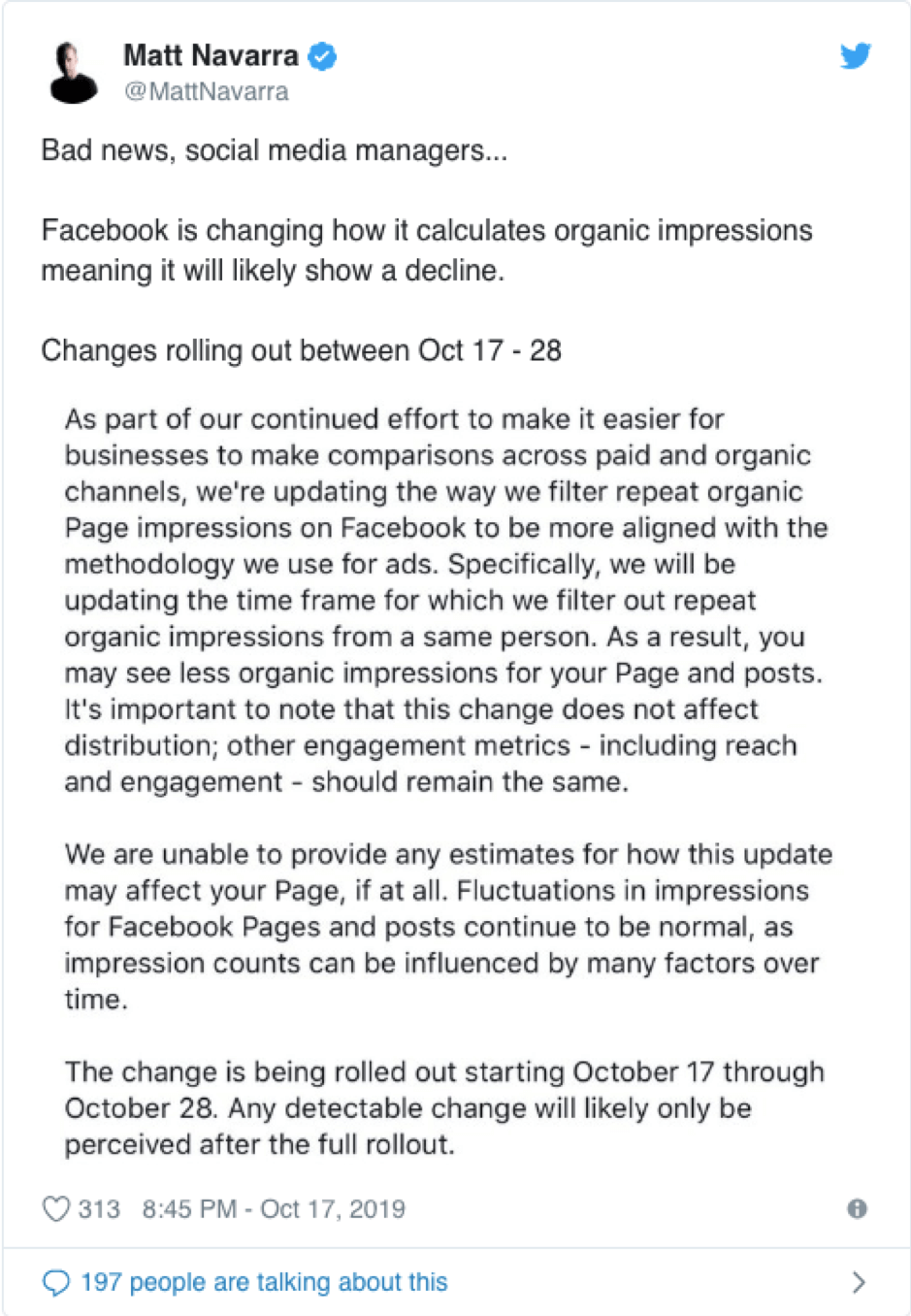 Facebook changing organic impression calculations
Facebook is changing how it calculates organic impressions with the changes rolling out across the platform between October 17th and 28th. Unfortunately for social media managers, the changes will likely mean that organic impressions will see a decline, not good news considering how hard it is to get seen organically across the platform now.
The platform is aiming to make it easier for businesses to make comparisons between paid and organic channels in order to ensure they can prove ROI. It is also changing how it filters repeat organic Page impressions so it is in-line with the methodology Facebook uses for ads.
Currently, Facebook is not able to provide estimates on how these changes might affect Pages, but it is likely that they will result in dips across the board.
Join To Our Newsletter
You are welcome