Google to launch RCS messaging, brands failing at acting on social purpose, influencer marketing under fire, TikTok explodes in China, Facebook Top Fan targeting
We've taken a look at some of the news stories you should know about this week, including:
Google made an interesting decision when it announced that it was no longer waiting for phone makers and networks to roll out RCS messaging. The tech giant is set to make the improved messaging service available for select Android features by the end of the month after a lot of delays.
A survey has revealed that while social purpose is important to brands, they are failing to walk the walk when it comes to actually putting initiatives in place. This could ultimately leave to issues when attracting both customers and talent.
Influencer marketing has come under fire after it was revealed that a 'surprise' life event was actually part of a marketing opportunity, raising questions about the different rules for influencers around the world.
TikTok has reached 250 million active daily users in China as the market for short video sharing continues to increase.
Finally, Facebook is now allowing pages to target Top Fans with organic posts, helping to boost engagement and build communities.
---

Google bypasses phone companies to launch RCS messaging
Google is taking matters into its own hands with Rich Communication Services (RCS) messaging after being unable to get it launched previously. The tech giant will allow Android users in France and the UK to opt into the chat service provided directly by Google, although there is no indication of when this will be expanded to other countries.
Designed to be the next generation of SMS messaging, Google has been attempting to launch RCS for some time. Unfortunately, carrier and phone maker politics have meant that it has struggled to make RCS happen.
Seemingly fed up of phone networks and makers abilities to get their ducks in a row, Google is changing its strategy. As RCS is rolled out to other countries beyond the UK and France, it could ultimately mean that the messaging service is made universally available across Android.
Toward the end of 2018, Google said that it was focusing on bringing RCS to its Messages app. Following this, in January, the company said that RCS messaging was going to be added to the Google Fi mobile virtual network.
This latest move to bypass carriers that it was previously waiting on to provide RCS means that Android users will soon be able to benefit from a superior messaging service that is similar to iMessage.
According to research, 1.01 billion people will be using RCS messaging over 168 mobile operators worldwide by the end of the year. This is expected to grow to 3.23 billion people over 486 mobile operators by the end of 2023, meaning marketers may want to start considering RCS messaging's impact on strategies sooner rather than later.
---
Brands failing to walk the walk when it comes to social purpose
Although almost half (48%) of business executives believe that operating with social purpose gives a competitive advantage, the majority think that people are failing to follow through.
The Economist Group surveyed 1,417 execs at the Cannes Lions Festival of Creativity and found that 78% believe that although many companies talk about social purposes, they are not making these happen and are failing to follow through on long-term initiatives.
Essentially, brands are talking the talk when it comes to displaying a social conscious, but they are failing to ensure that this translates into action. As a result, they can be offering in-authentic experiences for consumers, which can have damaging results for brands.
As well as consumers switching off to brands who fail to follow through, not taking action can cause issues when it comes to attracting talent. Some 70% of respondents said that social purpose is a factor they consider when choosing to work. In comparison, just 63% said their employer is committed to supporting good causes.
These findings show that brands urgently need to address this disconnect and seek to support words with visible action.
Mark Cripps, chief marketing officer at The Economist Group, said: "Whist there are some wo see social purpose as a gimmick, these results make it clear that many business executives recognize the value of acting with social purpose, but we also see a noticeable disconnect in the action being taken.
"Acting with purpose influences staff recruitment and their wellbeing; it influences how stakeholders and partners interact with companies and with all else being equal, in certain product categories, it influences how consumers perceive products and brands. If we are to undertake them, we need to redefine how we measure the value that these programmes generate to ensure that our measurement models are capturing the full impact on the business and the brand."
---
Influencer's 'surprise' engagement highlights industry issues
Influencer marketing has recently come under fire after a 'surprise' engagement on Instagram turned out to be a planned marketing ploy. As the industry seeks to follow the rules, an influencer has highlighted the issues with different countries having varying regulations when it comes to this form of marketing.
Marissa Fuchs, the head of brand partnerships at Goop and an Instagram influencer, was taken to France by her partner, who had arranged what seemed to be a surprise proposal and wedding. The trip was documented via Instagram Stories, with updates being shared with Fuchs' 200,000 followers.
While on the surface it looked as though the event was a surprise to Fuchs, it was reported by The Atlantic that a detailed marketing deck about the 'surprise' had been used to pitch to advertisers months before.
The deck included an itinerary for the trip, information on the couple's relationship and a plan for posting on Instagram. On top of this, it also provided information on Fuchs' brand and what the estimated reach of posts was likely to be.
Following the revelation that the trip was pitched as a marketing exercise, Fuchs' partner, Gabriel Grossman, has said that Fuchs was not aware of the pitching deck or the proposal. According to Grossman, the deck was created by a friend who works in the advertising industry, who decided to try and get advertisers on-board with the opportunity. He also said that no payments have been made to the couple for any activity.
Throughout the various Stories posts published by Fuchs, there were a large number of brands mentioned, including Delta Airlines, Tumi Travel and Love Shack Fancy. It was also revealed by Grossman that they were provided with free photographers, a discount on jewellery, free hair and makeup services and a free, private exercise class. None of these were mentioned as being sponsorships in any of the posts.
Rules in the UK for influencers, as set by the Advertising Standards Authority (ASA), state that influencers must make it clear what items or services they were gifted when posting about them on social media.
However, in the US, if products or services are gifted, this doesn't need to be declared in posts. This means that influencers' posts can look more organic while still being sponsored.
On the downside, this practice means that there is a serious lack of transparency, which can affect trust in influencers and the ROI of influencer marketing campaigns. In this instance, many people have condemned the attempt to turn a significant life moment into a commodity that felt far from authentic.
Failing to follow rules or best practice when it comes to influencer marketing can lead both the brand and influencer to suffer negative consequences. With authenticity being an important part of the consumer experience with brands, failing to deliver this can result in a loss of fans and brand loyalty.
---
Chinese TikTok users reach 250 million
TikTok continues to grow in popularity with daily users of the Chinese version of the app (Douyin) exceeding 250 million. The short video-sharing app has been performing particularly well in China, with video content in the country becoming increasingly popular.
According to China Internet Watch figures, Douyin is now outperforming its main rival, Kwai, which only attracts 160 million daily active users. These figures show the opportunities for brands using short video content in marketing when targeting a Chinese audience.
The figures also revealed a gender split between the two most popular apps, with women tending to prefer Douyin. In comparison, Kwai has more of an even split, with users being 54% male and 46% female. Douyin also has more of a following in cities while Kwai has focused on smaller towns.
Douyin's growth comes after the app's owner, Bytedance, has focused on investing in global growth for the TikTok brand.
---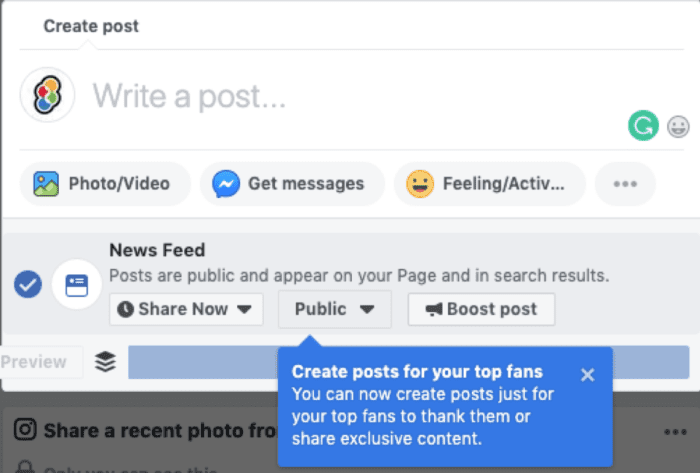 Facebook allows Pages to target Top Fans
After introducing Top Fans to the platform, Facebook is now allowing Pages to target this demographic specifically with organic posts. The social media platform has made it possible for Pages to select Top Fans as the audience rather than just setting updates to be visible to Public.
The description on the update says that the option is intended to 'thank them or share exclusive content'. It seems that this option has been rolled out gradually, as some Pages have had the option to target posts in this way for a number of weeks. However, it now looks as though it is standard across the platform.
This update could help Pages better target a community that is more likely to engage with posts, helping them to create a stronger connection with their audience and build brand advocacy. However, this type of targeting is only going to be beneficial if a page has a number of Top Fans, which means you will still need to seek to grow your following and then encourage followers to interact with posts in order to become a Top Fan.
Join To Our Newsletter
You are welcome