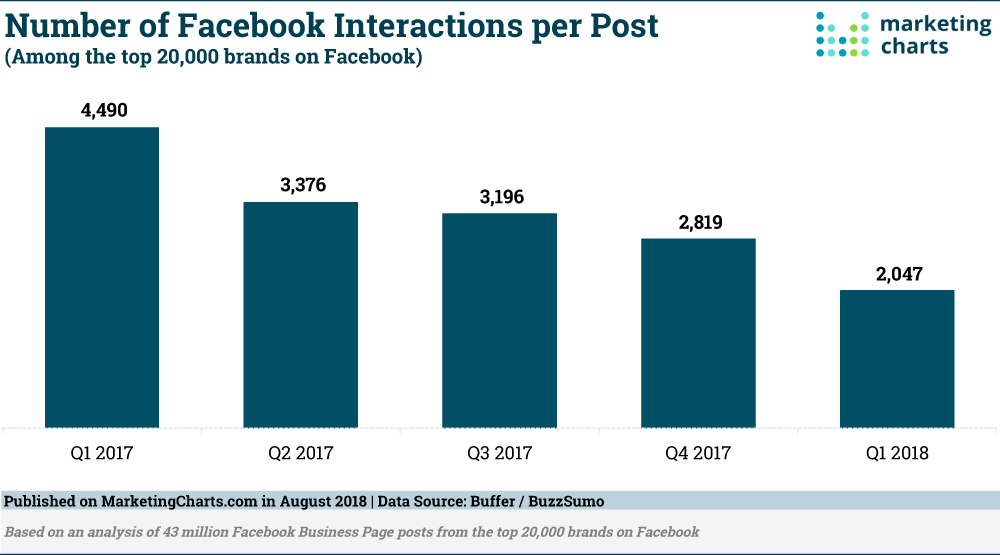 Number of Facebook interactions per post
Chart of the Day: Number of Facebook interactions per post
Mastering social media is an art that almost all of B2B and B2C companies need to learn. There is a tightrope of factors that are easy to fall off of and businesses need to make sure that all of them are in play. The type of post is probably the most important of these but this certainly followed by how many posts should you make a day to get maximum engagement. Today's chart looks at what is happening to post reach for the top performing Facebook pages.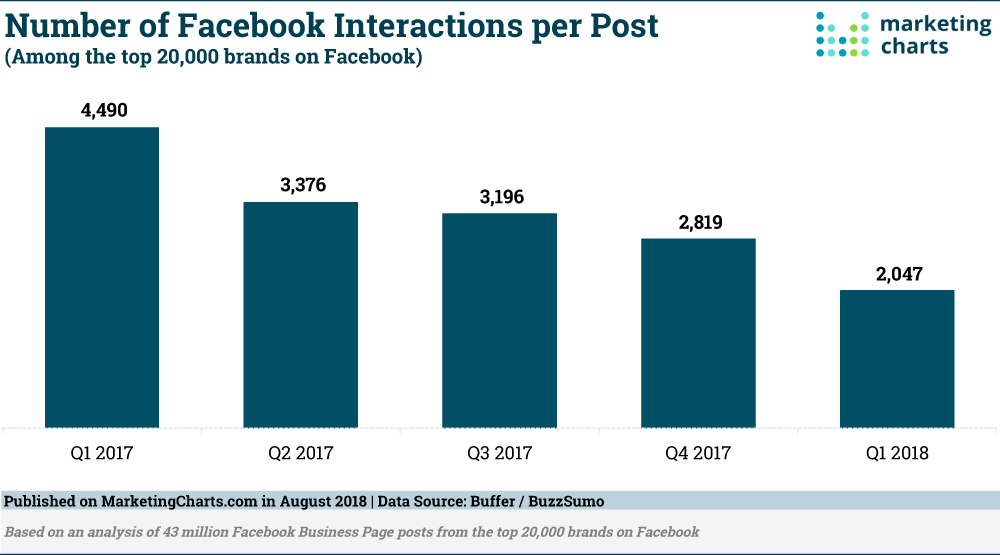 Buffer and BuzzSumo analyzed 43 million posts from 20,000 brands on Facebook and the amount of interactions posts received has dropped dramatically. Most of these brands have not changed the amount of posts they make in a day in the window that this looks at (5 quarters). However, the amount of interactions from Q1 2017 to Q2 2018 has declined by almost a factor of 5o%
Images used to be the gold of Facebook posts with video coming in close behind. IN the same period, there has been a drop of 63% in image interactions and video has seen slightly less with 48%.  Link posts have seen the largest drop with 70% less interactions.
The important thing to not here is that the same amount of content is being uploaded but the supression of Facebook reach has obviously hit businesses hard. This can't be the only reason and businesses need to make sure they are being current in their style of delivery. Based on the figures mentioned you would expect that video is the way to go but overall images still receive 20% more interactions than video.
It always boils down to quality and ease of information passing. We are in time of short and sharp being the winner overall. Attention spans of users have seen a decline since the rise of "Stories" in Snapchat, Instagram and Facebook. This expectation of users is only going to be hindered by content not being of usable quality.
> Source – Marketing Charts
> Data set – 43 million posts from 20,000 brands on Facebook
> Recommended resource – 10 Common social media marketing mistakes