YouTube remains one of the top video-sharing platforms in 2020. 
And honestly, there are no signs of it wavering anytime soon. YouTube still has massive pull as a video-sharing platform despite competitors (TikTok, anyone?) joining their ranks.
In fact, according to YouTube, they have two billion logged-in users on the platform every month. That's a lot of users. But for YouTube creators, that means there's a ton of competition.
If you're a YouTube creator and want your content to stand out from the pack, the first thing you need to do, aside from producing useful and entertaining videos of course, is to optimize your videos (SEO) from the ground up. In this step-by-step guide, we'll show you changes you can implement to perform better on YouTube.
1. Do your keyword research
Keyword research is an uncomplicated place to start. Researching keywords will not only give you a better idea of what words and phrases people use when they search for videos, but it will also help ensure your video will is positioned to get in front of the right audiences. In short, it's pretty vital.
By adding keywords in your titles, descriptions, and tags you'll have a better shot at showing up in the top search results. Luckily, there are a few straightforward and easy ways you can do this without breaking your back (or the bank).
Use YouTube suggestions
YouTube Suggestions are prompts that appear as you type in a search query. For example, typing in "how to cook" will reveal several suggestions. 
These suggestions are indicative of the content people are interested in and likely to search for. Type your target keyword into the YouTube search bar. You might be surprised by some of the topics that pop up.
In the example below, you can see how it would be easy to come up with multiple future videos related to a juice cleanse, if that's your thing.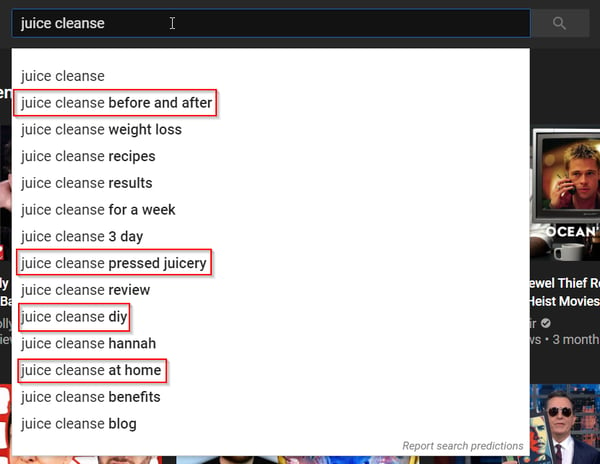 Pretty painless, right?
Use a third-party YouTube keyword research tool
YouTube keyword research tools are pretty straight forward. If you want a direct readout of search volume data, there's no better way to go.
There are both free and paid options available. Keywordtool.io is particularly useful. Or if you want a browser extension, you could consider an option like VidIQ.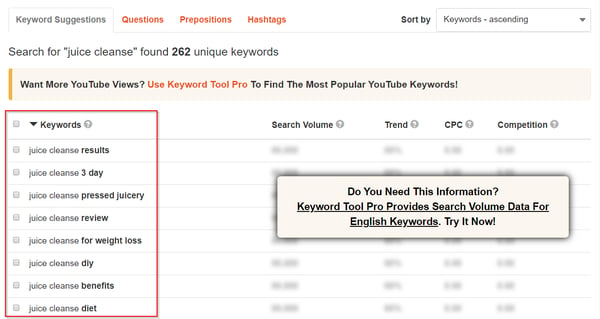 Keyword results for "juice cleanse" on keywordtool.io
Determine the user intent
Using the approaches listed above, you should be able to narrow down the searcher's intent – another critical component to any and all keyword research. Ask what information is a user searching for when they type X into a search bar. Are they looking for tutorials, recommendations, or product reviews? What's grabbing a viewers attention?
Answering these questions will allow you to determine what type of content you should create to provide exactly what users are looking for. That'll mean more and longer views, and then better exposure in the YouTube search results!
2. Create videos that users will watch
Now that you're able to determine popular videos and keywords, you're now ready for the next step: creating content. That's easier said than done. We all know creating content can be time-consuming. Fortunately, there are great ways to streamline the filming process, including storyboarding.
Storyboard your videos
Storyboarding is a process wherein you plot and sketch the most important aspects of your video. It looks kind of like a comic strip, which kind of makes it 5 times more fun. Each frame is supposed to display roughly what's happening, what's being said, and by whom.
To produce a storyboard, you'll need to:
Make a plan. Know what the goal is and how long the video is going to be. Afterward, figure out who will be featured in the video, what the theme is, where the setting would be, and other essential details.
Write a script. Go and write your script. Make it compelling. You can read it aloud and time yourself to get a sense of whether you're going over or under your target video length.
Transfer your script to a storyboard. You can download storyboard templates for free. While there are slight design variations, most of them look the same. A storyboard would have boxes where you can draw the scenes. Right below each box would be space for you to insert dialogue or scene notes.
Here is an example of a storyboard: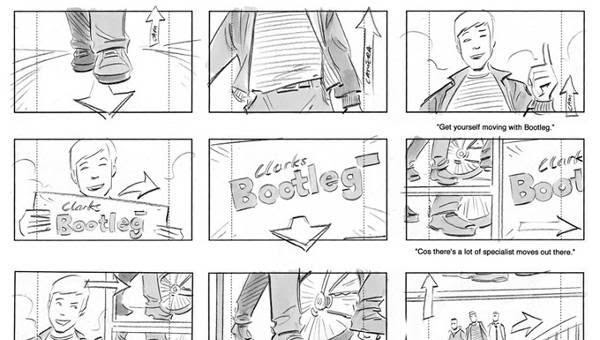 Use the Agree, Promise, Preview (APP) method
Creating an engaging intro can be challenging. Luckily, the App method can help. The APP method was introduced by Brian Dean, an online marketer. It's a writing technique that allows you to create the most compelling introductions. And yes, it also works for YouTube videos. APP stands for Agree, Promise, and Preview.
Here's the breakdown on how it works:
Agree. Start with an idea that almost everyone can agree on. If you're writing about cereal, you can start your video by saying, "I think all of us can agree that cereal is delicious." Something along those lines.
Promise. Next, you'll hook them with a phrase expanding your idea. This engages the viewer. Going back to the cereal example, you could say, "But what if I told you that there's more than one way of enjoying this breakfast staple?".
Preview. Tell your viewers what they'll see when they continue watching your video. "Today, I'll show you other ways of eating cereal. None of which involves putting it in a bowl with milk." would be an example of a preview.
Using the APP method to come up with video introductions that will leave your audience wanting more. Improving your audience retention and watch time is key.
Use the magic of editing
Let's be blunt: editing can make or break a video. If you're an avid YouTube watcher, then you've seen it countless times. There's another level of engagement involved with edits, close ups, and jump cuts. Really, it's a deciding factor between a good video and a great one.
Sometimes, amateur content creators make the mistake of uploading their videos as shot, and this can be a big mistake. Some videos tend to be a little bland, especially if you're using the talking head format (where you sit in front of a camera and talk directly to the audience).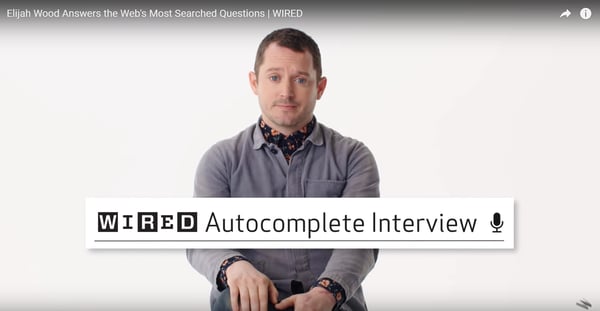 Wired uses the talking head format in their Autocomplete Interviews
To make your videos more appealing, try adding video editing techniques like adding jump cuts or transitions. You can also add graphics. During filming, add props that talents can interact with.
Step 3: On-page optimization
As is the case with on-page SEO, optimizing a few key areas of your YouTube video posts to include your targeted keywords is an important step.Take the results of your keyword research, and incorporate them here.
When appropriate, include them in the following places:
Video title
Video description
Meta tags
Keep in mind however, that I'm not telling you to just stuff some keywords in there without a second thought. Keywords should always be used naturally, and read easily with the rest of the text on a page. Believe it or not, that's all you need to worry about regarding on-page optimization for YouTube videos. 
4. Make your videos even more useful
Beyond your video content and on-page optimization, you can make your videos even more helpful for your viewers with the tips and tricks listed below.
Link to related videos on your end screen
If viewers like the video you've posted, there's a good chance that they'll want to see more like it. Creating a CTA on the end screen can help. Plus, it makes it easier for users to find similar content, while encouraging them to stay on your channel.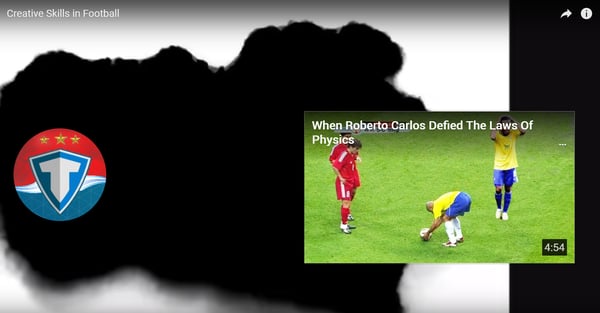 End screen example from iFutGol
The end screen is where you can promote videos that are doing well on your channel. You can even put an entire playlist if you'd like.
Use YouTube cards
YouTube cards are similar to end screen videos, only turned up to 11. It'll show a moving preview of the attached video at the end of the current one. But it can actually do even more than just promote your other videos.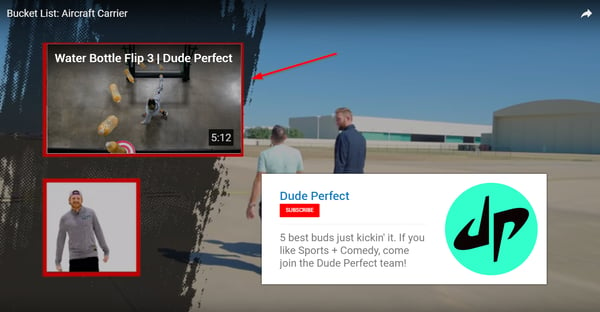 Dude Perfect uses YouTube cards on their channel
There are several types of YouTube cards that you can create:
Video or playlist – add links to other videos on your channel
Channel – promote channels (yours or a friend's)
Donation – if there's a non-profit you support, you can create a card for them.
Poll – create a poll for your users 
Link – add links to resources outside of YouTube
You can enable YouTube Cards by going to your YouTube Video Manager settings.
Add closed captioning
While YouTube is a pretty advanced platform, it still helps if you provide closed captioning. That'll ensure that the search engine itself is able to understand the entire context of each of your videos, rather than strictly relying on the title and description.
It's an easy and user-friendly way to help increase your page views, search traffic, search rank, and engagement. For more info on this, check out YouTube's dedicated page that explains how to add closed captioning to your content.
5. Promote and monitor results
So you've done your research, created engaging content and optimized it for both users and YouTube search. Now it's time to get proactive about generating exposure and garnering some views.
It may take some time before your videos get any traction, especially if you're just starting out. But there are a few ways you can help speed along the process. 
Customize your thumbnails 
Most YouTubers today create custom thumbnails. These are a smart investment of your time, not only because you'll get to completely control the presentation of the video pre-viewing, but also because you can start to create a clear style/brand for all of the content on your channel. 
Comment on your videos
If you have comments enabled, you should make sure to engage with commenters sooner rather than later. It's great for generating a sense of community and getting viewers to come back to your channel for you.
Do Q&As
Once in a while, it might be beneficial to do a Q&A session with your subscribers. It'll give you a chance to grant them a behind-the-scenes peek at some of their favorite content, or just get to know your viewers better. 
Share on social media 
This may go without saying, but it's a good idea to share your YouTube videos on social media platforms. It's good for engagement and added visibility, and it should even net you some extra views. 
Use email marketing 
If you already have an email list, don't forget you can promote new video content to your subscribers in most cases. You could go a step further and add a link to your YouTube channel in your email signature as well. 
Conclusion
While SEO pricing for websites can be prohibitive for many entrepreneurs, YouTube creators will fortunately rarely need to hire outside help. As you can probably gather from the above, a lot of what YouTube SEO boils down to is just being smart about how you plan, create, and promote your video content.
Now more than ever, search results are geared towards providing users with the most relevant and useful content possible. That means, your optimization will need to start before you even press record. t's ultimately worth the effort. 
Follow the steps above and you'll be well on your way to earning more subscribers and showing up more prominently in YouTube search results! 
For more help on finding greater success as a YouTube content creator, view G2's YouTube knowledge hub, containing 30 resources on how to use the video-sharing platform as well as how to maximize its value for your needs! 
Join To Our Newsletter
You are welcome