Stay on top of the latest advancements in paid search by taking a look at the big PPC trends for 2020 that are set to take the digital marketing industry by storm.
As the world of Pay-Per-Click (PPC) becomes increasingly competitive, it has never been more important to ensure you are spending your budget efficiently and maximizing your Return On Investment (ROI). But with new PPC strategies and opportunities emerging all the time, which ones should you pay attention to?
Take a look at what we at Smart Insights and industry experts believe are the top PPC trends to pay attention to, as we cut through the noise and give our top five trends you definitely need to add to your PPC strategy for 2020.
PPC automation
Pay-per-click advertising has changed digital marketing forever. According to Social Media Today, advertisers reportedly spent $10.1 billion on Google Ads in 2017 alone. Now throw in the opportunity to reach your target audience when they're ready to buy through automation and AI and it's surely a digital marketer's dream.
The idea of vast amounts of data working together to identify the best possible audience for your campaign is an exciting prospect. It will save businesses money by targeting audiences that are more likely to buy and enrich customers' lives by seeing advertising that will be more relevant to them. A win-win!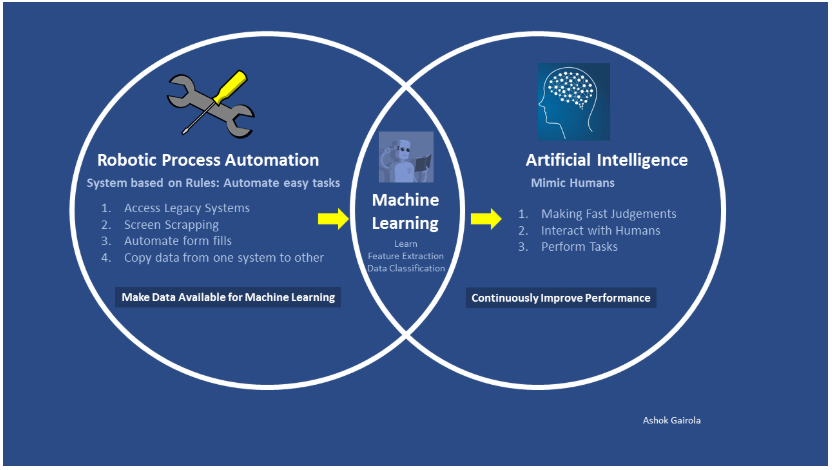 Companies like Google have invested heavily in automation, leading to a wide variety of automation options available depending on your campaign goals. To really benefit from PPC automation you will need to help it by ensuring your goals are set up correctly for your business. This will make sure Google is learning correctly to target your ideal customers and are driving the required goals.
Automation will save you time – and potentially money – while giving you extra time to focus your attention on other projects and strategies. However, it's worth noting that this method may not be right for all businesses and whilst it has come a long way, it isn't 100% perfect, so it will still require regular maintenance and checks to see if your campaigns are meeting their desired KPI's.
With the rise of home internet-dependent devices to control home functions Google has an enormous amount of data and can use it to present personalized, relevant ads and experiences based on your previous actions. This is a form of automation. Google uses this information to create automation systems in order to understand patterns of users behaviour. As a result, Google can offer advertisers highly targeted audiences. Meaning you will be able to deliver your message to the right audience at the right time, reducing wastage and increasing conversion rates.
"The rise of automation puts manual bidding in the shade. We've seen automation become more and more prevalent in the Google Ads eco-system and over the course of 2020, I can see these automated features eclipsing manual bidding to the point where Google may just close down manual bids entirely.
"The automation tools that Google has introduced of late – the most recent being 'maximum conversion value' – have made real-time bidding not only more powerful but much more efficient than any manual bidding strategy. For most campaigns, it really is a no brainer. It would not surprise me if, at some point in 2020, Google announces that it is pulling back or even removing the options for manual bidding.
"However, there is still a lot of work to do before that happens – both on the part of Google and on the part of advertisers.
"For advertisers, the adoption rate for real-time bidding remains low and it will take better education and understanding to get more brands to embrace (and trust) the automation. On Google's part, it needs to offer more sophisticated bidding strategies that take into account multiple objectives & a lack of data. I for one would like to see an "enhanced maximize clicks" strategy that would strike a better balance between clicks & conversions rather than chasing cheap, low-quality traffic."
Jack Burton, Biddable Media Lead, Stickyeyes.
Artificial Intelligence
Artificial Intelligence (AI) is an exciting development that seems to be cropping up in all areas of Digital Marketing, and why wouldn't it? The prospect of AI automation taking care of the repetitive daily tasks, (and in some cases better than before due to the complex algorithms) freeing up time to focus on strategy, testing and their clients is an enticing prospect.
So how exactly is AI benefitting PPC?
Machine learning tools help marketers identify the bids that are going to drive the most traffic.
AI has the ability to predict the click-through-rate (CTR) of future ads and the impact it will have on quality scores.
The ability to use historic data to predict the likelihood of a conversion.
To help visualize how AI and machine learning can be applied across the customer lifecycle, Smart Insights has created its RACE machine learning diagram.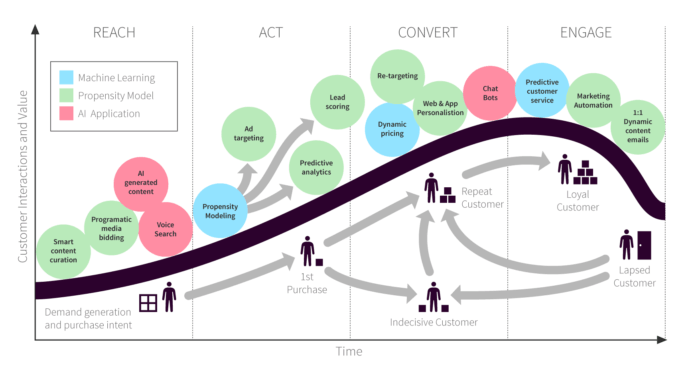 So what's next for AI?
AI is rapidly evolving and changing the way in which we use vast amounts of data to generate a predicted outcome, particularly within PPC. The problem currently is a lack of mimicking human thinking in the process, such as reasoning and language processing.
"The current challenge with AI in PPC is the lack of the human thought process. Cognitive AI takes on that challenge by utilizing big data and turn it into meaningful insight by introducing the human thought process. This further enhances the efficiency of the PPC campaigns and improve business outcomes."
Anil Yilmaz, Group Marketing Manager MTCR Marketing.
Video advertising
Remember the age-old saying, 'content is king?' Well move aside content, videos are now king, or more specifically, video is now king when it comes to mobile content.  As, according to Forbes, an average user will spend 88% more time on a website with video than one without,  video is a fantastic resource for businesses to utilize and it will continue to dominate the market in 2020.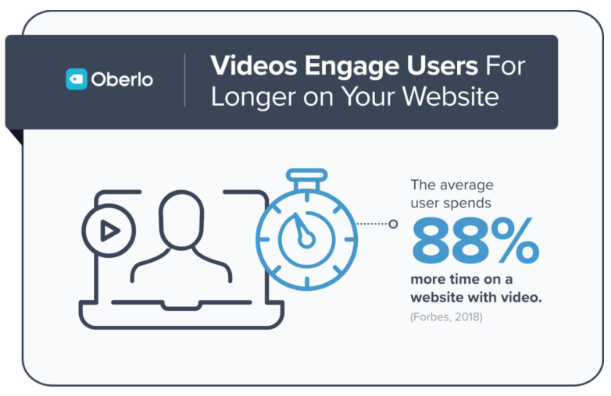 Videos are a powerful and effective way to transmit information and really allow a brand to communicate their personality and story to their target audience. No video isn't new, but it has been difficult for some brands to integrate into their marketing mix and it will continue to dominate in 2020. According to Wyzowl 81% of businesses use video as a marketing tool, so there's no better time to see what all the fuss is about.
Historically video production costs have been and can be high, with many companies often not having the in-house skills.
Enter Bumper Machine. Google's recent introduction of Bumper Machine introduces the ability to turn videos shorter than 90 seconds into a selection of 6-second bumper ads to display throughout Youtube. This love of video is something that's only going to develop as more platforms develop their video content advertising and businesses are going to need to learn to adapt, especially to things like Google's vertical video ads.
"Video is the most effective way for brands to elicit behaviour change in consumers and reach their goals, so it's no surprise that it's a big priority for marketers in 2020.
"For me, the real challenge for marketers now is to truly integrate video into each stage of the funnel so that it's working harder. Video cannot be a nice-to-have or an add-on but needs to be fully integrated into the wider brand strategy and analyzed using appropriate metrics."
Jon Mowat – Author and MD of Hurricane.
Amazon paid ads
PPC may mean you instantly think of Google Ads and Facebook Ads, you'd be right, but move aside, here comes Amazon as the third largest, and fastest-growing advertiser, with Amazon Ads.
Amazon Ads are displayed both on and off the Amazon site, increasing the diversity and popularity as a place to advertise.
Google and Facebook have a large audience, however they're not necessarily ready to purchase. Amazon ads has a key advantage over Google and Facebook, buyer intent. Those searching the site are ready to purchase and therefore could mean a higher conversion rate and getting more bang for your buck.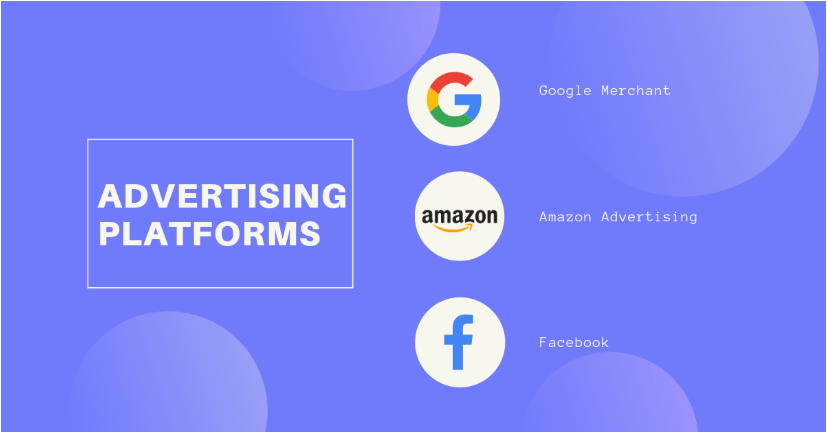 Here's a little introduction in how to get started with Amazon Ads and if it's right for your business.
Responsive search ads
2019 saw the launch of Responsive Search Ads in Google Ads. Responsive Search Ads adapt to device widths and lets Google automatically test 15 different headlines and four descriptions using AI to find the most popular combinations for your target audience and their search term. By matching the content of your ad to your target audience and what they're looking for, it could improve the ad group's performance, generating more clicks and conversions than your existing text ads.
We expect this to continue being a big trend for 2020 as it develops, spreads and becomes even more intuitive.
"To me, the biggest thing that happened to Search in 2019 was the launch of Responsive Search Ads. I'd say that, by the end of 2020, it will probably replace the Extended Search Ads feature introduced in 2018, but, what's more, it will also change completely the workflow of digital marketers.
"Creativity will be back to search, and this is good news. Google will keep improving its machine learning techniques while marketers will be forced to focus more on the creative side of their campaigns. Some say this is a step towards people becoming "digital waiters" with creativity for Google machine, but I think it's more complicated: the way you and Google's AI treat the data is still very different. It is (and will remain) the human work to provide the right inputs and USPs to machines.
"From my experience, ads burn out very quickly (just two impressions per person for Facebook, slightly more for search), which means that businesses will need a constant flow of creatives to guarantee stable growth. You can solve this challenge by hiring an army of creative content specialists to invent hundreds of catchy headlines (or building a neural network to generate them 24/7), but this won't let you use the paid search channel to its fullest potential.
"To stay ahead of the competition in 2020, we'll need a new kind of digital marketer – the one to combine creative assets, strong data analysis skills and the ability to build and maintain neural networks for digital marketing. This is what the PPC specialist will look like in the near future."
Sergey Matrosov, senior PPC manager at SEMrush
Final thoughts
These PPC trends for 2020 highlighted above will help change the way businesses acquire new customers and reach more targeted, relevant audiences. Whilst expected in the new year, these trends are already happening, so now really is the time to take advantage, experiment and get ahead of your competition.
Digital advertising is constantly evolving, with new features and opportunities becoming available all the time. In this rapidly evolving age, it's never been more important to make sure you keep an eye on new developments and research so that you can adapt your digital marketing strategy to get ahead of your competitors.
If you want to keep on top of all the digital marketing trends for 2020, take a look at our other resources. We're looking at various forms of marketing to ensure that your strategy for the next year is as up-to-date and effective as possible.
Join To Our Newsletter
You are welcome