Chart of the Week: 50% of marketers say that personalizing content and experiences is a key challenge for social media in 2019
Personalizing your social media strategy is key to success in 2019, according to Hootsuite's Social Media Trends research. Highlighting five of the top trends for the year ahead, Hootsuite found that rebuilding trust is a big must, which could be achieved by personalized content – especially as 50% of survey respondents say this is a key challenge for 2019.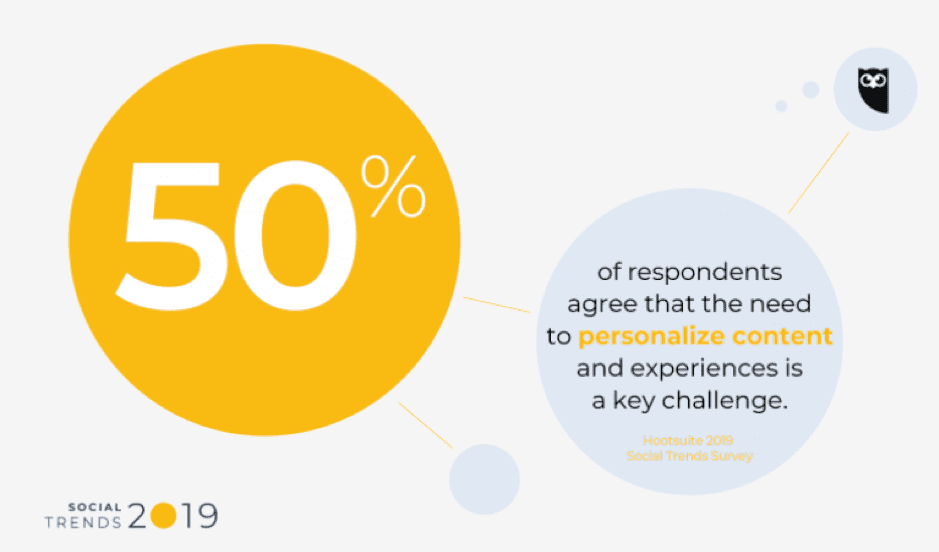 Personalized content could help rebuild trust
Considering the amount of hot water that some social media platforms have been in recently, it's no wonder that rebuilding customer trust was named as the top trend to be aware of.
Facebook is still feeling the waves caused by the Cambridge Analytica scandal, with a huge number of people calling on the platform to be more transparent in its practices and ensure better security. On top of this, Twitter has had to take steps to get rid of fake accounts on the platform after the huge number of bots was highlighted.
The numerous controversies have seen trust in social media fall, meaning brands have even more of a challenge when it comes to engaging with their audience. After all, if a person doesn't trust a social media platform, how will they trust a brand message they see on a platform?
Create meaningful engagements with personalized content
This is where personalized content can come into play. Creating content that is meaningful and targeted a smaller audience can help build engagement and result in followers or customers becoming brand advocates. Creating communities based on your brand that allows you to talk to more valuable audiences can ensure they stay engaged and trust your brand – even if they don't necessarily trust the social media platform.
One way to do this is to avoid endorsements made by celebrities or public figures. With 61% of consumers more likely to trust a recommendation from a friend or family member compared to a celebrity endorsement, you could have better results with user-generated content (USG) or customer surveys.
In order to create that personal feel to your brand, talk to your customers on social media. This can mean replying to them in a human way and creating meaningful discussions or by creating groups online that are based on a core interest your target audience shares and that aligns with your brand offering and values.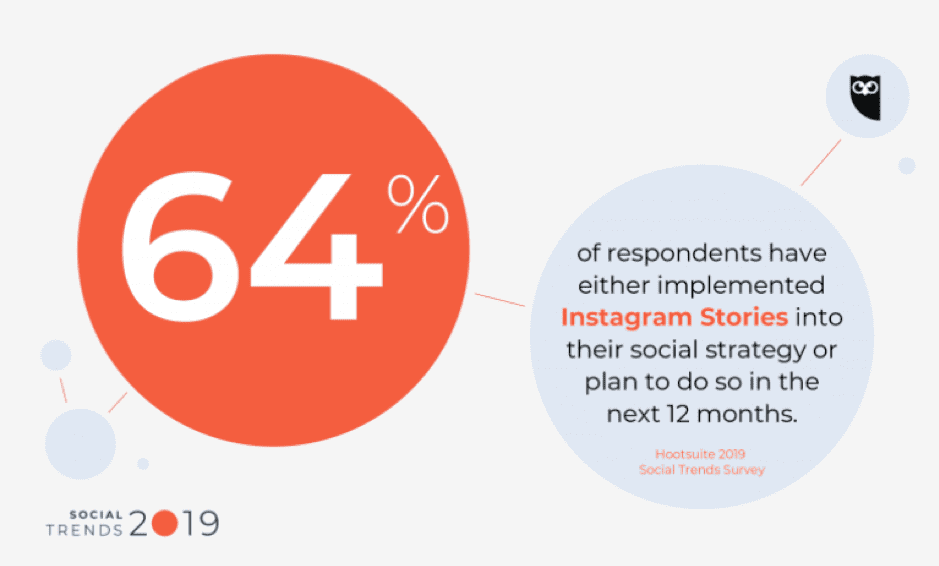 If you aren't using Stories, you need to start
Another key trend highlighted by Hootsuite's research is that Stories are becoming a bigger part of social media marketing strategies. Around 64% of respondents to the survey said they have started using Instagram Stories within their strategy or that they are planning to do so in the next year.
The idea of Stories – photos or videos that are only viewable for a limited amount of time – was initially created by Snapchat but has since been adopted by Instagram and Facebook. While Facebook's use of Stories isn't quite as large, Instagram stories are growing at a faster rate that feed-based posts.
Stories move away from text-heavy advertising
With so many people on the platform now using Stories and the fact that brands are able to promote their own Stories, not including this feature in your social media strategy could leave you struggling to catch up with your competitors.
The visual side of Stories means they are great for showcasing products, sharing UGC and catching people's eye in a way that moves away from text-heavy advertising. They give you an opportunity to experiment with different styles and create excitement around your brand, especially with Instagram's latest feature additions.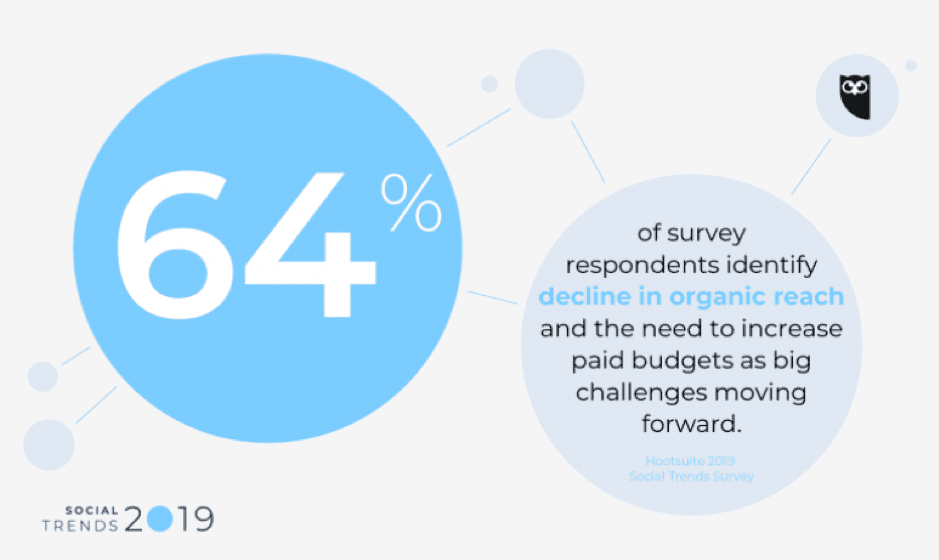 Declining organic reach is a big challenge
Investment in social media for brands is definitely on the rise. Algorithm changes across platforms have meant that branded content needs to be paid for in order to be seen by a larger audience.
This is why 64% say that falling organic reach and the need to add more to social budgets is one of the biggest challenges for the year ahead.
In the US, Facebook already makes up 23% of digital ad spending, showing that brands – especially startups or small companies – are already feeling the squeeze. Ultimately, this results in shrinking ROI for marketers.
Create content that inspires conversations
In order to counter this, you need to ensure that the interactions you have on social media as a brand are meaningful, engaging and creative. Creating content that leads to discussions is a great method of getting your posts in front of more people.
Of course, this is easier said than done and will require some trial and error in terms of types of posts and your target audience. However, once you've found a good formula, your organic posts are sure to see an uplift. You can then put your budget into boosting posts that perform well anyway, instead of creating costly ads that may not hit the mark.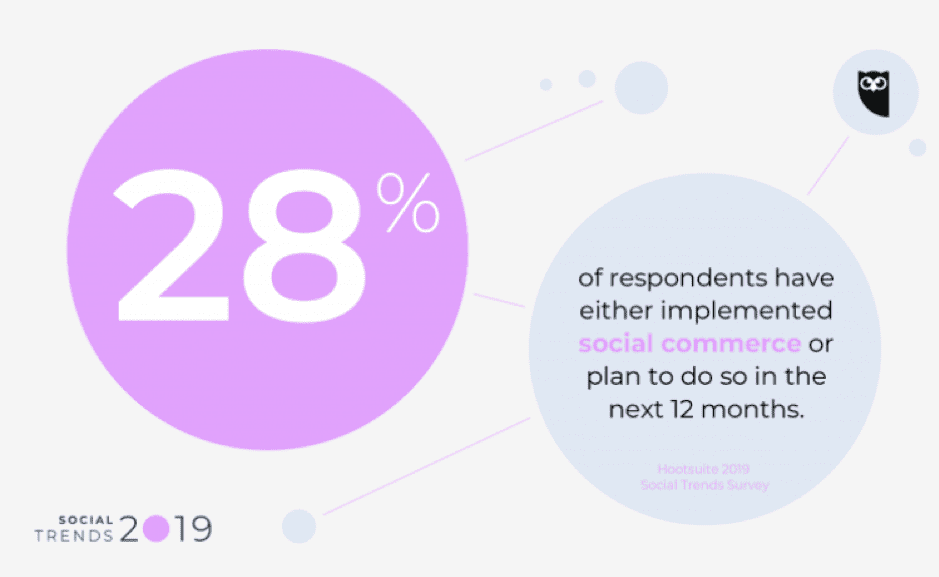 Shopping via social is the way forward
Social commerce is still a fairly new and novel idea, but it's one that is starting to take off, offering a range of opportunities – especially for B2C brands. Some 28% of respondents t Hootsuite's research said they've either already implemented social commerce or they are planning on doing so within the next 12 months.
In fact, it is now becoming easier than ever to shop straight from a. Social media platform, with Facebook shops and both Instagram and Facebook allowing brands to tag products in posts or stories. These features reduce the customer journey and mean they can buy something they've seen in their feed in just a matter of minutes, without having to try and find it on a brand's website.
Video is a key part of social commerce
One of the biggest tools in your social commerce arsenal is video, with 74% of people more likely to make a purchase after watching a video on social media. Video allows you to showcase the benefits of your product quickly and easily, highlighting to your audience why they need to make a purchase.
There are many ways you can make the most of the growing trend for social commerce, although it is important to remember that consistency in using these methods is key.
Start by tagging products in your posts to allow customers to easily find the items your showcasing. Create videos that show your products in their best light. Make the most of UGC to share different photos or videos of your items and help to build trust around them. You can also get people sharing your products with contests and unique hashtags.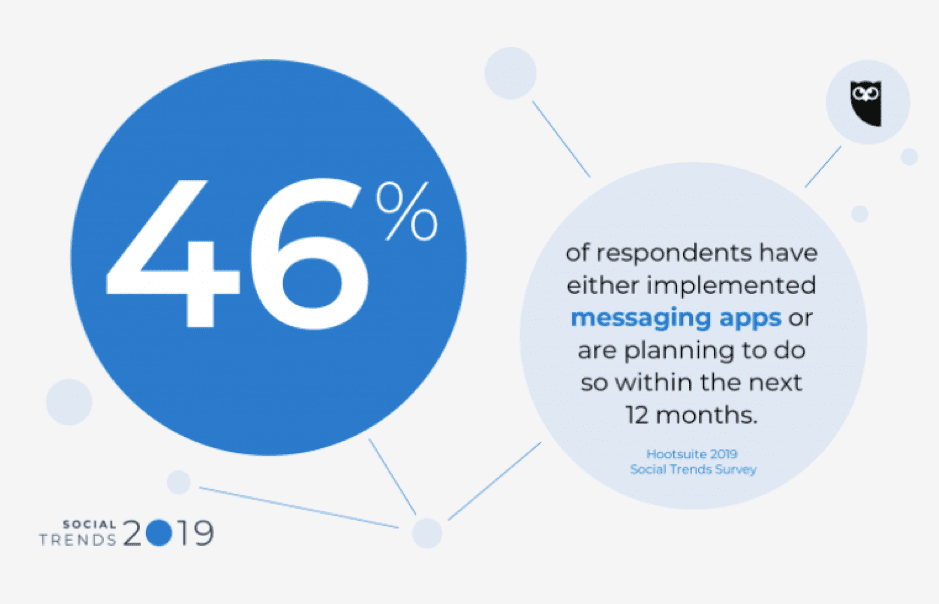 Messaging better offers one on one experiences
Almost half (46%) of marketers have either implemented messaging apps into their social media strategy or are intending to do so within the next year. When you consider the fact that the biggest messaging apps – including Facebook Messenger, WhatsApp and Skype – have almost five billion monthly users combined, it's surprising that more brands aren't making the most of the opportunity they offer.
Consumers are now heading to messaging services on social media in order to contact customer service and have issues resolved or questions answered. This means that you are easily able to move queries or complaints into a private space, which can be incredibly beneficial.
Create conversations that are more than advertising
Many brands are also using messenger services to send offers and discounts to follows, opening up a new advertising avenue. However, the very nature of messaging services means that however you use them, your style needs to be conversational and not salesy in order to create the best experience for customers.
In order to make the most of messaging services, look at which ones are likely to be used most by your audience. Create a tone of voice for responses that matches the rest of your brand's communications. This should be used for automatic replies, as well as personalized responses.
If you see a lot of communication via messaging apps, it could be worth investing in AI to respond to them. Although messaging bots aren't going to offer the same experience as a real person, they can reduce response time, improve customer satisfaction and deal with issues that are relatively simple.
Final thoughts
While Hootsuite's research shows a number of varied trends to be important this year, they all highlight the need for a social media marketing strategy. Knowing what tools and methods you're going to use in the year ahead, as well as how they are going to be implemented and maintained will ensure you get the best results.
However, planning isn't the only thing you do. It's also vital to create a strategy that can evolve and react to your data. After all, there is no point in continuing with a messenger advertisement campaign if you aren't getting the results.
Look at how you report on your social media and regularly review your activity to get a better idea of what worked, what didn't and where there are opportunities.
Join To Our Newsletter
You are welcome