Creating a solid seasonal SEO strategy is key to leveraging the peak buying period to its full potential.
Seasonality can make or break an online business.
Failure to get your business ready for the holiday season may result in lost customers, bad reputation and loss in online visibility.
Creating a solid seasonal SEO strategy is key to leveraging the peak buying period to its full potential.
Here's how seasonality works in digital marketing and what you should do to optimize your site for the upcoming holiday season:
What is seasonality and why SEOs should care
Seasonality refers to regular and predictable trends recurring every calendar year. Different industries may be impacted by different seasonal trends but it is hard to find a business that would not be affected by the biggest holiday season out there, i.e. Christmas and New Year.
In most cases, this annual holiday season will result in a big or moderate spike in traffic and sales. There are industries though (SaaS, real estate, etc.) that may see a slower period. In either of these cases, ignoring the season means missing out on an opportunity to leverage or mitigate the effects.
In this article, I will focus on those businesses that expect to see an increase in clicks and hopefully sales. Here's what should be done to prepare your site for the high season and leverage the interest peak to generate more traffic and conversions.
When and how to start preparing for the big holiday season
So when to start thinking about Christmas marketing? The answer may be "it depends" but there's a tool that can help you identify the start of the big season in your particular industry.
Google Trends is a free tool that monitors trends based on the popularity of the specified search queries in Google Search across various regions and languages. You can limit your report to a specific country (or location) to better target your audience. Here I am looking at a three-year trend for [Christmas] in the United States.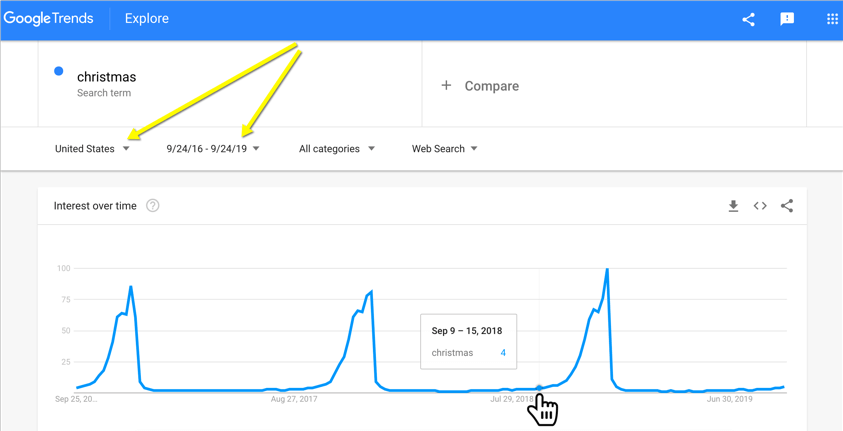 It looks like the interest in Christmas starts picking up around the middle of September in this country.
But again, all industries are not created equal. Depending on what you are selling or how you are planning to leverage the season to increase your sales, you may want to keep playing with the tool.
For example, it looks like people start actively searching for 'gifts' in the second half of October, so you may want to hold on your gift-focused campaign until then.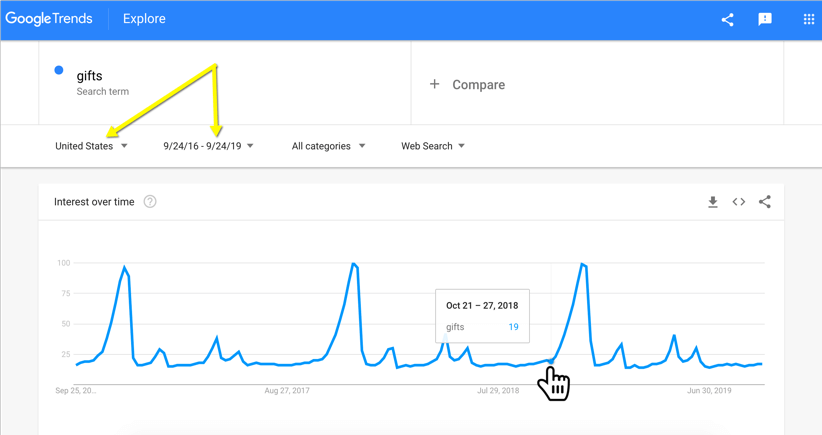 There's an obvious trend of almost last-minute vacation planning for the big holiday season as people start searching for 'vacations' on December 16-17th every year. It may be a smart idea to prepare your content and SEO strategy for that too, especially if you are in a traveling industry.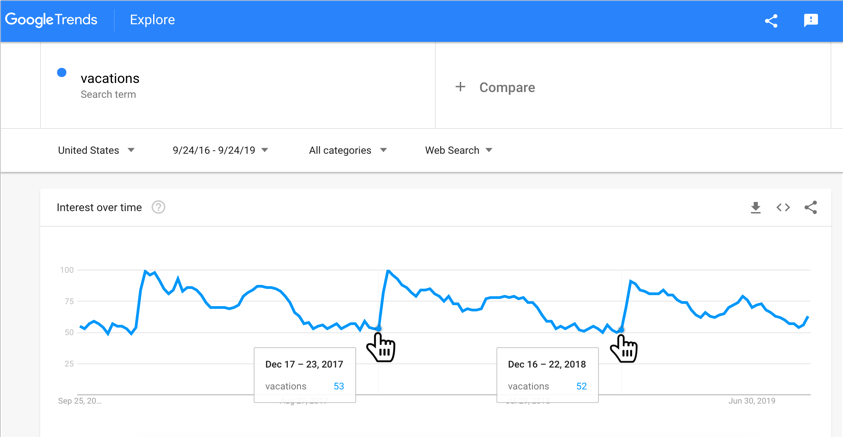 Use Google Trends every time you are brainstorming a new seasonal content marketing campaign.
Creating the seasonal SEO strategy: How to prepare your site for the high season
So now that we know when the big season is actually coming, how to get prepared? Well, there is a lot to be done here.
1. Bring your seasonal products and offers forward
You know your target audience and your best-selling products best: look into your previous years' data and identify what you are going to use to lure consumers with.
Here's what you may want to feature on your site home page:
Products that sell well during the season.
Product bundles to help product discovery (e.g. "Gifts for cat lovers").
Special offers that would be different for new and return customers.
The good news is, you can re-use the same strategy every year, with slight modifications based on your past experience. You can even automate the process.
Finteza is a web analytics platform that allows scheduling on-site advertising campaigns months and years ahead, so you can create your marketing plan far ahead of the time. To set up a Christmas campaign using Finteza:
Create an account and add Finteza's tracking code to your site.
Identify your "ad zones" (this is where your special offers and popular products will appear).
Create a new campaign and specify the time frame for it to run.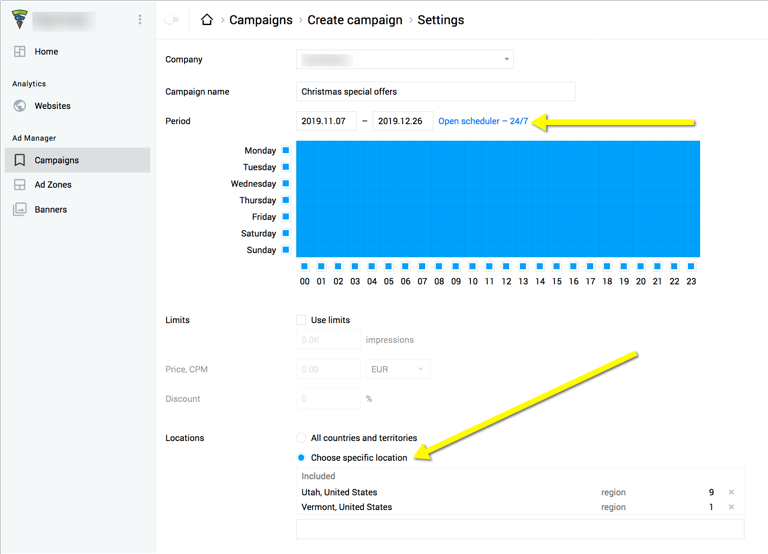 Going forward, you will also be able to use Finteza's retargeting option to re-engage your past customers depending on how they previously engaged with your site or which products they previously bought.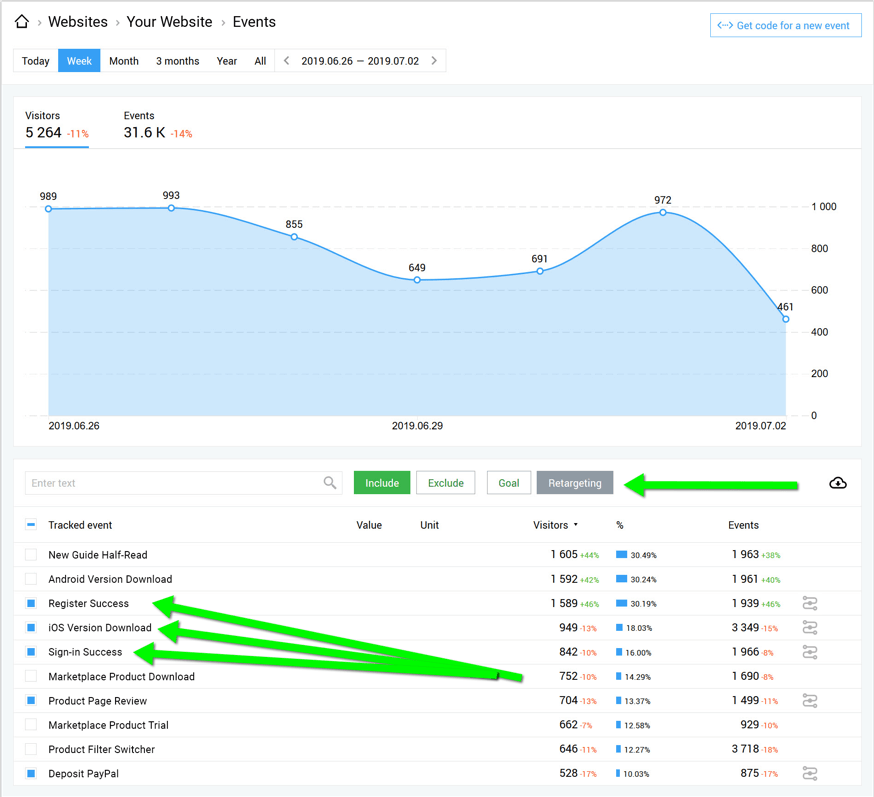 Use Finteza to schedule on-site seasonal campaigns far ahead of the time. Finteza will showcase your seasonal offers and products and even personalize the ads based on your customers' past interactions with your site.
2. Plan out your seasonal content strategy
Seasonal content is the most effective way to attract natural backlinks and organic social media shares (which both bring traffic and conversions instantly as well as higher authority in the long run).
Seasonal content also brings more sales, provided it meets the following criteria:
It caters to the seasonal needs (e.g. gift ideas, holiday planning, festive dinner cooking, etc.) To identify those, you may want to look at your competitors, survey your customers and ask for ideas from your sales and customer support teams.
It should complement the products you are selling. In other words, your content should bring up problems your product or service is solving. Again, both your customer support and sales teams are the best source of ideas here. Creating customer-centric content is key to seasonal SEO and marketing.
Ideally, it should rank. This is what brings real exposure and sales, year after year. This is where you resort to good old keyword research to identify ranking opportunities for a seasonal content piece.
Each seasonal content asset can combine any number of various formats:
Articles: Any text content for your blog or knowledge center (lists, in-depth guides, etc.).
Content assets: Whitepapers, ebooks, infographics, videos, etc.
Collaborative content: e.g. expert interviews with influencers.
Don't forget that you may need a lot of "promo support" content created to market a contest, a giveaway, a newsletter, etc. So plan to allocate some time and budget for those tasks too.
For each seasonal content campaign, use Google Trends to identify:
The date when you start researching the topic.
(For collaborative assets) The date when you start reaching out to contributing influencers or subject matter experts.
The date when you edit, design and beautify.
The date when you publish.
The time frame when the promotion will be running.
Obviously, you cannot plan everything. You will need to develop a flexible content marketing strategy that will allow you to quickly create content when you need it. In seasonal marketing, timing is everything! I use Narrato, which helps build up my own tip of remote writers. This improves turnaround and helps productivity.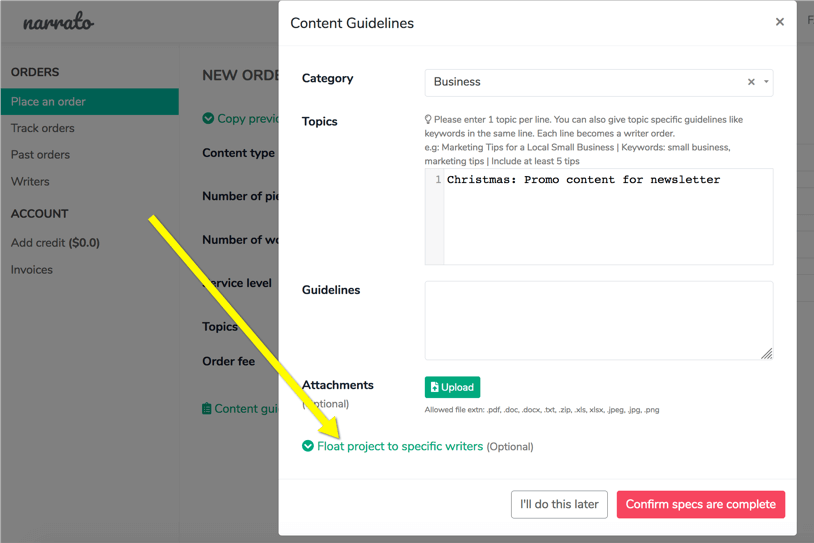 Seasonal marketing requires flexibility and quick turnarounds. Use tools and platforms that let you create seasonal content, as you need it.
3. Create your social media marketing strategy
"Bring and they will come" hardly ever works. Whenever you develop seasonal content, you need a strong social media campaign to bring it forward.
A solid seasonal social media strategy includes:
Effective cross-team collaboration: Your social media team should work with your sales and customer support teams as well as with your content writers. This way they will know what is being actively promoted, which questions customers ask and which content assets are coming up for promotion.
Keyword and hashtag research for those updates to be organically discoverable.
Solid asset library allowing your team to diversify their updates and formats to reach maximum exposure.
Using social media editorial tools like ContentCal will help you put all of your marketing efforts together to keep them better organized. ContentCal allows for effective collaboration and cross-channel marketing features making your social media promotion efforts much easier to scale.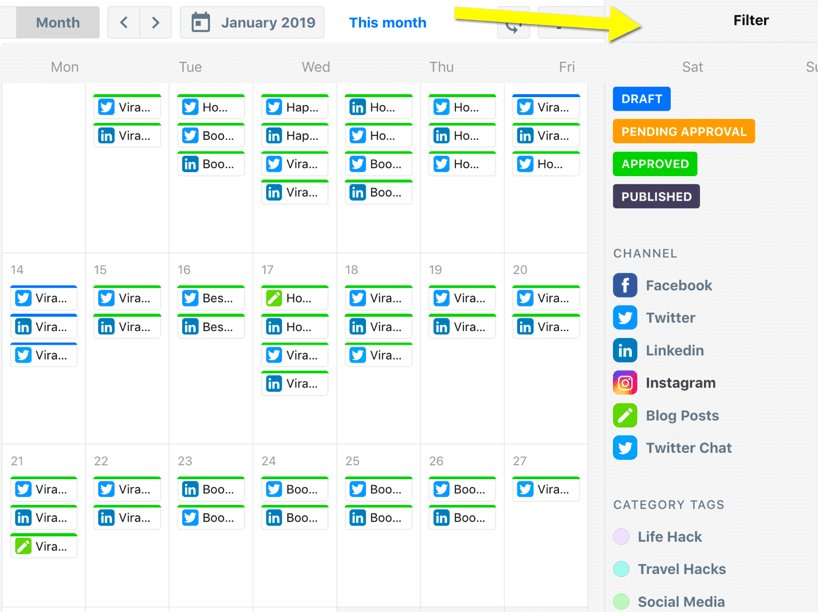 Use the social media editorial calendar platform to let a lot of departments to access and contribute to your social media marketing campaigns.
4. Make sure your site will perform consistently and reliably
During the holiday shopping season last year over 20 retailers, including J. Crew, Lowe's, and Walmart, experienced website significant site outages or delays resulting in angry shoppers and millions in lost revenue.
Yottaa offers a nice checklist for preparing your site for the holidays:
Confirm your holiday website team staffing hours (especially your customer support, reputation management and development teams).
Establish an "Emergency Plan" for possible site performance issues
Load test web pages to handle the spike in traffic.
Avoid adding any new functionality to your site until the season is over.
Optimize and stabilize your site performance as well as use this detailed guide on enhancing your site performance.
It is also a smart idea to alert your reputation management team of the need to actively monitor your brand mentions and establish their efficient communication with the development team. If any customer is complaining of anything not working, your social media team should promptly address the issue and notify the development team.
Remember: An angry customer can become your brand advocate if your business representative quickly responds to the public complaint. Tools like Awario will help your team collect, prioritize and delegate brand mentions that need other departments' attention: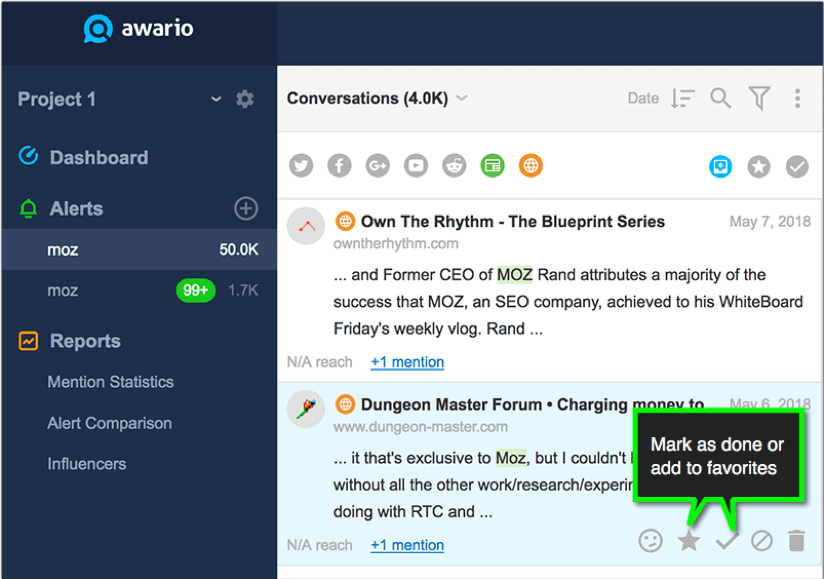 Make sure your social media marketing team is ready for the Christmas season. They need to handle complaints quickly and know how to move tasks forward to the development or customer support teams for them to fix issues.
What happens then? What to do with seasonal content when the season is over?
This is a very common question. So what happens to all that seasonal content and all those seasonal landing pages after the season is over?
The answer is simpler than many marketers want to believe: In most cases, you don't have to do anything. The interest in those search queries may have declined (or vanished), but the rankings are there and you may want to keep them till the next season is upon us.
The only page that may really need to change is your home page. All those special offers and product bundles may not make any sense anymore. However, if you are using Finteza, all the creatives will disappear automatically based on your schedule. So nothing is to be done there either.
Another aspect to keep an eye on is outdated content. Staying on top of expired efforts and properly handling sold-out product pages is essential as outdated pages and can take away potential conversions.
Seasonal services expire and seasonal products sell out bringing in landing pages that offer no further action to those who happened to land there. In these cases, make sure to:
Clearly state the service/product will be available again next year.
Show the list of related products that are still available.
Do keep expired pages live (if you expect to sell these products next Christmas). This will help retain rankings.
Final thoughts
Seasonal SEO may tough and overwhelming but the good news is, it will get easier year after year. You will be able to re-use many of your seasonal offers and campaigns, update much of your content to bring it up back into the readers' feeds, and make use of previous years' sales patterns and experience.
Join To Our Newsletter
You are welcome