ICYMI: Now that Snapchat has a new Insights feature, will it help calm down the miffed Snapchat Influencers?
With it's recent layout change, Snapchat has been on the receiving end of some major flack from its users. There now seems to be noticeable divide between the average snapchat user and snapchat influencers, with 2 distinct pages, which led to Snapchat being accused of 'forgetting it's consumer'. However, that's a debate for another time!
Snapchat's relationship with its users, particularly influencers, has been quite complicated. Especially, with competitive social media platforms being one step ahead of the game at all times, snapchat has found itself being far behind in the competition. Although, some would say that snapchat has its own set of loyal user base, which is unlikely to shake, even under competition. And some can say, Instagram is quickly catching up with Snapchat's unique features and might replace the app completely.
A key criticism that Snapchat has faced is the lack of support to the influencers using this platform. To be more specific, from a marketing perspective, Snapchat has lacked the holy grail of influencer marketing – insight and analytics. While all it's rival social platforms have had the insight tools for a while now, Snapchat has only just joined this race and introduced its new insights tool, called 'Insights'.
What Is Snapchat Insights?
This analytics tool provides botha  measure of views and demographic information, utilizing the user's Snapchat profile.
Have a look at what's covered in the Insights Guide by Snapchat:
Views
Story Views: Total number of Story views* by all Snapchatters since January 1, 2018. 'Week' tracks Story views over the last 7 days, while 'Month' tracks views over the last 28 days.

Time Spent Viewing: Total time Snapchatters have spent viewing your Story since January 1, 2018. 'Week' tracks Story view time over the last 7 days, while 'Month' tracks view time over the last 28 days.
Reach
Reach: How many unique Snapchatters have viewed your Story each day.

Average View Time: How long each unique Snapchatter viewed your Story each day, on average.

Story View Percentage: How many of the available Snaps in your Story were viewed in a single session, on average, each day.

Popular Regions: The top three regions where your viewers are located, and the percentage of your audience in each region.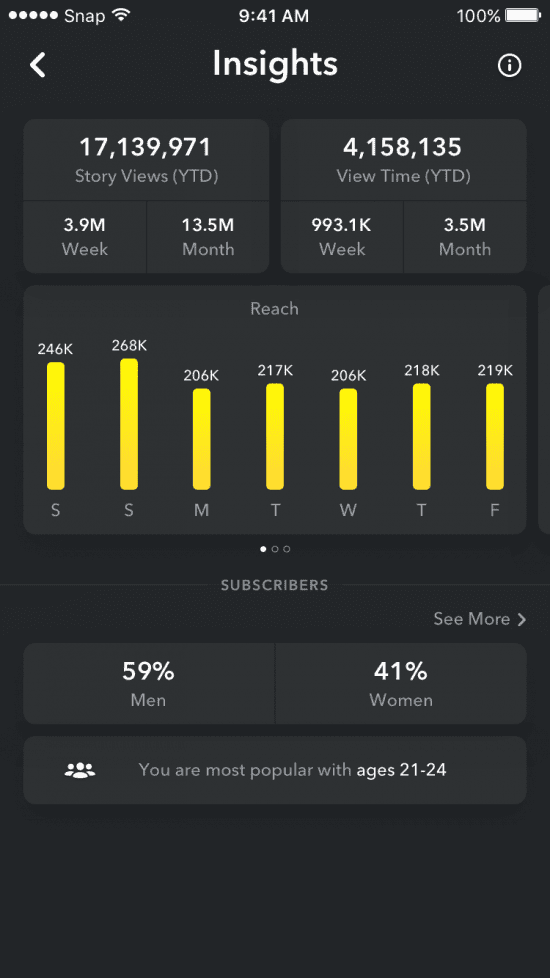 While these features closely resemble Instagram Insights tool, snapchat has taken the feature  a step further and provided audience lifestyle insights. Influencers and companies can now look at at the lifestyle of their Snapchat audience, which will be sorted by '100+ different categories based on user's interest in politics, music, and more!' This list will include four Lifestyle Categories of your viewers, based on how they compare to the average on Snapchat.
Making effective use of this tool, Snapchat influencers and business that use this medium to engage with their audience can finally have some, if not enough, analytics to help inform their social media strategy.  
Join To Our Newsletter
You are welcome