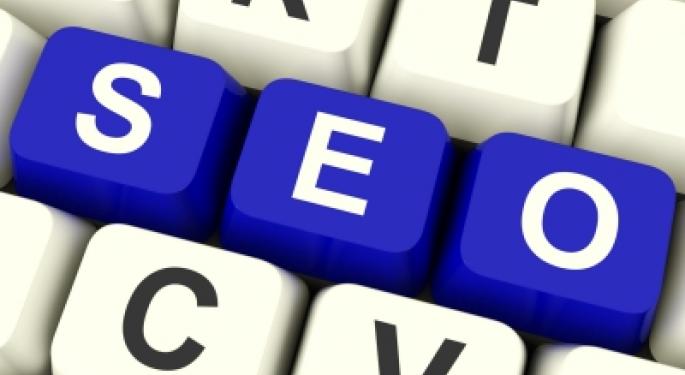 There's a lot of value in knowing what the general public consensus is on something, especially when it comes to investing.
Thankfully, there's a trove of data available to get this information. Sites like TipRanks aggregate professional analyst ratings, while sites like LikeFolio and TipRanks sift through social media sentiment.
But there's another key information source that can go a long way in measuring how people feel about something: SEO.
SEO, or Search Engine Optimization, can reveal how often people are searching on Google and other search engines for different terms, companies, or products. When it comes to stock, this can give us some insight into which companies are hot, which are not, and how easy it is to find online.
The stock research platform FinanceBoards has a few widgets that capture this information as it relates to specific companies. In particular, the Website SEO History Widget can provide a contemporary glimpse at the value of a company's online presence based on its use of popular search terms or trends through data provided by SEMrush.
As an example, take a look at the widget's summary of Tesla Motors Inc's (NASDAQ: TSLA) SEO performance for the past 10 days.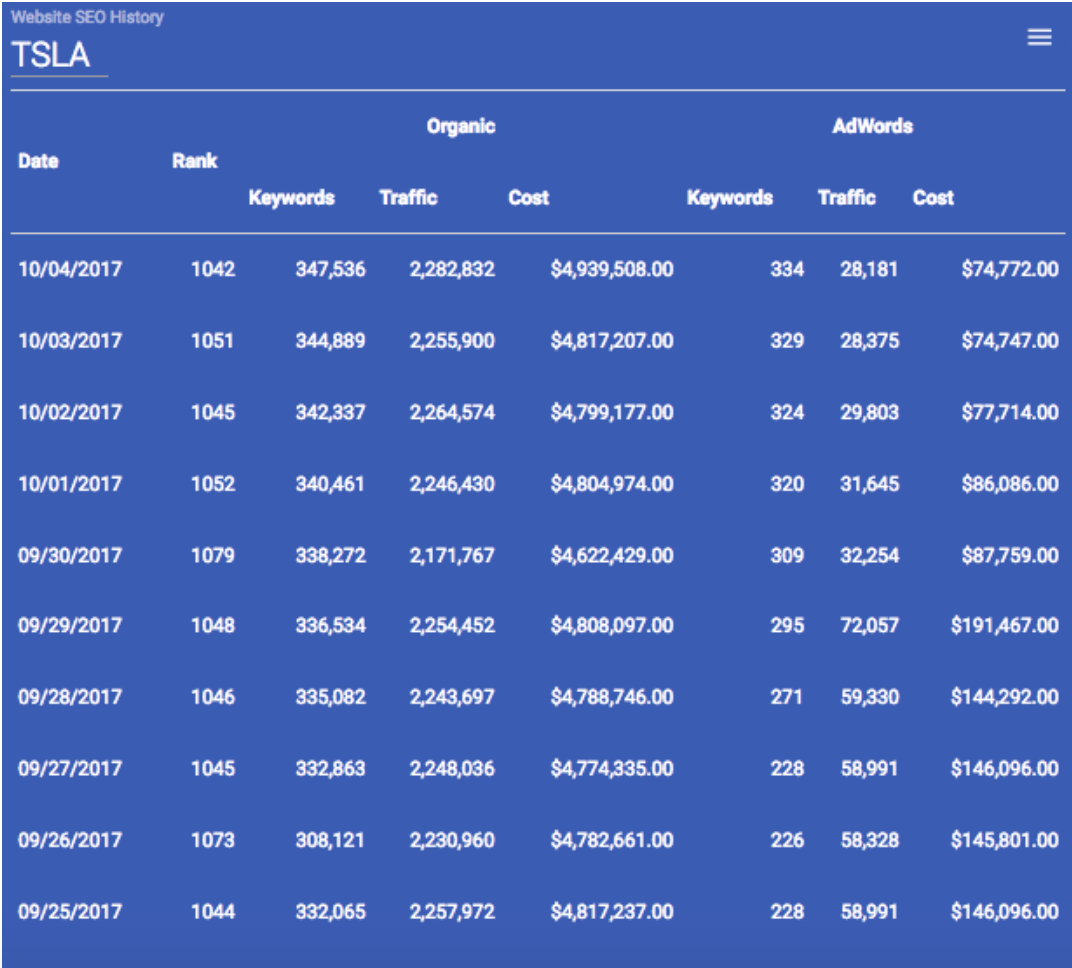 From left to right you can see the date the figures were pulled from followed by the company's SEO rank on SEMrush (the higher the rank, the better). After that, the information is split between results based on organic search traffic the company generates, and traffic that it builds through advertising through Google AdWords.
Each category contains first the number of relevant keywords that appear on the site or in advertising (like "Model 3" or "electric car"), estimates the traffic those words generate based on search trends and, from that, approximates the value of that website's SEO.
In the case of Tesla, you can see a gradual rise in relevant keywords over the past 10 days, although estimated organic and AdWords traffic remained mostly flat (or even declined). However, the value of those keywords for organic traffic actually increased. This might signal an increased search interest in general terms like "electric cars", "automobiles" or other overall sustained frequency in Tesla-specific terms.
Traders can also gain longer-term perspective on SEO data through FinanceBoards' Organic and AdWords SEO Trends Chart widgets. The charts below show estimated traffic (red bars) and SEO cost (blue line) over a two-month period,

These trends along a wider timeframe can help provide a baseline for a company's online equity and reveal wider search interest within a particular sector or industry. It can also help pinpoint moments of heightened online interest or when a company is keying up their online advertising, which could hint at company news or a product announcement.
The fluidity and scope of this information can provide a lot of different signals, reinforcing the value that nontraditional data on platforms like this can provide for investors. As a company's online presence grows, the value of this search engine attention will continue to grow for both businesses and traders; and finding it through platforms like this will continue to be helpful.
FinanceBoards is an editorial partner of Benzinga. 
Image: SEOplanter, flickr
Posted-In: FinanceBoards Search Engine Optimization SEO WooTraderNews Markets Trading Ideas General Best of Benzinga