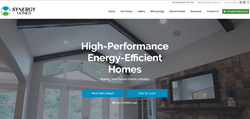 The redesign positions the home builder's online presence for long-term and sustainable business growth.

WEST PALM BEACH, Fla. (PRWEB)
March 11, 2019
THAT Agency, an award-winning West Palm Beach web design firm, has redesigned the website of model and custom home builder Synergy Homes. The website redesign kicks off an exciting new phase in an ongoing partnership between the two companies.
THAT Agency has been managing Synergy Homes' website and digital marketing for more than a year. During that time, Synergy Homes has gained significant market share – realizing sizable increases in total website traffic (+120.42%), organic search traffic (+74.97%) and total social media engagements (+73%) – to become a well-known energy-efficient home builder in West Palm Beach and Port St. Lucie, Florida.
To take the home builder's digital presence to the next level, THAT Agency proposed a redesign of the Synergy Homes website. THAT Agency President Bill Teubner explained, "The goals of the website redesign were to better express the visual appeal of the builder's South Florida homes, to showcase online content in a more accessible way, to increase onsite website engagement statistics and to improve the overall website user experience."
To meet those goals, the team at THAT Agency created a clean, responsive, mobile friendly website design that reinforces the home builder's own aesthetic. The website design features colorful drop-down menus that activate upon hovering to make navigation user friendly — ensuring ease in accessibility while taking visitors to important web pages within the site in three clicks or fewer.
In addition, the website home page includes an interactive video walk-through that shines a spotlight on the home builder's signature architectural details while Synergy Homes' featured listings and energy-efficient floor plans are presented with full-color photography and lush imagery to provide visitors with a visually rich user experience.
Throughout the new website there are prominent calls to action to encourage each visitor to call or submit an online sales inquiry as well as to schedule a model home walk-through. These calls to action are a website design best practice proven to increase onsite engagement.
Yet another best practice employed in the redesign of the Synergy Homes website is search engine optimization (SEO). According to Sarah Harper, Project Manager for THAT Agency, "To help maximize the website's search engine visibility, the site's content includes carefully researched and targeted keywords and fully optimized meta descriptions."
The new site is also easy to maintain. Built on WordPress, the world's most popular content management system, Synergy Homes' new website provides site administrators with quick and easy access to add new content and make edits as needed. This practical feature allows for continuous improvement of the website in alignment with a growth-driven website design approach, positioning the home builder's online presence for long-term and sustainable business growth.
About THAT Agency
Proudly serving U.S. businesses of all sizes – from startups to Fortune 500 companies, THAT Agency is a full-service digital marketing company located in West Palm Beach, Florida. In addition to designing and developing new websites, THAT Agency creates and executes next-level digital marketing strategies for search engine marketing, social media marketing, email marketing, inbound marketing and more. For additional information or to submit a request for proposal (RFP), visit thatagency.com or call 561.832.6262.
About Synergy Homes
Synergy Homes proudly serves custom and model home buyers in Port St. Lucie and West Palm Beach, Florida by building high-performance, energy-efficient houses that deliver exceptional value, cumulative cost savings, undeniable comfort and – most importantly – the sense of home. A certified Energy Rater inspects every Synergy-built home, and each Gold and Platinum Series home assessment is backed by a commitment to a year of free energy bills. For more details, visit synergyhomesfl.com, call 561.249.6510 (West Palm Beach) or call 772.210.7970 (Port St. Lucie).
Share article on social media or email:
Join To Our Newsletter
You are welcome