86% of consumers are willing to pay more for a better customer experience, so exactly how do you go about offering them one?
Did you know that customer experience (CX) is surpassing price and product as the major brand differentiator?
For many consumers, customer service and customer experience are seen as one in the same. However, customer service and experience differ just a bit. Service is a single touchpoint with a brand, while experience impacts all of the feelings and emotions associated with a brand.
86% of buyers are willing to pay more for better customer experience.
It was also recently found in a study by the Temkin Group that billion dollar a year companies who invest in customer experience will earn at least $700 million within three years.
Delivering an outstanding CX at every stage of the buyer's journey is the key to meeting fast-evolving customer expectations, as well as acquiring and retaining more customers.
What is customer experience?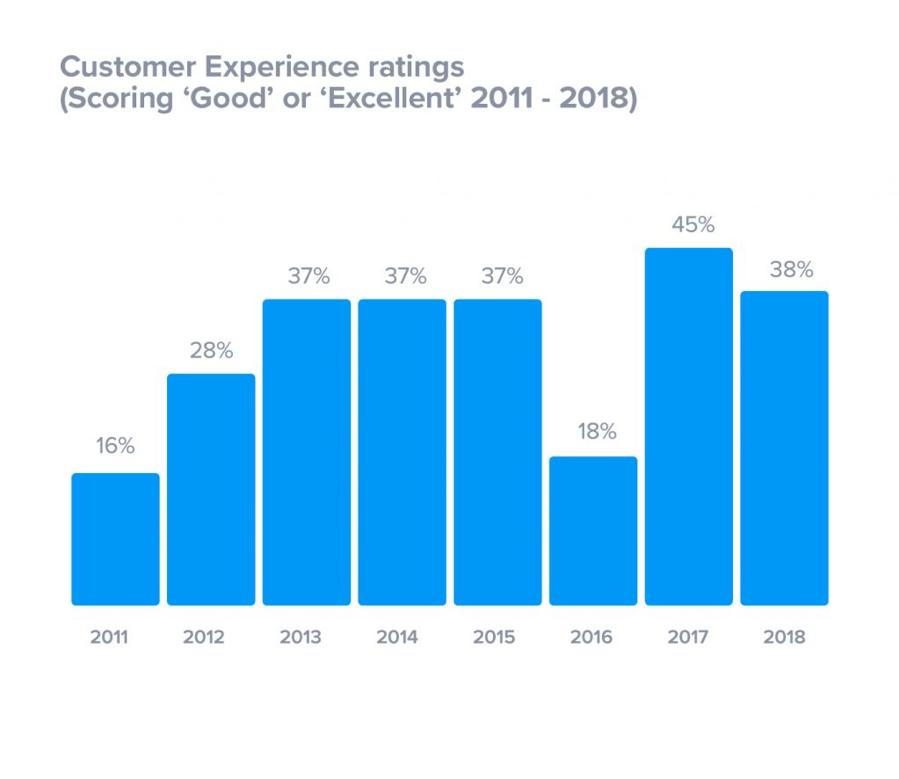 Customer experience is the impression your customers have of your brand along the entire customer journey. It is formed by the customers' interactions with your company across multiple touchpoints, which occur via various platforms and on a cross-functional basis. Interactions can include awareness of your company, discovery, cultivation, purchases, advocacy, and service.
CX is an indispensable component of Customer Relations Management (CRM), which is a business strategy used to improve profitability, reduce overhead and costs, and increase customer loyalty.
It is such a vital component because a customer who experiences a positive encounter with a business is likely to become a repeat customer with brand loyalty to a company in the future.
CX is determined by both people and products. While providing a high-quality product or service is essential, how your teams (e.g., customer care, sales) interact with customers plays an important role in shaping the purchasing experience.
Why is customer experience important?
A business simply cannot exist without its customers. This is why successful brands are actively managing customer experience to increase customer retention, customer satisfaction, as well as cross-selling and upselling. Here is why you should improve your CX:
76% of customers expect companies to understand their needs.
64% of buyers consider CX more important than price.
A survey by Bloomberg Businessweek found that a top strategic objective among companies has become "delivering great customer service".
75% of customer service leaders and management executives graded customer service as a five of importance on a scale of one to five.
Only 8% of customers truly believe they are receiving the best customer experience.
$1.6 trillion is lost every year by US businesses as a result of poor customer experience.
Delivering an outstanding CX is now the key to boosting sales, customer lifetime value, and profits.
How to deliver a great customer experience
Customer expectations are rising when it comes to interactions with businesses faster than companies can actually improve their customer experiences. Customers expect that every dealing they have with every business will be better than the last. This can seem daunting, but there are ways to improve and make strides in your current CX program.
When delivering an amazing CX, you need to understand your target market, provide the proper training to your team, and implement the right technologies. Here's how to:
Create a clear customer experience vision
Have a clear, customer-focused vision that can be easily communicated with your organization. To achieve this vision, your company should communicate a few key elements that will define your vision to your customers. These elements include:
A few guiding principles that will ultimately define your vision as to who you are and the base you wish to serve as an organization.
What values are embedded into your company culture?
How these values embraced by the company culture and how they shape how your company does business.
Create emotional bonds with your customers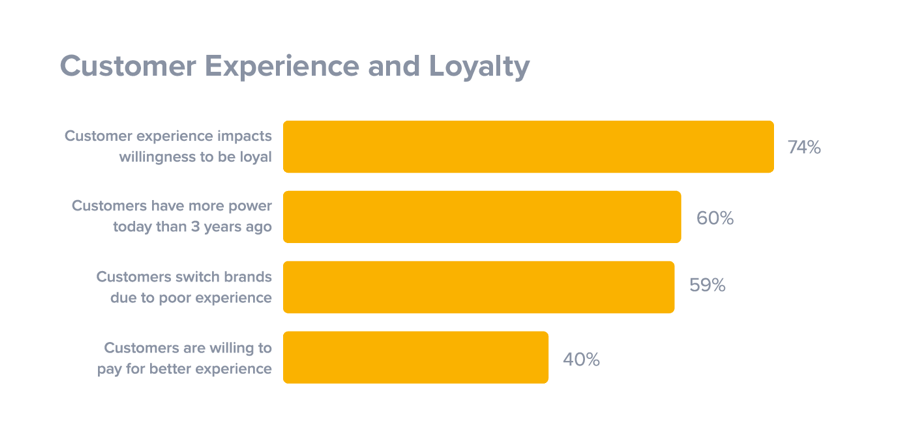 The best customer experiences occur when an emotional connection is forged between the customer and the business they are interacting with.
It is vital that organizations take the time to connect with their base for a multitude of reasons, including
50% of customers say that emotions shape their experience when it comes to dealing with an organization.
Studies have shown that businesses that make emotional connection a priority outperform their competition by as much as 85%.
Customers who feel emotionally connected with a company are three times more likely to repurchase an item with a company than with one they do not feel that bond with.
44% of customers said that they would be less likely to shop around for better prices if they felt an emotional connection with an organization.
Improve customer communication
Customer service isn't just about solving issues. It's also an opportunity to communicate and build relationships with prospects and customers. While resolving support tickets as quickly as possible is important, don't overlook the way your team interacts with your customers.
In a recent survey, 50% of respondents said that companies should provide "more human service." This highlights the importance of customer communications, which you can improve by:
Managing all customer communications on one centralized platform so information on all interactions is updated in real-time to eliminate delays and errors in customer service.
Ensuring prospects and customers can reach your team through a variety of channels, including phone, email, web form, live chat, social media, messaging apps, etc.
Using AI-powered chatbot technology to provide immediate responses to routine inquires and direct customers to the right agent for assistance.
Monitoring call center performance with an agent scorecard to measure key metrics that indicate the level of customer satisfaction.
Deliver a personalized experience
Consumers expect a personalized experience in all stages of the customer journey. In fact, 63% of consumers are annoyed by generic marketing messages.
It's important that you treat each customer as an individual and not a number in your system. Thankfully, with the help of the latest marketing technologies, businesses can deliver a personalized experience at scale cost-efficiently:
Use data from your CRM system to segment your subscriber list so you can send the most relevant content and offers based on each prospect's or customer's interaction with your brand.
Leverage customer data and analytics to anticipate customers' needs, offer personalized product recommendations and communicate with them proactively.
Implement a centralized customer data management platform to ensure that all customer information is updated in real-time and reflected across all touchpoints for a single customer view.
Anticipate customer needs
While some customers will get in touch when they encounter a problem, others simply leave your business altogether. Therefore, it is important to be proactive and stay one step ahead of your customers:
Gather feedback (e.g., survey, one-to-one conversation) and keep tabs on customer sentiment (e.g., social listening) so you can remedy issues before they further impact the experience of more customers.
Use analytics to understand customers' preferences and behaviors (e.g., how they interact with your website, what products are the most popular) so you can anticipate their needs and deliver an experience that meets their expectations.
Leverage AI-driven technologies (e.g., predictive analytics, machine learning) to analyze consumer data so you can anticipate customer demands and stay ahead of market trends.
Conclusion
Whether you're selling B2B or B2C, delivering outstanding customer experience is no longer an option if you want to attract and retain more customers.
A great CX can also help improve customer loyalty, which is the key to increasing customer lifetime value and boosting your bottom line. Happy customers are more likely to tell others about your business.  Always remember that word-of-mouth marketing is one the most cost-effective way to promote your business.
Join To Our Newsletter
You are welcome