New London — The City Council is considering a boost to the mayor's pay and at least one city councilor thinks the position is worth nearly twice as much as the current $86,000 salary.
Councilor Efrain Dominguez on Monday called for an annual salary of $165,000 for the city's next mayor, saying the pay raise is warranted to help keep the position attractive and competitive and so that the city's chief executive officer is not making less than nearly every department head in the city, which he is now.
"We need to elevate it in a way that's respectful and honorable," Dominguez said.
Any raise approved by the City Council would apply to the next elected mayor.
Dominguez's request at Monday's council meeting was for a figure beyond what some other councilors said they felt comfortable with and was a marked increase from the $135,000 salary first pitched by Council President Pro Tempore Don Venditto.
Venditto's motion on the pay raise, seconded by Councilor Alma Nartatez, seemed to gain some traction among other councilors though the discussion was ultimately deferred to a later date and moved to the council's Finance Committee.
Venditto said the pay bump was needed.
"Just the physical and mental challenges of running a city like this is an incredibly demanding job. It's a 24-7 job. It's a thankless job. In my mind it deserves a significant amount of money north of $85,000," Venditto said.
Mayor Michael Passero had left the council chambers during Monday's discussion.
Councilor John Satti said he was uncomfortable with a vote, especially considering it was the first public discussion of the pay raise and would have left out any opinions from the public.
Satti also said that considering mayors' salaries in places Bridgeport, New Haven or Hartford was not a fair comparison to a city like New London, with 27,000 people.
The council has looked at the salaries in the 18 other municipalities across the state where there are similar elected mayor positions. The list shows Montville's mayor to be the lowest paid at $80,000 and Hartford's the highest at $167,634, according to figures provided by the Connecticut Council of Municipalities.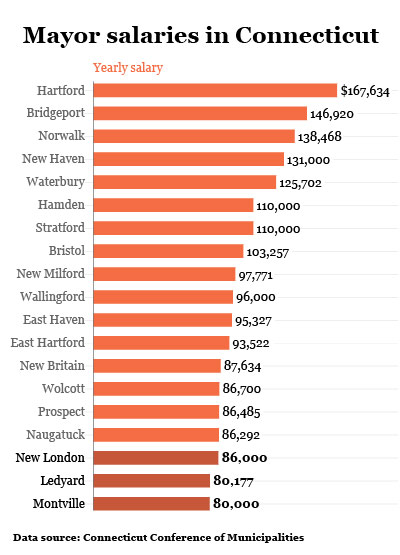 New London ranked the third-lowest on the list of salaries for 19 mayors, ahead of Montville and Ledyard.
"Personally, I think our mayor is one of the hardest working people. Everywhere I go I see him," Satti said. "But I don't think this should be done in a one-shot deal."
"I would like to hear from the constituents of this community, especially the ones who are screaming bloody murder because taxes are rising at such an astronomical rate under the strong mayor form of government," Satti said.
The city voted to switched from a government run by town manager to an elected mayor in 2011 and elected Daryl Justin Finizio to that position. The salary has not changed since his election.
Councilor Martin Olsen said the $135,000 figure under consideration seemed "random," and said it was a subject worth more analysis and perhaps tied to performance.
Venditto said he hoped for a vote by the full council in the very near future and that more delays could limit interest in talented people running for the position.
Join To Our Newsletter
You are welcome