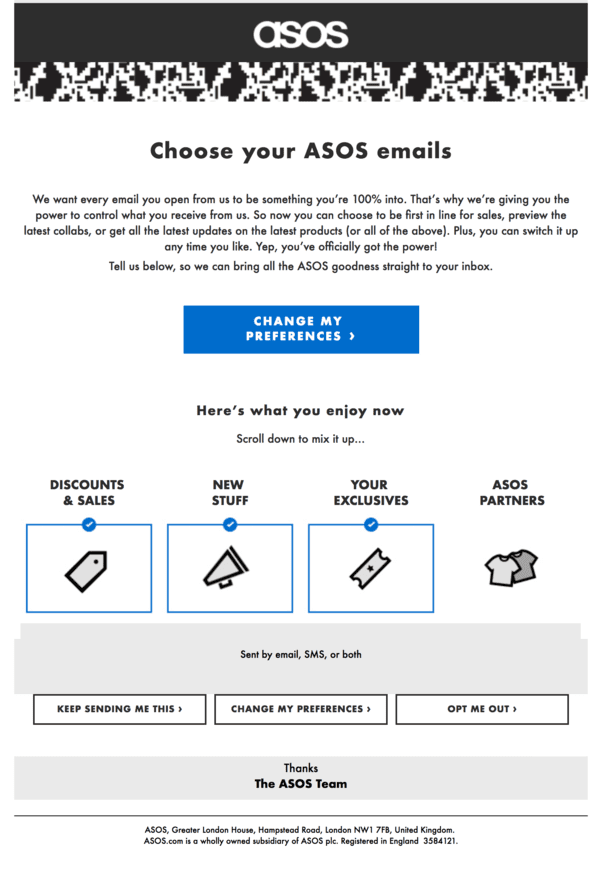 The importance of customer retention post GDPR
6 months on from the GDPR deadline… have you started to prioritize retention? 
For many marketers, 2018 will be remembered as the year of the GDPR.
Despite the long lead up time, plenty of businesses found themselves scrambling to get their house in order ahead of the 25th May deadline.
Consumer inboxes were flooded with re-permission campaigns from brands seeking to retain their marketing lists. And when the dust had settled, many marketers found themselves faced with smaller lists.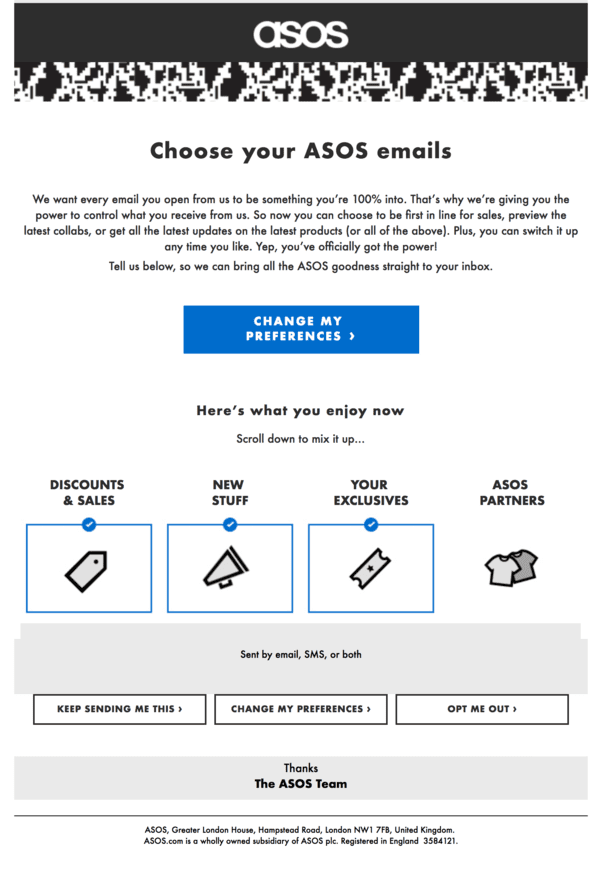 But the threat of mass unsubscription didn't end after 25th May 2018 passed – it just started.
The new rules mean customers now have an ongoing 'right to erasure'. They can access their details at any time and wave goodbye. And this means you're going to have to put more effort into customer retention from now on.
In the following blog post, we take a look at the importance of customer retention post-GDPR. We'll tell you why retention is paramount and what businesses can do to keep remaining subscribers engaged.
GDPR has raised the stakes on customer retention
In the months following GDPR, a lot of marketing focus shifted towards customer acquisition as brands tried to rebuild marketing databases were depleted from re-permission campaigns that flopped. But there's no quick fix for list growth.
Lead generation isn't just a switch that can be turned on. And there are now potentially fewer options available to marketers and extra hoops to jump through to gain GDPR-compliant consent.
What's more, acquiring new customers is estimated to be 25 times more expensive than retaining them. Post-GDPR this gulf in costs is only likely to widen.
Good customer retention strategies are needed to offset the increased costs of growing marketing lists.
Marketers need more from less
Beyond topping lists up, marketers also need to ensure they were getting results today. For brands that are reliant on email as a consistent source of revenue, smaller lists might have proved disastrous. Email needs to work harder than ever and brands will need a higher return on investment from a smaller number of subscribers.
The good news is that it's possible – after all, the subscribers you retained post GDPR are likely to be your most engaged customers. They're the people who offer you the biggest potential customer lifetime value (CLTV) so you can't afford to let them slip away.
Subscribers hold the power
Subscribers now know their worth. They saw the fuss about GDPR and the flurry of re-permission emails and realize their data is a sought-after resource. Consumers are only prepared to give the brands who benefit them continued access to their data.
But with a well-executed customer retention strategy, you can plug the holes GDPR has left in your database. For those wanting to know more here a few pointers on what businesses can do to retain more customers post GDPR.
1. Make long-term measurement a priority
If you're still judging the success of your marketing on a campaign-by-campaign basis then it's time to move on and look at customer engagement instead. If you don't you'll undervalue the investment in a good customer lifecycle strategy that nurtures your relationship with them.
Make sure your team is measuring your marketing efforts using metrics like CLTV so you can keep one eye firmly on the future.
2. Stop customers slipping away sooner
Make sure you've got a lapsed customer campaign in place. These are campaigns that react when someone starts to lose engagement with your brand. They might have stopped opening or clicking your marketing emails. They might not have visited your website or made a purchase in a while.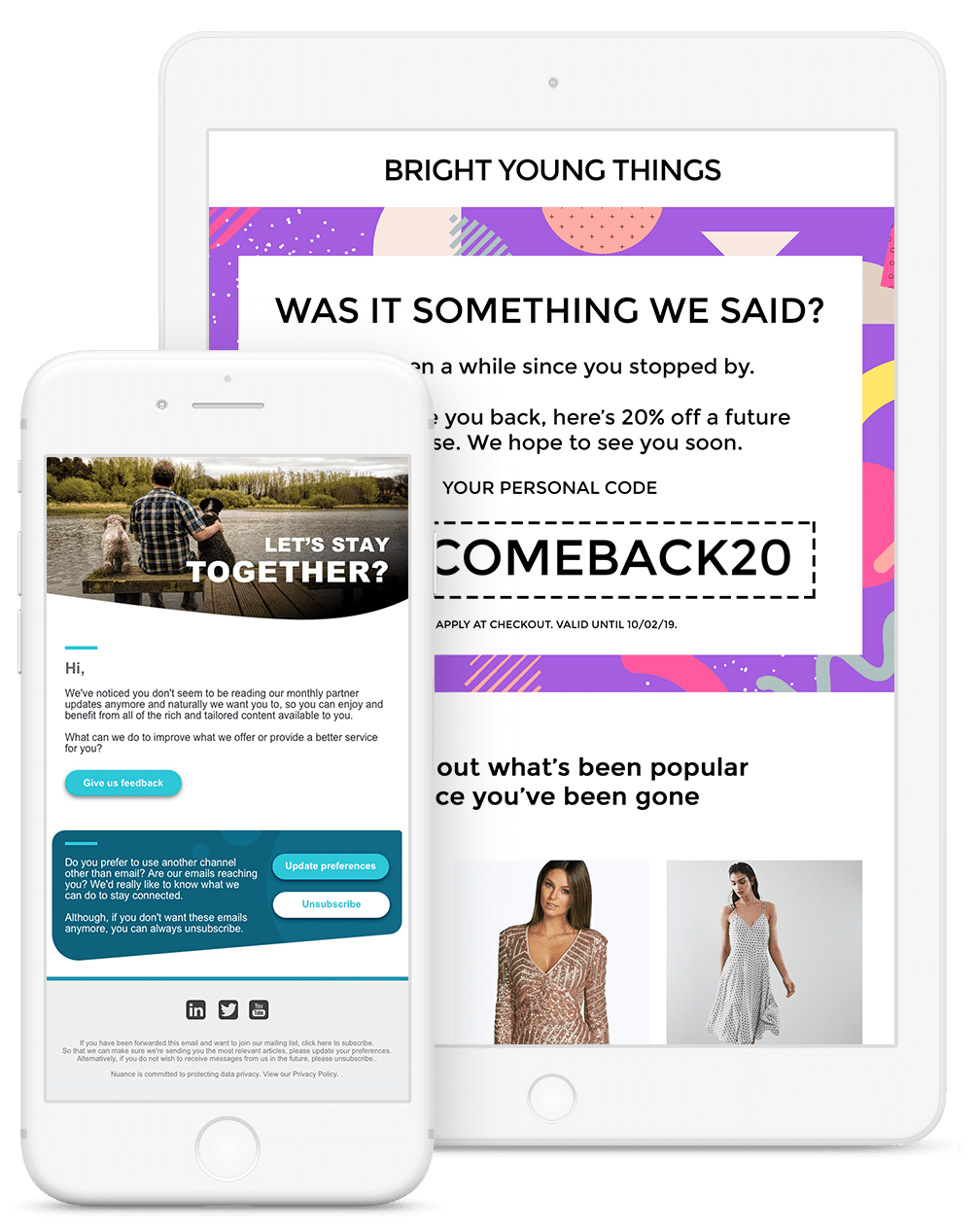 These campaigns can be triggered in real-time which ensure you're always ready to act at the earliest signs of lost engagement.
That said, a single re-engagement email right at the end is not enough – you need a whole series of reactivation emails that begin at the earliest sign of slipping away.
3. Reward longer-term loyalty
It's not just good manners to show your customers some appreciation – it's good business sense. A well-designed rewards program can accelerate the loyalty lifecycle but to benefit the most make sure your rewards program continually nurtures longer-term loyalty. Stay away from regularly offering short-term promotions and instead look at how you can get them to their fourth, sixth or even tenth purchase!
 4. Give people choice
In the spirit of GDPR, it's important to give people choice. A preference center can be a great way of doing this. You can capture information on what emails they want to receive so you can keep on their good side. They can also decide to reduce the frequency of your emails rather than unsubscribing completely. The risk of not giving them choice simply isn't worth it – you'll just end up losing them altogether.
Don't forget to invest in good design. A well-designed preference can actually help reduce unsubscribe rates, as well as offering opportunities to expose customers to other types of communications available to them. 
Make it easier to stay
To keep customers coming back you're going to have to maximize convenience.
You're going to need to give them what they want even before they know it themselves. You'll need to deliver personalized recommendations based on their interests and actions.
It's all about getting personal and proactive. Personalization technology can help you do this by predicting what they're likely to want next based on previous interactions or how customers with similar profiles behave.
6. Keep it relevant
Batch and blast campaigns or one-size-fits-all emails aren't just lazy – they're bad for business! If a subscriber is receiving irrelevant marketing from you then they'll just unsubscribe. You need to keep them engaged by delivering a personalized one-to-one dialogue. Segmentation and personalization is key to keeping messages relevant and timely.
One-to-one marketing means more than just personalizing using someone's first name. Our own research backs this up. Just 8% of consumers are likely to engage with marketing that addresses them by name. But almost half of consumers are likely to engage with retailers that send relevant offers.
Takeaway
It's clear to see that the smart money is on customer retention post GDPR. After all, it's the only way you're going to meet those steep sales targets with fewer people on your database.
So the secret of succeeding in a post GDPR world is retaining your most valuable customers. With the right strategies and technology, it's easy to turn customer retention into your biggest growth opportunity.
If you'd like to learn more, check out Pure360 and the DMA's report on Consumer Trust and Loyalty in 2018.
We surveyed thousands of consumers about their attitudes and behaviors towards brand loyalty in the wake of GDPR. Get your copy of the report.
Kristian Bannister is a Senior Marketing Manager at Pure360. Kristian draws from over 10 years marketing experience and regularly writes about customer experience and marketing technology. You can follow him on Twitter or connect on LinkedIn.