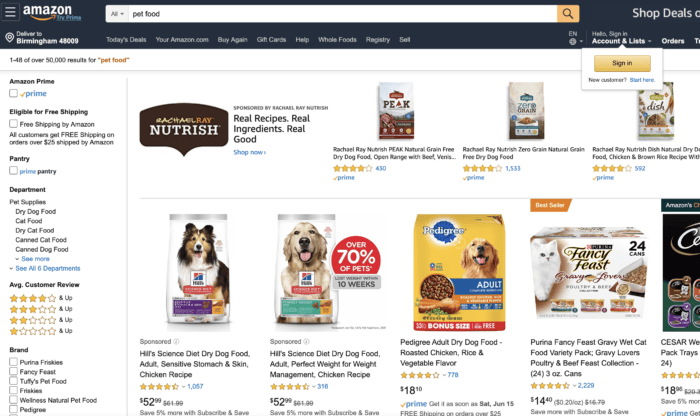 The little-known Amazon advertising strategy that's changing the industry
As more advertisers zoom in on Amazon, the competition for consumer attention will only get stiffer but there is a strategy that can help
Amazon's 2018 Q4 report should pique brand marketers' interest: The e-retail giant reported $10 billion in ad sales in 2018. Even more interesting? The ad sales in Q4 reached a lofty $3.4 billion. Clearly, this is only the beginning of the Amazon advertising gold rush.
As more advertisers zoom in on Amazon, the competition for consumer attention will only get stiffer, resulting in a higher cost per click (CPC), fewer opportunities to get in front of consumers, and more expensive campaigns. So how do brand marketers stand out in the oncoming wave?
Search term isolation is the little-known strategy that's changing the way brands advertise on Amazon.
By using search term isolation, brands can lower their advertising cost of scale (ACoS) while still growing sales. Focusing on this strategy will eliminate bidding on non-converting search terms and increase bidding on converting search terms. When you control exactly what shows up for a given search, you can make sure to show the best-converting products in your catalog, which will help you grow.
The basics of search term isolation for advertisers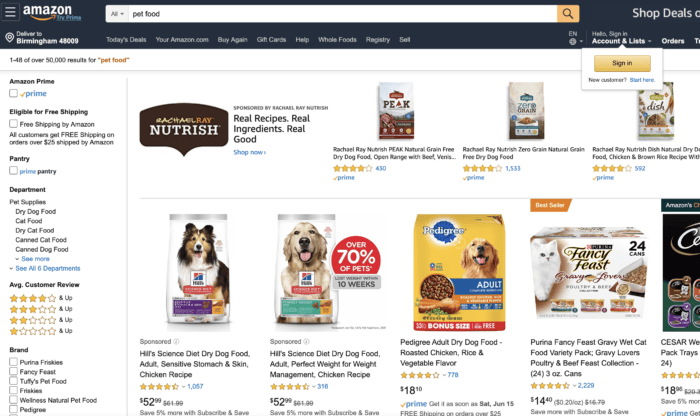 First, know that there's a big difference between a keyword and a search term on Amazon. A keyword is selected by the advertiser as a word or phrase to target. Realistically, a keyword is a bucket of search terms, which are the actual text entered by the customer when searching on Amazon. Customers will see your ad based on how closely your keywords match the search terms they use.
For example, let's say a brand creates an ad campaign targeting the broad or phrase match keyword "dog food." That ad could show up for customer search terms such as "dog food for big dogs" or "small dog pet food." The problem for advertisers is that you can only set one CPC bid per keyword.
So using the example above, let's say the targeted product was only made for small dogs. If you wanted to bid on search terms related to small dogs, you'd have to bid on millions of other search terms related to the keyword bucket you set originally: dog food.
That's the issue: if you bid on broad or phrase match keywords, you are likely showing up for irrelevant search terms, which wastes spend. But if you do not bid on these keywords, you will not find new ones that convert and increase your sales.
In September, Blue Wheel Media launched Crafts 4 All with the search term isolation strategy. Auto, research, and performance campaigns (more on these later) were created for all products. These campaigns researched and harvested new keywords while managing bids in real time to ensure ACoS stayed low. Within a few weeks, daily sales had more than doubled from before we launched, and ACoS remained well below the target.
We achieved this by grouping products in the correct campaigns and matching them to the most relevant group of search terms. This intricate process gives us the ability to control specifically which products will show up for certain searches, allowing us to improve conversion rates. We launched these new campaigns in September, and by March, we had the highest sales month ever: a 547% increase from when we started.
How to best optimize search terms through isolation methods
Now that you have a basic understanding of search term isolation and how it can lead to success, let's take a closer look at how this approach works.

First, you create one auto campaign and two manual campaigns for each product group. In one manual campaign, you bid only on broad or phrase match keywords — we'll call this our "research campaign" because it ultimately researches for search terms that drive sales. In the other manual campaign, you'll bid only on exact match keywords that have made a sale for you — we call this our "performance campaign."
In mid-January 2019, Blue Wheel Media launched new search term isolation campaigns for a brand. It had been having trouble growing its ad sales for several months. In the six months before employing the tactics above, its advertising revenue stayed relatively steady. After completing a free audit with one of our Amazon experts, the brand learned of several missed opportunities that were keeping it from growing.
Every product in the brand's large catalogue was added to an auto, research, and performance campaign. These campaigns researched new search terms, added them to campaigns as keywords and managed bids to meet ACoS targets without hindering sales.
By constantly refining keywords and campaigns, aggressively negating non-performers, isolating plural variants, and splitting branded and specialized campaigns, we could control what product showed up for a given search, which kept conversion rates up. To push the best campaigns even further, we implemented dynamic bidding on core keywords to increase sales.
When a search term from the auto or research campaigns made a sale, we pulled it out and added it to the performance campaign as an exact match keyword. At the same time, we negated it from our auto and research campaigns, essentially isolating that search term. This ensured the next time this search was made, the performance campaign would pick it up at the desired bid and make the sale.
With search term isolation, the brand's advertising revenue increased by 62% in just three months. Advertising revenue, along with overall revenue, is setting new records as a result of this strategy. Total sales for the company's secondary brand increased by approximately 152% in three months.
Final thoughts
Isolated search terms allow you to manage the bid on a specific search term rather than an entire bucket of search terms that are related to a keyword. This is the only way advertisers on Amazon can scale while truly managing ACoS and profitability.
Every penny of your marketing budget counts, and isolating search terms will help you make sure you're spending those valuable dollars wisely. Plus, if you find a way to isolate search terms automatically with technology, you'll really have the magic formula to scale. This is the future of Amazon advertising.