Chart of the Day: Social network popularity based on share of social media minutes
You will have noticed that Facebook isn't getting the best press at the moment with the latest lack of data privacy revelations… This is on top of the latest statistics showing that Facebook usage is declining in younger audiences according to eMarketer. This raises the question for marketers that if Facebook is declining in popularity in younger age groups, are there other social networks that warrant more attention?
The latest insight from the comScore panel in their 2018 Global Digital Future in Focus comparing the overall popularity of social networks by share of time (for December 2017), suggests the options.
Most popular social networks based on share of minutes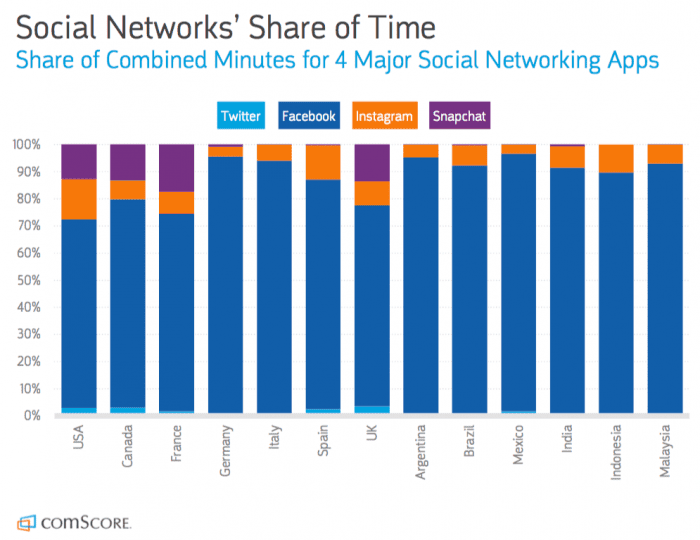 You can see this is a sea of Facebook blue, so this shows that despite the negative media hype about Facebook it is going to remain a major audience channel for some time.
In the UK you can see that Instagram accounts for around 10% of social media minutes, so if you are not already exploiting the latest Instagram ad techniques, then it's worth looking into these, see our digital media cheatsheet for more details. You will likely know that since Facebook purchased Instagram, the ad offering is now closely integrated meaning that you easily use the ad manager to see the reach and clicks you can potentially get from using relatively new features like ads that run in Instagram Stories. You can also use similar Custom audience, retargeting and Lookalike advertising techniques to boost reach that are available in Facebook.
Moving away from Facebook and still considering the younger audience, our social share of time charts shows that perhaps, surprisingly, Snapchat accounts for more minutes than Instagram. This perhaps isn't surprising if you know any tweens and how much time they spend on Snapchat. eMarketer tells us that Snapchat won't be far behind, with 21.1% of the population or 14 million people logged into Snapchat at least once per month in 2017. As with Instagram, Snapchat has enjoyed strong growth—it almost doubled its user base between 2015 and 2016, and saw a further increase of 20.2% in 2017.
Join To Our Newsletter
You are welcome