A rapidly changing data ecosystem…
As virtual reality, IoT, social media, artificial intelligence,
machine learning, and other advances have grown over the last five
years, applications have changed and become more diverse. This in
turn has had a profound impact on bandwidth consumption and has
made planning much more complicated, with applications now
consuming bandwidth in a dynamic and highly unpredictable manner.
As the servers that deliver these various applications continue to
multiply, they have become more powerful and have higher bandwidth
connectivity, requiring data center networks to provide more
bandwidth.
…drives transformation of traditional network
architectures
This new requirement for applications delivered on demand,
coupled with the introduction of multi-tenant server technologies
(VMs and software containers) and DC orchestration software, has
prompted an unprecedented transformation of data center networks to
make them as automated as possible for provisioning and dynamic
tuning of performance. Traditional networking methods to provide
users with a quality experience, such as statically assigned
priorities (QoS), are no longer effective. The network must be able
to recognize individual application traffic flows and adjust
priority to match the dynamic nature of application traffic in a
resource-constrained world.
…and the advent of software-defined networking
(SDN)
The demand for automated and more efficient data center networks
sets the stage for software-defined networking in the data center,
which is where SDN had its initial success. At the same time, the
data center network was evolving to allow efficient east-west
traffic flows, creating a data center fabric. SDN control had two
architectures: centralized and distributed. The distributed control
architecture for SDN offered higher reliability, and, as it turns
out, was well-suited for the next phase of data center SDN.
Edge computing and 5G on the horizon…
As the market continues to progress to 2020, the consolidation
phase for data centers is giving way to a renewed movement to
distribute compute where needed, enabled by the development of
applications that use software containers and micro-services. In
effect, compute is becoming natively multi-site, crossing the
physical boundaries of individual data center sites and requiring
SDN control across this physical boundary. Looking out to the
horizon, compute will be located closer to the user with the
rollout of 5G networks, meeting the needs of low-latency
applications with additional evolutions of the network to support
computing across hundreds or even thousands of locations.
…means growing SDN deployments
Respondents to the latest Data Center SDN Strategies
Survey from IHS Markit indicated their top SDN DC use cases
revolved around automating the data center network, which matches
our expectation that SDN will be applied for automated provisioning
and deployment of applications distributed across multiple sites.
As SDN matured in 2018 deployments, respondents expected a rapid
increase in production trials in 2019, then a surge in live
production from 2019 to 2020.
As seen in the latest Data Center SDN Network Equipment
Tracker by IHS Markit, the momentum behind live deployments
(in-use SDN) of SDN in the data center is expected to drive $11
billion in Ethernet switching revenue by calendar year 2022, with a
CAGR of 27%. This is up from $2 billion in the first half of 2018,
growing 12% from $1.9 billion in the second half of 2017.
Factors driving our forecast include:
SDN network virtualization overlays (NVOs) become important
technology for multi-cloud connectivity as enterprises deploy
hybrid clouds and then expand them to include multiple CSPs.
Telco deployment of SDN and NFV ramped in 2018 with deployment
of mini data centers in central offices; this continues into 2019
and beyond.
Use cases for SDN expand past automation to include disaster
recovery, security, and business continuity.
Deployment of switches with programmable silicon allowing
protocol modifications continues to ramp into 2019.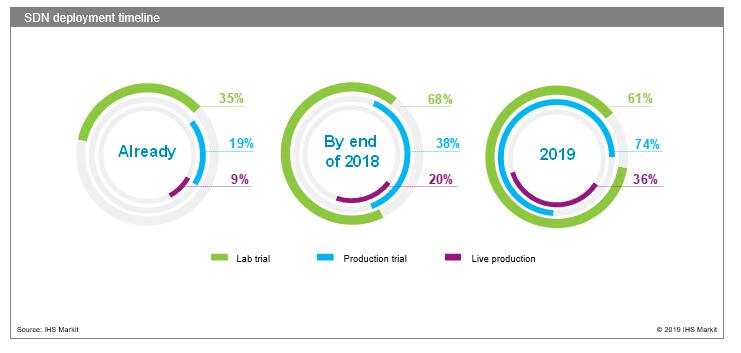 Moving forward, we believe many Tier 2 cloud SPs, communication
SPs, and enterprises will look to open networking for automating
their multi-site data center networks in the near term and will
expect to leverage the same open networking software stack as they
move compute to the edge.
Learn more
For an in-depth discovery of the world of SDN, including current
and future innovations, view our recent webinar,
Automating multi-site data center networks with SDN open
networking, led by myself and sponsor Pluribus Networks.
In this webinar, we dive into best practices, real-world use cases,
common obstacles, and innovative solutions for what lies ahead.
Cliff Grossner, Ph.D., is executive research
director and technology fellow in the Cloud and Data Center
research service at IHS Markit
Posted 10 June 2019
Join To Our Newsletter
You are welcome