The Secret Service can no longer afford to pay the hundreds of agents tasked with protecting the Trumps, who have traveled so frequently in the president's first seven months and live so far apart that they've left the agency stretched desperately thin.
According to USA Today, more than 1,000 agents have already reached their federally mandated caps on salary and overtime, and without a lifeline from Congress, many won't get paid for hours of work they've already done, Secret Service director Randolph "Tex" Alles said.
"The president has a large family, and our responsibility is required in law," Alles told USA Today. "I can't change that. I have no flexibility."
Trump is already on track to spend more on travel in a year than President Obama did in eight, with a huge swath of that cost coming from the security detail required to protect him and his family. Since the inauguration, the president has taken seven trips to Mar-a-Lago (which cost an estimated $1 million to $3 million a pop) and five to his golf club in New Jersey, where the Secret Service has already spent $60,000 on golf cart rentals alone. It probably doesn't help that Trump's tweets have apparently brought on a "tidal wave of threats," keeping the overworked agents on constant high-alert.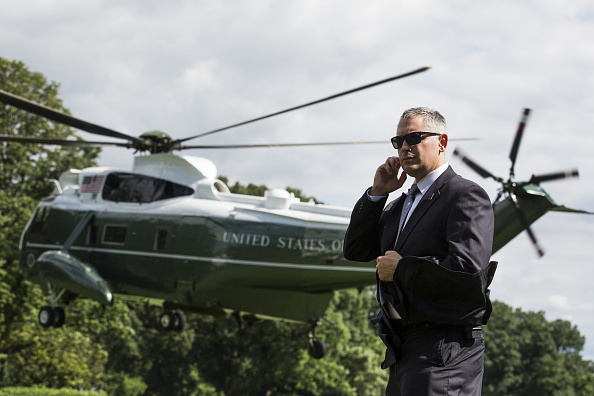 Photo by Zach Gibson/Bloomberg via Getty Images
But it's Trump's sprawling family that's really putting a strain on the agency. A total of 42 people—including his kids, their spouses, and his grandkids—require protection, and many live up and down the East Coast. Don Jr. and Eric, who run the Trump Organization, have dragged agents to Uruguay, the UK, the Dominican Republic, Vancouver, and Dubai on business, while Ivanka, Jared Kushner, and Tiffany Trump have brought them along on various vacations across the US and Europe.
The White House's Office of Management and Budget turned down the agency's request for $60 million in extra funding in March, and—while Alles is looking to hire more agents—500 have already quit since being hired last year because the job is just too difficult, USA Today reports. Meanwhile, those sticking it out have to face the reality of working overtime on one of the world's most dangerous jobs without actually getting paid for it.
Now Alles is looking to up his agents' combined salary and overtime cap for the duration of Trump's first term, and hopes to add 800 to the Service by 2019 with a little help from Congress, according to USA Today. High-ranking members of the House Oversight Committee on both sides of the aisle have rallied behind Alles, and promised to work on a bipartisan deal to keep Secret Service agents paid.
"We have them working all night long; we're sending them on the road all of the time," Alles told USA Today. "There are no quick fixes, but over the long term, I've got to give them a better [work-life] balance here."
Update 8/21: The headline of this post has been updated. The original stated that the Trump family had bankrupted the Secret Service. We regret the error.
Follow Drew Schwartz on Twitter.
Join To Our Newsletter
You are welcome