UTM tag don'ts
What are UTM tags?
UTM tags are parameters you can add to links that point to your website that send extra information to Google Analytics. Perhaps you've clicked on a link from a newsletter and saw all bunch of weird stuff in the URL.

These things are UTM tags. And people use them to track their marketing efforts so that they can analyze that effort in Google Analytics.
Why should you use UTM tags?
Google Analytics recognizes a lot of traffic and places traffic in buckets. If you explore the source/medium report, you can see how Google Analytics sees this traffic and where it ends up. If you're wondering how Google Analytics sees traffic from Facebook or your newsletter, grab your mobile phone, make sure you're on 2G/3G/4G/5G and visit Facebook or your newsletter and click on a link that points to your website. At the same time, check your Real-Time traffic sources report and see if you show up there and how you show up. If you see that Google Analytics recognizes you as direct / none, then Google Analytics doesn't know where you came from.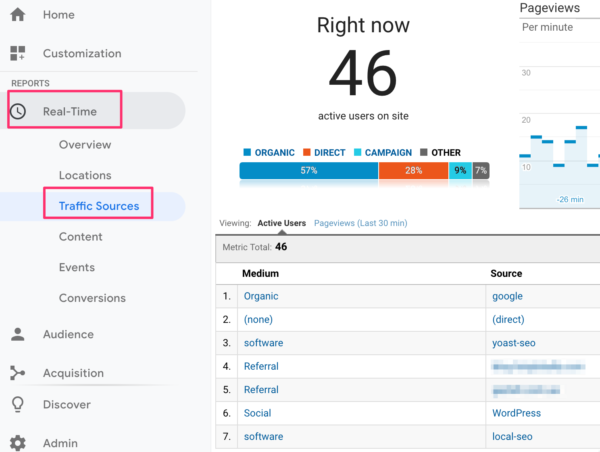 Let's say you have a lovely newsletter. Its content is awesome, there are links to your site. There are upsell buttons, images that link to your site. You've got the whole shebang! You've put a lot of effort into these emails because you've heard that they can really help your business. And you'd like to see if you get any traffic from your newsletters, if your readers buy anything, and you'd like to see which types of content they find interesting and what not. So you go to the place that can help you with these types of questions: Google Analytics! And you're searching and searching, but you can't find anything. You know why you can't find them? The links in your emails weren't tagged and all that traffic ended up in a bucket called direct / none.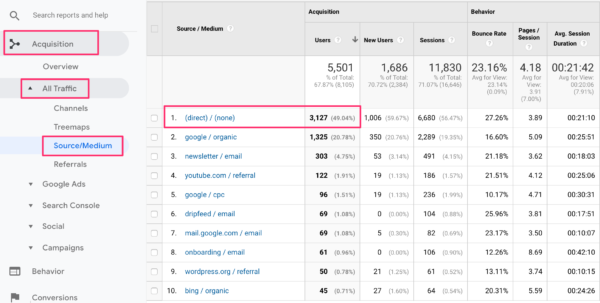 That's where UTM tags come in. With UTM tags you add extra information about what types of things your audience clicked on from sources that don't automatically add this type of information. All those items like image clicks, button clicks in your newsletter can be tracked by using UTM tags.
If you don't tag your emails, your PDF's and your social efforts, you have no way of knowing what to optimize. Or how to optimize. You wouldn't have a clue on what works for your business and what doesn't work.
What UTM tags are there?
You can use 5 UTM parameters to define your traffic more precisely. Let's go over them one by one.
utm_medium
utm_source
utm_campaign
utm_term
utm_content
Medium
Open up the Medium report in Google Analytics and see what comes up. Google Analytics recognizes certain mediums by itself, like: organic, referral, cpc. It can recognize email but this doesn't have to mean it can recognize traffic from your email campaigns. Google support defines medium as: "The advertising or marketing medium". For me medium is an umbrella term, it's a general bucket where a lot of things can belong to.
Source
Source is a bit more specific, you can see what I mean when you just look at the Source report in Google Analytics. Here you'll see types of search engines, websites that are referrers, social media platforms and so on. Google support defines source as: "Identify the advertiser, site, publication, etc. that is sending traffic to your property". It all comes together when you look at the source/medium report. Here you'll see which source belongs to which medium. The UTM tag Source is mandatory when tagging your links.
Campaign
You're most probably only going to see data in the Campaign report in Google Analytics if you have AdWords campaigns or using UTM tags for campaigns. Google support defines the Campaign tag as: "The individual campaign name, slogan, promo code, etc. for a product".
Term and Content
There isn't a standard report in Google Analytics for the Term tag and the Content tag. It's only possible if you add one of these as a secondary dimension or if you create a custom report. Just like the Campaign tag, you're only seeing data for these two tags if you used that in UTM tags. Google support's definition of the UTM Term tag is: "Identify paid search keywords". That's specifically for AdWords but later on you'll learn that you can use the Term tag for anything you'd like. Google support defines the Content tag as: "Used to differentiate similar content, or links within the same ad".
Channels to use UTM tags for
There are marketing channels where UTM tags come in very handy. Always tag your email marketing efforts. If you use PDFs that people can download or are send to people as an incentive and that PDF contains links to your site, UTM tag those links. That way you can see if people are actually coming to your website using that PDF. And if there are upsells or other conversion goals, like a make an appointment button, you can check in Google Analytics if your PDFs are converting or not. Google Analytics can recognize traffic from Facebook and Twitter and such but you can only analyze that traffic on a source/medium level. And apart from that, you don't know if you've gotten traffic from other people sharing links to your site on a social platform. If you want more information about your social media efforts, use UTM tags.
How to set up a UTM protocol?
This is actually the hard part. You need to think about a constructive, sustainable UTM protocol you can use for your channels which can be scalable. You must think about a strategy that can deal with change because you never know where your business is headed. Important to know is that Medium and Source are related to each other, all other tags don't necessarily have to be related to each other. Each step adds more information to your data. It's a way of classifying your traffic.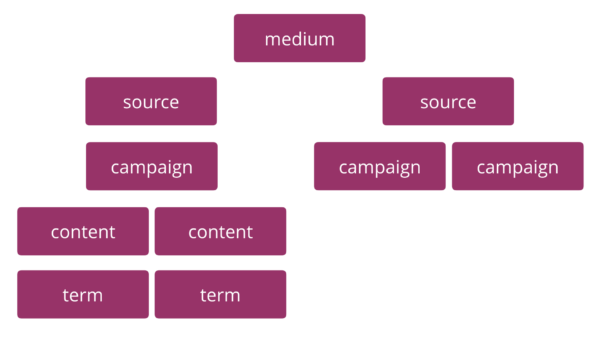 The Medium UTM tag is the most general UTM tag of them all. This is a big bucket of data that is collected by the same medium. And since we're talking about ways that drive traffic to your site, we're going to use an analogy to make things more clear. You can see UTM tags as if it was a way of transportation. A medium can be a car, a plane, a boat and so on. And I can compare mediums to know which type of transportation is working for my website at the moment.
Source is a smaller bucket, but still a pretty large one. The source is related to the medium. If we take the analogy of a car, a source can be the brand of the car. By looking at the source, we know if we can better spend money on trying to get more traffic from brand X or on brand Y.
We're narrowing our data with campaigns. We don't only want to know which brand of car drives more traffic and converts better but also which type of car is most successful. If Yoast was a car brand (that would be awesome), we want to know if Yoast sedans convert better than Yoast SUVs.
And because we can, we send more information about our data to Google Analytics. By adding a content and term UTM tag. We can distinguish purple and green Yoast cars with the content UTM tag. And we can add more information like green gear change Yoast SUVs and compare that to automatic green Yoast SUVs. Gear change information can be send with the UTM term tag. See how much information about one specific type of traffic I can gather just by using UTM tags?
As I hope this example tells you, is that you can use UTM tags to give you more information about your data. The challenge is to think of especially mediums and sources that last. Thinking about on which level you want to see data and compare data can be quite the challenge. What kind of information do you need to improve your marketing further?
Example: medium=email
When I was setting up a UTM protocol for Yoast, I was dying to see some examples I could use for Yoast. But the frustrating thing was that each of the sources I consulted saying different things. And I understand why; it's about what works for you as an analyst and what works for your business. Here's how WE use UTM tagging for our emails.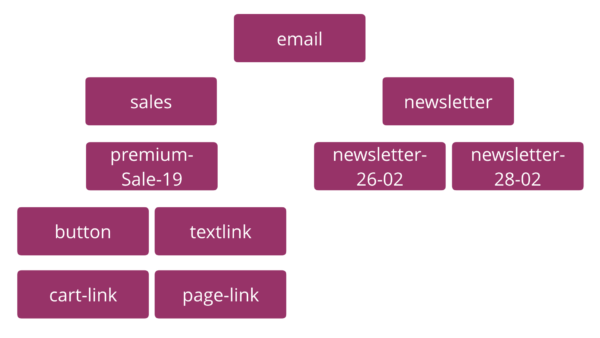 We have different types of email, for instance our standard newsletter that contains our latest updates. And we have Sales emails that we only send to our subscribers when we have a sale. They both belong to the same medium which is email. And I'm using source to distinguish the type of email. For our standard newsletter I use the date on which the newsletter is send on. But if you're more interested in the day of the week or the time you send the newsletter, use that as a campaign. It all depends on what kind of information you'd like to see in Google Analytics. We could also add term and content tags for our regular newsletter but decided we don't need to see more specific data.
For our Sales email we use the name of our sale for the UTM campaign tag. The cool thing is that if you use that campaign tag for everything you're doing to promote your sale, like Facebook posts, you can later on analyze which marketing channel worked best during the sale.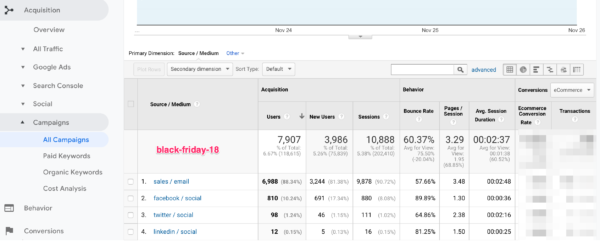 We use the UTM content tag to distinguish buttons from text links so we can figure out if people are more inclined to click on a button or on a text link later on. If you have more than one button, you can use content tags like: button-1, button-2 etc. etc.
We use the UTM term tag to identify the page the link points to. This last one isn't really necessary because you can also tell this by looking at the landing page in combination with the campaign. But of course, you can add other information in the UTM term tag like the color of the button or the category the page of the link belongs to.
But in the end, it's all about what YOU, as an analyst, would like to see in Google Analytics! It's about gathering information about the behavior of your audience, about how to get more insight into your audience.
How to create a UTM protocol yourself
Write down all your marketing efforts on a piece of (digital) paper. What are you doing with email? What types of email do you have? And what kind of things are you doing on social? And perhaps other channels. Are you running campaigns? Map it all out. And then just write down possible UTM tags for all of them and check if it's useful for you or not. Keep trying different ways of UTM tagging till you finally have a structure that works! And try to visualize how it will look in Google Analytics. So get familiar with the source/medium and campaign report.
There are Google Sheets out there that help you, like this one from Annie Cushing:
Annie Cushing's Google Analytics Campaign Tagging Tool
Using such a Google Sheet will help you with consistently tagging your links. Google also has a tool you can use to create links with UTM tags:
When you're done creating the UTM protocol it's vital that everyone in your team that has to deal with UTM tagging is aware of this protocol. And of course, it's very important that everyone uses it in a consistent manner.
How to find UTM tags in Google Analytics?
All this time we've been talking about UTM tags, we're talking about traffic sources. If you want to know how to find each tag in Google Analytics, you need to be in the Acquisition section.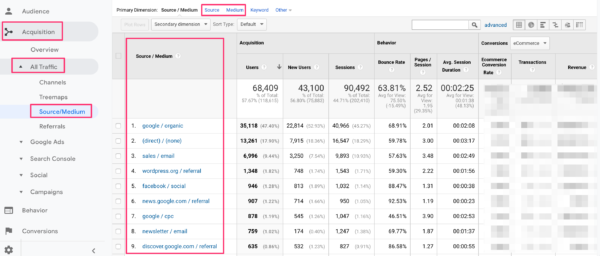 The utm_medium corresponds with the Medium variable in Google Analytics. And utm_source corresponds with the Source variable. If you click on 'Source' right above the table, you only see the Source. And if you want a more general view, click on Medium.

In the Acquisition section you can find an item called 'Campaigns'. Here you can find your data about the utm_campaign tag.
If you want to find the utm_content and utm_term tag, you need to do a small extra effort. You can only see these if you add a Secondary dimension in the standard reports in Google Analytics:

In Google Analytics the utm_content is called 'Ad Content'. The utm_term is called 'Keyword' and you can add these variables as a secondary dimension to your reports. If you want all of your UTM tags in one report, you need to create a custom report.
UTM tag don'ts
1. Use UTM tags on your site for internal links
There's no need to add UTM tags on links that are on your site. If you do use tags on internal links, you'll overwrite the original source of your traffic. So for instance, if someone from a paid Facebook post comes to your site and clicks on a link in the menu that's UTM tagged and buys a product, there's no way of knowing that your paid Facebook ad was the source that lead to a conversion.
2. Using Campaign tags that are too general
Tags that are completely the same, end up in the same bucket in Google Analytics. If you're using a campaign that is specifically for email, but someone else in your team is using the same campaign for a completely different thing on social, these will end up in the same bucket. But they're both completely different things! You don't want to draw the wrong conclusions so you want to be sure that you're not mistakenly receiving data from a different campaign with the same name. For sales campaigns I suggest to add a date. For channel specific campaigns, add something that relates to the source, like utm_campaign=fb-daily-post.
3. Not consistently using UTM tags
Every time you misspell a tag or use an uppercase tag instead of a lowercase tag, a new tag is created. Why is that a bad thing? Well because of this: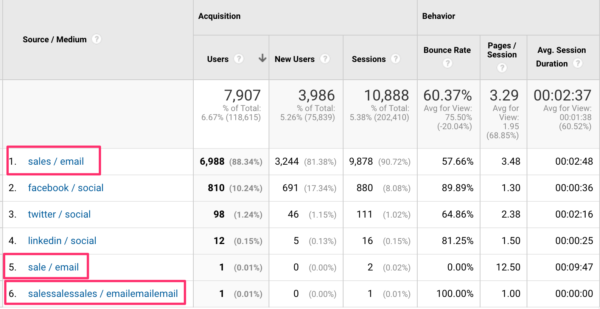 Rows 5 and 6 are examples of tagging gone wrong and as you can see, traffic from these UTM tags get a separate row. But it's traffic that belongs to row 1, the sales/email source. Now these numbers are small but what if that number is bigger?
4. Not using the utm_source tag
This one is mandatory. And if you want to be completely safe, use the Medium, Source and Campaign tags to avoid tracking errors.
5. Tagging guest posts
If websites have links that point to your site, they'll be easy to recognize in the referral section in Google Analytics. The same goes for if you write a guest post for someone's website. You can see this traffic in your referral report.
6. Create too specific Medium tags
As said before, you want your Medium tag to be as general as possible. If you create too specific Medium tags then you're missing the meta view of all efforts that belong to that medium. You don't want utm_medium=facebook because how can you measure all of your social media efforts in Google Analytics?
7. Using sensitive information in tags
You don't want to share business sensitive information in your UTM tags, information you don't like others to know. Because with UTM tags, that's publicly visible. The same goes for personal information, don't store data which can be traced back to a specific person.
8. Use tags that aren't recognizable in Google Analytics
If you don't know what it means just by looking at it, it's not very suitable as a tag. You make your life a whole lot easier if you can tell what it is without having to go to the link. It really helps you to analyze your Google Analytics data.
Read more: How to create and use dashboards in Google Analytics »
Annelieke's Analytics series