Chart of the Day: Innovation and market expansion take backseats to refining existing products and services
Research from The CMO Survey shows that American CMOs are heavily focussed on their own markets, rather than broadening into new ones.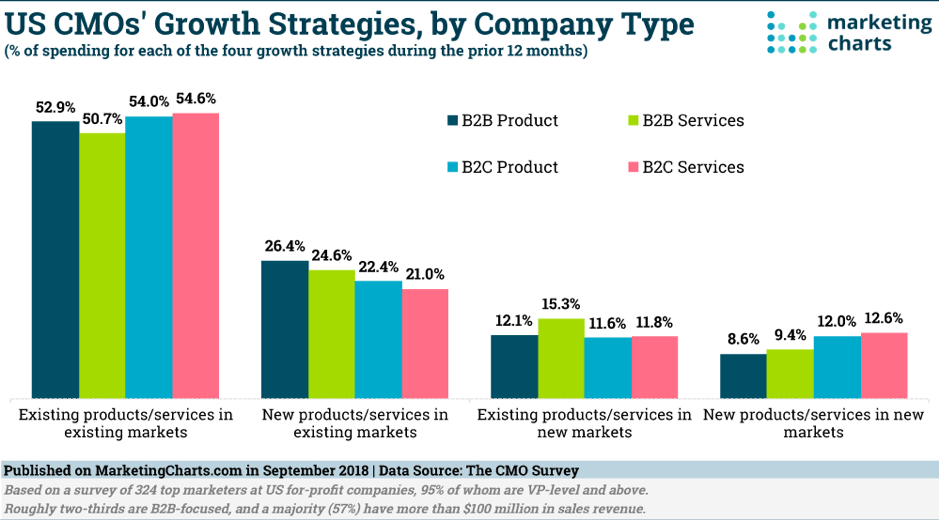 Asking over 300 marketers about their spending strategies over the last 12 months, companies from all sectors put the majority of their spending on existing products/services in existing markets. Only roughly one-quarter of these marketers' budgets were put towards new products, with even less going towards their efforts in new markets.
This near-tunnel vision is explained when looking at what the CMOs believe their customers see as top priorities for the coming year. 'Superior product quality' (33%) and 'excellent service' (23%) topped these replies, both seeing increases from 2017, with 'superior innovation' coming in at 15% (no increase from 2017).
The percentage spend of marketing budgets on domestic markets has seen gradual growth over the last six years, from 78% in 2012 to 85% in 2018. These budgets continue to grow, though at a decelerated rate over the last year, falling from a 10.9% expected change in February 2017 to 7.5% in August 2018.
While global expansion is, naturally, the eventual outcome for all business expansion, The CMO Survey's findings fit those of Dentsu Aegis published earlier this year that securing long-term customer relationships was the primary role of marketing's support of business growth. And where do you start when looking at your long-term relationships? You look home.