Choosing to leave your children with someone else during the day can be nerve-wracking, but it's a reality for most Canadian parents. The good news is that you can choose a reputable centre by carefully reviewing the top options.
A daycare centre with a good reputation and positive reviews is an excellent choice to care for your children. If you're wondering whom to call, here are the top 10 daycare centres in Newmarket.
Top 10 Daycare Centres in Newmarket
1. BrightPath Early Learning & Child Care. If you're looking for a centre that will not only care for your kids but also help them get a head start on school, BrightPath is a great choice. Their award-winning curriculum is a mixture of play-based and child-led, helping children grow and exceed early learning goals.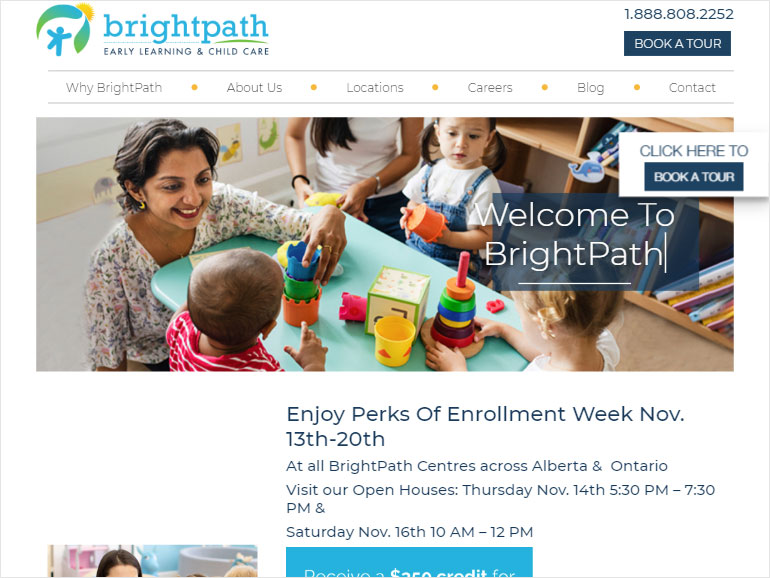 "The facility is clean, safe and staff are very accommodating. The staff work well with children to engage them in a variety of learning concepts and techniques and offer detailed descriptions of the children's day. I would highly recommend this provider." –Deborah Hecimovich
"The Centre that has supported me in so many ways! My two little guys love the teachers whom welcome them every morning with big hugs since six months old and always care for them. I would recommend this care centre to anyone in the area, they truly are amazing!!" –Nadia Y
2. Tiny Hoppers. Tiny Hoppers is an award-winning childcare centre that also focuses on learning in a safe, fun, and unique environment. Instructors are certified professionals, and they teach a proprietary curriculum in their innovative classrooms.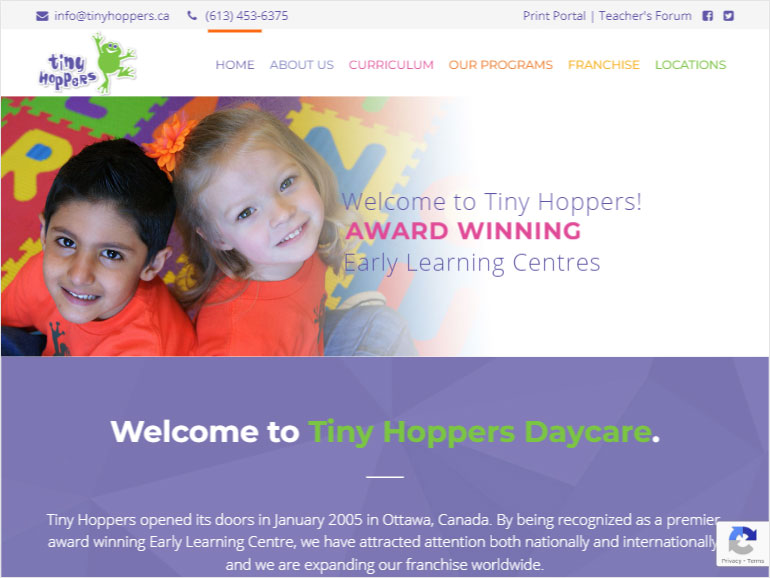 "This Friday will be Austin's last day here. It's really a wonderful one year and nine months in Tiny Hoppers. The staff are patient, dedicated to provide high-quality daycare services. We're so glad to have Tiny Hoopers as Austin's first daycare provider. We'll miss the moments enjoyed here!" –Bin Song
3. Learning Jungle. Learning Jungle focuses on creating a sense of belonging and well-being, along with providing a creative teaching curriculum. The flexible teaching plan is customized for each child based on observations of development. If you're interested in a place that educates both the mind and heart, this could be an excellent centre for you.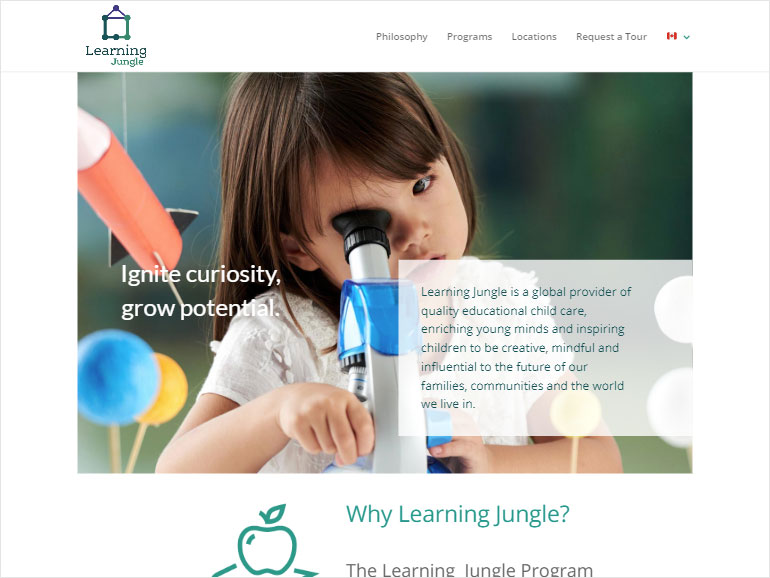 "Over the years, we have found the staff to be stupendous, helpful, caring, and very creative. They are always coming up with various crafts and events for the children to participate in. As well, they are always easy to talk to in the event of any questions or concerns." –Nancy W.
4. Two Trees Childcare Centre. This childcare centre is licensed by the Ministry of Education. They offer high-quality care and education focused on play-based learning, which encourages children to grow in both knowledge and development. They care for those as young as two weeks old up to preschool. You won't go wrong with Two Trees!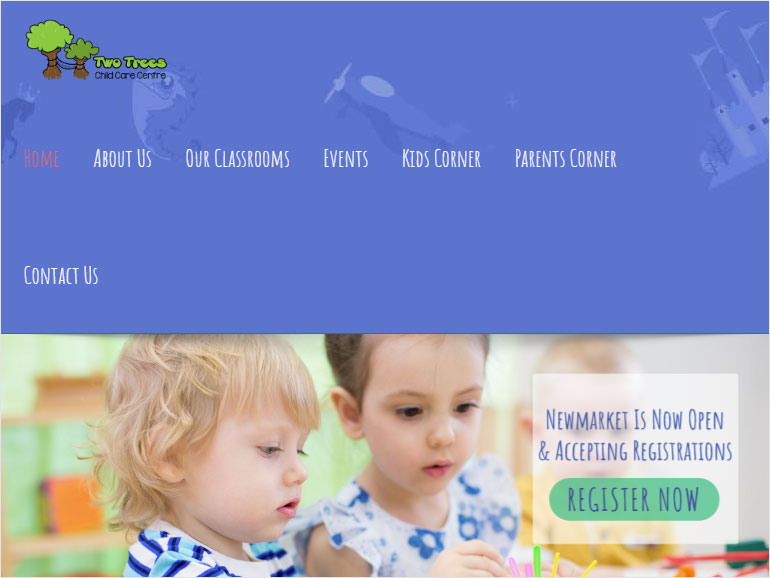 "Two Trees has been our daycare since 2015. It's bright, spacious and has a nice outdoor space. The staff are friendly and caring. My child loves going and has made many friends. Their activities are well planned out and my child has learned a lot. I recommend Two Trees to anyone looking for reliable and safe care for their child." –Katie P
5. York Child Development. You know a centre is a fun place when they have a cockatiel named Pete as their EarlyON Child and Family Centre mascot. The childcare programs encourage kids to develop a healthy self-image using education, literature, and play. They do not use time-outs or negative reinforcement. The centre believes a child's behaviour is a reflection of how they feel about themselves.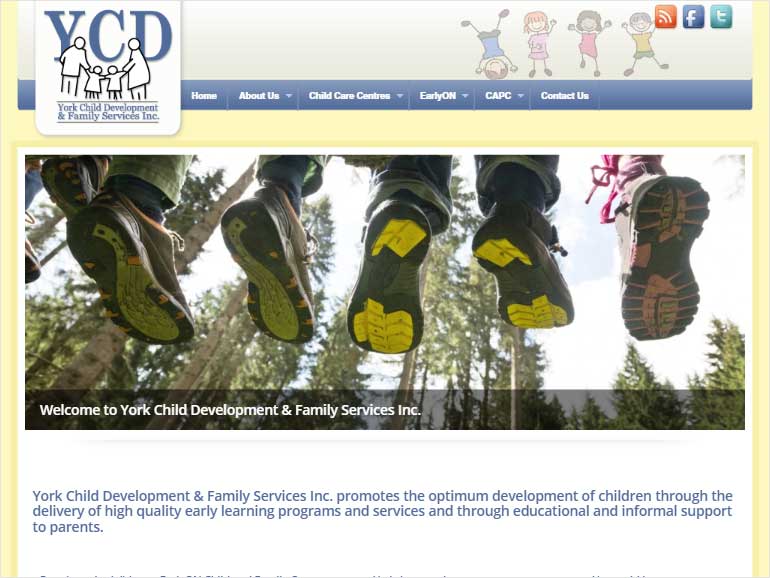 6. Cuties and Patooties Childcare. This award-winning centre is staffed by qualified and caring teachers who love providing a safe & secure environment for your child to grow. They offer a cozy, family atmosphere so that your child has a "home away from home." Children are encouraged to explore, have fun, and discover new things through a variety of activities. Tuition is all-inclusive, so check out this centre!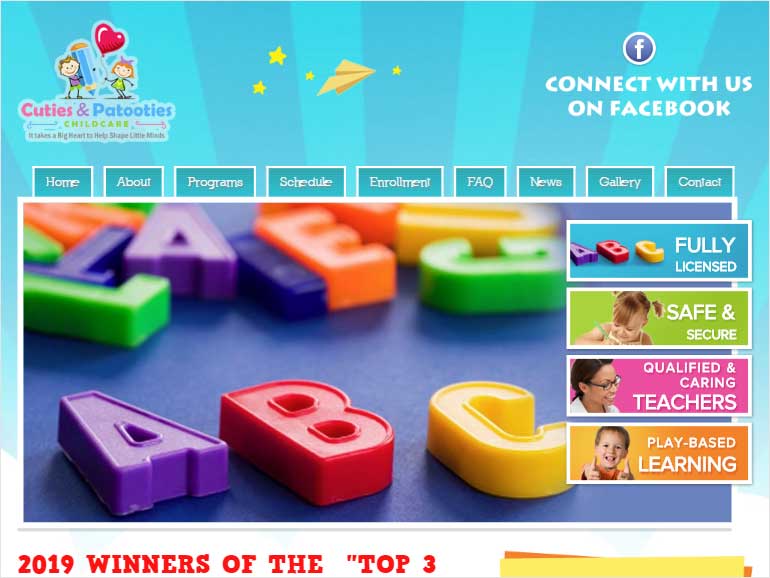 "This is by far the best daycare out there… from educating your kids, feeding your kids their homemade food, ensuring their safety has clearly always been #1, ensuring they're happy, stimulated, entertained, always having fun, and, of course, very cost-effective!
They offer a loving and caring environment with owners who have ALWAYS answered and received any questions or concerns I had with kindness and professionalism.
My son is now three years old and knows all of the months, days of the week, numbers, seasons, colours, shapes, how to spell his name, you name it; he is beyond ready for kindergarten and is still a year away all thanks to them! He also still cries when it's time to come home all the time because he's having so much fun!" –Jenny
7. Denison Child Care Services. If you're looking for programs and care that continue into school-age for your child, this is the centre to choose. They offer care for infants to school children, as well as offering programs for March Break, Summer Camp, and PA Day. They encourage children to be responsible for their own behaviour and help them solve their own problems. This is an excellent option for children of every age.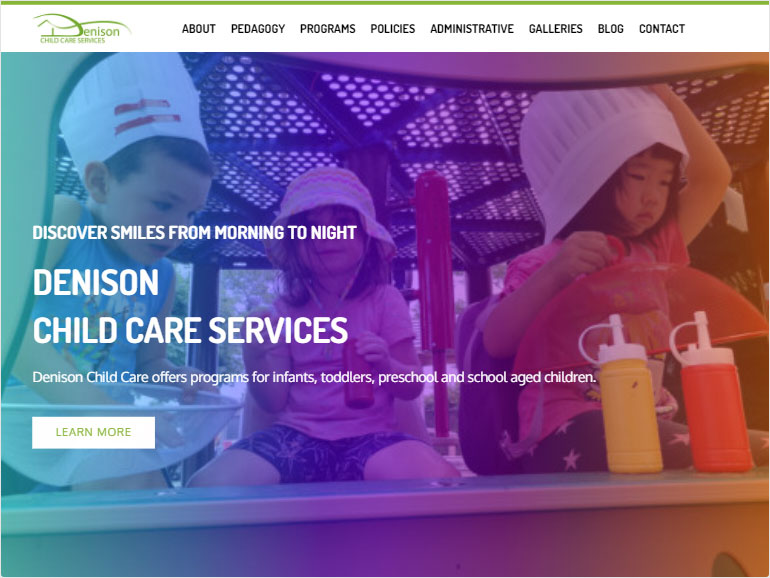 "It is almost two years that our loved one is in this daycare. Well-equipped daycare with a professional staff and manager. I have seen leadership skills in every teacher. Now, I grab this opportunity to show my appreciation. Thanks!" –Mahbod Khodadad
8. Leslie St. Daycare. This award-winning centre offers a warm, supportive educational environment. They have a well-structured and monitored preschool that gives you daily reports on how your child did and what has improved. They help kids reach key milestones early and learn how to succeed alone or with others. It's an excellent option for your family!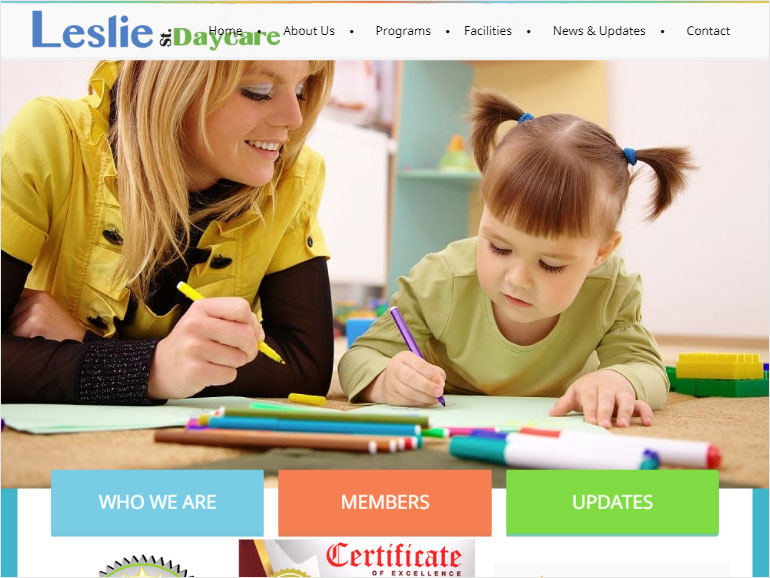 "Our little one has been with Leslie Street daycare for most of her early years. They've treated her with so much love, and the whole staff has been so amazing in her growth and learning. The food they've offered was nutritious and lots of different variety that my little one enjoyed. It was also nice to get photo and video updates during the day of what they were up to through their app. I highly recommend this daycare!" –Elle V.
9. Diana Home Daycare. For care from 12 months to 4 years old, Diana Home Daycare can give you the environment you're looking for. With affordable prices, nutritious food, and a curriculum with a broad range of age-appropriate activities, you can't go wrong with this independent care provider. Diana encourages independence, self-confidence, and respect for self and others.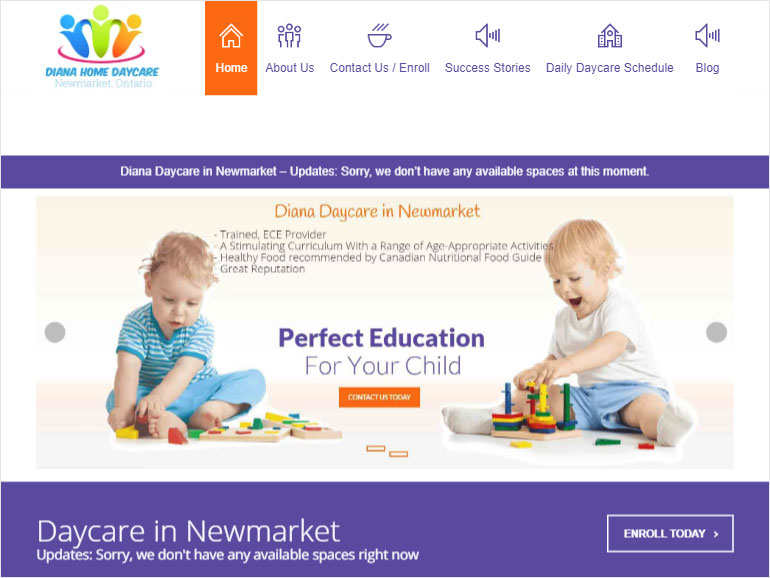 "Being first-time parents, it can be a nervous time finding a daycare provider. However, meeting Diana and seeing how our daughter responds to her is so relieving to see. We are so happy to have found Diana and appreciate all that she does for our daughter. She keeps the kids on a great schedule, which is easy to follow at home, and keeps me updated every night on how she did during the day. Thank you, Diana, for making going back to work a little bit easier!" –Paige Cleary
10. Grace Church Daycare. If you're looking for a childcare option with a spiritual focus, Grace Church is an excellent choice. They help children develop spiritually, emotionally, socially, and cognitively using play-based education. They offer high-quality care to children from age three months up to eight years old.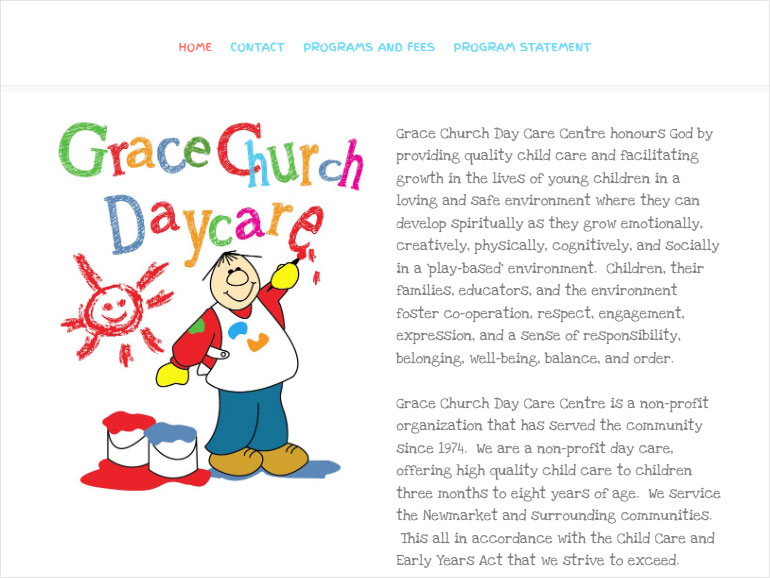 "Both my kids went here. Awesome place!!! Very safe, lovely staff, food and a great playground."
How do you know you've found a great daycare centre? Look for these attributes:
A Great Curriculum. You'll want to find a centre that has a curriculum that will help your child thrive. Pay attention to how much extra learning they offer to those who are advanced and how well they help those who are slower to learn.
A Philosophy You Agree With. Whether you want faith-based education, a positive-reinforcement environment, or a more structured setup, you can find a childcare centre to meet your needs.
A Place Your Child Loves. Ultimately, you're choosing the best place for your child and your family. Do they enjoy the centre? Do they connect with the teachers? This is the best way to know you've found a winner!
Trusting your child's development to a childcare centre can be difficult, but there are a lot of good options to choose from. These ten centres are a great place to start, and you'll love seeing your child grow and thrive.
Related Posts
Join To Our Newsletter
You are welcome