Small businesses can save time and get better results with these handy Twitter marketing apps
Social media provides a great platform to amplify your social media marketing strategies. It can help you establish a community, raise brand awareness and encourage engagement with your audience. However, social media management can be quite time-consuming, as it involves managing multiple social media accounts at the same time, and posting content on a regular basis.
If you find it too time-consuming to be constantly posting updates on Facebook or Twitter, there are some amazing tools and apps out there that can help you save time and increase the effectiveness of your efforts. They help you juggle your social media accounts from your desktop and smartphones to make sure you have a very productive social media marketing campaign.
DrumUp
DrumUp is like a breath of fresh air when it comes to social media and content management tools. It is a nifty app that searches for content and allows you to schedule the content to your Facebook, Twitter and LinkedIn pages with a single click. With a user-friendly interface, you can discover shareworthy stories by simply putting in relevant keywords. The app also lets you schedule the posts at a specific time or day, and gives you the opportunity to review, modify or create custom posts.
The app is backed by a sophisticated discovery engine that learns from user inputs and it uses NLP and machine learning algorithms to give good quality content recommendations. You can manage multiple social media accounts from the mobile application, and cut down on a significant amount of time spent on your daily social media management routine. You can sign in to DrumUp from your browser, or download the Android app or the iOS app.
IFTTT
 This tool does not leave any room for ifs and buts. IFTTT, short for If This Then That, lets you automate daily tasks that can start to seem mundane after some time. This free app lets you automate things like getting a text message when you set an upcoming event on Google Calender or having your photos automatically download to DropBox if someone comments on the photo on Facebook. Also, you can breathe a sigh of relief – because there is no coding involved.
You can create simple "recipes" on the app to get started with the automation. The app guides you through the command creation process, and after a click or two, you are good to go. Once you have app properly figured out, you can complete your daily tasks in a matter of minutes. Download the Android or iOS versions of the app and get automating.
News Reader by Feedly
 This is a great app if you often find yourself on a hunt for content because you just can't find time to create your own fresh content. Instead of website hopping, you can try out the News Reader by Feedly. It's an easy-to-use app that lets you get a feed from your favorite blogs and websites, in one central place where you can browse through the content.
Once you have set up an account, you can add content based on your preferences. The categories are endless including marketing, travel, food, films and more. What's best is that this free app allows you to file your content under the categories, for easy and quick retrieval later on. Feedly is free to use and is available across all mobile platforms including Android and iOS. You can also register on the website.
Mention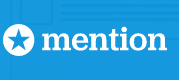 If you want to get an overview of how well your brand and social media strategy is performing, Mention is the tool to turn to. It is a social media and brand monitoring tool, that lets you monitor your brand to find out where and how many times it is being mentioned on social media. Once you input keywords that relate to your brand, Mention sends alerts every time your brand is being spoken about.
You can also find out if your brand is getting positive, negative or neutral comments, and you can reply to any comments instantly directly within the application. The application is an absolute time-saver, and you will easily be able to stay up-to-date on your brand's reputation. Download the Android and iOS versions of the app, or log in to the website.
Sparksfly
Much like Feedly, Sparksfly gathers content in one single place where it can be easily accessed. The app works with an algorithm that recognizes the user's content preferences and brings up content accordingly. Users can also create various "routines" that are based on the type of content that is read regularly. You can search for and filter content by inputting keywords, social networks and people.
Once these "routines" are set up, users can instantly start receiving content that matches their preferences, and it can also be directly posted to social media pages. This free app is available for download on both Android and iOS platforms.
Join To Our Newsletter
You are welcome