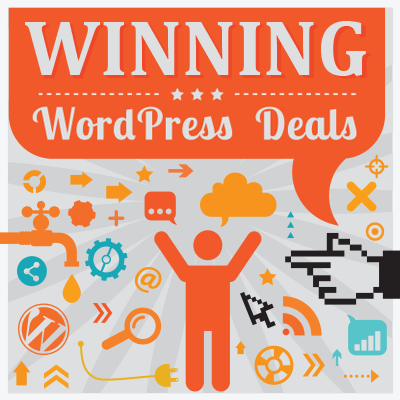 Tables are a fantastic way of presenting information in a way that is logical and visually appealing. This helps readers digest quantitative information and statistics more easily as they can scan the table for the information that is relevant to them.
If the classic editor is active on your website, HTML tables can be added to your content by entering the HTML code for your table in the text editor or by copying and pasting a table into the visual editor.
The introduction of the Gutenberg Table Block means that the core version of WordPress now supports table functionality. This is a user-friendly way of integrating tables into your content, however there are better solutions available for creating tables in WordPress.
In this article, I would like to show you what we at WinningWP consider to be the best WordPress table plugins on the market today.
* The sample CSV files I used to test these WordPress plugins can be downloaded from this page.
1. wpDataTables(FREE / $59+)
wpDataTables is a popular WordPress plugin that can be used to create responsive tables and charts.
A lite version of the plugin is available on WordPress.org. It helps you see what is available in the full version of wpDataTables, however it does live up to its "Lite" name by restricting most table creation options and chart functionality.
When you create a table you are presented with five options. You can create a table that is linked to an existing data source, create a table manually, import a table, generate a query to the WordPress database, or generate a query to a MySQL database.
In the free version you can only create a table by importing a table file in excel, CSV, JSON, XML, or serialized PHP array format.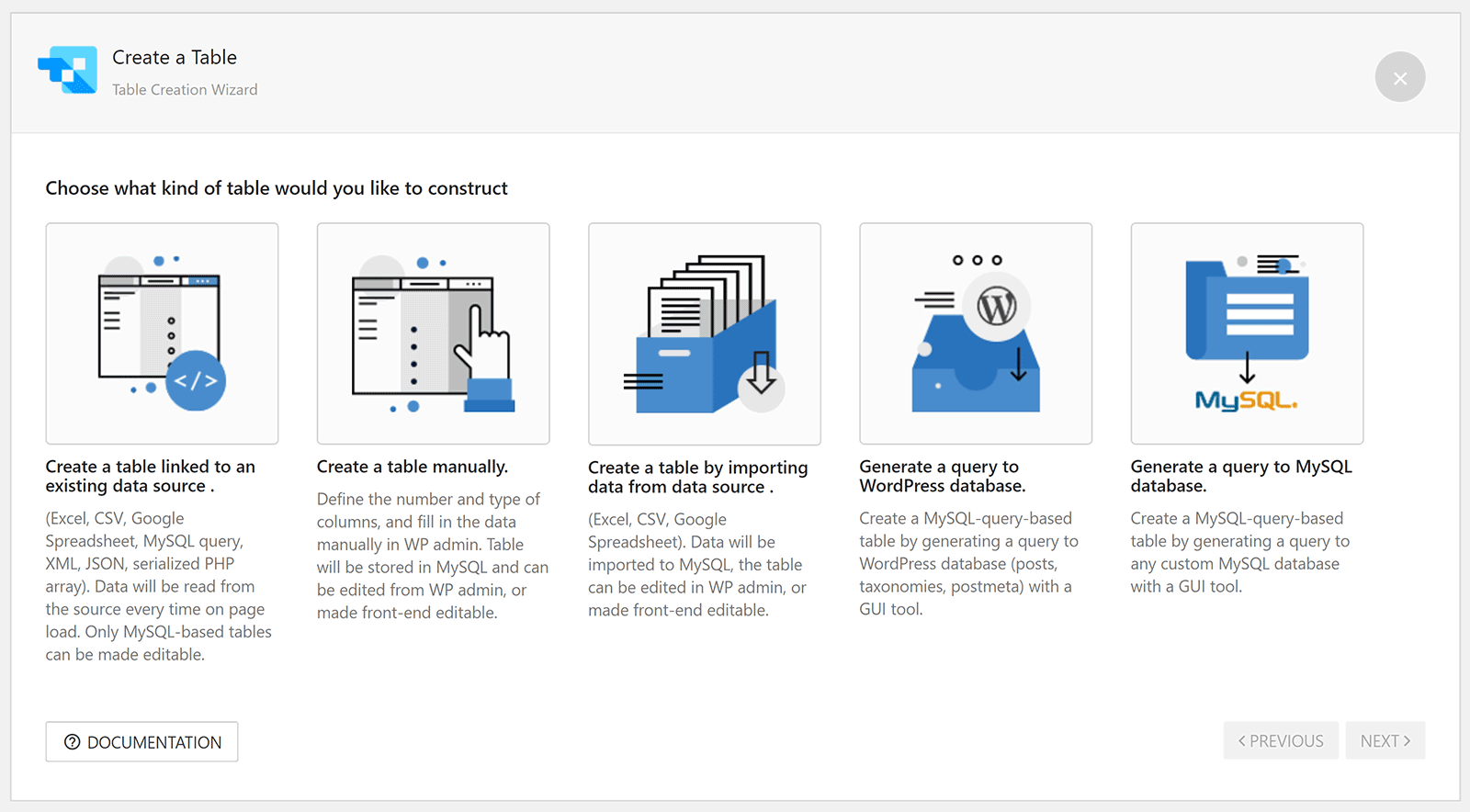 Whilst many features are restricted in the lite version of wpDataTables, I was impressed with how great tables look and how many configuration and sorting options are available for tables. Each column can be modified to suit your needs.
wpDataTables Premium unlocks many great features. This includes advanced email and SMS notifications, front-end editable tables, conditional formatting, filtering, and support for foreign key table relations. Data can also be presented in over 40 types of charts.
The full version of wpDataTables is still being sold on CodeCanyon for $299, but the developers now offer their product on their official website for a more affordable $59 per year. This rises to $109 per year if you need support for three domains and $249 per year for support for an unlimited number of domains.
All licenses offer the same features and come with a 15 day money back guarantee.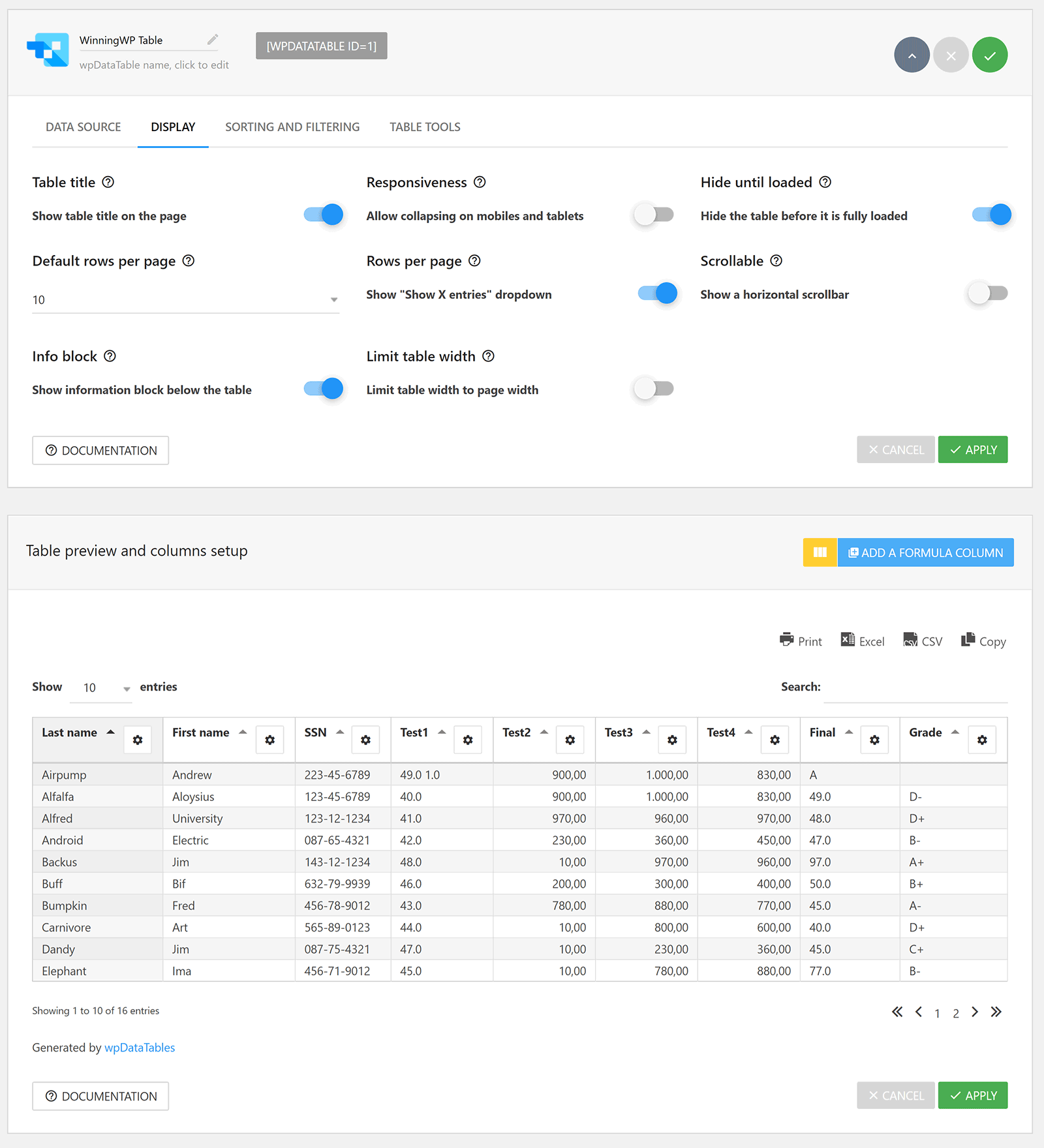 I encourage you to test the free version of wpDataTables to get a full appreciation of how great tables look and how tables can be easily customised.
If you are looking for more table creation options, and support for charts and advanced features such as conditional logic, you should consider the full version of wpDataTables. It is now available from only $59, which is fantastic value for money.
2. League Table ($23)
League Table is a responsive table solution that features sortable columns, support for WordPress Multisite, and support multiple languages.
A spreadsheet editor simplifies the process of copying data from spreadsheets into tables. If you prefer, you can import tables via XML format. Tables can also be backed up in this format.
The number of options available in League Table is impressive. It boasts 105 options per table, 17 options per cell, and 13 general options.
You can change table width, colours, fonts, and more. Each cell can be customised too. You can adjust fonts and background colours, apply mathematical formulas, add custom HTML code, and more.
There are many sorting options too and, if you wish, you can allow users to sort data in tables themselves.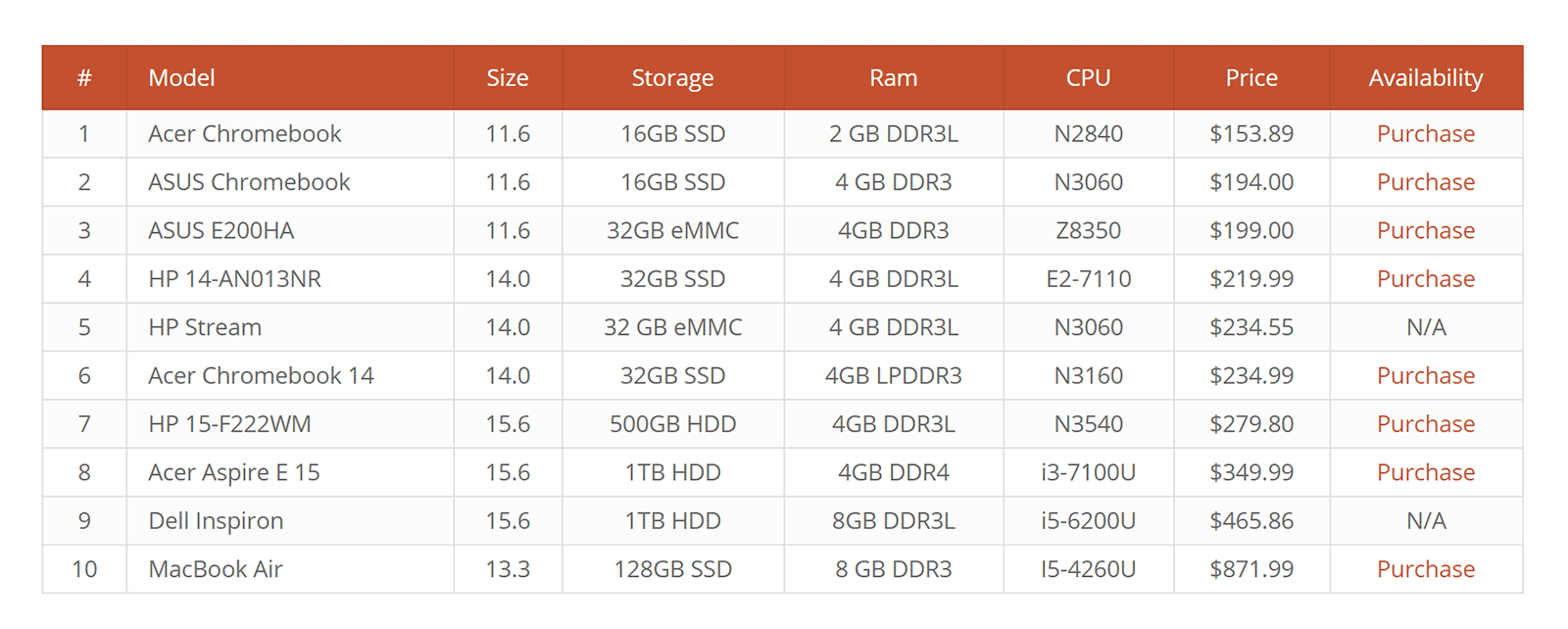 League Table is available on CodeCanyon for only $23. It's an affordable table solution that is incredibly versatile. It is a good choice for anyone looking to create tables for sports leagues, financial data tables, pricing tables, and more.
3. TablePress (FREE)
With over 800,000 active installations, TablePress is by far the most popular WordPress table solution on the market. After using the table plugin for a few minutes, you will understand why it has gained so many fans.
Despite being free to download, TablePress offers dozens of configuration options, custom CSS for styling tables, and the ability to import and export tables in a number of formats. I was able to import a CSV table in seconds and then re-arrange data using drag and drop.
Adjusting data in your table is simple. Once you have selected rows and columns, they can be hidden, shown, duplicated, inserted, and deleted. Cells can also be combined and there are buttons for inserting links and images as well as an advanced editor that gives you more control over your content.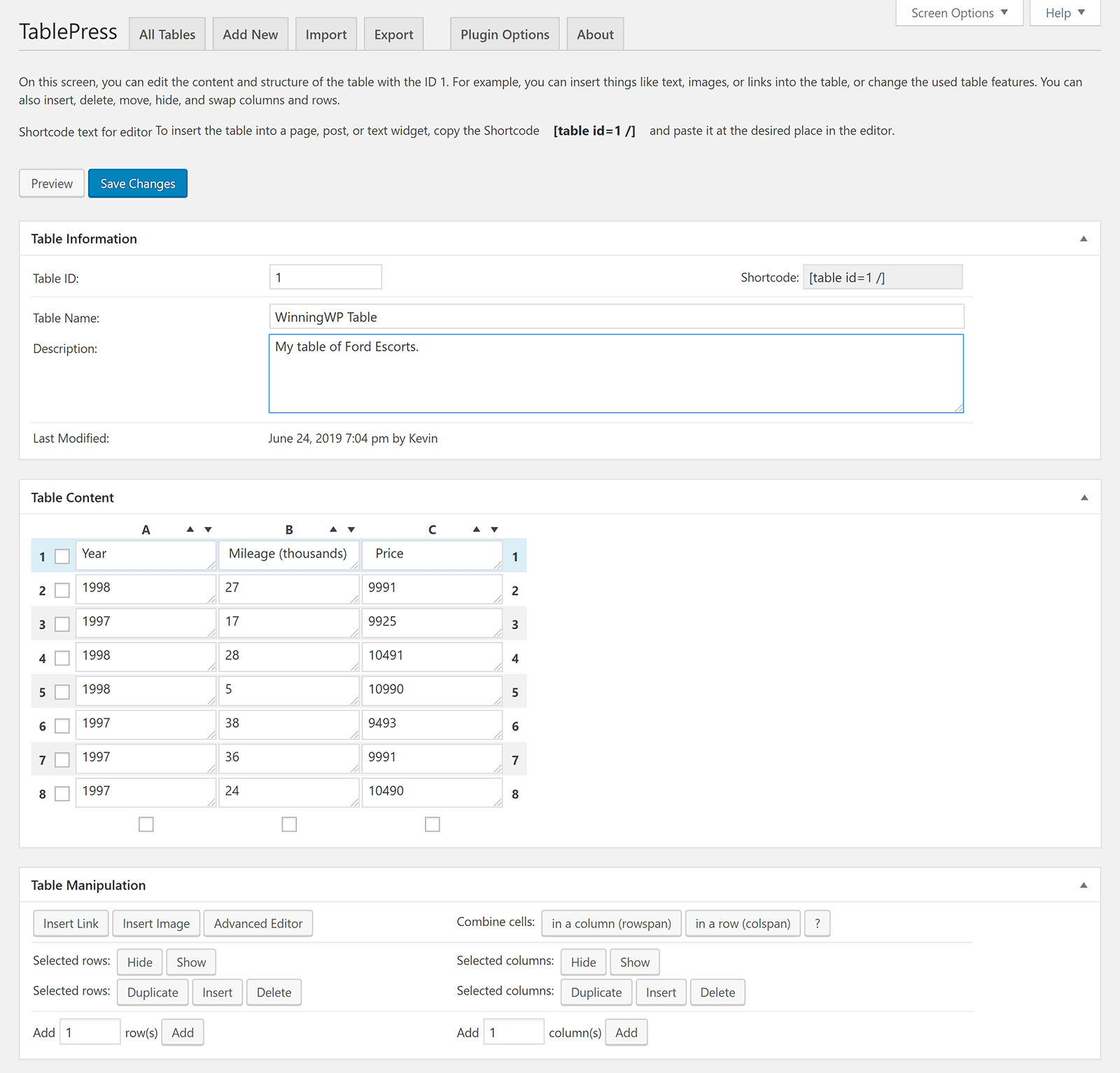 The table options section is located under your table. From here you can modify table colours, define the table name, and enter custom CSS classes. Sorting and pagination options are located here too.
19 plugin extensions are available for TablePress that extend functionality further. Six extensions are related to frontend table behaviour, nine extensions add additional features to the DataTables JavaScript library, three extensions give additional options in the admin area, and the last one allows you to change the table shortcode to avoid conflictions with other WordPress plugins.
Seven of the extensions are marked as premium. Interestingly, rather than charge a set fee, the developer of the plugin, Tobias Bäthge, allows everyone to download premium extensions. All he asks in return is a small donation of around $10.
Some extensions worth checking out are responsive tables (premium), PHP code in table cells, DataTables Buttons (premium), and DataTables Column Filter.
Be sure to check out the extensions page for the full list.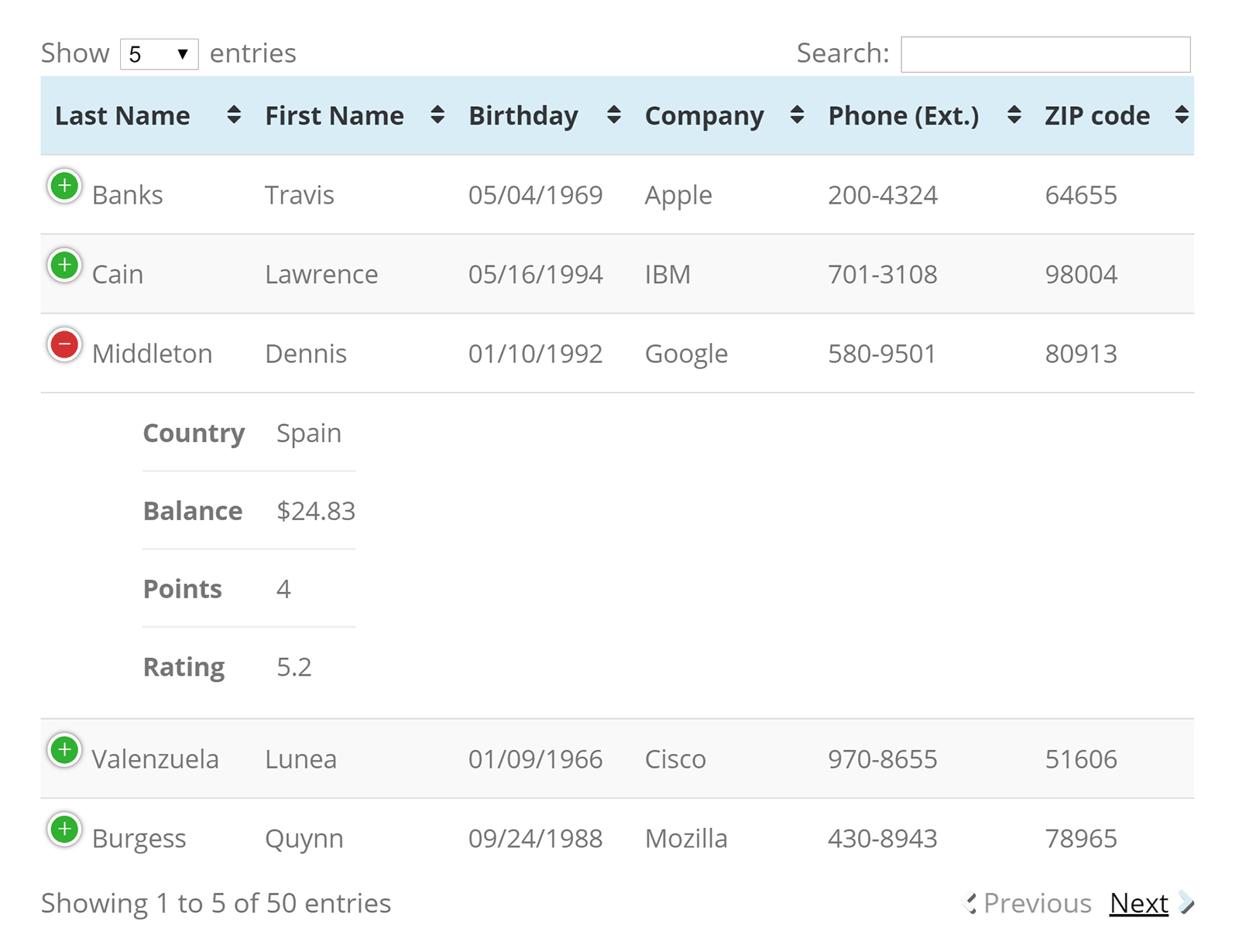 TablePress is a fantastic WordPress table plugin that is easy to recommend. It's free to download, simple to use, and supports table imports.
Compared to other WordPress table plugins on the market, TablePress does not offer enough styling options to let you change the look and feel of tables. You have to use CSS. It also lacks some of the advanced features that some premium alternatives offer.
4. Ninja Tables (FREE / $39+)
Ninja Tables is a great looking table solution that features many styling options. It supports importing and exporting of tables in CSV and JSON format.
In the main plugin options area you can select Symmetric UI, Bootstrap 4, or Bootstrap 3, as the default styling library. From here you can also select from 13 table colour schemes and define whether table elements such as borders, titles, and descriptions, are displayed.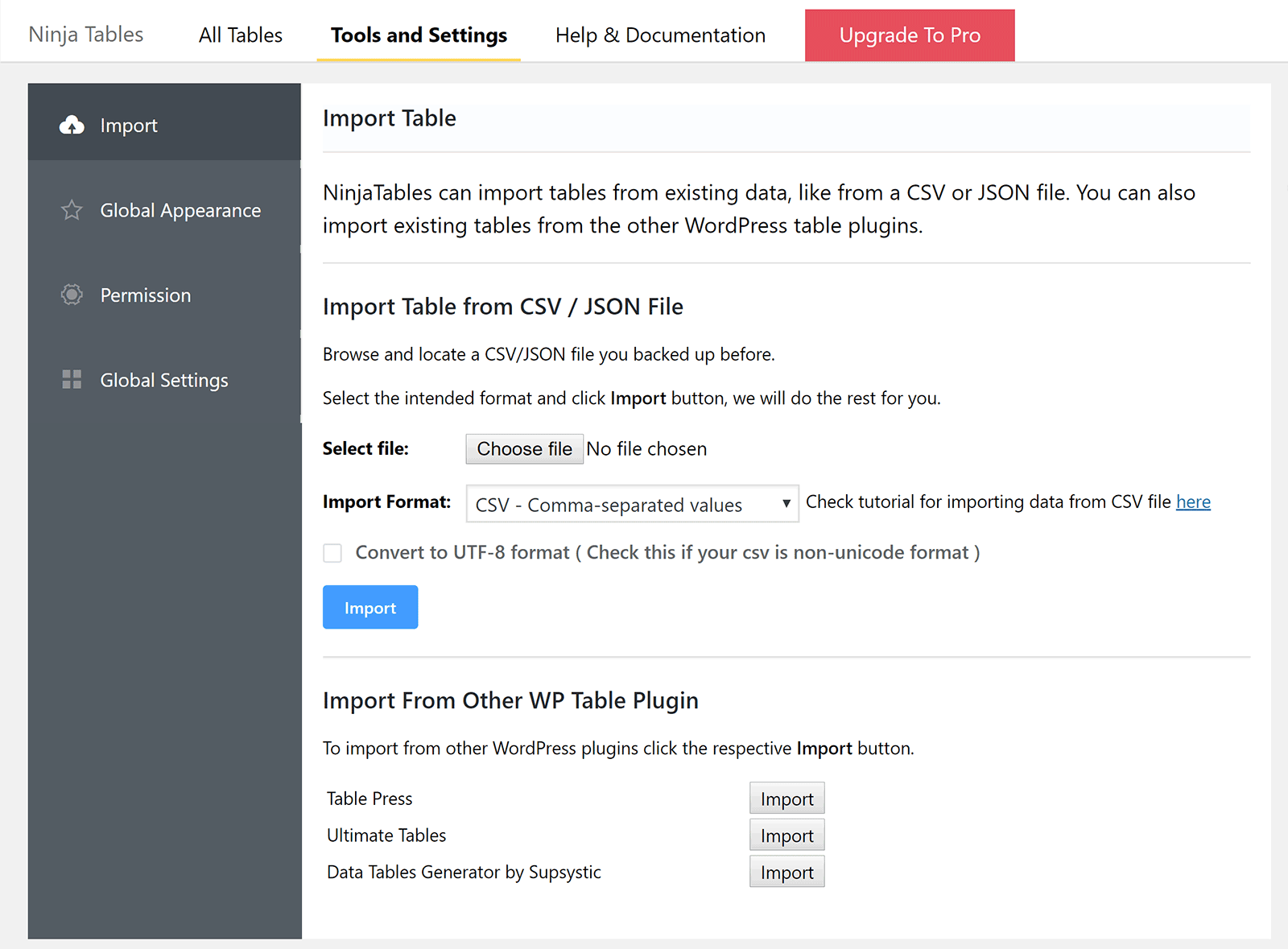 Ninja Tables excels in styling customisation. The main table design page shows you how your table will look on desktops, tablets, and mobiles. Most table features can be enabled and disabled at the click of a button and the changes are shown immediately in the table preview.
You can assign one of the 13 pre-defined colour schemes to the table. Alternatively, you can create your own custom colour scheme using colour pickers. There's lots of pagination and sorting options for your table too as well as boxes for adding custom CSS and Javascript.
Ninja Tables Pro retails at $39 for a single license, $79 for up to 20 websites, and $199 for an unlimited website and lifetime license.
Upgrading unlocks frontend table editing, drag and drop table editing, unlimited colour schemes, WooCommerce integration, conditional column filtering, cell combination, advanced sorting options, and the ability to connect to Google Sheets.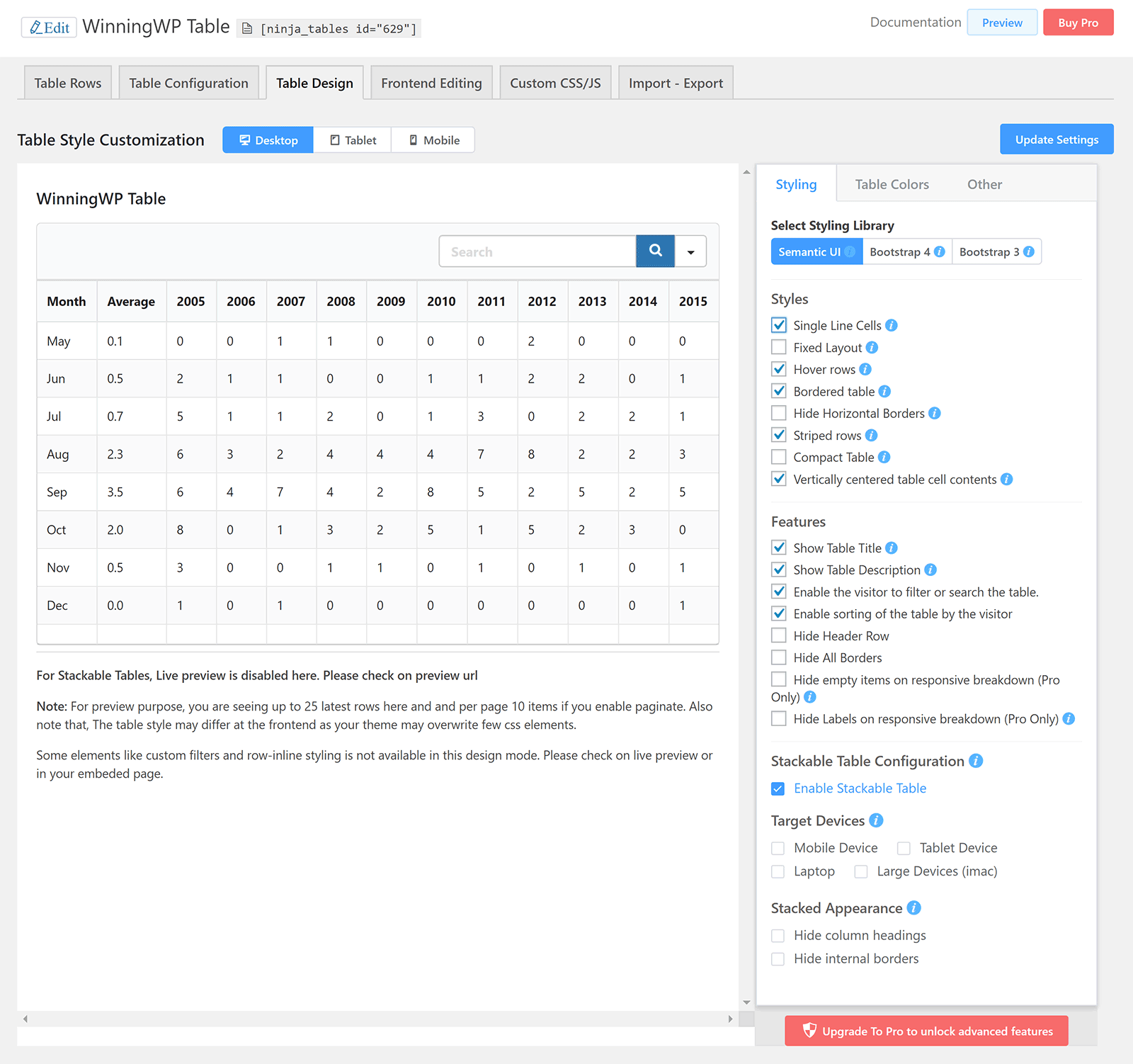 Ninja Tables is a highly configurable table solution that gives you full control over the look of your tables.
I did not find the free version to be restrictive in any way, however you can access many more advanced features by upgrading to Ninja Tables Pro. At only $39, it will not break the bank.
I recommend trying it out Ninja Tables to see for yourself what it can do.
5. Data Tables Generator by Supsystic (FREE / $39)
Data Tables Generator by Supsystic is a versatile table solution that offers dozens of options. It lets you make changes to your table and table design and see how modifications look on desktops, tablets, and mobiles.
Multiple responsive modes are available for tables. You also have full control over your table colour scheme and how tables are structured. CSS styling is available too.
Table data can be entered in the editor page. A visual editor allows you to format text and insert links and images. Additional options, such as diagrams, conditional logic, and collapsible rows, are available in the editor if you upgrade to Data Tables Generator Pro.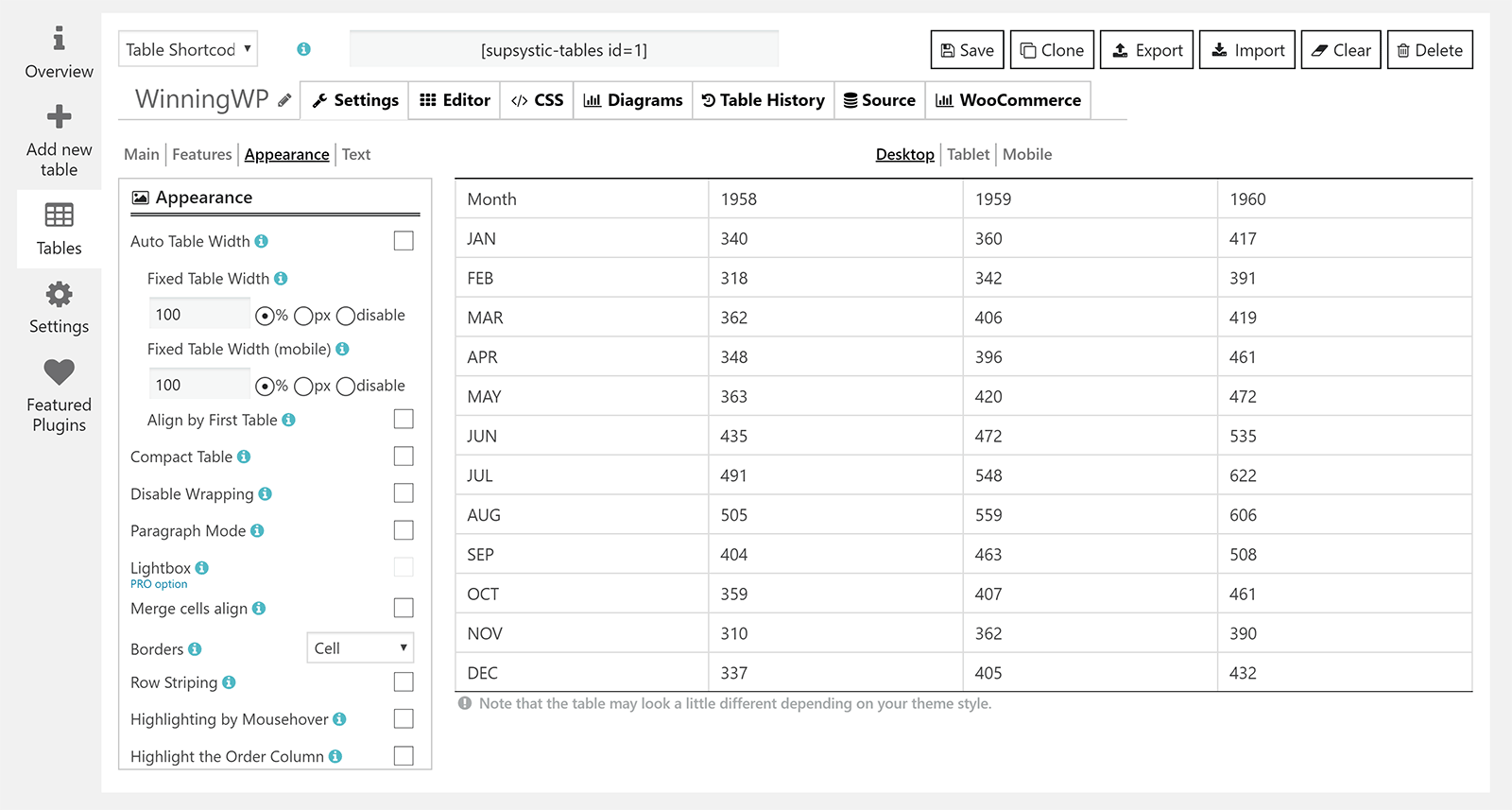 I was impressed by what was included in the free version of Data Tables Generator, however a number of features are only available in Data Tables Generator Pro. For example, whilst you can save and clone tables in the free version, you can only import and export tables if you upgrade.
A pro license costs $39 for one website, $69 for five websites, and $149 for an unlimited number of websites.
Upgrading also unlocks the diagrams, table history, and source tabs at the top of the main editor. The WooCommerce tab at the end refers to a separate plugin called WooCommerce Product Table that can be integrated with Data Tables Generator.
Nine types of diagrams and charts are available: Area chart, line chart, pie chart, bar chart, column chart, bubble chart, 3D bar chart, 3D donut and pie chart, and 3D pyramid. The table history feature lets you see how frontend editable tables have been modified.
The source feature can be useful too. It can be used to build a table from fields in your WordPress database or an external database.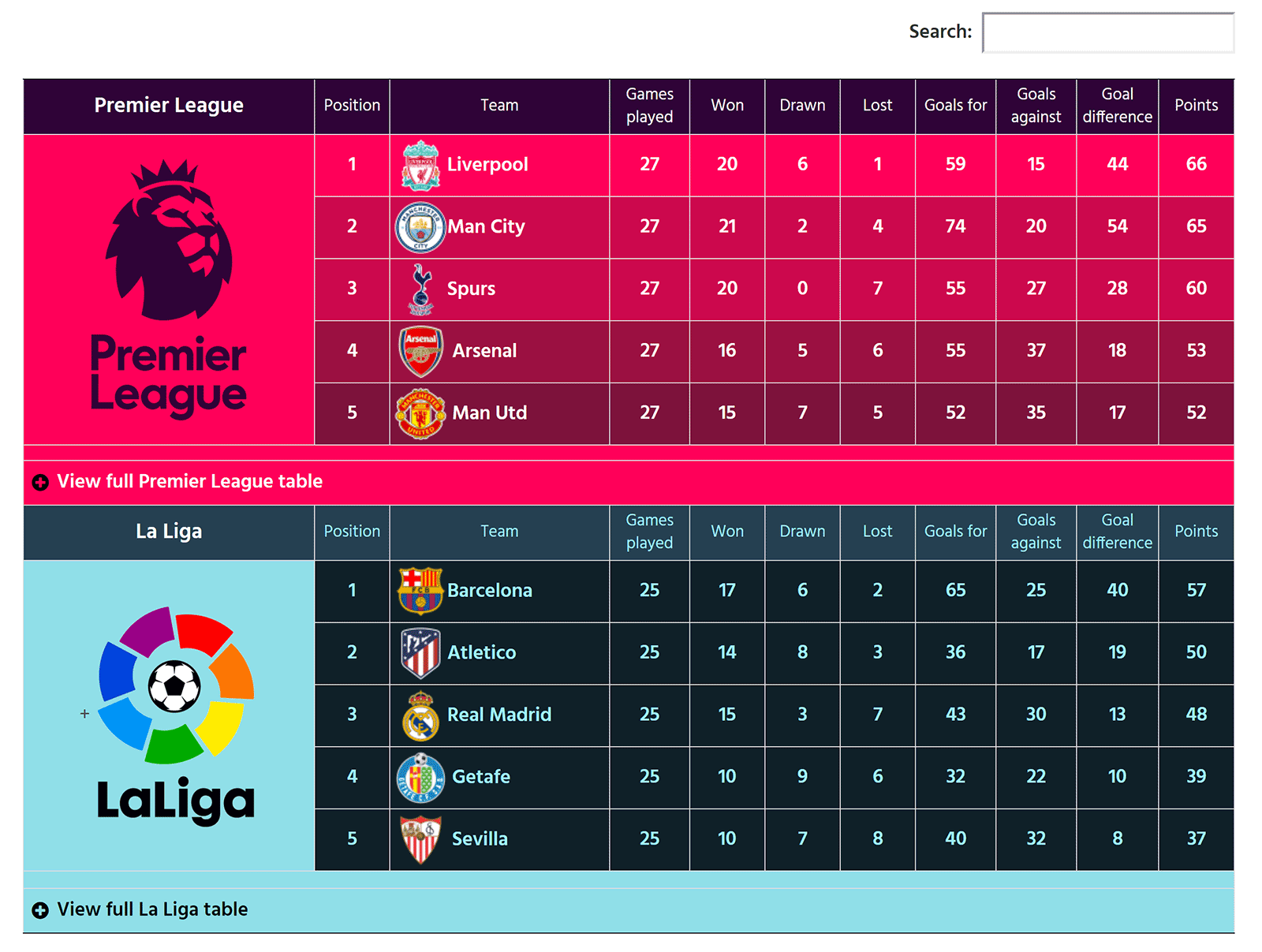 The main interface of Data Tables Generator by Supsystic looks a little dated, however the plugin has many useful styling features and its built-in editor simplifies the process of formatting data the way you want.
Upgrading to the pro version makes premium functionality such as charts and conditional logic available. Perhaps more importantly, it also adds the ability to import and export tables.
6. Tablenator ($20)
Tablenator is a user-friendly WordPress table plugin that has support for WP Bakery Page Builder.
In the main plugin settings area you can define general table settings, format settings, translation settings, and the responsive breakpoints for mobile devices. There is an icon fonts manager too.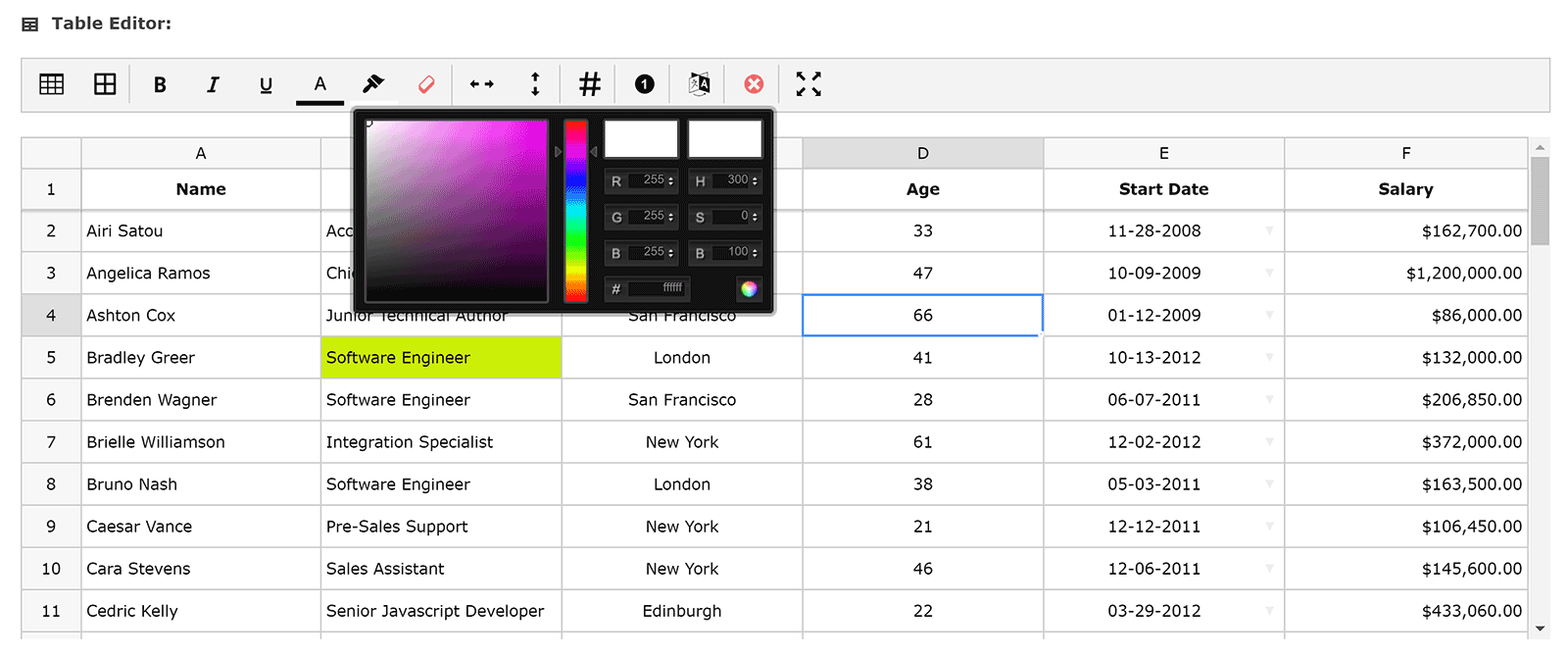 Tables can be imported in CSV or TXT format, however tables can only be exported in TXT.
All of the table solutions mentioned in this article allow you to customise your table and table data, however in my opinion Tablenator has the best table editor.
Its visual editor allows you to easily add new rows and columns and format text, add images, and define background colours. Multiple cells can be selected at the same time. For example, you can change the background colour of all table cells by simply selecting all cells before clicking on the background colour button.
It also supports cell formatting for text, numbers, currency, percent, date, and time. This helps you display data the way you want, whether it be defining the number of decimal points or selecting what date format to use.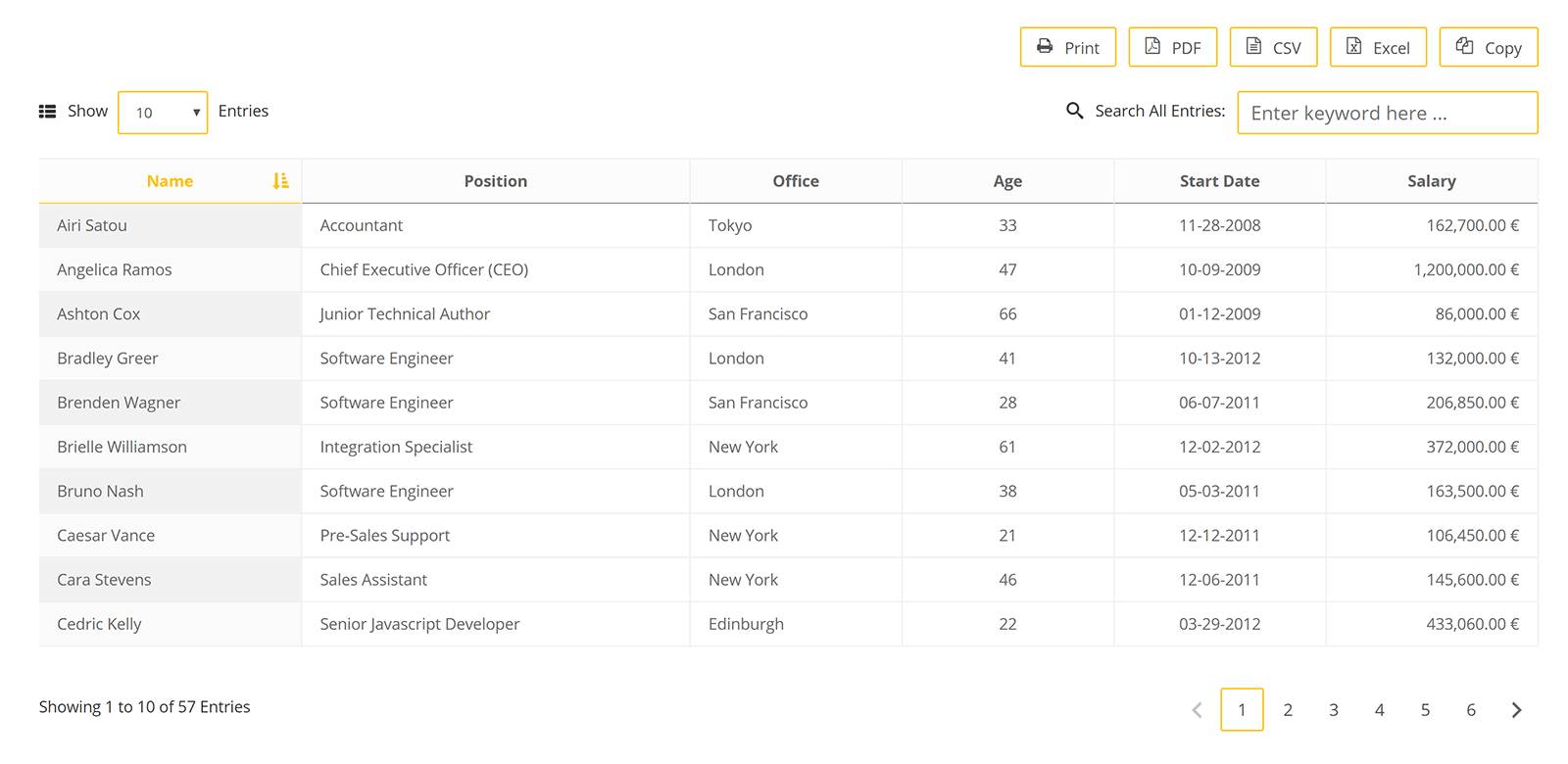 Tablenator is available from CodeCanyon for $20.
It is a great choice if you are looking to create professional looking tables with ease. Those of you who are looking for advanced features such as charts, conditional logic, and table creation from databases, should look at an alternative solution.
7. TableGen (FREE)
TableGen is a simple table WordPress plugin that is free to download.
It supports importing tables via JSON, Zip, CSV, HTML, and XLS formats. Tables can also be exported in CSV format.
In the table settings area you can enable and disable a dozen or so features including the table width, pagination, and column sorting.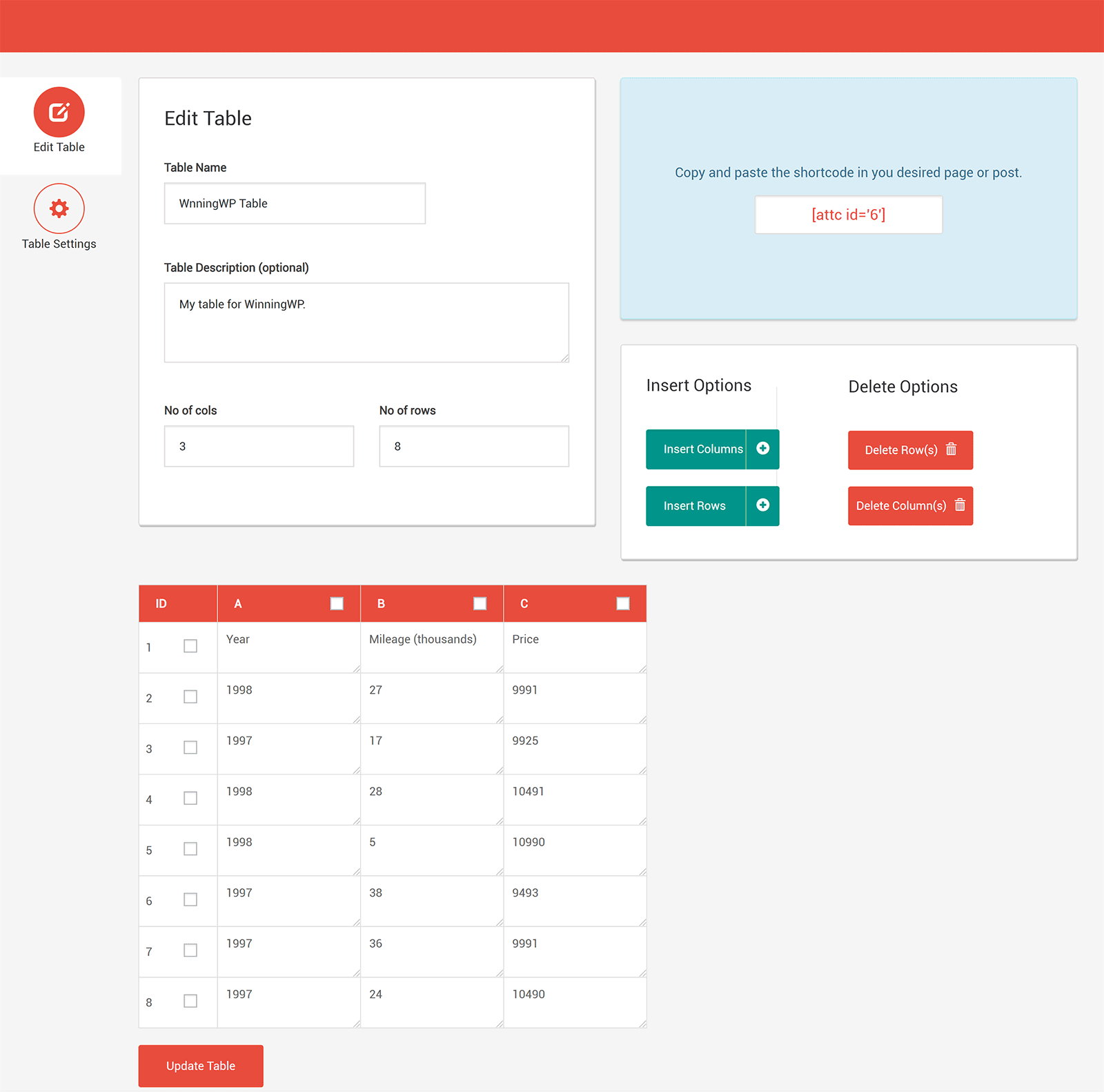 The table editor is easy to use, though if you are used to more advanced table WordPress plugins you may find it limiting. There are no styling options and no way to format cells or insert links or images.
Whilst the plugin is free to download, you may want to consider purchasing the themes plugin extension that is available from $10. It offers eight table theme designs and gives you additional options for customising your table design; functionality which is missing from the core plugin.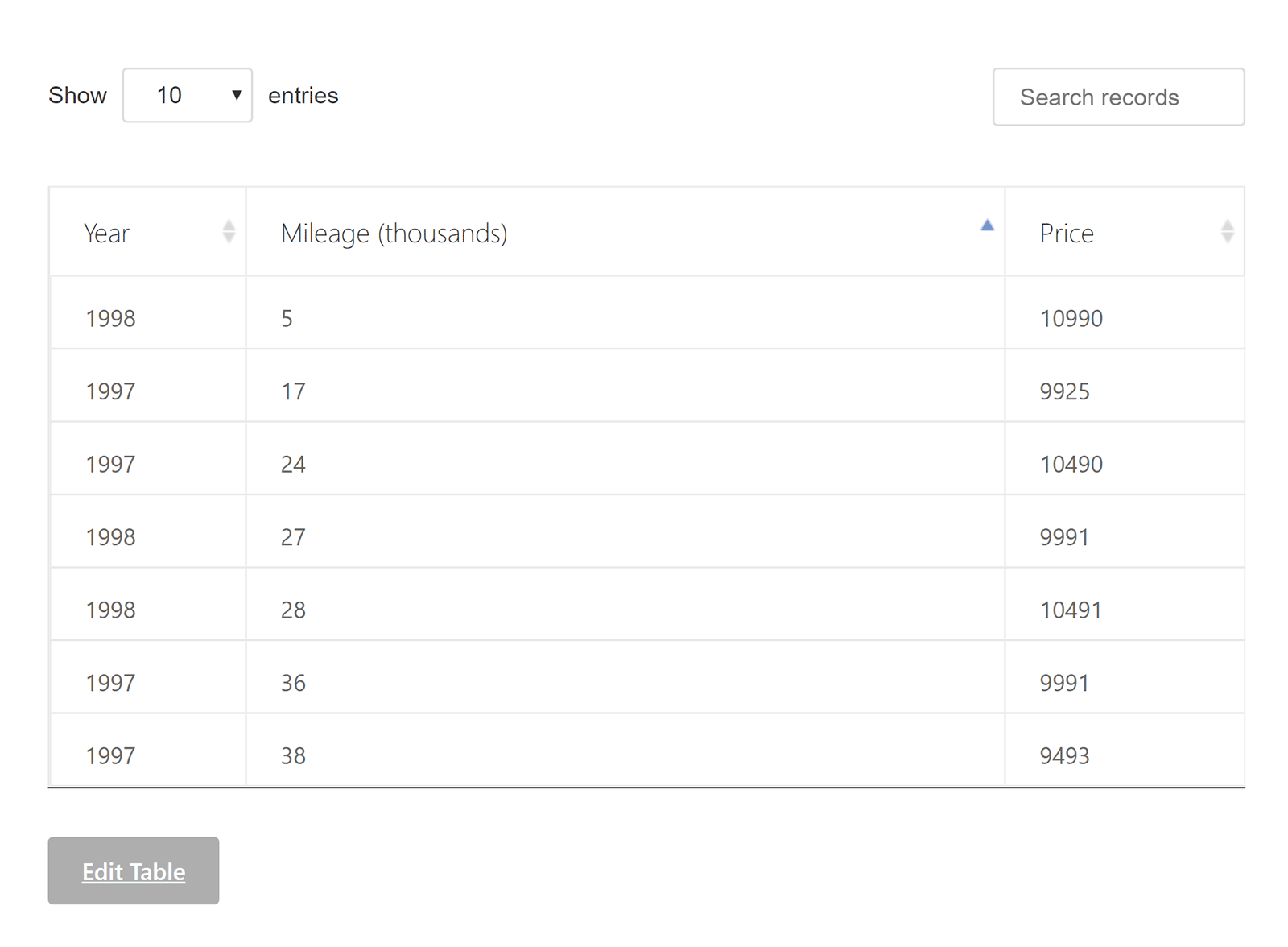 If you just need a basic table solution, TableGen is worth checking out. The plugin is easy to use and the ability to export tables in CSV format means that migrating to another table solution at a later date will be straight-forward.
Honourable Mentions
The Gutenberg Table Block is not going to win a prize for being the best table solution on the market, however its inclusion in the core version of WordPress makes it a good choice for basic tables.
Rows and columns can be easily added to your table. When you click on a cell, the top editor allows you to format text as bold, italic, or as a strikethrough. Links, code, and images, can also be added.
A few basic colour settings are available too, though customisation is limited.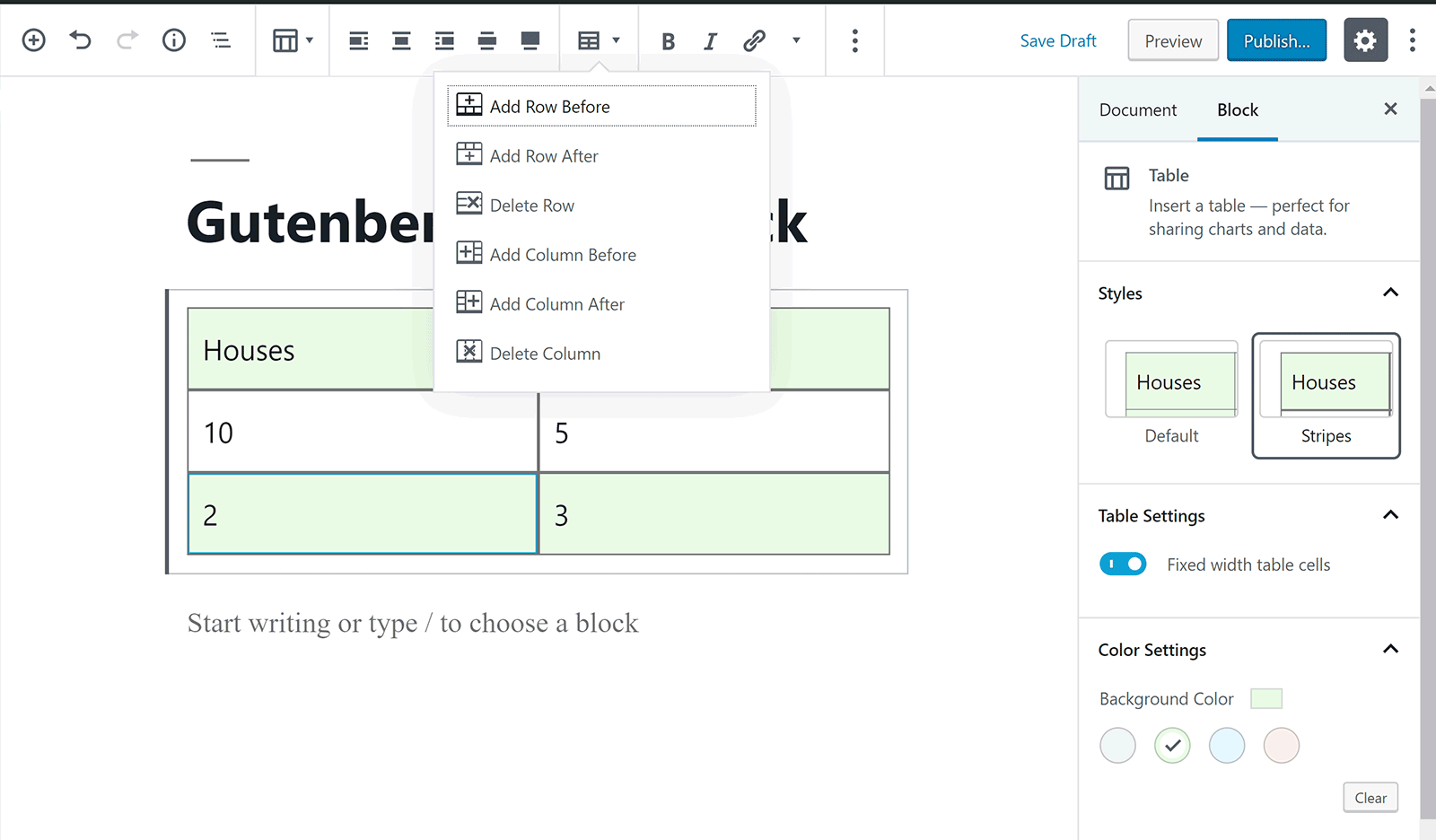 If you are trying to modernise your existing tables, you should check out Magic Liquidizer Responsive Table and WP Responsive Table. These free WordPress plugins can make standard HTML tables responsive so that they look good in tablets and other mobile devices.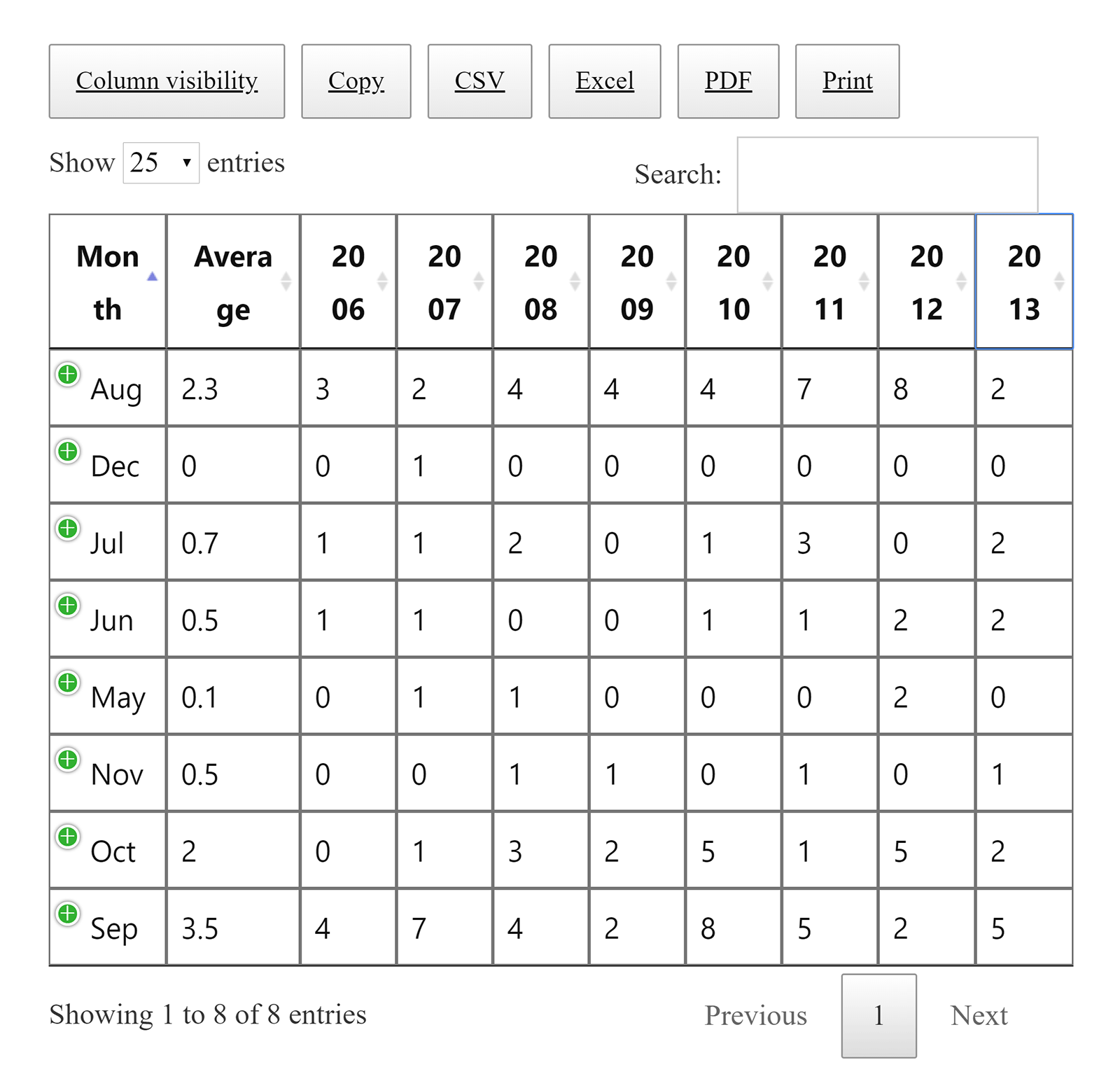 Another interesting free WordPress plugin to check out is Inline Google Spreadsheet Viewer. This plugin can be used to embed Google spreadsheets, CSV files, MySQL databases, HTML tables, charts and more, directly into your website.
All you have to do is link to the source using the provided shortcode. Any changes made in the source will be automatically reflected on your website. It is not the best solution from a customisation point of view, however it is worth checking out if you would like to embed tables and spreadsheets that are regularly updated elsewhere by multiple parties.
Final Thoughts
As you can see, there is a great selection of table solutions available to WordPress users. Each one has its strengths and weaknesses so it is important to test a few solutions to see which one suits your needs best.
Used/using any of the above? Thoughts?
Join To Our Newsletter
You are welcome