Consistently delivering high-quality customer service is a priority at the marinas Trident Marine Group owns and operates, including a brand-new marina in downtown Burlington, Vermont.
Trident Marine Group is a division of Jerome J. Parks Companies, a diversified real estate development, construction, operation and management company headquartered in Annapolis, Maryland.
The first marina in the portfolio, Annapolis Maryland Capital Yacht Club, has been managed by the organization since the early 1970s. As the business got more involved in marina development and management, it became evident that a maritime management organization needed to be developed. "The development of Trident resulted in a commitment to developing and maintaining first-class marinas that provide superior customer service," said Jeremy Parks, president.
In addition to the Annapolis Maryland Capital Yacht Club, Trident owns Chesapeake Harbour Marina and Orchard Beach Marina, both in Annapolis, and Nabbs Creek Marina & Yacht Club in Glen Burnie, Maryland.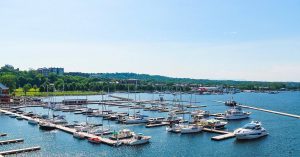 Burlington Harbor developers, Charles DesLauriers and Jack Wallace, contacted Trident related to the development and ongoing management services of its new marina in Burlington, Vermont. The partnership led to Trident's partial ownership in the 160-slip marina.
Although, Trident was not the construction manager for the project, the team did provide input during the construction process. Parks said being involved in the development on the front end helped immensely. "We were able to add additional input that was valuable going forward," Parks said.
When the company is considering new marinas to bring into the portfolio, it considers if the owners are aligned with what Trident strives to deliver. "Chuck's and Jack's focus on the highest level of customer deliverables matched what Trident is focusing on," Parks said.
The marina opened Memorial Day weekend with a follow-up Welcome Event over the Fourth of July holiday. The additional slips were much needed on Lake Champlain where some existing marinas had a two- to eight-year waiting list, depending on the size of the vessel.
"There are a limited number of marinas and limited number of slips," Parks said. "There's a growing demand of users from New York and Vermont, and the lake is also the first point of access for boaters coming from Montreal and Quebec."
Sixty-five of the slips at Burlington Harbor are designated for transient use only and many of the marina's customers are coming from the Canadian boating community. Parks said the marina has also seen a number of transient boaters from its Annapolis properties traveling north and docking at Burlington Harbor.
"Adding to the number of slips for seasonal and transient use encourages people to get out and use their boats and brings people downtown," Parks said. "We are fortunate that we are adjacent to the downtown Burlington waterfront park, and there are regular events there. We are seeing a growing number of people tying up at the facility and going to events at the park, walking around downtown, and using their boat as a home base."
The slips are located on four docks that can accommodate boats up to 80 feet long. The entire facility is surrounded by a SF Marina Systems floating concrete wave attenuator that protects the basin and docks.
The marina includes a maritime service center, a bathhouse with private shower facilities, and a floating dock with two gas pumps, two diesel pumps and complimentary pumpout. "The floating docks constructed by Meeco-Sullivan are some of the best in the country and are also the base platform for the maritime service center, bathhouse and fuel dock," Parks said.
By the 2020 season, Parks said the facility will complete the maritime service center, which will house offices, ship store, more restrooms and laundry facilities.
Marketing is among the services that Trident offers the marinas it operates and manages. Parks said some of its most successful media promotions in marketing Burlington Harbor have been through its website and social media pages, in conjunction with a strong SEO (Search Engine Optimization) and PPC (Pay-Per-Click) campaign. The marina has also participated in several boat shows, both locally and regionally.
"It seems though, our favorite manner is also our most successful type of marketing: word of mouth," he said. "This shows not only us, but other customers, that the Trident team successfully delivers its goals of providing beyond exceptional experiences no matter which facility you visit."
Trident Marine Group
Trident's services range from full-service, operational oversight through consulting activities such as pre-purchase services, pre-sales assistance, marketing, construction management, and owner's representation. "We are not your typical marina management operator," Parks said.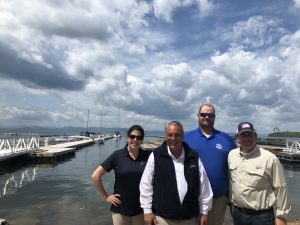 When developing operating plans for the company's marinas, Parks said the company considers how consumers look at a facility and how they want to use it and then interweaves its own proven best practices. "We want to provide the best experience for the slip owners, while maintaining the bottom line," Parks said.
Trident looks at each marina on its own merit and each marina has its own identity. "We do not believe that every marina can be managed or operated the same way in every aspect, we do believe that every facility can provide their customers with extraordinary service," Parks said.
The company understands the importance of working with the existing teams that are in place. "Customers go to facilities and develop relationships," Parks said. "The loss of continuity can become a challenge and sometimes results in a level of attrition that could have been avoided." However, the marina team must be willing to take on new responsibilities or adopt new operating methods to help reach the owner's new goals.
When deciding to take on a new marina, Parks said Trident Marine Group also looks at the local marketplace to ensure that marinas within the portfolio are not competing with each other. They also prefer properties within an easy drive time from the headquarters in Annapolis, so the staff can be on-site when needed.
Although Burlington Harbor is located in Vermont, Parks said the short boating season there allows the facility to provide exceptional service in season and use the off-time for planning and focusing on other properties.
Trident's goal is to continue to grow its outsourced management and consulting business, but Parks said it is open to bringing in new facilities and development projects. "We are being very cautious and thoughtful about which facilities we are willing to bring under development. We don't want to outgrow our ability to provide consistent services and deliverables," he said. "The worst case would be to grow too big, too quick and your deliverables decline. We are focused on exceeding our slipholders' expectations."
Join To Our Newsletter
You are welcome