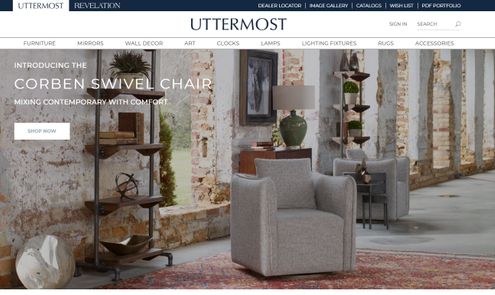 CHANTILLY, Va.,  April 3, 2019 — Uttermost, a manufacturer of home accessories and furniture, reports strong growth in traffic and online transactions through their new e-commerce website, released in January. Uttermost worked with gift and home furnishings digital agency Whereoware to design and build the website on WOWCommerce, a specialized B2B e-commerce website package for feature-rich and personalized Episerver websites. Whereoware also built previous websites for Uttermost in both 2011 and 2006.
"We view our customers as family and strive to be their best possible partner. This was our goal throughout every aspect of our website redesign: to make it easy for our customers to discover the right products, place orders, manage their business and deepen their relationship with the Uttermost brand," said Mac Cooper, president for Uttermost.
The multibrand website provides retailers, designers and sales representatives separate, on-brand shopping experiences for Uttermost and Revelation product lines. Rich product presentation and discovery, customer-focused user experience (UX) and responsive design for mobile users were primary focuses of the website redesign. While consumers cannot order directly from the site, they can discover and learn about products by accessing multiple product images, tear sheets and video galleries to facilitate their in-store or online shopping experience.
Visitors are encouraged to browse and shop however they want to, with plentiful options to shop by room, type, style, shape, finish and more. Meanwhile, product category pages incorporate intuitive filters to narrow product options by style, color, size and other variations, making it a breeze to find the right product.
High-quality lifestyle and room photography, alternative product views and video bring product details to life. Product category pages display lifestyle and room photography on hover and zoom-on-hover functionality on product detail pages show intricate product detail.
"The Uttermost website combines rich product photography, thoughtful UX strategy and innovative, customer-focused features to give retailers, designers, reps and consumers the best possible online shopping experience," said Joe Harris, partner and vice president of website development at Whereoware.
The website offers additional interactive features to engage a widespread audience. An image gallery encourages users to "shop this look," while clear calls to action invite users to add products to a wishlist, download tear sheets or create branded personal product portfolios. Web-friendly portals and dashboards for Retailers and Sales Representatives offer shopping flexibility and tools to effectively manage business operations. Meanwhile, the Uttermost site drives consumer traffic to retail locations through the dealer locator, integrated with Google Maps.
The website is responsive to deliver a great experience to mobile users on any device. It features best-in-class search engine optimization and is supported by Whereoware with digital marketing and analytics.
Join To Our Newsletter
You are welcome