Predictions, trends and what to look out for in UX and CRO in the year ahead
More businesses than ever are running Conversion Rate Optimisation (CRO) programmes and User Experience research are going mainstream. With CRO and UX in the limelight, what do industry experts predict will happen next?
Good user experience is driven by user research and good CRO testing methods combined lead to higher revenues. The result of both higher sales and happier customers. But these worlds are huge, in the UX world there are designers, researchers, strategists and in the CRO world it's not much different. This is why our trends post covers a lot of ground, from research, to operational trends and beyond.
Let's go straight into the trends, first with a prediction from myself, after that, we cover CRO, research, and content UX trends.
1. Quantitative user research becomes the focus
User research was founded in qualitative research principles and methods, but focused on understanding of human behaviour and how people use software and websites, rather than say asking someone's opinion on a marketing campaign. In-depth interviews have been around for decades and user researchers have created industry appropriate terms for such research methods in the context of UX research. Now the user research world which has fully adopted qualitative research methods (depth interviews, ethnography, and focus groups) it's starting to take more interest in quantitative research. Of course, quant studies have been conducted by user researchers for a while, but in 2019 and beyond they will be more adopted.
UX researchers are starting to do more quantitative methods to understand how many people encounter problems on the websites and software they are testing and I predict quant studies will become more prevalent, particularly for persona research. I'm not referring to deep diving into a database, I'm talking large sample surveys of 100 people plus.
With tools such as Hotjar and other tools which support web intercepts such as Intercom, businesses have been asking quantitative questions such as Net Promoter Score, but the UX research world is largely built around qualitative deep diving methods. As the industry advances and as business needs change, all with a desire to continue to increase conversions, I believe that quantitative methods will increase in user research. Big sample instead of small sample will become ever more important to quantify results and make future decisions. Surveys are just as important as back-end data. The industry is starting to adapt to this already and just like the market research industry went through a few years ago, user researchers are trying to find ways of testing in a quantitative way that doesn't break the bank and is fast. At the end of the day, bosses want to see percentages, they want to see data to make decisions and as quickly as possible, particularly in the tough world of e-commerce.
Whilst Hugo Froes agrees with me, he raises a very good point. He agrees that quantitive data will be a bigger seat at the table, but believes that many companies will realize that although quantitive data is very objective, it doesn't give us enough data about the drivers behind peoples behaviours. It gives us data on what happens with what is available and not what might not be available. It can predict some things, but to a limited point, as once again, it's limited to what the user knows or has available at the moment.
With Hugo's point in mind above, I strongly believe that like with market research, user research should involve both qual and quant methods for the best outcome, with each method used as appropriate. NNG provide a brilliant article on user research methods and when to use them.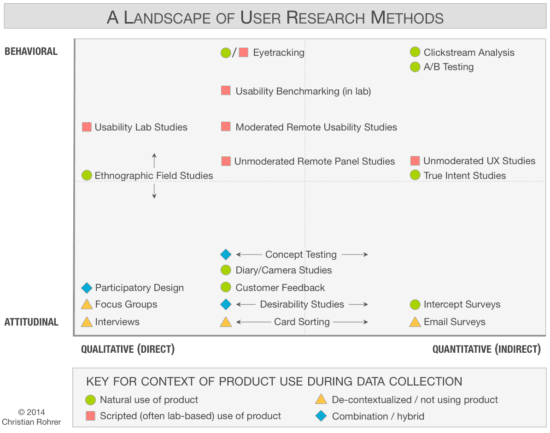 Check out the persona research guide here.
2. AI-based CRO Tools Drive Quantum Conversion Leaps in 2018
Website personalization apps were all the rage during the early and mid 2010s. These technologies, ranging from product recommendation engines to chatbots, were based on cutting-edge machine learning algorithms, a principal part of Artificial Intelligence (AI). Now, in 2018, predictive modelling algorithms have moved upscale to inform and execute the split tests within a new era of Conversion Rate Optimisation (CRO) platforms and projects.
It used to be that humans had to design the creative for all tests. I have personally spent tens of hours doing Customer Experience (CX) audits to discover and prioritize the user experience (UX) issues that were most hurting conversions. But now automated tools can do much of this work. SessionCam, for example, developed an app known as the 'Customer Struggle Score'. By running in the background and analyzing thousands of visitor sessions using machine learning, the app identifies visitor behaviors associated with UX issues that negatively correlate with conversion rates and revenues. The outcome of these analytics is a tactical CRO action plan.
A more exciting set of tools – from vendors like DynamicYield, Evergage and HiConversion – go beyond just assessing the experience to adapting the experience in real-time. The HiConversion platform, for example, uses predictive modelling to serve up e-Commerce experiences that work well together. Powered by self-learning algorithms, their optimization engine allocates visitor traffic to different creative treatments in real-time, driving more traffic to winners and downplaying losers. The tool also maximizes your most important metrics, like conversions and revenues, while collecting insights that inform hypotheses for further testing.
Tools like this exemplify my belief in the mantra, 'The experience is the brand'. And I'm confident that these personalized and optimized experiences with build brand loyalty like never before. So strap in and hold on. We're in for an amazing optimization ride in 2018 and beyond.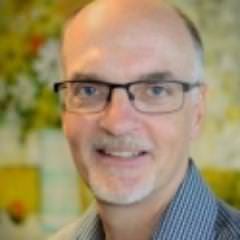 Mark Hall
Mark's Conversion Insights